Posted on Tuesday, March 20, 2018
You know that huge party you're planning to throw for March Madness? With the really,
really
good snacks? We've got some ideas (like
Moroccan Madness Pizza
) and reminders that'll guarantee a slam-dunk time:
SET THE MOOD
The most memorable shindigs usually come down to the details, and that's where setting comes in. Of course, you can't forget putting out the décor—we recommend classic basketball colors (orange, black, and white)—but you really can't forget the music. Spend some time creating a fun playlist with sports-friendly tunes (for when the game isn't on).
BEST SEATS IN THE HOUSE
We respect the sofa's traditional role of Keeper of Chip Crumbs, Pennies, and All Lost Toys, but today it has a new job: comfortable, clean seating. Clear up the clutter and throw in some extra pillows/blankets if necessary. Consider adding some extra seating around the room as well, and don't forget to keep the bathroom routes very, very obstacle-free.
P.S. - The crowd will go wild for this week's Member Monday offer: Get a FREE bag of Santitas or Calidad tortilla chips when you buy Velveeta (2lb)!
Not a member? SIGN UP TODAY!
NEVER MISS A PLAY
Record, record, record. Technology is a thing we should use, and use often (especially if it means replaying that LAST. SECOND. 3 POINTER)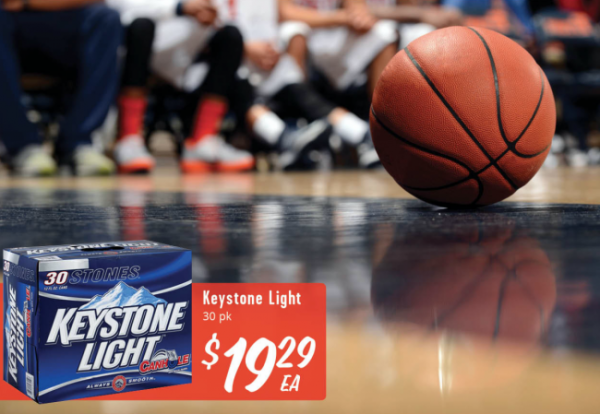 Pick out a new wine or beer to try from our featured
What's Hot
picks for this week!
DRINK UP
Score big with your beverages. Invest in a variety you think your guests will enjoy, and place them in one spot (away from the television) to keep things simple and easy to clean up. Don't forget to chill ahead of time.
CHOW DOWN
THIS WEEKEND ONLY: Join our text promotions and get $5 OFF on custom deli trays—perfect your party snacks! To sign up, text JOIN [insert your store number] to 59652. Don't know your store number? You can use our
store locator
or shoot us an email at
customerexperience@brookshirebros.com
NOTHING BUT NET
Literally, no trash/nothing/nada will be left behind if you look into putting a little hoop over your wastebasket. It may be cliché but—trust us—everyone secretly loves this particular cliché.