Monday April 22, 2019
Lemony Roasted Artichoke Dip
Real Fresh, Real Delicious Graduation Party Dish
Looking for some delectable and easy ideas to celebrate your graduate? Graduation parties are the ultimate finger food feasts. Everyone loves a fresh hot dip from the oven paired with the usual dipping suspects like chips, crackers, salsa, guacamole, and hummus. Try this Lemony Roasted Artichoke Dip recipe that can be prepared up to three days in advance and thrown in the oven just before the guests arrive; it's a grade-A favorite that leaves everyone fighting over the last bite.
Lemony Roasted Artichoke Dip
(Adapted from Cook's Illustrated – Serves 10 to 12)
INGREDIENTS
For the topping:
2 slices white sandwich bread, quartered
3 tablespoons grated Parmesan cheese
1 tablespoon unsalted butter, melted
For the dip:
2 (9-ounce) boxes frozen artichokes (unthawed)
1 tablespoon olive oil
Salt and pepper
1 onion, diced
1 cup mayonnaise
4 oz cream cheese, AT ROOM TEMPERATURE
½ cup grated Parmesan
2 tablespoons lemon juice
1 teaspoon dried thyme leaves
Pinch of cayenne powder
DIRECTIONS
For the topping:
Pulse the bread in a food processor to coarse crumbs, about 6 pulses.
Toss the bread crumbs with the Parmesan and butter.
Set aside.
For the dip:
Adjust an oven rack to the middle position and heat the oven to 450 degrees.
Line a baking sheet with foil.
Toss the artichokes with 1 tablespoon of the oil, 1/2 teaspoon salt, and 1/4 teaspoon pepper, and spread out over the prepared baking sheet.
Roast the artichokes, stirring occasionally, until browned at the edges, about 25 minutes.
Let the artichokes cool and then chop coarsely.
Meanwhile, heat the remaining 1 tablespoon oil in a medium skillet over medium-high heat until just shimmering.
Add the onion and cook until softened, 5 to 7 minutes.
Stir in the garlic and cook until fragrant, about 30 seconds.
Transfer the onion mixture to a large bowl and set aside.
Stir the mayonnaise, cream cheese, Parmesan, lemon juice, thyme, and cayenne into the onion mixture until uniform, smearing any lumps of cream cheese against the side of the bowl with a rubber spatula.
Gently fold in the chopped artichokes and season the mixture with salt and pepper to taste.
Transfer the mixture to an ungreased 8-inch square baking dish and smooth the top.
Sprinkle the bread crumbs evenly over the top.
STORAGE TIP
Cover the baking dish tightly with plastic wrap and refrigerate for up to 3 days.
SERVING TIPS
Adjust an oven rack to the middle position and heat the oven to 400 degrees.
Unwrap the dip and bake, uncovered, until hot throughout and the bread crumbs are golden brown, 20 to 25 minutes.
Let cool for 5 minutes before serving.
Need some other ideas to round out your party menu? Don't forget all the amazing options available
at your neighborhood Brookshire Brothers
, including fresh fruit and veggie platters, graduation cakes, chips, and drinks! 
More delightful dips for your end of school get together:
---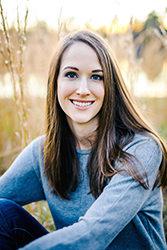 Angela Larson is a registered dietitian (RD) who works with Brookshire Brothers promoting real fresh, real delicious foods and nutrition education to the community. She is also a clinical dietitian representing Woodland Heights Medical Center in Lufkin where she does outreach education on food and nutrition. Food is her passion, so Angela loves trying new recipes and exploring the more holistic side of nutrition. Angela loves to cook, garden, and spend time outdoors. In addition to the Brookshire Brothers blog, look for Angela's monthly articles in Charm East Texas. 
Tuesday March 5, 2019
Cooking with Kate: Pour and Explore – A Trip Down Under…
We recently partnered with a vineyard in Australia for a multi-course dinner where we were able to research Australian cuisine and food culture. These two popular recipes from the dinner are simple to put together, with readily available ingredients. Try a small taste of Australia sometime soon!
Australian Sausage Roll
Popular in Australia and New Zealand, these sausage rolls are eaten for breakfast, lunch, and as appetizers at parties. They are delicious warm or room temperature.
Ingredients

1 pound pork sausage

¾ cup onion, finely chopped

2 teaspoons fresh basil, finely chopped

1 tablespoon fresh chives, thinly sliced

3 garlic cloves, minced

1 teaspoon paprika or smoked paprika

¼ teaspoon salt

¼ teaspoon pepper

¼ cup flour, reserved for rolling out pastry

1 sheet frozen puff pastry, thawed

1 egg, beaten with 1 tablespoon water
Directions 
Preheat oven to 350°F.
In a large bowl, mix together the sausage, onion, basil, chives, garlic, paprika, salt and pepper until thoroughly combined. 
Lightly dust the counter with a small amount of flour. Roll out the sheet of puff pastry into a 12x15 inch rectangle.
Slice it across the middle so you have two 6x15 inch rectangles. Brush each longer edge with the egg wash.
Using your hands, divide the sausage mixture in half. Form a long log of sausage along the edge of the dough of each rectangle.
Roll it up and press the edge to seal. No need to seal the ends because you want the grease to cook out.
Place each roll on a cookie sheet lined with parchment paper.  
Brush the entire roll with the egg wash and then sprinkle the tops with paprika, white and black sesame seeds.
Place in oven and bake at 350°F for 20 minutes.
When the 20 minutes is up, remove from oven and tip pan to drain grease.  
Increase heat to 375°F and bake for another 8-10 minutes, or until the tops are golden brown.
Remove from oven and let cool for at least 15 minutes.
Slice into 2 inch pieces and serve.
 *Don't worry the sausage cooks in the pastry.
Anzac Biscuits
These nationally-famous cookies have a long-standing history with Australia's ANZAC Day – originally a day of remembrance for the members of the Australian and New Zealand Army Corps who fought in the first World War, it is now a day of remembrance to honor all servicemen and women.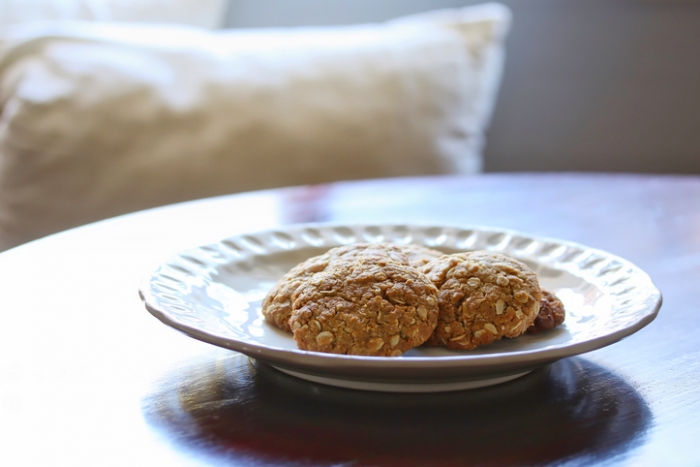 Ingredients 
1 cup old-fashioned rolled oats
1 cup all-purpose flour
¾ cup sugar
1/8 teaspoon salt
¾ cup shredded or flaked sweetened coconut
½ cup (1 stick) butter
2 tablespoons golden syrup or dark corn syrup
1 ½ teaspoons baking soda
2 tablespoons boiling water
Directions
Preheat the oven to 350°F.
Line sheet pans with parchment paper.
In a large bowl, stir together the oats, flour, sugar, salt, and coconut.
In a saucepan over medium-high heat, melt the butter and dark corn/golden syrup until mixture is bubbling.
In a large bowl, combine the baking soda and boiling water, then stir in the hot butter mix. Be prepared: the mixture will bubble up energetically.
Stir the butter mixture into the dry ingredients until mixed.
Drop the dough, by teaspoonful, onto the prepared baking sheets. Leave at least 1 1/2" between them; they will spread quite a bit.
Bake the cookies for 12 to 15 minutes, until they are a deep mahogany brown; the cookies are meant to be crisp/crunchy and dark brown, not chewy/light brown.
Remove the cookies from the oven, and cool them on the baking sheets.
Store, well wrapped, for a week or so at room temperature; freeze for longer storage.
Yield: about 3 dozen 2 1/2" cookies.
---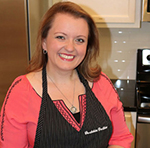 Kate knows food. She grew up with the Southern tradition of good food with the hospitality to match.  A graduate of Texas A & M University, a student of The Texas Culinary Academy, and a Nacogdoches, Texas native, Kate's greatest joy is bringing people together over a scrumptious meal.
Tuesday January 22, 2019
Cooking with Kate: Game-Day Dips
The biggest game in football is coming up soon on Sunday, February 3. Whether you watch the game for the sport, the halftime show, or mute the game and just watch the commercials—one thing that makes a great watch party is the food! These two party-perfect dips will keep your game-day guests coming back for more. Both can be made a day or two early so that you can relax during the game!
Baked Potato Dip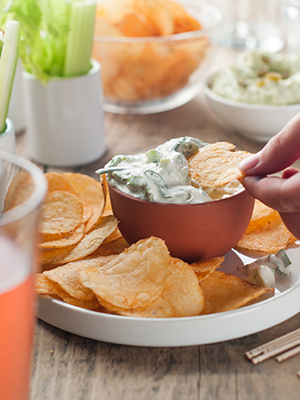 Contrary to how it sounds, this dip does not contain potatoes… but is absolutely delicious served with our Food Club Wavy Potato Chips!
Ingredients 
2 (8 oz) pkgs cream cheese
16 ozs. container sour cream
2 cups shredded sharp cheddar cheese
8 green onions, finely chopped
1 (9 oz)  package cooked crumbled bacon
2 large bags Food Club Wavy Potato Chips
Directions 
Preheat oven to 350°F. In a large bowl, beat cream cheese and sour cream until smooth. Add cheddar cheese, chopped green onions, and bacon and mix well.
Spread in a lightly greased 9X13-inch baking dish. Cover with aluminum foil and bake in preheated oven for 25-30 minutes until hot and bubbly around the edges.
Serve warm with potato chips. 
Southwest Egg Roll Dip
This flavorful dip steals its ingredient list from a popular appetizer… but is much less work than assembling egg rolls!
Ingredients  
2 cups cooked, cubed chicken breast or shredded rotisserie chicken
2 cups frozen corn, thawed
1 can black beans, rinsed and drained well
1 red bell pepper, finely chopped
1 cup Monterrey cheese, shredded
4 green onions, thinly sliced
1 box frozen spinach, thawed and drained well 
2 avocados
1 (12 oz) bottle ranch dressing
½ bunch cilantro, finely chopped
3 limes, juiced
1 tablespoon cumin 
1 tablespoon chili powder 
¼ teaspoon cayenne pepper
salt and pepper to taste 
Directions
In a large bowl, mix chicken, corn, beans, diced pepper, green onion, spinach, and shredded cheese.
In a separate bowl, smash the avocados to a smooth paste. Add the ranch dressing, cilantro, lime juice, cumin, chili powder, cayenne, salt and pepper, and mix until smooth.
Combine the dressing with the chicken mixture. Cover and refrigerate for at least 4 hours.
Serve dip with assorted chips and crackers.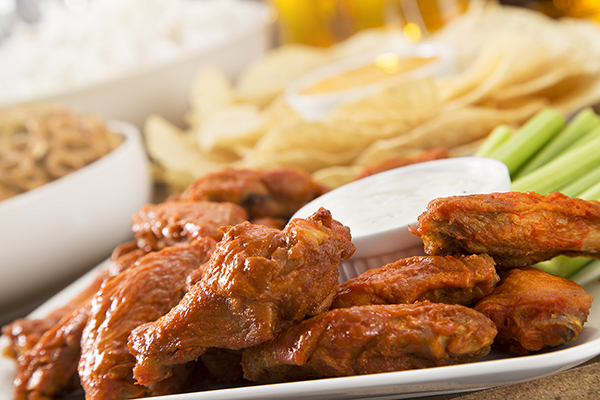 Four more easy & epic crowd pleasers (with lots of bacon):
Courtesy of our vendor partner Bar-S Foods
---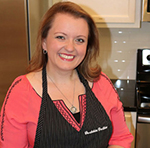 Kate knows food. She grew up with the Southern tradition of good food with the hospitality to match.  A graduate of Texas A & M University, a student of The Texas Culinary Academy, and a Nacogdoches, Texas native, Kate's greatest joy is bringing people together over a scrumptious meal.
Tuesday December 18, 2018
Mrs. Lynne's Famous Holiday Party Punch
This holiday, we are delighted to feature Mrs. Lynne Haney with Lufkin Coca-Cola and her famous Holiday Party Punch. Simple to make and spectacular to taste, this punch is everything you and your favorite folks needs for a holiday get-together. Trust us, you'll be thanking Mrs. Lynne later!
Lufkin Coca-Cola has always been one of our favorite companies to collaborate with because our stories and values have grown from the same rich Texas roots. We both began as family-owned companies in the early 1900's and care deeply about our local communities. What an honor it is to live and work alongside another local business always seeking better growth for our community!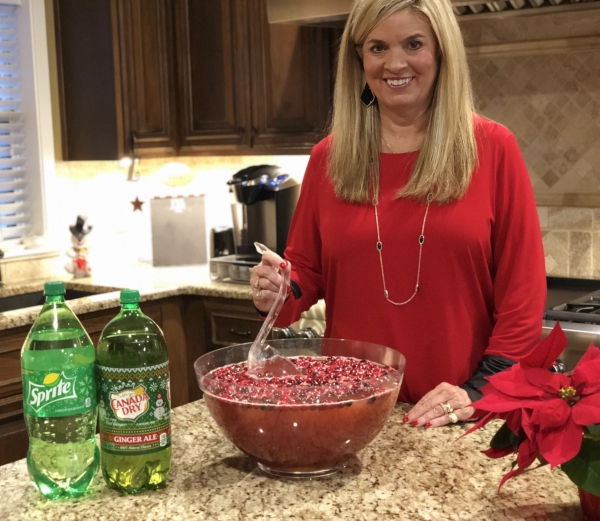 And oh by golly,
DON'T FORGET
: The deals are coming down like confetti this week, one of which is PERFECT for this recipe!
Coca-Cola and Dr Pepper products (2 liter bottles) are $0.88,* now through January 1.**
THAT'S RIGHT, you better check your RSVP list twice—you might need to double down on this great deal!! 
*When you buy 5
**Offer valid at these participating stores: Groveton, Trinity, Apple Springs, Corrigan, Diboll, Huntington, Pollok, Wells, Zavalla, Livingston, Onalaska, and all Lufkin locations.
Mrs. Lynne's Famous Holiday Party Punch
This recipe is wonderful for any occasion but we especially love it during the holidays! So easy, so yummy, such a great compliment to your holiday party!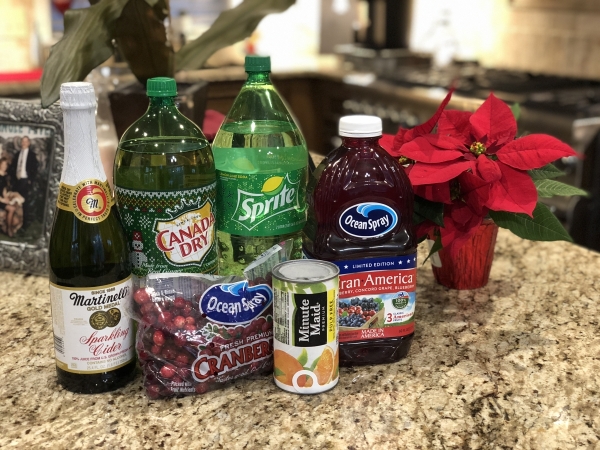 INGREDIENTS
One 2 liter bottle of Sprite, chilled
One 2 liter bottle of Ginger Ale, chilled
25 ounces (one bottle) Sparkling Cider, chilled
12 ounces Frozen Orange Juice Concentrate, slightly thawed
64 ounces (one bottle) Cranberry Juice, chilled
Fresh Cranberries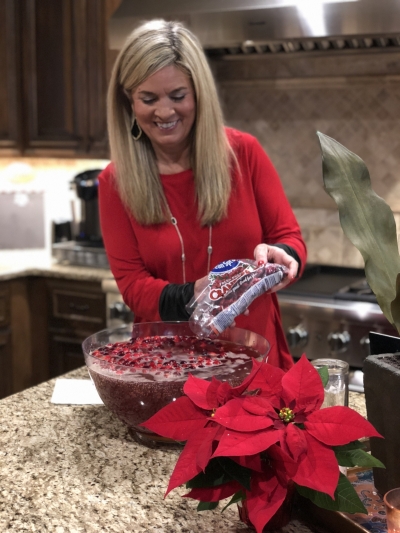 DIRECTIONS
Combine all ingredients together, stir… and serve! ENJOY!
PRO TIPS
Serves approximately 35 one-cup servings. Depending on party size, you may want to double or triple the recipe. When determining amount to make, take into consideration the size of your cups, and keep in mind that guests may want seconds (or even thirds).
If you would like your party punch to have a little more "punch", add champagne!
Monday April 30, 2018
Real Fresh, Real Delicious Orange-Lime Margarita
Looking for a light and festive drink for your Cinco de Mayo celebration? Try making a classic margarita from scratch with this simple, refreshing recipe featuring some bright and fun citrus—perfect to kick the party off!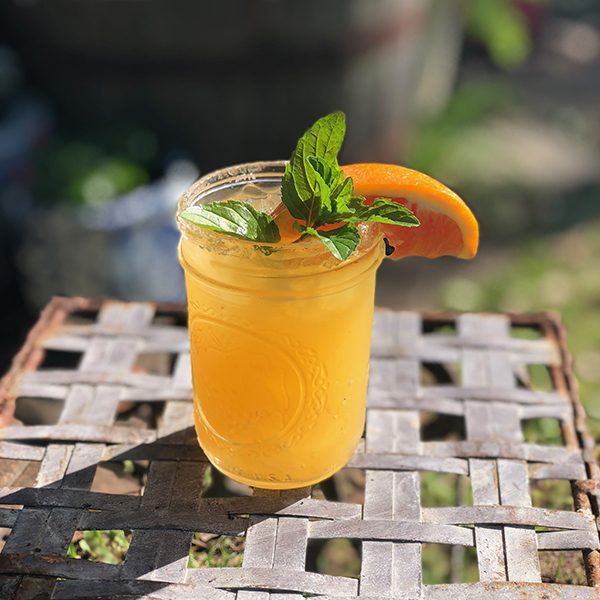 I was inspired by the beautiful "Cara Cara" oranges I spotted at my
local Brookshire Brothers
the other day. These pink oranges are only available for a short season, so keep an eye out! If you're not able to find them, navel oranges (and even grapefruit) work just as well in this recipe.
Another special find was the Himalayan pink rock salt I used to garnish the rim to match the pink hue of the Cara Cara oranges. Bonus: the pink salt is also rich in healthy minerals! If salty isn't your style though, feel free to skip the salted rim. 
If you'd like to sweeten things up a bit, add a little agave nectar (a great natural sweetener option). For any kids or any people with non-alcoholic preferences, skip the liquor and squeeze a few extra oranges to make a beautiful glass of fresh juice instead.
Recommended pairing: Chips and your favorite dips.
Don't forget to garnish with mint sprigs to make your celebration feel extra special.
---
Real Fresh, Real Delicious Orange-Lime Margarita
Makes 1 Cocktail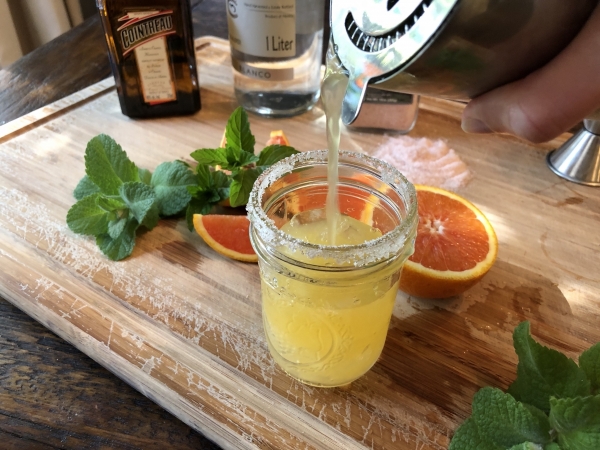 Ingredients
1 ½ ounce freshly squeezed navel or Cara Cara orange juice
¾ ounce freshly squeezed lime juice
½ ounce orange liqueur such as Cointreau or triple sec
1 ½ ounces tequila
Garnish of orange wedge and mint sprig
Optional
: 1 teaspoon agave nectar to sweeten to taste
Optional
: salt for glass rim
Directions
Moisten the rim of a glass with orange wedge and add salt to the rim if desired.
Add orange juice, lime juice, orange liqueur, tequila, and agave nectar to a cocktail shaker filled with ice.
Shake until cold and then strain over crushed ice into glass.
Garnish with an orange wedge and sprig of mint.
Enjoy! 
---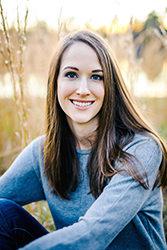 Angela Larson is a registered dietitian (RD) who works with Brookshire Brothers promoting 
real fresh, real delicious
 foods and nutrition education to the community. She is also a clinical dietitian representing Woodland Heights Medical Center in Lufkin where she does outreach education on food and nutrition. Food is her passion, so Angela loves trying new recipes and exploring the more holistic side of nutrition. Angela loves to cook, garden, and spend time outdoors. In addition to the 
Brookshire Brothers blog
, look for Angela's monthly articles in Charm East Texas. 
Tuesday March 20, 2018
Have a Ball with March Madness
You know that huge party you're planning to throw for March Madness? With the really,
really
good snacks? We've got some ideas (like
Moroccan Madness Pizza
) and reminders that'll guarantee a slam-dunk time:
SET THE MOOD
The most memorable shindigs usually come down to the details, and that's where setting comes in. Of course, you can't forget putting out the décor—we recommend classic basketball colors (orange, black, and white)—but you really can't forget the music. Spend some time creating a fun playlist with sports-friendly tunes (for when the game isn't on).
BEST SEATS IN THE HOUSE
We respect the sofa's traditional role of Keeper of Chip Crumbs, Pennies, and All Lost Toys, but today it has a new job: comfortable, clean seating. Clear up the clutter and throw in some extra pillows/blankets if necessary. Consider adding some extra seating around the room as well, and don't forget to keep the bathroom routes very, very obstacle-free.
P.S. - The crowd will go wild for this week's Member Monday offer: Get a FREE bag of Santitas or Calidad tortilla chips when you buy Velveeta (2lb)!
Not a member? SIGN UP TODAY!
NEVER MISS A PLAY
Record, record, record. Technology is a thing we should use, and use often (especially if it means replaying that LAST. SECOND. 3 POINTER)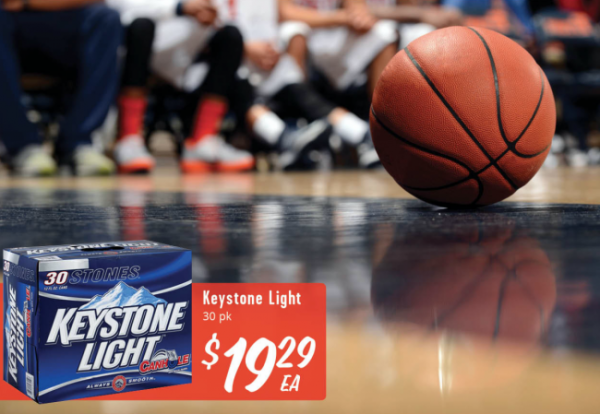 Pick out a new wine or beer to try from our featured 
What's Hot
 picks for this week!
DRINK UP
Score big with your beverages. Invest in a variety you think your guests will enjoy, and place them in one spot (away from the television) to keep things simple and easy to clean up. Don't forget to chill ahead of time.
CHOW DOWN
THIS WEEKEND ONLY: Join our text promotions and get $5 OFF on custom deli trays—perfect your party snacks! To sign up, text JOIN [insert your store number] to 59652. Don't know your store number? You can use our 
store locator
 or shoot us an email at 
customerexperience@brookshirebros.com
NOTHING BUT NET
Literally, no trash/nothing/nada will be left behind if you look into putting a little hoop over your wastebasket. It may be cliché but—trust us—everyone secretly loves this particular cliché.
Monday October 2, 2017
NFL + MLB + NBA = OMG game day snacks!
Fall football is in full swing, MLB postseason is up for bat, and the start of the regular NBA season is just around the corner. You know what this means? Game day food! Whether you're attending a blowout watch party or you're enjoying the quieter company of you and your TV, you can't discount the importance of a good snack. It's one of the three most important ingredients (per the proverbial saying): good company, good drinks, and good FOOD. This recipe (courtesy of our vendor partner Bar-S Foods) for Cheddar-Bacon-Ranch Layered Dip hits all the top marks for good 'ole-fashioned finger food: quick and easy to prepare, good for the budget, and
bacon
. It sounds so good you can almost taste the salty crunch and carbonated swig, while the crowd cheers in the background.
Visit your local Brookshire Brothers to get started!
P.S. – October is #NationalPorkMonth, so fixing a recipe with bacon is basically equivalent to fulfilling a patriotic duty. #Motivation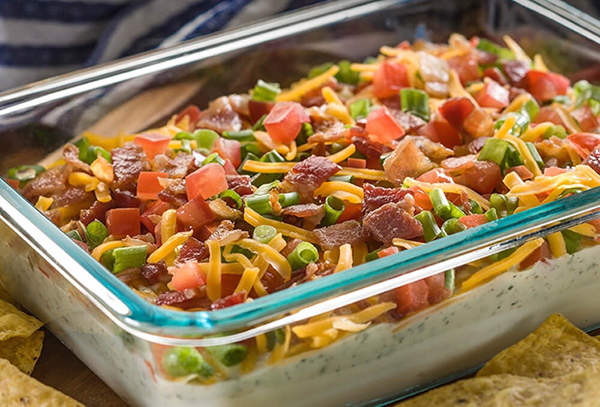 Cheddar-Bacon-Ranch Layered Dip
 Total time: 25 min | Servings: 14 | $1.06 per serving*
Ingredients
1 package (8 oz.) cream cheese, 1. softened
1⁄2 cup ranch dressing
1 roma tomato, seeded and chopped
1⁄4 cup chopped green onion
1⁄4 cup shredded cheddar cheese
Tortilla chips or assorted crackers
Directions
In a medium bowl, stir together cream cheese and ranch dressing. Spread in a 9-inch pie plate or other shallow bowl. Sprinkle with bacon, tomato, green onion and cheddar cheese. Serve immediately or cover and refrigerate up to 8 hours.
Serve with tortilla chips or crackers.
 Tip: Serve this fun dip on a baked potato bar for all the fixins' of a loaded potato in one place.
*Cost of ingredients may vary by location and seasonality | © Bar-S Foods 2016 | Bar-S.com
Don't forget to check out these other game day recipes from Bar-S Foods as well!
Friday May 6, 2016
Graduation Dessert Party
Planning a graduation party can be daunting—even for the pros.  Read these practical tips that can be applied to your own graduation bash.
Easy but Artful!
Orange-and-black school colors can pose a decorating dilemma. To keep away from a Halloween look, use white as the main color, accented with orange and black for invitations, centerpieces, food label cards, paper goods, cupcakes, even flowers.  Think outside of the box when dealing with tricky school color.
Use cupcakes as a centerpiece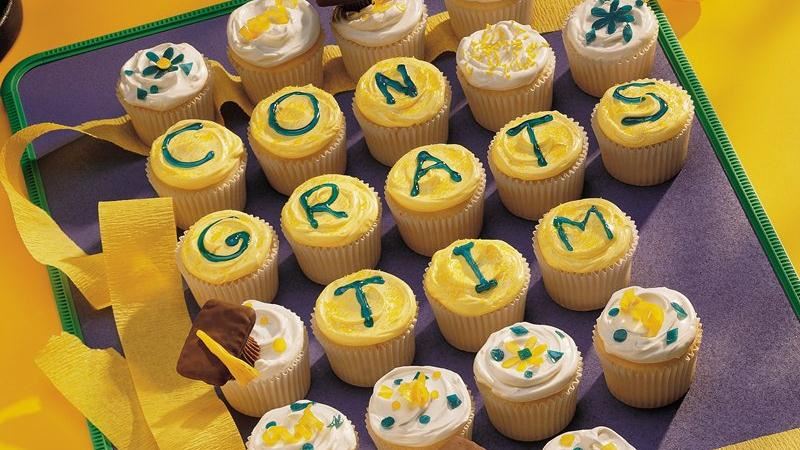 Search 'sprinkles' to find more recipes to adapt to school colors.
To give the serving table a multi-dimensional look, place boxes of varying size on the table, covered them with linens and places plates and platters on top.
More Artful Tips
Cover rented tables with plastic tablecloths, then wrap with length of tulle and tie with bow to keep ends in place.
Set the table 1-2 days ahead. Put out paper goods, serving platters, food label cards and, serving and eating utensils.
Set up self-service coffee and beverage tables. If you are outdoors, fill coolers with beverages and label what's on each one.
Make colorful food label cards for each food. Use half a lime as the food label holder for the plate of Key Lime Bars.
Strawberries, raspberries, thin slices of lemon or lime and lemon leaves all make super-easy garnishes for just about any platter.
For a dash of elegance, dust desserts with powdered sugar or cocoa.
*courtesy of BettyCrocker.com
Wednesday December 23, 2015
Entertaining Tips
With the Holiday Season nearing an end, there are still some major things to plan for! We've got your "to-do" list of Entertaining Tips that can be used for any ocassion.
Don't wait until the last minute to plan for your party
Choose a theme - with NYE coming up, its the perfect time to theme a get-together with clocks, or other whimsical party things that emphasize "midnight"
Have more refreshments on hand than you'll think you need. It's always better to have leftovers than running out.
Set the tone with music, subtle lighting (try candles) and simple decorations such as flowers.
Don't leave guests empty-handed. Offer an hors d'oeuvres or beverage as soon as your guests arrive.
Have plenty of food. And remember, it's fine to keep it simple.
Keep circulating! Try to make all your guests feel comfortable.
Small dishes are easy and fun. Prepare them ahead of time or enlist the help of a caterer so you can spend more time with guests.
Try a buffet - They keep guests moving, mingling, and free to pick and choose. Include wine in the spread so your guests can sample different wines with a variety of dishes.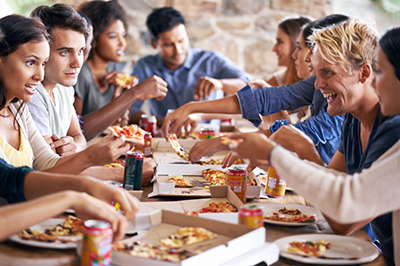 Wednesday December 23, 2015
A Simple New Year
Celebrate New Year's Eve without a lot of fuss! Gather friends and neighbors for a warm, cozy evening inside, or go outdoors if you're an active group. You'll find all the recipes and party-planning tips you'll need for an appetizer and dessert celebration to ring in this new year.
Easy Decorations
Casual get-togethers are often impromptu and require no special decorations. If you want to decorate, consider one of these:
Encourage guests to bring a battery-operated alarm clock. Set the alarms to go off at midnight, and place the clocks all over the party area! Or place a collection of the clocks on a mirrored tray as a centerpiece.
Make a quick centerpiece by placing glittering ball ornaments in a wire basket or crystal bowl.
Fun Serving Ideas
Use hollowed-out colorful bell peppers, cabbage, squash or round bread loaves for fun and colorful containers to hold veggie dip.
Embellish mug handles or bases of stemware with metallic curly ribbon. A different color of ribbon for each guest can keep drinkware from being misplaced.
Bump up plain coffee served with dessert to an inviting espresso bar! Set up espresso carafes (regular and decaf) with extras for stir-ins and toppers.
- Stir-Ins: flavored syrups, flavored creams or eggnog, cream and sugar 
- Toppers: whipped cream, ice-cream toppings, candy sprinkles, ground nutmeg or cinnamon
Casual Party Activities
Got snow? Make a snowperson! Ask guests to wear appropriate clothing.
Build a huge bonfire--remember to check your city's ordinances! Or just gather around your backyard fire pit. Tell stories of bygone years, or predict the future.
Hide a treasure of gold-colored medallions, gold foil-covered chocolate coins and golden baubles and beads found in craft stores. Entice guests with creative clues to answer so they can discover the treasure by the stroke of midnight.
Pages