Tuesday September 15, 2015
Bringing Fall to the Neighborhood
Gather guests around an outdoor fire pit or an indoor fireplace. Cheer them with cheese and cider. That's just the beginning! Soup and salad are the perfect endings to an afternoon doing invigorating yard work, volunteering, crafting or baking together.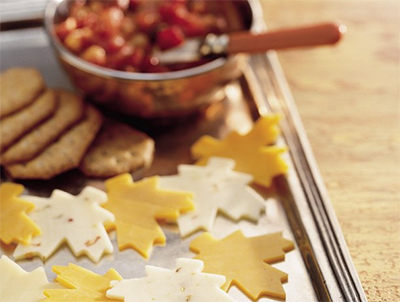 Soup Service
Try a variety of soups, but keep the favorites for your less adventurous eaters such as Taco Soup, Vegetable Soup, Beef Stew, or Chili.
Serve Slow-Cooker soups for easy prep.
Make your own bread bowls. To make, cut off tops of small, round bread loaves, and scoop out the bread from the loaves, leaving a 1-inch-thick wall (use the scooped-out bread for bread crumbs another time). Ladle soup into loaves just before serving; replace tops.
Buffet Best 
Have guests serve themselves buffet-style. Have TV trays or other trays available for guests to place their dishes and silverware on. They can then easily balance their meals on their laps while watching the big screen or sitting by the fire.
Make it easy for guests to grab silverware and a napkin by wrapping each place setting in a napkin with a piece of raffia or twine, like a package.
Centerpieces that "Center" Around Your Theme
Arrange apples and bananas in a wicker basket for an apple-picking party.
Arrange fall garden produce and colorful leaves for a yard clean-up party.
Or let an array of homemade bakery treats be your centerpieces. We love fall desserts that use apples, peaches, and pumpkins!
Favors & Crafts
Get ideas from Home Design magazines on the latest fall craft. Some of our favorite easy fall decor staples are wreaths, centerpieces and candles.
Send guests home with bags of home-baked or hand-made goodies to bring fall to their homes too.
Wednesday August 12, 2015
Summer Send-Off
Host a Summer Send-Off Party and enjoy the end of the season with a sweet and colorful backyard party.
Suggest that all of your guests wear bright colors and/or fun floral patterns.
Put up hammocks, lounge chairs, paper lanterns and pillows to make your party the ultimate oasis for relaxation.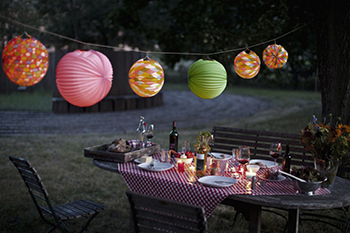 Set up some of summer's favorite games like Corn Hole, bocce ball, croquet, and Kan Jam.
Set up a cocktail station and mix up your favorite summer drinks for the ladies.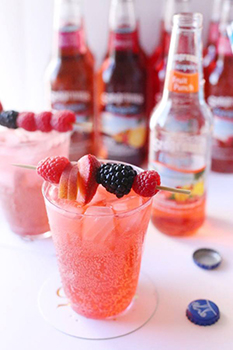 Don't forget to have the beer available too. Set up a table of all the best domestic and craft beers available.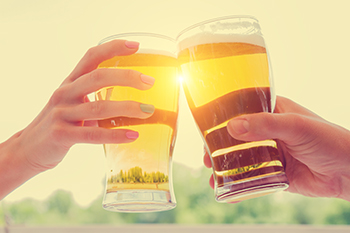 Don't let your guests go home empty-handed. Provide guests with fun party favors such as bright colored sunglasses, napkin rings and cute drink ware.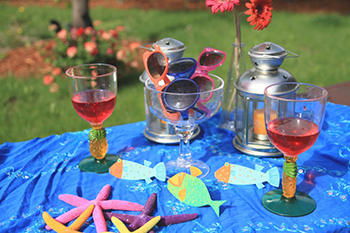 After a summer-filled party like this, you'll be ready for the cooler weather full of bonfires, camp-outs, and the holidays. 
Thursday April 30, 2015
Hats Off to You!
As yet another school year is ending, senior-itis has kicked in full force for high school and college seniors alike. The only thing your student can think of is walking across the stage and receiving a diploma; but you know there is a lot that needs to happen between now and then. Senior receptions, class parties, graduation celebrations and awards banquets are just a short list of events that you'll need to prepare for. With the help of our advice, you'll be relaxed on graduation day knowing your parties were planned with ease.
Opt for a healthy choice for all party guests by picking up a vegetable tray from your local store. Earn extra hostess points by plating the vegetables on your own platter for presentation. Forego the stress of buying, washing and chopping veggies by serving our pre-chopped and readily available vegetables. This party-planning secret will allow time for celebrating and visiting with friends and family.
Cater to your graduate's appetite by serving our signature, fried chicken. Straight from Granny Brookshire's family recipe to your family gathering, our legs won't disappoint. Fresh, never frozen and good to the last crumb, this pleasing entrée is great for any size occasion…big or small.
What party isn't complete without a sweet treat? Finish off the evening with an assortment of our David's cookies that are a bite above the rest. These chunky, chewy favorites are for everyone to enjoy. Although they may be too good to pass off as your own, you can certainly boast about the ease and satisfaction of serving such an enjoyable dessert.
On the day of graduation, surprise the graduate in your life with a fresh floral bouquet from expert florists. We offer a delightful experience from start to finish when ordering your arrangement. After presenting the flowers at graduation, take the display home and set them as a centerpiece on your table as you prepare for another celebration.
Pages