Posted on Monday, October 2, 2017
Fall football is in full swing, MLB postseason is up for bat, and the start of the regular NBA season is just around the corner. You know what this means? Game day food! Whether you're attending a blowout watch party or you're enjoying the quieter company of you and your TV, you can't discount the importance of a good snack. It's one of the three most important ingredients (per the proverbial saying): good company, good drinks, and good FOOD. This recipe (courtesy of our vendor partner Bar-S Foods) for Cheddar-Bacon-Ranch Layered Dip hits all the top marks for good 'ole-fashioned finger food: quick and easy to prepare, good for the budget, and
bacon
. It sounds so good you can almost taste the salty crunch and carbonated swig, while the crowd cheers in the background.
Visit your local Brookshire Brothers to get started!
P.S. – October is #NationalPorkMonth, so fixing a recipe with bacon is basically equivalent to fulfilling a patriotic duty. #Motivation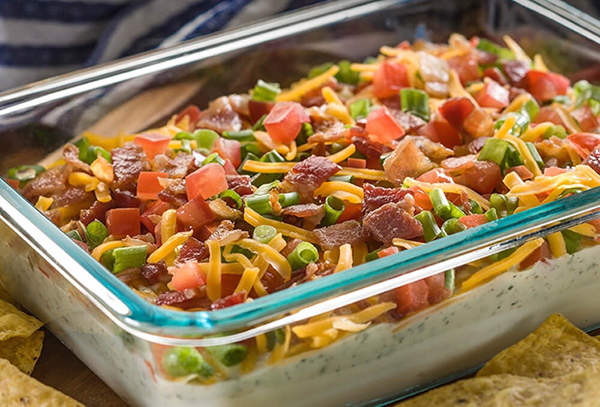 Cheddar-Bacon-Ranch Layered Dip
Total time: 25 min | Servings: 14 | $1.06 per serving*
Ingredients
1 package (8 oz.) cream cheese, 1. softened
1⁄2 cup ranch dressing
1 roma tomato, seeded and chopped
1⁄4 cup chopped green onion
1⁄4 cup shredded cheddar cheese
Tortilla chips or assorted crackers
Directions
In a medium bowl, stir together cream cheese and ranch dressing. Spread in a 9-inch pie plate or other shallow bowl. Sprinkle with bacon, tomato, green onion and cheddar cheese. Serve immediately or cover and refrigerate up to 8 hours.
Serve with tortilla chips or crackers.
Tip: Serve this fun dip on a baked potato bar for all the fixins' of a loaded potato in one place.
*Cost of ingredients may vary by location and seasonality | © Bar-S Foods 2016 | Bar-S.com
Don't forget to check out these other game day recipes from Bar-S Foods as well!