Tuesday March 20, 2018
Have a Ball with March Madness
You know that huge party you're planning to throw for March Madness? With the really,
really
good snacks? We've got some ideas (like
Moroccan Madness Pizza
) and reminders that'll guarantee a slam-dunk time:
SET THE MOOD
The most memorable shindigs usually come down to the details, and that's where setting comes in. Of course, you can't forget putting out the décor—we recommend classic basketball colors (orange, black, and white)—but you really can't forget the music. Spend some time creating a fun playlist with sports-friendly tunes (for when the game isn't on).
BEST SEATS IN THE HOUSE
We respect the sofa's traditional role of Keeper of Chip Crumbs, Pennies, and All Lost Toys, but today it has a new job: comfortable, clean seating. Clear up the clutter and throw in some extra pillows/blankets if necessary. Consider adding some extra seating around the room as well, and don't forget to keep the bathroom routes very, very obstacle-free.
P.S. - The crowd will go wild for this week's Member Monday offer: Get a FREE bag of Santitas or Calidad tortilla chips when you buy Velveeta (2lb)!
Not a member? SIGN UP TODAY!
NEVER MISS A PLAY
Record, record, record. Technology is a thing we should use, and use often (especially if it means replaying that LAST. SECOND. 3 POINTER)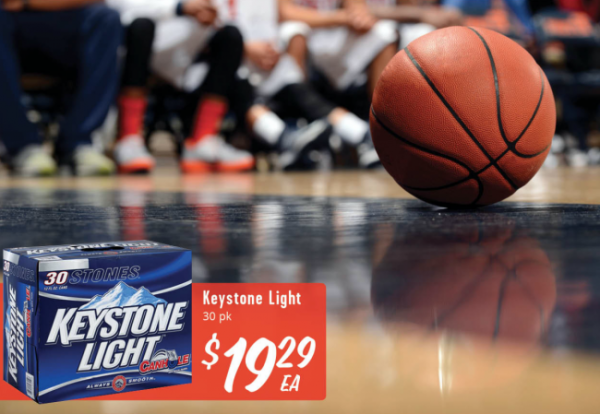 Pick out a new wine or beer to try from our featured 
What's Hot
 picks for this week!
DRINK UP
Score big with your beverages. Invest in a variety you think your guests will enjoy, and place them in one spot (away from the television) to keep things simple and easy to clean up. Don't forget to chill ahead of time.
CHOW DOWN
THIS WEEKEND ONLY: Join our text promotions and get $5 OFF on custom deli trays—perfect your party snacks! To sign up, text JOIN [insert your store number] to 59652. Don't know your store number? You can use our 
store locator
 or shoot us an email at 
customerexperience@brookshirebros.com
NOTHING BUT NET
Literally, no trash/nothing/nada will be left behind if you look into putting a little hoop over your wastebasket. It may be cliché but—trust us—everyone secretly loves this particular cliché.
Monday October 2, 2017
NFL + MLB + NBA = OMG game day snacks!
Fall football is in full swing, MLB postseason is up for bat, and the start of the regular NBA season is just around the corner. You know what this means? Game day food! Whether you're attending a blowout watch party or you're enjoying the quieter company of you and your TV, you can't discount the importance of a good snack. It's one of the three most important ingredients (per the proverbial saying): good company, good drinks, and good FOOD. This recipe (courtesy of our vendor partner Bar-S Foods) for Cheddar-Bacon-Ranch Layered Dip hits all the top marks for good 'ole-fashioned finger food: quick and easy to prepare, good for the budget, and
bacon
. It sounds so good you can almost taste the salty crunch and carbonated swig, while the crowd cheers in the background.
Visit your local Brookshire Brothers to get started!
P.S. – October is #NationalPorkMonth, so fixing a recipe with bacon is basically equivalent to fulfilling a patriotic duty. #Motivation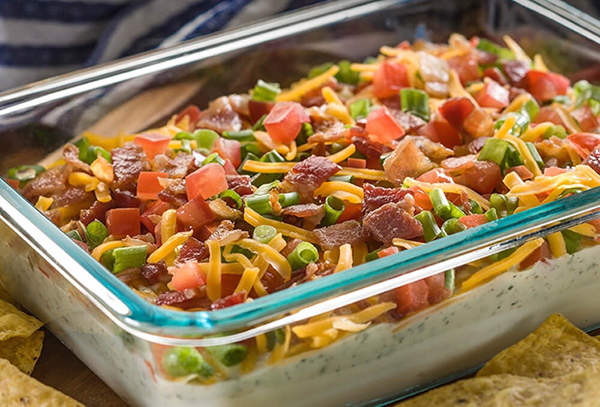 Cheddar-Bacon-Ranch Layered Dip
 Total time: 25 min | Servings: 14 | $1.06 per serving*
Ingredients
1 package (8 oz.) cream cheese, 1. softened
1⁄2 cup ranch dressing
1 roma tomato, seeded and chopped
1⁄4 cup chopped green onion
1⁄4 cup shredded cheddar cheese
Tortilla chips or assorted crackers
Directions
In a medium bowl, stir together cream cheese and ranch dressing. Spread in a 9-inch pie plate or other shallow bowl. Sprinkle with bacon, tomato, green onion and cheddar cheese. Serve immediately or cover and refrigerate up to 8 hours.
Serve with tortilla chips or crackers.
 Tip: Serve this fun dip on a baked potato bar for all the fixins' of a loaded potato in one place.
*Cost of ingredients may vary by location and seasonality | © Bar-S Foods 2016 | Bar-S.com
Don't forget to check out these other game day recipes from Bar-S Foods as well!
Monday March 13, 2017
A Madness-Inspired March
Grab your friends and turn on your favorite game – we've got a starting lineup that you're sure to enjoy!
When you think of March, you may think of spring, St. Patrick's Day, and spring break. But we know the sports-lovers around the world think of the buzzer-beaters, overtimes, and dramatic upsets. Whether you're keeping track of your bracket or enjoying the company of your family and friends, we're happy to bring you the best recipes, game plans and activities that will make your house the place to be this March! 
Warm-up
When sending invitations or calling your best friends to join your watching party, encourage them to wear a color of their team or a team shirt/jersey. Once everyone arrives, make sure you snap a picture of your guests. You can even hashtag #BrookshireBrothers or tag us on Facebook @BrookshireBros to share your party with us!
Decorations
Plan according to the game you're watching. Have fun theming your living room or man cave with streamers, pennants and sports posters. And don't fear color when it comes to party accessories – go for the coordinating plates, cups and napkins!
Activities
Everyone loves a little fun! When your guests arrive, ask them on whom they're rooting for and have an ongoing tally of who's going to win. You could make it even more interesting if there was a prize for the guests who pick the winning team! 
Recipes
Start off savory and serve a game-day favorite, pizza! Try out this recipe, courtesy of Betty Crocker – Moroccan Madness Pizza. Then top it off with a sweet treat! We love these Malted Madness Cookies from Betty Crocker.
Looking for more advice? Visit with one of our Employee Partners in-store! Find a store near you.