Tuesday March 5, 2019
Cooking with Kate: Pour and Explore – A Trip Down Under…
We recently partnered with a vineyard in Australia for a multi-course dinner where we were able to research Australian cuisine and food culture. These two popular recipes from the dinner are simple to put together, with readily available ingredients. Try a small taste of Australia sometime soon!
Australian Sausage Roll
Popular in Australia and New Zealand, these sausage rolls are eaten for breakfast, lunch, and as appetizers at parties. They are delicious warm or room temperature.
Ingredients

1 pound pork sausage

¾ cup onion, finely chopped

2 teaspoons fresh basil, finely chopped

1 tablespoon fresh chives, thinly sliced

3 garlic cloves, minced

1 teaspoon paprika or smoked paprika

¼ teaspoon salt

¼ teaspoon pepper

¼ cup flour, reserved for rolling out pastry

1 sheet frozen puff pastry, thawed

1 egg, beaten with 1 tablespoon water
Directions 
Preheat oven to 350°F.
In a large bowl, mix together the sausage, onion, basil, chives, garlic, paprika, salt and pepper until thoroughly combined. 
Lightly dust the counter with a small amount of flour. Roll out the sheet of puff pastry into a 12x15 inch rectangle.
Slice it across the middle so you have two 6x15 inch rectangles. Brush each longer edge with the egg wash.
Using your hands, divide the sausage mixture in half. Form a long log of sausage along the edge of the dough of each rectangle.
Roll it up and press the edge to seal. No need to seal the ends because you want the grease to cook out.
Place each roll on a cookie sheet lined with parchment paper.  
Brush the entire roll with the egg wash and then sprinkle the tops with paprika, white and black sesame seeds.
Place in oven and bake at 350°F for 20 minutes.
When the 20 minutes is up, remove from oven and tip pan to drain grease.  
Increase heat to 375°F and bake for another 8-10 minutes, or until the tops are golden brown.
Remove from oven and let cool for at least 15 minutes.
Slice into 2 inch pieces and serve.
 *Don't worry the sausage cooks in the pastry.
Anzac Biscuits
These nationally-famous cookies have a long-standing history with Australia's ANZAC Day – originally a day of remembrance for the members of the Australian and New Zealand Army Corps who fought in the first World War, it is now a day of remembrance to honor all servicemen and women.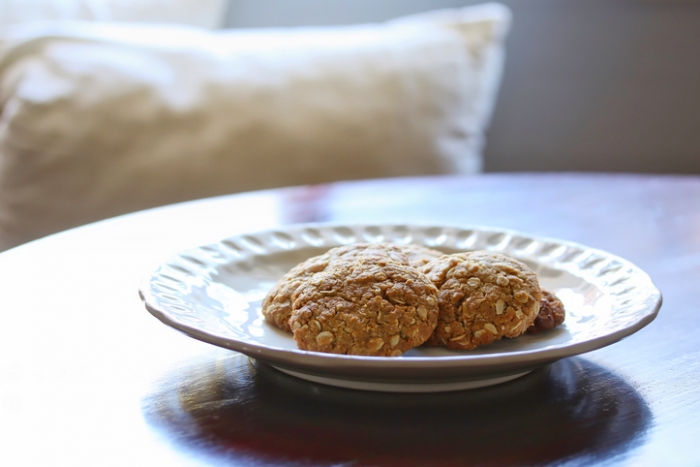 Ingredients 
1 cup old-fashioned rolled oats
1 cup all-purpose flour
¾ cup sugar
1/8 teaspoon salt
¾ cup shredded or flaked sweetened coconut
½ cup (1 stick) butter
2 tablespoons golden syrup or dark corn syrup
1 ½ teaspoons baking soda
2 tablespoons boiling water
Directions
Preheat the oven to 350°F.
Line sheet pans with parchment paper.
In a large bowl, stir together the oats, flour, sugar, salt, and coconut.
In a saucepan over medium-high heat, melt the butter and dark corn/golden syrup until mixture is bubbling.
In a large bowl, combine the baking soda and boiling water, then stir in the hot butter mix. Be prepared: the mixture will bubble up energetically.
Stir the butter mixture into the dry ingredients until mixed.
Drop the dough, by teaspoonful, onto the prepared baking sheets. Leave at least 1 1/2" between them; they will spread quite a bit.
Bake the cookies for 12 to 15 minutes, until they are a deep mahogany brown; the cookies are meant to be crisp/crunchy and dark brown, not chewy/light brown.
Remove the cookies from the oven, and cool them on the baking sheets.
Store, well wrapped, for a week or so at room temperature; freeze for longer storage.
Yield: about 3 dozen 2 1/2" cookies.
---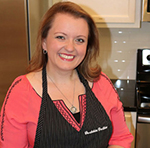 Kate knows food. She grew up with the Southern tradition of good food with the hospitality to match.  A graduate of Texas A & M University, a student of The Texas Culinary Academy, and a Nacogdoches, Texas native, Kate's greatest joy is bringing people together over a scrumptious meal.
Tuesday January 22, 2019
Cooking with Kate: Game-Day Dips
The biggest game in football is coming up soon on Sunday, February 3. Whether you watch the game for the sport, the halftime show, or mute the game and just watch the commercials—one thing that makes a great watch party is the food! These two party-perfect dips will keep your game-day guests coming back for more. Both can be made a day or two early so that you can relax during the game!
Baked Potato Dip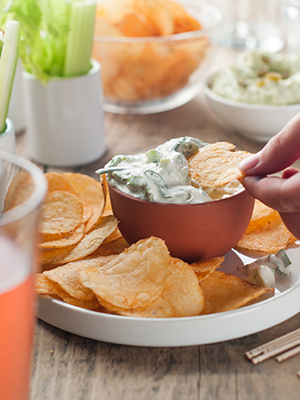 Contrary to how it sounds, this dip does not contain potatoes… but is absolutely delicious served with our Food Club Wavy Potato Chips!
Ingredients 
2 (8 oz) pkgs cream cheese
16 ozs. container sour cream
2 cups shredded sharp cheddar cheese
8 green onions, finely chopped
1 (9 oz)  package cooked crumbled bacon
2 large bags Food Club Wavy Potato Chips
Directions 
Preheat oven to 350°F. In a large bowl, beat cream cheese and sour cream until smooth. Add cheddar cheese, chopped green onions, and bacon and mix well.
Spread in a lightly greased 9X13-inch baking dish. Cover with aluminum foil and bake in preheated oven for 25-30 minutes until hot and bubbly around the edges.
Serve warm with potato chips. 
Southwest Egg Roll Dip
This flavorful dip steals its ingredient list from a popular appetizer… but is much less work than assembling egg rolls!
Ingredients  
2 cups cooked, cubed chicken breast or shredded rotisserie chicken
2 cups frozen corn, thawed
1 can black beans, rinsed and drained well
1 red bell pepper, finely chopped
1 cup Monterrey cheese, shredded
4 green onions, thinly sliced
1 box frozen spinach, thawed and drained well 
2 avocados
1 (12 oz) bottle ranch dressing
½ bunch cilantro, finely chopped
3 limes, juiced
1 tablespoon cumin 
1 tablespoon chili powder 
¼ teaspoon cayenne pepper
salt and pepper to taste 
Directions
In a large bowl, mix chicken, corn, beans, diced pepper, green onion, spinach, and shredded cheese.
In a separate bowl, smash the avocados to a smooth paste. Add the ranch dressing, cilantro, lime juice, cumin, chili powder, cayenne, salt and pepper, and mix until smooth.
Combine the dressing with the chicken mixture. Cover and refrigerate for at least 4 hours.
Serve dip with assorted chips and crackers.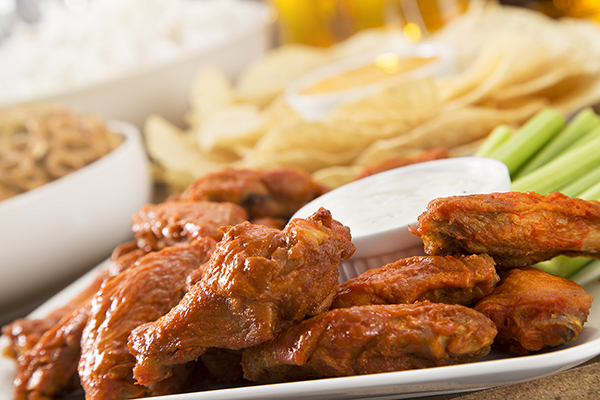 Four more easy & epic crowd pleasers (with lots of bacon):
Courtesy of our vendor partner Bar-S Foods
---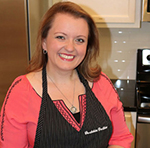 Kate knows food. She grew up with the Southern tradition of good food with the hospitality to match.  A graduate of Texas A & M University, a student of The Texas Culinary Academy, and a Nacogdoches, Texas native, Kate's greatest joy is bringing people together over a scrumptious meal.
Monday October 2, 2017
NFL + MLB + NBA = OMG game day snacks!
Fall football is in full swing, MLB postseason is up for bat, and the start of the regular NBA season is just around the corner. You know what this means? Game day food! Whether you're attending a blowout watch party or you're enjoying the quieter company of you and your TV, you can't discount the importance of a good snack. It's one of the three most important ingredients (per the proverbial saying): good company, good drinks, and good FOOD. This recipe (courtesy of our vendor partner Bar-S Foods) for Cheddar-Bacon-Ranch Layered Dip hits all the top marks for good 'ole-fashioned finger food: quick and easy to prepare, good for the budget, and
bacon
. It sounds so good you can almost taste the salty crunch and carbonated swig, while the crowd cheers in the background.
Visit your local Brookshire Brothers to get started!
P.S. – October is #NationalPorkMonth, so fixing a recipe with bacon is basically equivalent to fulfilling a patriotic duty. #Motivation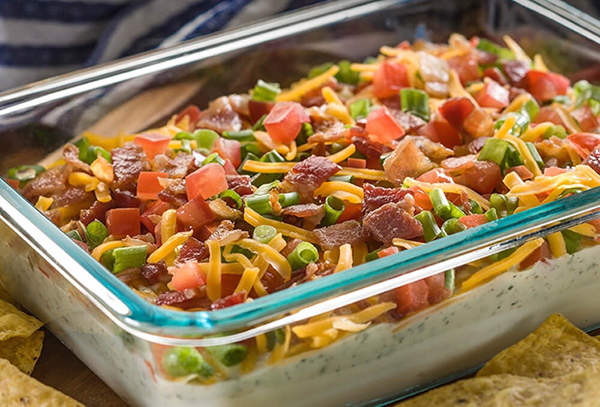 Cheddar-Bacon-Ranch Layered Dip
 Total time: 25 min | Servings: 14 | $1.06 per serving*
Ingredients
1 package (8 oz.) cream cheese, 1. softened
1⁄2 cup ranch dressing
1 roma tomato, seeded and chopped
1⁄4 cup chopped green onion
1⁄4 cup shredded cheddar cheese
Tortilla chips or assorted crackers
Directions
In a medium bowl, stir together cream cheese and ranch dressing. Spread in a 9-inch pie plate or other shallow bowl. Sprinkle with bacon, tomato, green onion and cheddar cheese. Serve immediately or cover and refrigerate up to 8 hours.
Serve with tortilla chips or crackers.
 Tip: Serve this fun dip on a baked potato bar for all the fixins' of a loaded potato in one place.
*Cost of ingredients may vary by location and seasonality | © Bar-S Foods 2016 | Bar-S.com
Don't forget to check out these other game day recipes from Bar-S Foods as well!