Monday October 2, 2017
NFL + MLB + NBA = OMG game day snacks!
Fall football is in full swing, MLB postseason is up for bat, and the start of the regular NBA season is just around the corner. You know what this means? Game day food! Whether you're attending a blowout watch party or you're enjoying the quieter company of you and your TV, you can't discount the importance of a good snack. It's one of the three most important ingredients (per the proverbial saying): good company, good drinks, and good FOOD. This recipe (courtesy of our vendor partner Bar-S Foods) for Cheddar-Bacon-Ranch Layered Dip hits all the top marks for good 'ole-fashioned finger food: quick and easy to prepare, good for the budget, and
bacon
. It sounds so good you can almost taste the salty crunch and carbonated swig, while the crowd cheers in the background.
Visit your local Brookshire Brothers to get started!
P.S. – October is #NationalPorkMonth, so fixing a recipe with bacon is basically equivalent to fulfilling a patriotic duty. #Motivation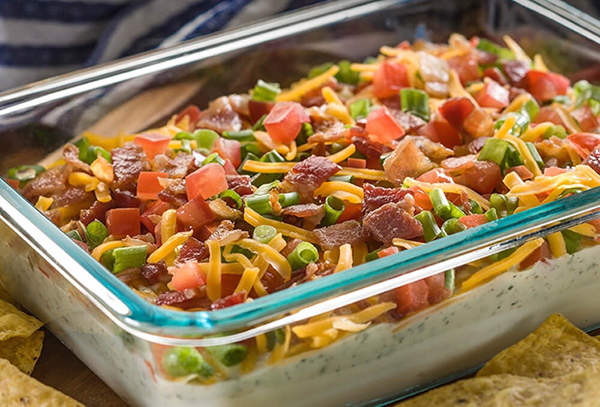 Cheddar-Bacon-Ranch Layered Dip
 Total time: 25 min | Servings: 14 | $1.06 per serving*
Ingredients
1 package (8 oz.) cream cheese, 1. softened
1⁄2 cup ranch dressing
1 roma tomato, seeded and chopped
1⁄4 cup chopped green onion
1⁄4 cup shredded cheddar cheese
Tortilla chips or assorted crackers
Directions
In a medium bowl, stir together cream cheese and ranch dressing. Spread in a 9-inch pie plate or other shallow bowl. Sprinkle with bacon, tomato, green onion and cheddar cheese. Serve immediately or cover and refrigerate up to 8 hours.
Serve with tortilla chips or crackers.
 Tip: Serve this fun dip on a baked potato bar for all the fixins' of a loaded potato in one place.
*Cost of ingredients may vary by location and seasonality | © Bar-S Foods 2016 | Bar-S.com
Don't forget to check out these other game day recipes from Bar-S Foods as well!
Monday March 27, 2017
Make Me Some Peanuts & Cracker Jacks
With local youth baseball and softball games starting and the big league's opening day right around the corner, we're having some fun with these baseball-inspired recipes (courtesy of Kraft).
Dill Pickle-Popcorn Mix
Pick a piece of dill pickle popcorn, grab your favorite seat on the couch or on the bleachers and root on your favorite team with a perfectly pleasant popcorn snack! This Dill Pickle-Popcorn Mix is ready to be enjoyed in just 5 minutes.
Ingredients
1 pkg. (3 oz.) microwave popcorn, popped
1 Tbsp. butter, melted
2 Tbsp. chopped fresh dill
1/2 cup Planters Sea Salt & Vinegar Peanuts
Directions
1. Place popcorn in large bowl.
2. Add butter and dill; toss until evenly coated.
3. Add nuts; mix lightly.
Peanut Grillers
Steaks on the grill...sure.
Shrimp on the barbie... ok.
But nuts? Oh, yes! This baseball treat
will have you holding onto your
helmet! Don't miss out on the 
next big thing! 
Ingredients
1 cup Planters Dry Roasted Peanuts
Directions
1. Heat grill to medium heat.
2. Fold 30-inch-long piece of heavy-duty foil crosswise in half; crimp edges to make rim around all sides. Spray with cooking spray.
3. Spread nuts in single layer in foil pan; place on grate of grill.
4. Grill 6 to 8 min. or until nuts are lightly toasted, stirring frequently. Cool 5 min.
Baseball Dessert
Finish off sweet and score one for the home team with our easy pudding-and-cookie dessert. Red licorice makes easy seams on this big-league-worthy ball. This crowd-pleaser will be going, going, gone soon!
Ingredients
1 pkg. (3.9 oz.) Jell-O Chocolate Flavor Instant Pudding
2 cups cold milk
35 Oreo Cookies, divided
1-1/2 cups thawed Cool Whip Whipped Topping
1 piece red string licorice (36 inch)
Directions
1. Beat pudding mix and milk with whisk 2 min. Let stand 5 min. or until thickened.
2. Line 8-inch round pan with plastic wrap. Arrange 14 cookies on bottom of pan, cutting to fit if necessary; cover with 1 cup pudding. Repeat layers. Cover with plastic wrap. Refrigerate 24 hours.
3. Uncover dessert. Invert onto serving plate; remove plastic wrap. Frost dessert with Cool Whip. Cut remaining cookies in half; arrange around edge of dessert. Cut licorice into 2 (8-inch) pieces and 20 (1-inch) pieces. Use licorice to decorate top of dessert to resemble a baseball.