Tuesday January 22, 2019
Cooking with Kate: Game-Day Dips
The biggest game in football is coming up soon on Sunday, February 3. Whether you watch the game for the sport, the halftime show, or mute the game and just watch the commercials—one thing that makes a great watch party is the food! These two party-perfect dips will keep your game-day guests coming back for more. Both can be made a day or two early so that you can relax during the game!
Baked Potato Dip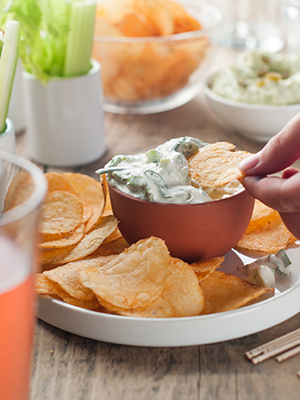 Contrary to how it sounds, this dip does not contain potatoes… but is absolutely delicious served with our Food Club Wavy Potato Chips!
Ingredients 
2 (8 oz) pkgs cream cheese
16 ozs. container sour cream
2 cups shredded sharp cheddar cheese
8 green onions, finely chopped
1 (9 oz)  package cooked crumbled bacon
2 large bags Food Club Wavy Potato Chips
Directions 
Preheat oven to 350°F. In a large bowl, beat cream cheese and sour cream until smooth. Add cheddar cheese, chopped green onions, and bacon and mix well.
Spread in a lightly greased 9X13-inch baking dish. Cover with aluminum foil and bake in preheated oven for 25-30 minutes until hot and bubbly around the edges.
Serve warm with potato chips. 
Southwest Egg Roll Dip
This flavorful dip steals its ingredient list from a popular appetizer… but is much less work than assembling egg rolls!
Ingredients  
2 cups cooked, cubed chicken breast or shredded rotisserie chicken
2 cups frozen corn, thawed
1 can black beans, rinsed and drained well
1 red bell pepper, finely chopped
1 cup Monterrey cheese, shredded
4 green onions, thinly sliced
1 box frozen spinach, thawed and drained well 
2 avocados
1 (12 oz) bottle ranch dressing
½ bunch cilantro, finely chopped
3 limes, juiced
1 tablespoon cumin 
1 tablespoon chili powder 
¼ teaspoon cayenne pepper
salt and pepper to taste 
Directions
In a large bowl, mix chicken, corn, beans, diced pepper, green onion, spinach, and shredded cheese.
In a separate bowl, smash the avocados to a smooth paste. Add the ranch dressing, cilantro, lime juice, cumin, chili powder, cayenne, salt and pepper, and mix until smooth.
Combine the dressing with the chicken mixture. Cover and refrigerate for at least 4 hours.
Serve dip with assorted chips and crackers.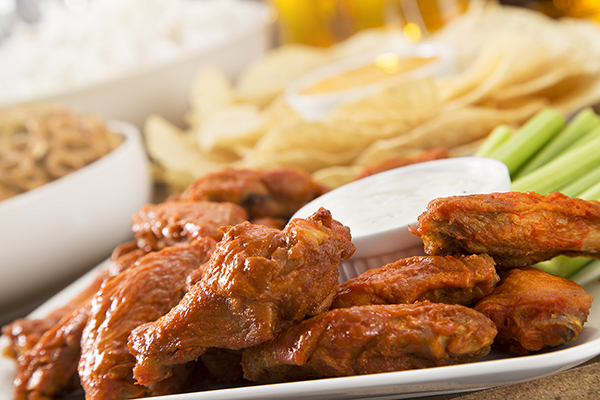 Four more easy & epic crowd pleasers (with lots of bacon):
Courtesy of our vendor partner Bar-S Foods
---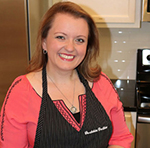 Kate knows food. She grew up with the Southern tradition of good food with the hospitality to match.  A graduate of Texas A & M University, a student of The Texas Culinary Academy, and a Nacogdoches, Texas native, Kate's greatest joy is bringing people together over a scrumptious meal.
Monday October 2, 2017
NFL + MLB + NBA = OMG game day snacks!
Fall football is in full swing, MLB postseason is up for bat, and the start of the regular NBA season is just around the corner. You know what this means? Game day food! Whether you're attending a blowout watch party or you're enjoying the quieter company of you and your TV, you can't discount the importance of a good snack. It's one of the three most important ingredients (per the proverbial saying): good company, good drinks, and good FOOD. This recipe (courtesy of our vendor partner Bar-S Foods) for Cheddar-Bacon-Ranch Layered Dip hits all the top marks for good 'ole-fashioned finger food: quick and easy to prepare, good for the budget, and
bacon
. It sounds so good you can almost taste the salty crunch and carbonated swig, while the crowd cheers in the background.
Visit your local Brookshire Brothers to get started!
P.S. – October is #NationalPorkMonth, so fixing a recipe with bacon is basically equivalent to fulfilling a patriotic duty. #Motivation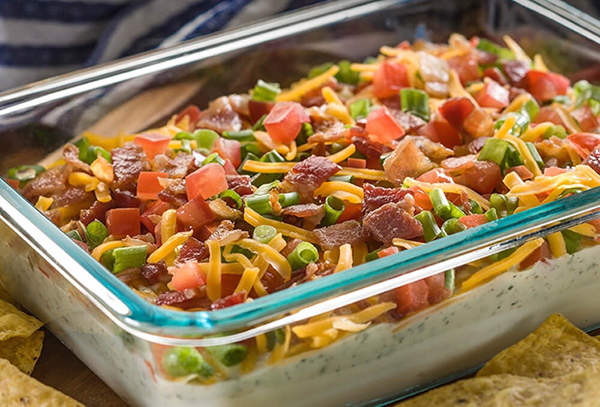 Cheddar-Bacon-Ranch Layered Dip
 Total time: 25 min | Servings: 14 | $1.06 per serving*
Ingredients
1 package (8 oz.) cream cheese, 1. softened
1⁄2 cup ranch dressing
1 roma tomato, seeded and chopped
1⁄4 cup chopped green onion
1⁄4 cup shredded cheddar cheese
Tortilla chips or assorted crackers
Directions
In a medium bowl, stir together cream cheese and ranch dressing. Spread in a 9-inch pie plate or other shallow bowl. Sprinkle with bacon, tomato, green onion and cheddar cheese. Serve immediately or cover and refrigerate up to 8 hours.
Serve with tortilla chips or crackers.
 Tip: Serve this fun dip on a baked potato bar for all the fixins' of a loaded potato in one place.
*Cost of ingredients may vary by location and seasonality | © Bar-S Foods 2016 | Bar-S.com
Don't forget to check out these other game day recipes from Bar-S Foods as well!
Monday January 23, 2017
Texas-Sized Big Game Snacks
Your team is set, but is your menu game day ready? Lucky for you, we've got the perfect snacks for your loud and loaded potato skins-loving uncle and delightful sweets for that reminiscing running back. 
  Party Wings and Boneless Wings are the go-to
  protein-packed hors d'oeuvre that will satisfy
  everyone. You can find this and other great party
  trays from your local Brookshire Brothers Deli.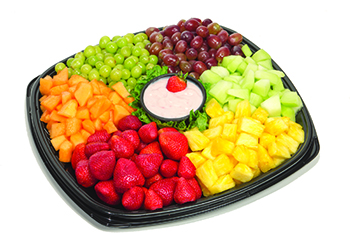 For a lighter snack that the Football Wives will appreciate, go for our Fruit Tray with sweet fruit dip. Complement Trays like this can be found when you order from your Deli.
---
Looking for a personal touch this year? Score big with this tried and true Sweet & Salty Chex Mix Recipe from our Catering Coordinator, Kate Rudasill. With a craft beer favorite from The Beverage Depot, Robert Earl Keen Honey Pilsner, this recipe gives the best of both worlds when it comes to salty and sweet. 
We've got everything you need, whether you're looking for a deli solution or ingredients to make your own creation, at your local Brookshire Brothers. Find a store near you today!
Tuesday November 10, 2015
Mile High Pumpkin Pie
A creamy, golden pumpkin pie that will make you feel like you've just tasted heaven (hence the name). Try this recipe out and serve during the Thanksgiving football frenzy!
To download PDF, click here
Friday September 18, 2015
Ladies With Game Playbook
Football never looked better! Ladies, we've got your drink menu covered for Sunday football games with your man.