Tuesday January 22, 2019
Cooking with Kate: Game-Day Dips
The biggest game in football is coming up soon on Sunday, February 3. Whether you watch the game for the sport, the halftime show, or mute the game and just watch the commercials—one thing that makes a great watch party is the food! These two party-perfect dips will keep your game-day guests coming back for more. Both can be made a day or two early so that you can relax during the game!
Baked Potato Dip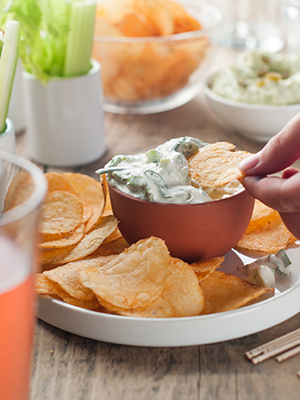 Contrary to how it sounds, this dip does not contain potatoes… but is absolutely delicious served with our Food Club Wavy Potato Chips!
Ingredients 
2 (8 oz) pkgs cream cheese
16 ozs. container sour cream
2 cups shredded sharp cheddar cheese
8 green onions, finely chopped
1 (9 oz)  package cooked crumbled bacon
2 large bags Food Club Wavy Potato Chips
Directions 
Preheat oven to 350°F. In a large bowl, beat cream cheese and sour cream until smooth. Add cheddar cheese, chopped green onions, and bacon and mix well.
Spread in a lightly greased 9X13-inch baking dish. Cover with aluminum foil and bake in preheated oven for 25-30 minutes until hot and bubbly around the edges.
Serve warm with potato chips. 
Southwest Egg Roll Dip
This flavorful dip steals its ingredient list from a popular appetizer… but is much less work than assembling egg rolls!
Ingredients  
2 cups cooked, cubed chicken breast or shredded rotisserie chicken
2 cups frozen corn, thawed
1 can black beans, rinsed and drained well
1 red bell pepper, finely chopped
1 cup Monterrey cheese, shredded
4 green onions, thinly sliced
1 box frozen spinach, thawed and drained well 
2 avocados
1 (12 oz) bottle ranch dressing
½ bunch cilantro, finely chopped
3 limes, juiced
1 tablespoon cumin 
1 tablespoon chili powder 
¼ teaspoon cayenne pepper
salt and pepper to taste 
Directions
In a large bowl, mix chicken, corn, beans, diced pepper, green onion, spinach, and shredded cheese.
In a separate bowl, smash the avocados to a smooth paste. Add the ranch dressing, cilantro, lime juice, cumin, chili powder, cayenne, salt and pepper, and mix until smooth.
Combine the dressing with the chicken mixture. Cover and refrigerate for at least 4 hours.
Serve dip with assorted chips and crackers.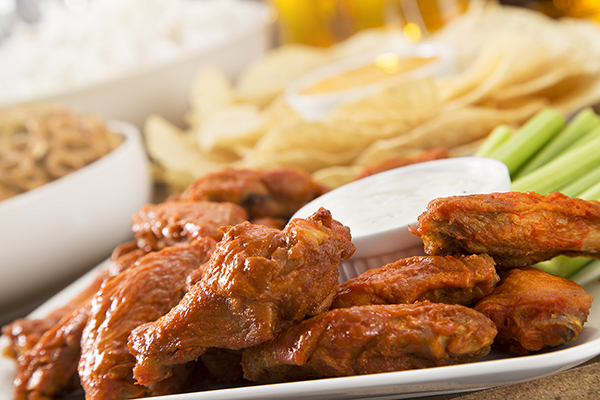 Four more easy & epic crowd pleasers (with lots of bacon):
Courtesy of our vendor partner Bar-S Foods
---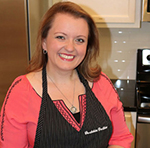 Kate knows food. She grew up with the Southern tradition of good food with the hospitality to match.  A graduate of Texas A & M University, a student of The Texas Culinary Academy, and a Nacogdoches, Texas native, Kate's greatest joy is bringing people together over a scrumptious meal.
Tuesday October 23, 2018
The Trick to Handling the Treats
Halloween is serious business for the little ones. After they don the perfect costume, they are ready to hit the neighborhood in search of some tasty treats. Since Halloween only happens once a year, it's fun to indulge a little and eat some of that hard-earned candy. Help your little ones avoid a tummy ache by taking advantage of kids' innate ability to regulate their appetites. One of the easiest ways is a well-timed and nutritious snack before heading out to trick-or-treat. Young children tend to naturally regulate their appetites, so they will usually slow down on eating sweets if they begin to feel overly full. Here are some of my favorite snack ideas to help!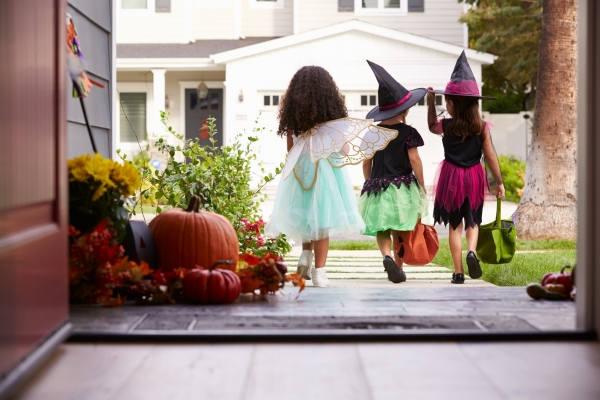 Turkey and cheese roll-ups (Turkey mummies, if you will!)
Fruit of any kind, but especially easy finger foods like grapes, oranges, apple slices, or bananas
Yogurt cups
Cheese sticks of all kinds (There are tons of different flavors to choose from at your local Brookshire Brothers!)
Cucumber slices with a little vinegar, salt, and pepper
Cinnamon toast with butter on whole wheat bread
Or see some of my favorite grab-and-go snack options here!
And if you're looking for some unique options with a healthy twist to pass out in your neighborhood this Halloween, try some of these ideas. 
Fruit snacks and gummies, especially with natural flavors and colors (These fruit-filled recipes are frightfully good—and healthy!)
Inexpensive trinkets such as stickers, temporary tattoos, or bouncy balls
Simple chocolates
100% fruit juice in small boxes or pouches
Snack-sized bags of freeze dried fruit, raisins, or pretzels (Another wicked-good snack to try: Rice Krispies Treats with fall flavors and fun topping ideas!)
Small bags of pre-popped popcorn (Make your scary movie night really pop with these three fun popcorn recipes!)
---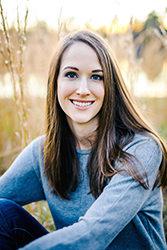 Angela Larson is a registered dietitian (RD) who works with Brookshire Brothers promoting 
real fresh, real delicious
 foods and nutrition education to the community. She is also a clinical dietitian representing Woodland Heights Medical Center in Lufkin where she does outreach education on food and nutrition. Food is her passion, so Angela loves trying new recipes and exploring the more holistic side of nutrition. Angela loves to cook, garden, and spend time outdoors. In addition to the 
Brookshire Brothers blog
, look for Angela's monthly articles in Charm East Texas. 
Monday June 4, 2018
Snacks for Summer Adventures: Healthy, Portable, and Kid-Approved
5 Easy Picks For a Real Fresh, Real Delicious Summer
I'm always on the lookout for grab-n-go snacks that are nutritious, kid-approved, and perfect for all the summer adventures—pool days, ballgames, going to the park, and more. Here are some of my favorite selections
from my neighborhood Brookshire Brothers store
that are as delicious as they are nutritious!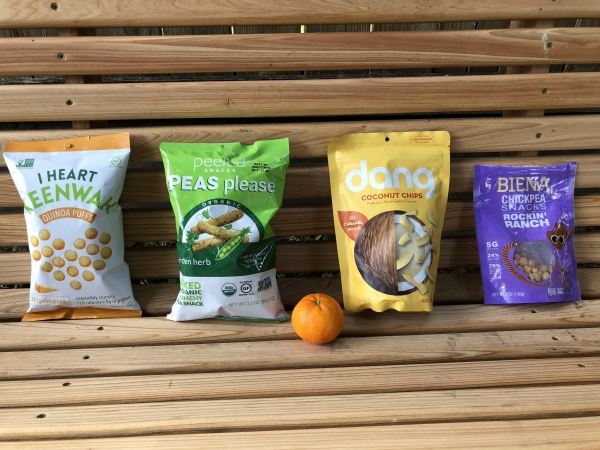 Quinoa Puffs
Kids (and kids at heart) love these little cheezy orbs of crunchy puffy goodness.  They would never suspect that the secret ingredient is quinoa flour, a healthy protein powerhouse!
FYI: This weekend's text offer will be FREE Simply Done foam plates (50 ct) when you spend $20 (some exclusions apply).
Not signed up for our text offers? Text JOIN [insert your store #] to 59652.
Pea Snacks
Pea snacks are a crunchy snack that travels well and has a super simple ingredient list: pea and brown rice flour (aka LOADS of fiber and protein). Better yet, all the different flavors (from plain to spicy) will keep everyone in the family happy.  
Chickpea Snacks
If you're looking for something with a little more bite, check out dried chickpea snacks. With a nice balance of protein, carbs, and healthy fat, they'll keep the kids fueled up for all their summer activities. These also come in a variety of yummy flavors, plus they can make a tasty topping for salads and soups!
Coconut Strips
If you're looking for a something on the sweeter side to nosh on, try some delicious "Dang" brand coconut chips.  These lightly sweetened crunchy strips of coconut taste great on their own, or you might combine them with nuts and dried fruit for a healthy, homemade trail mix. Coconut is full of healthy fat and fiber, which makes these an extra satisfying snack with staying power.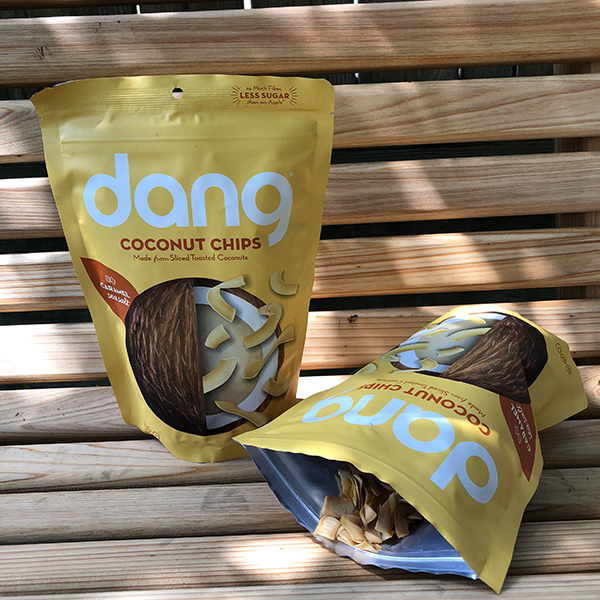 Clementine Oranges
Everyone's favorite. Little clementine oranges are hydrating, sweet, and tangy with a punch of vitamin C and potassium.  If you need a quick pick-me-up for the summer heat, grab one of these juicy "Little Cuties" and peel away!
---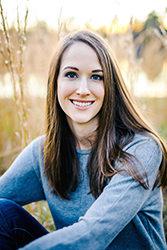 Angela Larson is a registered dietitian (RD) who works with Brookshire Brothers promoting 
real fresh, real delicious
 foods and nutrition education to the community. She is also a clinical dietitian representing Woodland Heights Medical Center in Lufkin where she does outreach education on food and nutrition. Food is her passion, so Angela loves trying new recipes and exploring the more holistic side of nutrition. Angela loves to cook, garden, and spend time outdoors. In addition to the 
Brookshire Brothers blog
, look for Angela's monthly articles in Charm East Texas. 
Tuesday March 20, 2018
Have a Ball with March Madness
You know that huge party you're planning to throw for March Madness? With the really,
really
good snacks? We've got some ideas (like
Moroccan Madness Pizza
) and reminders that'll guarantee a slam-dunk time:
SET THE MOOD
The most memorable shindigs usually come down to the details, and that's where setting comes in. Of course, you can't forget putting out the décor—we recommend classic basketball colors (orange, black, and white)—but you really can't forget the music. Spend some time creating a fun playlist with sports-friendly tunes (for when the game isn't on).
BEST SEATS IN THE HOUSE
We respect the sofa's traditional role of Keeper of Chip Crumbs, Pennies, and All Lost Toys, but today it has a new job: comfortable, clean seating. Clear up the clutter and throw in some extra pillows/blankets if necessary. Consider adding some extra seating around the room as well, and don't forget to keep the bathroom routes very, very obstacle-free.
P.S. - The crowd will go wild for this week's Member Monday offer: Get a FREE bag of Santitas or Calidad tortilla chips when you buy Velveeta (2lb)!
Not a member? SIGN UP TODAY!
NEVER MISS A PLAY
Record, record, record. Technology is a thing we should use, and use often (especially if it means replaying that LAST. SECOND. 3 POINTER)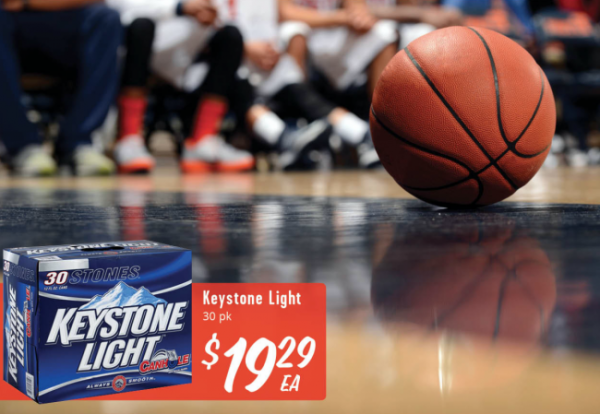 Pick out a new wine or beer to try from our featured 
What's Hot
 picks for this week!
DRINK UP
Score big with your beverages. Invest in a variety you think your guests will enjoy, and place them in one spot (away from the television) to keep things simple and easy to clean up. Don't forget to chill ahead of time.
CHOW DOWN
THIS WEEKEND ONLY: Join our text promotions and get $5 OFF on custom deli trays—perfect your party snacks! To sign up, text JOIN [insert your store number] to 59652. Don't know your store number? You can use our 
store locator
 or shoot us an email at 
customerexperience@brookshirebros.com
NOTHING BUT NET
Literally, no trash/nothing/nada will be left behind if you look into putting a little hoop over your wastebasket. It may be cliché but—trust us—everyone secretly loves this particular cliché.
Monday October 23, 2017
Cooking with Kate: Wicked Good Snacks
A fall take on a summer favorite. 
With our Texas weather fickle as ever, it's no surprise that we're looking at a fairly warm Halloween this year. It seems like summer just won't say goodbye! To mix up the summer temperatures with some fall spirit, here's an easy-to-make, sweet snack recipe. Basically, think Rice Krispies Treats but with fall flavors and fun topping ideas. Even better, this snack mix makes for a quick, easy party favor for a Halloween bash and trick-or-treaters.
Visit your local Brookshire Brothers today
 to find these ingredients and other wicked good snacks! 
Rice Krispies Treat Snack Mix
Ingredients
1 (12 oz) box crisp rice cereal
5 tablespoons butter
2 tablespoons brown sugar
1 (7 oz) container marshmallow fluff / crème
Directions
In a small saucepan, melt the butter with the brown sugar until sugar dissolves.
Add the cereal to a large bowl and toss with the melted butter mixture until all the cereal is coated.
Add the marshmallow fluff and gently mix into the cereal until most of it is mixed in but you still have small clumps of coated cereal (the rice krispie "treats").
Add in ingredients for flavor combinations (see below) or make up your own!
Chill mix for at least 2 hours before serving (it's a LOT less messy if you serve it cold) and ENJOY!
FLAVOR COMBINATIONS: 
Citrus-y Cranberry
1 tablespoon orange zest
1 (12 oz) bag mini chocolate chips
1 cup sliced almonds, toasted
1 (3 oz) package dried cranberries
Movie Night Magic
1 (11 oz) bag Kraft caramel bits
1 (12 oz) bag mini chocolate chips
1 tablespoon coarse or flaky sea salt
White Christmas Mint
1 (12 oz) package white chocolate chips
1 (4-6 oz) package soft peppermint candy, crushed
Tropical Oasis
1 (12 oz) bag white or chocolate chips
1 (14 oz) package shredded coconut, toasted
1-2 cups dried tropical fruit (mango, pineapple, etc.)
1 cup sliced almonds, toasted
After School Snack
1 (10-12 oz) bag peanut butter chips
1 cup dried strawberries or raisins
---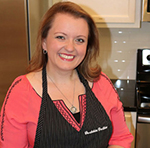 Kate Rudasill, Catering Coordinator for Brookshire Brothers, has been in the food-service industry for the past 14 years. As a graduate of Texas A&M University, a student of The Texas Culinary Academy, and a Nacogdoches, Texas native, Kate grew up with Southern tradition in her blood which caused her to have a deep love for bringing people together with food.
Monday October 2, 2017
NFL + MLB + NBA = OMG game day snacks!
Fall football is in full swing, MLB postseason is up for bat, and the start of the regular NBA season is just around the corner. You know what this means? Game day food! Whether you're attending a blowout watch party or you're enjoying the quieter company of you and your TV, you can't discount the importance of a good snack. It's one of the three most important ingredients (per the proverbial saying): good company, good drinks, and good FOOD. This recipe (courtesy of our vendor partner Bar-S Foods) for Cheddar-Bacon-Ranch Layered Dip hits all the top marks for good 'ole-fashioned finger food: quick and easy to prepare, good for the budget, and
bacon
. It sounds so good you can almost taste the salty crunch and carbonated swig, while the crowd cheers in the background.
Visit your local Brookshire Brothers to get started!
P.S. – October is #NationalPorkMonth, so fixing a recipe with bacon is basically equivalent to fulfilling a patriotic duty. #Motivation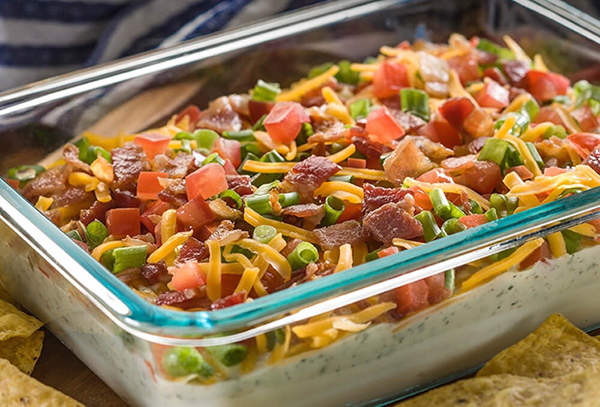 Cheddar-Bacon-Ranch Layered Dip
 Total time: 25 min | Servings: 14 | $1.06 per serving*
Ingredients
1 package (8 oz.) cream cheese, 1. softened
1⁄2 cup ranch dressing
1 roma tomato, seeded and chopped
1⁄4 cup chopped green onion
1⁄4 cup shredded cheddar cheese
Tortilla chips or assorted crackers
Directions
In a medium bowl, stir together cream cheese and ranch dressing. Spread in a 9-inch pie plate or other shallow bowl. Sprinkle with bacon, tomato, green onion and cheddar cheese. Serve immediately or cover and refrigerate up to 8 hours.
Serve with tortilla chips or crackers.
 Tip: Serve this fun dip on a baked potato bar for all the fixins' of a loaded potato in one place.
*Cost of ingredients may vary by location and seasonality | © Bar-S Foods 2016 | Bar-S.com
Don't forget to check out these other game day recipes from Bar-S Foods as well!
Monday August 7, 2017
5 Fun Ways to Fix S'mores
Any day that commemorates s'mores will be a beautiful day, but #NationalSmoreDay (Aug. 10) is also likely going to be very hot. If you're looking to bring the fun indoors while celebrating this classic campfire treat, we've got recipes for every need. Check it out: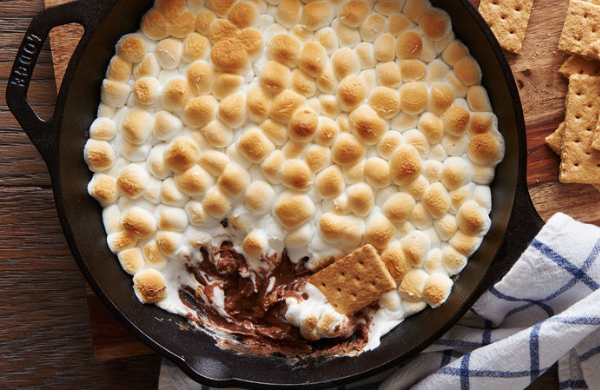 Peanut butter cups + s'mores? We need some-more of this one! This recipe is quick to fix and popular at parties, no matter the weather.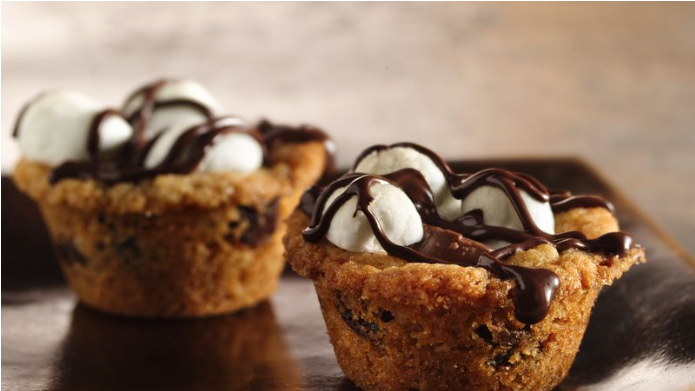 Take dessert or your bake sale to the next level with this popular Betty Crocker recipe!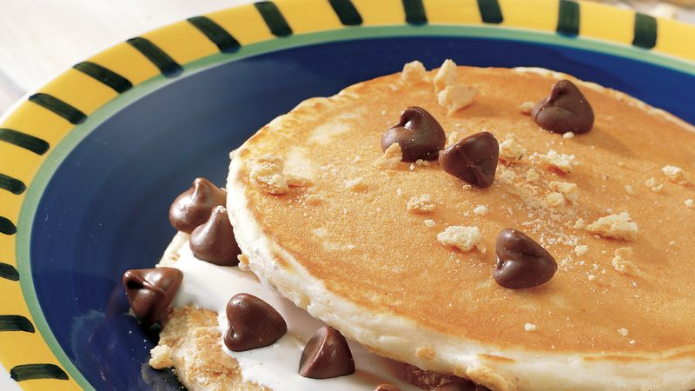 Who knew breakfast could taste so fun.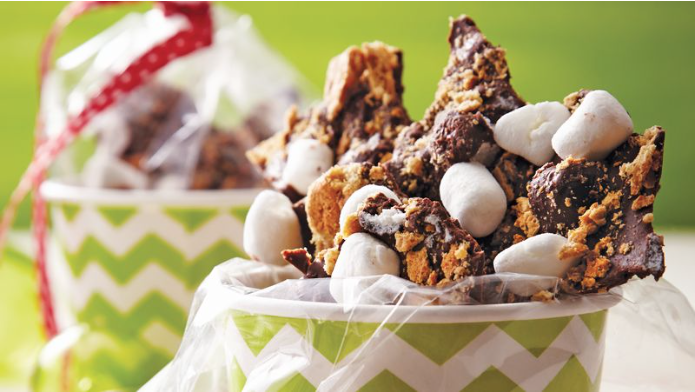 If this bark has bite, it's all delicious crunch. This super-simple recipe has three ingredients and only takes ten minutes to prep!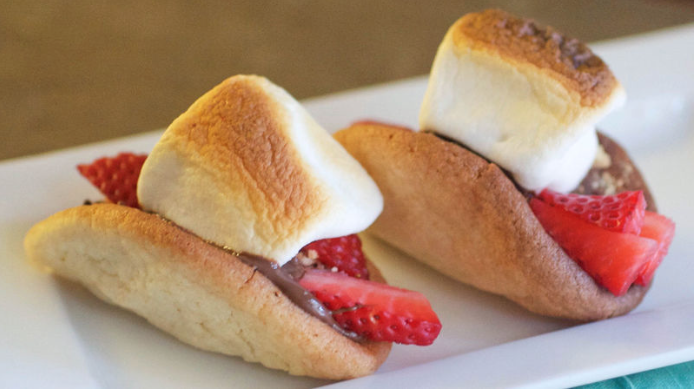 The pinnacle of s'more evolution—a sweet s'more taco.
Monday January 23, 2017
Texas-Sized Big Game Snacks
Your team is set, but is your menu game day ready? Lucky for you, we've got the perfect snacks for your loud and loaded potato skins-loving uncle and delightful sweets for that reminiscing running back. 
  Party Wings and Boneless Wings are the go-to
  protein-packed hors d'oeuvre that will satisfy
  everyone. You can find this and other great party
  trays from your local Brookshire Brothers Deli.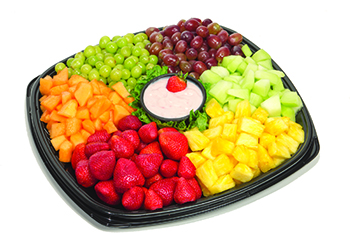 For a lighter snack that the Football Wives will appreciate, go for our Fruit Tray with sweet fruit dip. Complement Trays like this can be found when you order from your Deli.
---
Looking for a personal touch this year? Score big with this tried and true Sweet & Salty Chex Mix Recipe from our Catering Coordinator, Kate Rudasill. With a craft beer favorite from The Beverage Depot, Robert Earl Keen Honey Pilsner, this recipe gives the best of both worlds when it comes to salty and sweet. 
We've got everything you need, whether you're looking for a deli solution or ingredients to make your own creation, at your local Brookshire Brothers. Find a store near you today!
Monday May 16, 2016
Snackspiration!
Melon with Prosciutto: Sweet melon and salty prosciutto go together like peanut butter and jelly. Which is to say, you'll probably never want to eat one without the other ever again. 
Grape Sticks: There's something about eating off of a stick that makes everything more delicious—grapes included. If you have extra time on your hands, pop them in the freezer for a super-chill twist.
Melon Rings: Sure you could just eat slices of melon, but what's the fun in that? To make these show-stopping rings, we first cut slices of watermelon, muskmelon and cantaloupe in 1.5-inch slices, then we used circle cookie cutters to make the rings. Last step is to stack them and you're set!
Grilled Peach Salsa: If you thought salsa was just made from tomatoes, think again! Throw some grilled peaches in your next batch for a summertime spin that you can't get enough of.


Tuesday March 29, 2016
3 Lunchboxes to Put Some Spring in Your Kid's Step
April showers bring May flowers and these bright and cheery lunchboxes celebrate the best of both!
Springtime brings lots of colorful fun, so we're celebrating by adding it into our lunchboxes! We've got two bright and cheery combos sure to bring a smile to any kid's face. 
Our first lunchbox isn't just adorable, it's delicious too! We made a kid-friendly pasta salad with bowtie noodles plus a little salt and butter, then tossed it all together with Cascadian Farm frozen organic sweet peas. Next, using Betty Crocker™ Fruit Gushers®, we created an adorable flower  and added fresh snap peas for greenery. Last, but not least, we also added a tasty Larabar for a hint of sweetness!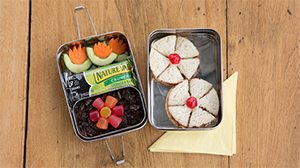 The second lunchbox is sure to satisfy your growing kid's appetite! We made peanut butter and jelly sandwiches in the shape of flowers, which is way easier than you might think. Spread peanut butter and the jelly of your choice between two pieces of bread and cut into a circle using a biscuit cutter. Then, cut 5 slits around the sandwich to make the "petals." Finally, garnish with a fruit Gusher to complete the flower!
We also made flower veggie sticks with carrots and cucumber. Simply cut a slice of cucumber about 1/3-inch thick. Cut the slice in half and remove the seeds. Take a washed and peeled carrot and also cut a slice about 1/3-inch thick. Using a small knife, cut out two small, triangular pieces from one end to create the look of flower petals. To assemble the "flower", place the carrot slice inside the cucumber slice and fasten with a toothpick for the "stem." For a sweet treat, we made a "dirt garden" with ½ cup of chocolate pudding topped with crushed Oreo cookies. The flower was made using Dots candies, but any flowery and sweet garnish will work. We also added a Nature Valley granola bar to eat at lunch or to be saved for a yummy snack.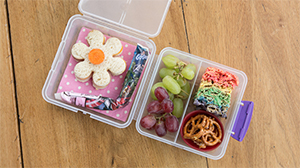 Our final flower power-packed lunch is super easy and super cute! We put together a turkey and cheese sandwich and using a cookie cutter, made it into an adorable flower. We wanted this lunchbox to be super-easy but still fun so we added a Go-Gurt, red and green grapes, and pretzels. We also packed along one of our rainbow Chex Bars (a fun take on the regular Rice Krispy Treat). Instead of making one batch, we divided the recipe into five small batches and added food coloring to each portion individually and stacked each colorful layer. Any other fun treat you have on hand would work great, but we couldn't pass this fun snack up with all the bright colors!
What are some of your favorite springtime, lunchbox-approved recipes? We want to hear from you!
Pages