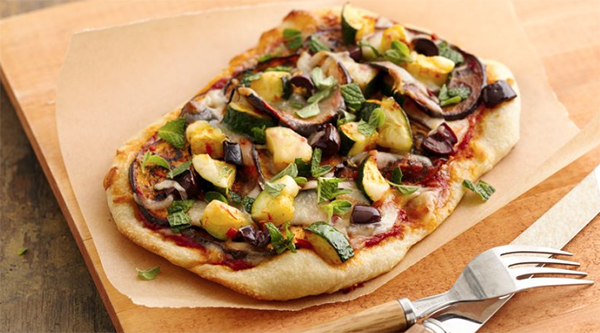 Moroccan Madness Pizza
Recipe courtesy of Betty Crocker
Ingredients
2 tablespoons olive oil
3 tablespoons harissa chili paste
1/2 teaspoon salt
1 small eggplant, very thinly sliced
1 medium zucchini, chopped
1 can (11 oz) Pillsbury™ refrigerated thin pizza crust
3/4 cup marinara sauce
1 clove garlic, finely chopped
2 cups shredded mozzarella cheese (8 oz)
1/4 cup kalamata olives, chopped
Fresh oregano leaves and chopped fresh mint leaves
Directions
1 Heat oven to 400°F.
2 In medium bowl, beat oil, 1 tablespoon of the harissa chili paste and the salt with whisk until well combined. Add eggplant and zucchini; toss to combine. Place eggplant and zucchini in roasting pan, setting bowl aside for step 4. Roast in oven 8 to 10 minutes or until eggplant and zucchini just start to become tender.
3 Grease dark or nonstick cookie sheet with shortening or cooking spray. Unroll dough on cookie sheet; starting at center, press dough into 15x10-inch rectangle. Cut rectangle into 4 equal pieces to make 4 small pizzas. Place 1/2 inch apart. Tuck corners of each rectangle under, and press to make even.
4 In bowl reserved from step 2, mix marinara sauce, the remaining 2 tablespoons harissa chili paste and the garlic. Blend until well combined. Spread sauce on dough pieces. Top with 1 1/2 cups of the mozzarella cheese, followed by roasted veggies and olives. Sprinkle with remaining 1/2 cup mozzarella cheese.
5 Bake 10 to 15 minutes or until crust is golden brown and cheese is melted and bubbly. Top with oregano and mint.