Tuesday August 21, 2018
Real Fresh, Real Brilliant Breakfast Ideas
• 11 Kid-Friendly Healthy Options for the Morning Menu • 
As summer winds down and schedules start filling up again, a fresh rotation of healthy breakfast ideas can make a great start to everybody's day. Here are some of my favorite choices for keeping energy levels up and spirits high with the early mornings and busy days ahead.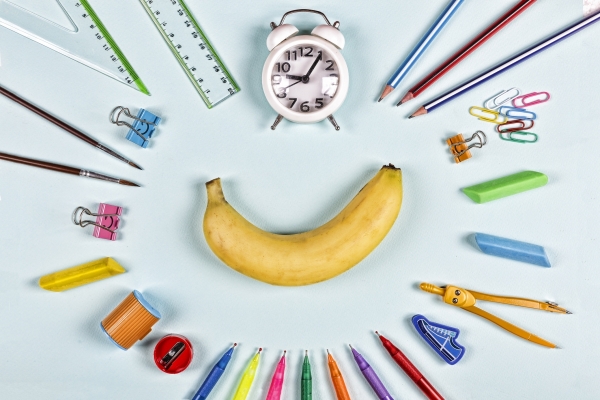 Cereal
If you're a fan of breakfast cereal, look for options that are low in sugar. You can always sweeten it with healthier alternatives, such as honey and fresh fruit mixed with plain Cheerios. Granola-style cereals are another filling and nutritious option with plenty of flavor combinations to mix it up.  
Bacon, Sausage, and Biscuits
Need a little down-home southern style breakfast to lift your spirits?  There's a great selection of bacon, sausage, and biscuits
at your neighborhood Brookshire Brothers
to help you create a breakfast feast that is sure to please. I like to make little breakfast sandwiches with bacon, egg, cheese, and a biscuit; they're portable and delicious!
Breakfast Tacos 
Everybody loves breakfast tacos. With so many different options for fillings, you're sure to please even the pickiest of eaters. Refried beans, cooked potatoes, shredded cheese, tomatoes, salsa, chorizo, sausage, or bacon—there's no shortage of fillings (or happy feelings).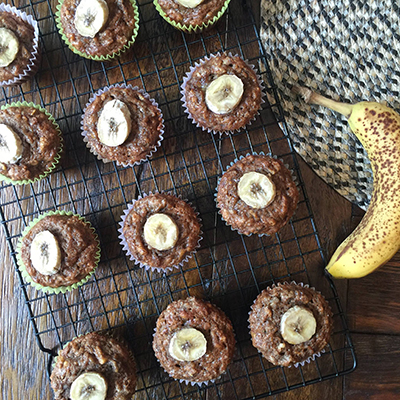 Eggs
Eggs are the quintessential breakfast superstar—and for good reason! Whether scrambled, fried, poached, boiled, or even baked, they are packed with protein, heaps of vitamins and minerals, and healthy fats to keep your energy levels steady throughout the day. Not to mention, they're carb-free! Even better, eating eggs provides a great opportunity to get some greens into your morning routine; eggs pair well with a wide range of veggies including chiles, bell peppers, onions, tomatoes, avocados, and more. In particular, one of the easiest way to add veggies to your eggs is to keep some salsa hand for a flavorful combination on the ready! Lastly, if there's only time for a grab-and-go breakfast, boiled eggs are a great option.
Easy Oatmeal
Oatmeal is another filling and nutritious breakfast option! I cook mine with milk for more rib-sticking power. Try this basic recipe:
Use twice the amount of milk as oatmeal (for example, ½ cup oatmeal and 1 cup milk), a pinch of salt, a sprinkle of cinnamon, a handful of raisins, and a a drizzle of real maple syrup to sweeten. Put on the stove over medium heat until it simmers, turn it off for a minute or two, and eat!  For a decadent finish, try a splash of heavy cream for some healthy fat to help fill tummies for long busy days.  
Grits
Muffins
If you're in need of more portable breakfast options, a big batch of muffins can be just the ticket. Muffins freeze well too, so make extra and keep a stash in the freezer for busy days ahead.
Try my favorite banana nut muffin recipe
for the ultimate portable breakfast.
Smoothies
Smoothies are one of the most versatile breakfast options since so many different things can work in a smoothie. Keep a variety of frozen and fresh fruit on hand. Freeze overripe bananas for an ever-ready smoothie ingredient. For the liquid component, I like options with protein such as milk, nut milk, yogurt, and even kefir (a dairy-based probiotic drink). Extra flourishes can be added like coconut oil, coconut flakes, chia or flax seeds. For more veggie power,
check out this green smoothie recipe
. 
Toast
If you enjoy toast, focus on fun combinations like peanut butter with banana, butter with cinnamon, or
avocado with egg
.
Waffles
I always keep a stock of frozen waffles on hand as a quick option that can be popped in the toaster and ready in minutes. My
neighborhood Brookshire Brothers
has a great selection of frozen waffles to make shopping easy. Some of my family's favorites are Nature's Path Organic and Van's gluten-free waffles. You can also prepare an extra batch of homemade waffles (and pancakes!) to freeze and reheat another morning. Keep real maple syrup and butter on hand for wholesome and delicious finishing touches!
Yogurt
Yogurt is a fantastic all-in-one food that has a healthy balance of carbohydrates, protein, and fat to keep energy levels stable, not to mention the healthy probiotic bacteria that's wonderful for digestion as well! Keep big tubs of plain yogurt and toppings on hand such as fresh or dried fruit, nuts and seeds (like pumpkin or sunflower seeds), dried coconut, granola, muesli, chia or flax seeds for healthy omega-3 fats, and honey to sweeten it up.  
And to celebrate both breakfast and the arrival of Hatch Chile season, try this family favorite recipe for ooey-gooey cheesy baked egg goodness with a little Hatch Chile flair.
---
Hatch Chile Baked Eggs
Ingredients
6 eggs
¼ cup all-purpose flour
1 ½ teaspoons powdered mustard
¾ teaspoon baking powder
½ teaspoon salt
½ cup cottage cheese
½ cup shredded Monterey Jack cheese
½ cup shredded cheddar cheese
3 tablespoons unsalted butter, softened and cut into small pieces
1 Hatch or poblano chile, peeled, stemmed, seeded, and diced
Toppings as desired: salsa, avocado, sour cream
Directions
Preheat oven to 350F.  Lightly grease an 8-inch square casserole dish.  
In a large bowl, beat the eggs.  Stir in the flour, mustard, baking powder, and salt.  Stir in all the cheese, butter, and diced chile and mix until incorporated.  
Pour the egg mixture into the casserole dish and bake for 25-30 minutes, or until top is lightly browned and the center is firm.  Serve warm with toppings as desired.
---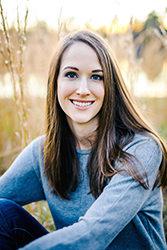 Angela Larson
 is a registered dietitian (RD) who works with Brookshire Brothers promoting 
real fresh, real delicious
 foods and nutrition education to the community. She is also a clinical dietitian representing Woodland Heights Medical Center in Lufkin where she does outreach education on food and nutrition. Food is her passion, so Angela loves trying new recipes and exploring the more holistic side of nutrition. Angela loves to cook, garden, and spend time outdoors. In addition to the 
Brookshire Brothers blog
, look for Angela's monthly articles in Charm East Texas. 
Tuesday August 14, 2018
Cooking with Kate: Dinner Ideas for Busy School Nights
Are you ready? The start of school and the busy fall season are just around the corner! As the schedules ramp up, spending hours in the kitchen preparing dinner is not at the top of anyone's to do list. Here is one of my go-to meals for busy nights when I have little time to prep but want to have a healthier option than the drive-thru!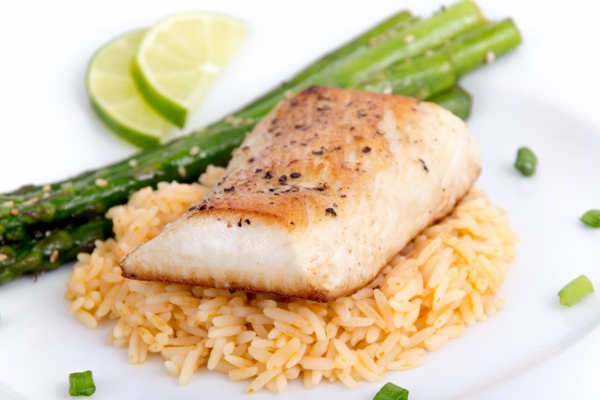 Broiled Parmesan White Fish
White fish is an excellent source of low-fat protein, niacin, vitamin B12, phosphorus, and potassium. Paired with wild rice or quinoa alongside roasted asparagus or green beans, this 30-minute meal is sure to hit the spot!
Ingredients
2 pounds tilapia, swai, cod, or skate fillets, thawed
2 tablespoons Old Bay seasoning
½ cup fresh grated parmesan cheese
¼ cup butter, softened
3 tablespoons mayonnaise
2 tablespoons fresh lemon juice
¼ teaspoon dried basil
¼ teaspoon ground black pepper
¼ teaspoon paprika
¼ teaspoon garlic powder
1/8 teaspoon onion powder
1/8 teaspoon celery salt
Reel in another deal this week: Celebrate members get 20% off ANY shrimp now through next Tuesday! To redeem, enter your phone number at the register. Expires 8/21/18.
Directions
Preheat the broiler in your oven to medium/high or high. Spray a broiling pan or baking sheet with lots of non-stick spray. In a small bowl, mix the cheese, butter, mayonnaise, and lemon juice. Add all the spices and blend well. Set aside. 
Arrange fish fillets in a single layer on the prepared pan. Sprinkle evenly with half of the Old Bay seasoning. Broil a few inches from the heat for 2 to 3 minutes. Flip the fillets over, sprinkle with remaining Old Bay seasoning and broil for 2 to 3 more minutes. Remove the fillets from the oven and spread evenly with the parmesan cheese mixture. Broil for 2 to 3 minutes or until the topping is browned and fish flakes easily with a fork. Depending on the thickness of your fish fillets, they will finish cooking in varying amounts of time. Be careful not to overcook the fish. Serve immediately.
---
Roasted Asparagus or Green Beans
A quick side dish for fish, chicken, or beef – these roasted vegetables add a healthy, bright, and fresh pop of flavor to any meal.
Ingredients
1 pound fresh asparagus or green beans
3 tablespoons olive oil
2 tablespoons grated parmesan cheese
1 clove of garlic, minced
1 teaspoon sea salt or table salt
½ teaspoon black pepper
1 lemon, juiced
Directions
For asparagus – Wash and trim bottom ends from asparagus. Peel any tough skin from bottoms of spears with a vegetable peeler.
For green beans – Wash and trim ends from green beans. Remove strings from beans, if desired.
Preheat an oven to 425°F. Place the asparagus or green beans onto baking sheet and drizzle with olive oil. Toss to coat. Sprinkle with Parmesan cheese, garlic, salt, and pepper. Spread vegetables on the baking sheet in a single layer.
Bake in the preheated oven until just tender, 12 to 15 minutes. Sprinkle with lemon juice just before serving. Serve immediately.
---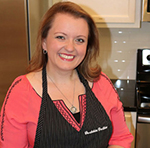 Kate knows food. She grew up with the Southern tradition of good food with the hospitality to match.  A graduate of Texas A & M University, a student of The Texas Culinary Academy, and a Nacogdoches, Texas native, Kate's greatest joy is bringing people together over a scrumptious meal.
Monday June 4, 2018
Snacks for Summer Adventures: Healthy, Portable, and Kid-Approved
5 Easy Picks For a Real Fresh, Real Delicious Summer
I'm always on the lookout for grab-n-go snacks that are nutritious, kid-approved, and perfect for all the summer adventures—pool days, ballgames, going to the park, and more. Here are some of my favorite selections
from my neighborhood Brookshire Brothers store
that are as delicious as they are nutritious!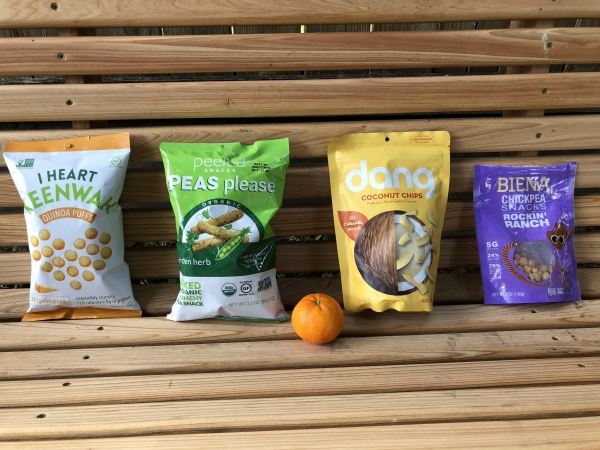 Quinoa Puffs
Kids (and kids at heart) love these little cheezy orbs of crunchy puffy goodness.  They would never suspect that the secret ingredient is quinoa flour, a healthy protein powerhouse!
FYI: This weekend's text offer will be FREE Simply Done foam plates (50 ct) when you spend $20 (some exclusions apply).
Not signed up for our text offers? Text JOIN [insert your store #] to 59652.
Pea Snacks
Pea snacks are a crunchy snack that travels well and has a super simple ingredient list: pea and brown rice flour (aka LOADS of fiber and protein). Better yet, all the different flavors (from plain to spicy) will keep everyone in the family happy.  
Chickpea Snacks
If you're looking for something with a little more bite, check out dried chickpea snacks. With a nice balance of protein, carbs, and healthy fat, they'll keep the kids fueled up for all their summer activities. These also come in a variety of yummy flavors, plus they can make a tasty topping for salads and soups!
Coconut Strips
If you're looking for a something on the sweeter side to nosh on, try some delicious "Dang" brand coconut chips.  These lightly sweetened crunchy strips of coconut taste great on their own, or you might combine them with nuts and dried fruit for a healthy, homemade trail mix. Coconut is full of healthy fat and fiber, which makes these an extra satisfying snack with staying power.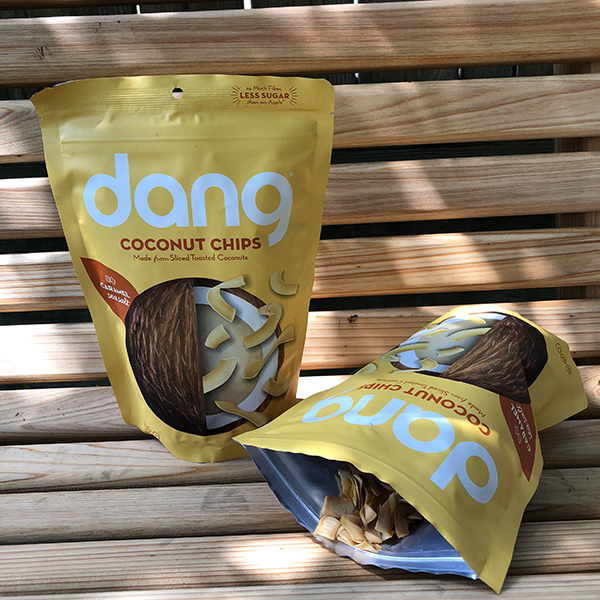 Clementine Oranges
Everyone's favorite. Little clementine oranges are hydrating, sweet, and tangy with a punch of vitamin C and potassium.  If you need a quick pick-me-up for the summer heat, grab one of these juicy "Little Cuties" and peel away!
---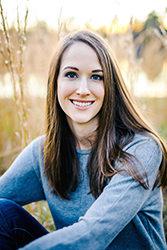 Angela Larson is a registered dietitian (RD) who works with Brookshire Brothers promoting 
real fresh, real delicious
 foods and nutrition education to the community. She is also a clinical dietitian representing Woodland Heights Medical Center in Lufkin where she does outreach education on food and nutrition. Food is her passion, so Angela loves trying new recipes and exploring the more holistic side of nutrition. Angela loves to cook, garden, and spend time outdoors. In addition to the 
Brookshire Brothers blog
, look for Angela's monthly articles in Charm East Texas. 
Tuesday March 20, 2018
Have a Ball with March Madness
You know that huge party you're planning to throw for March Madness? With the really,
really
good snacks? We've got some ideas (like
Moroccan Madness Pizza
) and reminders that'll guarantee a slam-dunk time:
SET THE MOOD
The most memorable shindigs usually come down to the details, and that's where setting comes in. Of course, you can't forget putting out the décor—we recommend classic basketball colors (orange, black, and white)—but you really can't forget the music. Spend some time creating a fun playlist with sports-friendly tunes (for when the game isn't on).
BEST SEATS IN THE HOUSE
We respect the sofa's traditional role of Keeper of Chip Crumbs, Pennies, and All Lost Toys, but today it has a new job: comfortable, clean seating. Clear up the clutter and throw in some extra pillows/blankets if necessary. Consider adding some extra seating around the room as well, and don't forget to keep the bathroom routes very, very obstacle-free.
P.S. - The crowd will go wild for this week's Member Monday offer: Get a FREE bag of Santitas or Calidad tortilla chips when you buy Velveeta (2lb)!
Not a member? SIGN UP TODAY!
NEVER MISS A PLAY
Record, record, record. Technology is a thing we should use, and use often (especially if it means replaying that LAST. SECOND. 3 POINTER)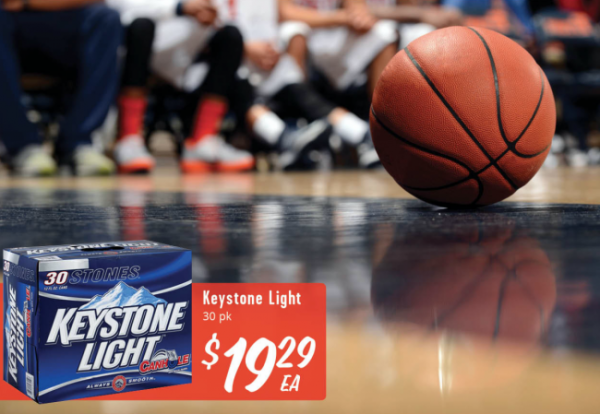 Pick out a new wine or beer to try from our featured 
What's Hot
 picks for this week!
DRINK UP
Score big with your beverages. Invest in a variety you think your guests will enjoy, and place them in one spot (away from the television) to keep things simple and easy to clean up. Don't forget to chill ahead of time.
CHOW DOWN
THIS WEEKEND ONLY: Join our text promotions and get $5 OFF on custom deli trays—perfect your party snacks! To sign up, text JOIN [insert your store number] to 59652. Don't know your store number? You can use our 
store locator
 or shoot us an email at 
customerexperience@brookshirebros.com
NOTHING BUT NET
Literally, no trash/nothing/nada will be left behind if you look into putting a little hoop over your wastebasket. It may be cliché but—trust us—everyone secretly loves this particular cliché.
Monday November 13, 2017
Thanksgiving: The Make-Ahead Menu
There are four things you never want to be late for: weddings, funerals, airplane flights, and—you called it—Thanksgiving dinner. Being early for Thanksgiving—particularly if you're a contributing chef—is key to a healthy, happy holiday for everyone. Here are three recipes based on classic Thanksgiving dishes to help you get a jump-start on the ultimate feast, whether you're a host or honorary guest.
Make-Ahead Baked Sweet Potatoes
(Recipe courtesy of our valued vendor partner Betty Crocker)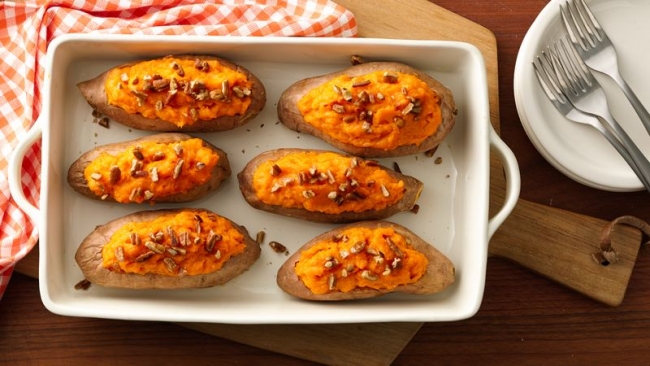 This healthy side dish only takes 15 minutes to prepare—and it keeps well for up to 24 hours! Who knew saving time could taste so delicious?
Read more: Another great option is this
crock-pot recipe
for a sweet potato casserole!
Ingredients
6 medium sweet potatoes (2¼ pounds)
2 tablespoons packed brown sugar
2 tablespoons butter or margarine, softened
Directions
Heat oven to 375ºF. Pierce sweet potatoes with fork to allow steam to escape. Bake about 45 minutes or until tender.
Cut thin lengthwise slice from each potato; carefully scoop out inside of potato, leaving a thin shell. Mash potatoes in a large bowl until no lumps remain. Beat in sour cream and milk. Beat in brown sugar, butter, and salt until potatoes are light and fluffy.
Place shells in ungreased rectangular baking dish, 13x9x2 inches. Fill shells with potato mixture. Cover and refrigerate no longer than 24 hours.
Heat oven to 400ºF. Bake uncovered about 25 minutes or until potato mixture is golden brown. If baking filled shells immediately after mashing potatoes, bake about 20 minutes.
---
Slow-Cooker Chive-and-Onion Creamed Corn
(Recipe courtesy of our valued vendor partner Betty Crocker)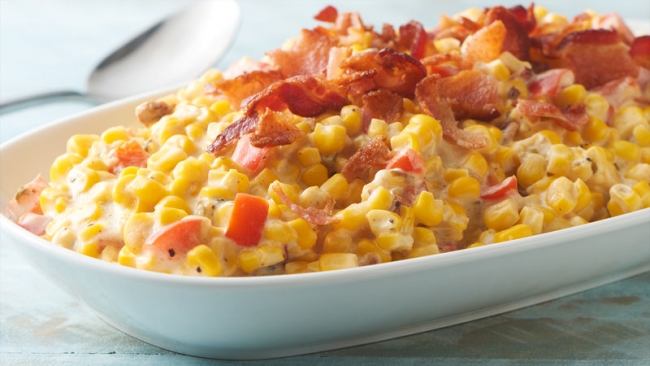 Keep things worry-free with this comforting side dish that's crock-pot easy and bursting with sweet flavor.
Ingredients
Slow Cooker Liners
4 slices bacon
4½ cups frozen whole kernel corn (from two 1-lb bags), thawed
½ medium red bell pepper, chopped (½ cup)
½ cup milk
¼ cup butter or margarine, melted
1 teaspoon sugar
½ teaspoon salt
⅛ teaspoon pepper
1 container (8 oz) reduced-fat chive-and-onion cream cheese
Directions
Place a slow cooker liner inside a 5 to 6½ quart slow cooker bowl. Make sure that the liner fits snugly against the bottom and sides of the bowl, and pull the top of the liner over the rim of the bowl.
In a 12 inch nonstick skillet, cook bacon over medium-high heat, turning occasionally, until crisp. Drain on paper towels. Crumble bacon.
Mix corn, bell pepper, milk, butter, sugar, salt, pepper and half of the bacon in the cooker. Refrigerate the remaining bacon.
Cover and cook on a High heat setting for 2 to 2 ½ hours.
Stir in cream cheese. Cook on a High heat setting for 10 more minutes. Stir well and then sprinkle with remaining bacon. Corn can be kept warm on a Low heat setting for up to 1 hour.
---
Layered Pumpkin Cheesecake
(Recipe courtesy of our valued vendor partner Betty Crocker)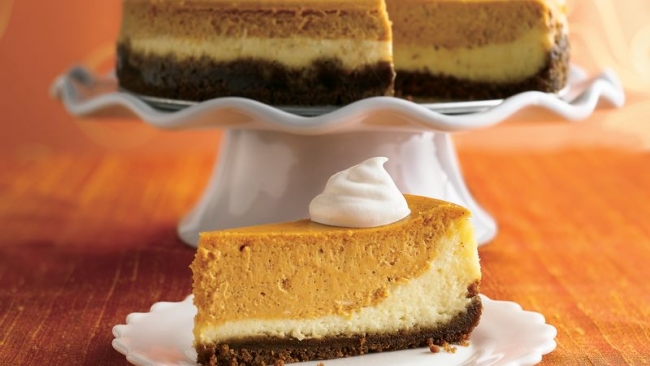 This highly-rated cheesecake recipe doubles the flavor with a layer of classic vanilla stacked with a layer of spiced-up pumpkin. Make it up to 24 hours ahead of your Thanksgiving get-together!
Ingredients
2 cups gingersnap cookie crumbs
¼ cup butter or margarine, melted
CHEESECAKE
4 packages (8 oz each) cream cheese, softened
1 cup canned pumpkin (not pumpkin pie mix)
1½ teaspoons ground ginger
1 teaspoon ground cinnamon
Directions
Heat oven to 300°F. Grease 9-inch springform pan with shortening or cooking spray. Wrap foil around pan to catch drips. In a small bowl, mix cookie crumbs and butter. Press crumb mixture in bottom and 1 inch up the side of the pan. Bake 8 to 10 minutes or until set. Cool 5 minutes.
In a large bowl, beat cream cheese with electric mixer on medium speed until just smooth and creamy;

do not overbeat

. On low speed, gradually beat in sugar. On low speed, beat in eggs, one at a time, until just blended. Spoon 3 cups of the cream cheese mixture into pan; spread evenly.
Stir pumpkin, ginger, cinnamon, and nutmeg into remaining cream cheese mixture; mix with wire whisk until smooth. Spoon over mixture in pan.
Bake 1 hour 25 minutes to 1 hour 30 minutes or until edges are set but center of cheesecake still jiggles slightly when moved.
Turn oven off; open oven door at least 4 inches. Leave cheesecake in oven 30 minutes longer. Remove from oven; place on cooling rack. Without releasing the side of the pan, run knife around edge of pan to loosen cheesecake. Cool in pan on cooling rack for 30 minutes. Cover loosely; refrigerate at least 6 hours but no longer than 24 hours.
Run knife around the edge of the pan to loosen cheesecake again; carefully remove the side of the pan. Place cheesecake on serving plate. Store cheesecake covered in refrigerator.
Monday October 23, 2017
Cooking with Kate: Wicked Good Snacks
A fall take on a summer favorite. 
With our Texas weather fickle as ever, it's no surprise that we're looking at a fairly warm Halloween this year. It seems like summer just won't say goodbye! To mix up the summer temperatures with some fall spirit, here's an easy-to-make, sweet snack recipe. Basically, think Rice Krispies Treats but with fall flavors and fun topping ideas. Even better, this snack mix makes for a quick, easy party favor for a Halloween bash and trick-or-treaters.
Visit your local Brookshire Brothers today
 to find these ingredients and other wicked good snacks! 
Rice Krispies Treat Snack Mix
Ingredients
1 (12 oz) box crisp rice cereal
5 tablespoons butter
2 tablespoons brown sugar
1 (7 oz) container marshmallow fluff / crème
Directions
In a small saucepan, melt the butter with the brown sugar until sugar dissolves.
Add the cereal to a large bowl and toss with the melted butter mixture until all the cereal is coated.
Add the marshmallow fluff and gently mix into the cereal until most of it is mixed in but you still have small clumps of coated cereal (the rice krispie "treats").
Add in ingredients for flavor combinations (see below) or make up your own!
Chill mix for at least 2 hours before serving (it's a LOT less messy if you serve it cold) and ENJOY!
FLAVOR COMBINATIONS: 
Citrus-y Cranberry
1 tablespoon orange zest
1 (12 oz) bag mini chocolate chips
1 cup sliced almonds, toasted
1 (3 oz) package dried cranberries
Movie Night Magic
1 (11 oz) bag Kraft caramel bits
1 (12 oz) bag mini chocolate chips
1 tablespoon coarse or flaky sea salt
White Christmas Mint
1 (12 oz) package white chocolate chips
1 (4-6 oz) package soft peppermint candy, crushed
Tropical Oasis
1 (12 oz) bag white or chocolate chips
1 (14 oz) package shredded coconut, toasted
1-2 cups dried tropical fruit (mango, pineapple, etc.)
1 cup sliced almonds, toasted
After School Snack
1 (10-12 oz) bag peanut butter chips
1 cup dried strawberries or raisins
---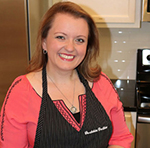 Kate Rudasill, Catering Coordinator for Brookshire Brothers, has been in the food-service industry for the past 14 years. As a graduate of Texas A&M University, a student of The Texas Culinary Academy, and a Nacogdoches, Texas native, Kate grew up with Southern tradition in her blood which caused her to have a deep love for bringing people together with food.
Friday June 30, 2017
Popcorn + Movies = Summer Movie Nights
Need to unwind after a full day of summer fun? A movie night is a classic option that won't break the bank and requires only a few crucial ingredients: the movie, the people, and—of course—the popcorn. We've pulled together a few ideas and recipes to make your evening really pop!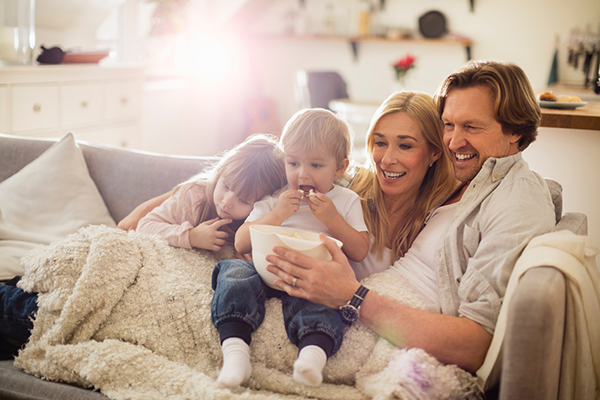 Some might say you can't do better than regular popcorn, but have you considered what happens when you put TWO great things together? Case in point: Nacho Popcorn. It's the best thing since the donut taco, and it only takes fifteen minutes to prepare. To go along with your salty and spicy popcorn, we recommend watching The LEGO Batman Movie or The Fate of the Furious.
The pairing of caramel and popcorn is as time-honored as Belle and the Beast. Furthermore, this sweet and salty happily-ever-after only gets better when it's prepared in the oven. Most people agree that oven cooking creates a better texture and taste, plus the clean up is easy if you line your pan in foil. Allow yourself to have a little fun with this recipe and enjoy our recommended tale as old as time, Beauty and the Beast.
The wonderful thing about movies is that they can give you a glimpse of the world without ever leaving your couch potato position. Consider complementing your adventure with a spice that has its own exotic history—cinnamon. In other words, this snack bursts with flavor, and at only 150 calories per serving! Check out the recipe above while you're movie surfing. We suggest Smurfs: The Lost Village and Kong: Skull Island.
Find a store near you to get started on creating your own popcorn recipes!
Monday May 15, 2017
Life is a Picnic
Eating outside is a great way to connect with nature and enjoy a meal alone or with loved ones. There are many reasons people want to or need to eat outside: a visit to the playground, a Saturday afternoon at the ball park, an afternoon hike, or a peaceful respite outside in the middle of a long day at work. The easiest part is getting outside, but sometimes it can be tricky coming up with delicious, healthy, and portable meal ideas for eating outdoors. That's where my advice and your local Brookshire Brothers comes in.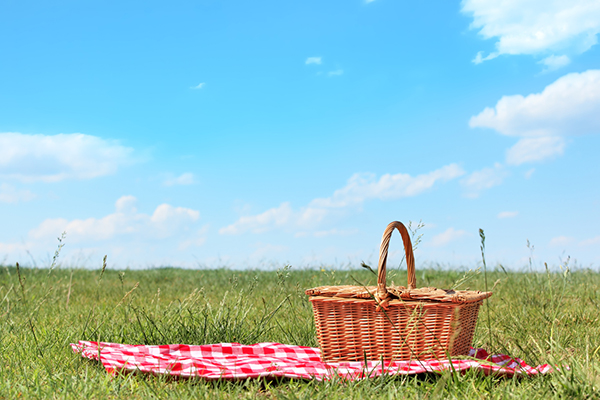 Pull out a picnic blanket, get comfortable, and have let's come up with some portable meals that will work for everyone.    
If you have a little time to do some prep, chop up some fresh fruit and bag it up, or better yet, throw whole apples and easy-to-peel oranges in your picnic bag. If fresh fruit is too much trouble, remember there are more dried fruit options than just raisins – try cranberries, blueberries, cherries, dates, prunes, and apricots. 
Sandwiches are always a go-to picnic option. If I'm short on time, I throw an entire loaf of whole wheat bread, a jar of peanut butter, and a jar of jelly in my bag with some plastic utensils and napkins. That way everyone can make their own sandwich when it's time to eat. If making sandwiches is too much trouble, try turkey and cheese roll-ups. My favorite method is to bring different flavors of cheese sticks and a package of sandwich meat. Wrap pieces of sandwich meat around the cheese stick for an easy to eat protein and healthy fat packed main course. Add a tortilla and veggies for a fancier version. 
Try an even easier protein source - beef jerky! It makes a great snack or protein option when you don't have a way to keep foods cold. 
For veggies, try baby carrots, pre-washed and cut broccoli or cauliflower florets, and cherry tomatoes as easy pack-and-go options. 
Throw a container of your favorite kind of nuts or seeds into the mix for a filling addition of healthy fats and plenty of vitamins and minerals to boot. 
Cheesy popcorn is another easy to pack snack that is a healthy fiber-rich substitute for chips. It travels well and tastes delicious. 
Have a little more time for meal prep? Make ahead a pasta salad, chicken salad sandwiches, or my favorite - salmon and apple sandwiches. Mix up packaged salmon with mayonnaise as a binder, and toss in diced apple as desired. This goes great with crackers or makes a delicious sandwich. 
And for beverages, remember to fill water bottles before you leave or pack some bottled water. Squeeze a little lemon in if you'd like to get fancy with it. 
No time for any meal prep? Stop by your local Brookshire Brothers deli for plenty of delicious grab-and-go meal options. Just don't forget the farm-fresh veggies! 
And last but not least, consider sitting on the ground on a picnic blanket. That way you get a little extra movement and mobility in with your picnic lunch by getting up and down off the ground. Now you're ready for healthy and portable outdoor summer meals!  
Angela Larson is a registered dietitian (RD) who works with Brookshire Brothers promoting real fresh, real delicious healthy foods and providing nutrition education to the community. She is also a clinical dietitian representing Woodland Heights Medical Center in Lufkin where she does community education on food and nutrition. Food is her passion, so Angela loves trying new recipes and exploring the more holistic side of nutrition. Angela loves to cook, garden, and spend time outdoors. Look for Angela's monthly articles in Charm East Texas.  
Monday April 3, 2017
Easter Egg-cellent Chocolate Covered Strawberries
Take an untraditional spin on Easter this year! When you hide those decorative and colorfully-dyed Easter eggs, save the cartons and hurry down to your local Brookshire Brothers for fresh strawberries. These chocolate covered strawberries can be the perfect sweet treat to complement your Easter celebration!
Easter Chocolate Covered Strawberries
Ingredients
16 large strawberries
1 1/2 cups milk, dark or white chocolate chips
Candied sprinkles, colored sugars, etc.
Parchment paper
Directions
1. Wash strawberries thoroughly. Dry carefully by patting gently with paper towels.
2. Place chocolate chips into small, microwaveable towl with tall sides.
3. Heat bowl in the microwave on high for 30 seconds. Remove bowl; stir chips with spoon. Return bowl to microwave and continue to microwave on high for an additional 30 seconds. Stir and repeat until chocolate is melted.
4. Dipping on strawberry at a time, submerge into melted chocolate by holding the steam between your fingers.
5. Slowly remove the strawberry from the chocolate (allowing excess chocolate to run off) and place on a piece of parchment paper to dry.
6. Immediately decorate the chocolate-covered strawberry with your favorite sprinkles.
7. Allow the chocolate to cool and harden at room temperature. Serve immediately or store in a tightly covered container in the refrigerator for up to 24 hours.
Monday April 3, 2017
How to Brunch 101
Dinner parties may be in your wheelhouse, but can you transition into a 10am brunch? With the Easter season around the corner, we're here to teach you how to make your next brunch extra delightful!
Brunch Buffet
We love a good brunch because it's easy on the host, and who doesn't love good coffee cake? Most of the menu items can be prepared ahead, giving you ample opportunity to mingle and enjoy the party along with your guests.
A staple brunch recipe is some kind of egg bake, along with a breakfast meat and lots of cheese. Many casserole recipes can be interchanged for your preference of bacon or sausage. 
*Expert tip: A vegetarian dish is always a good backup idea!
Fresh Flowers
Nothing says "brunch" like a bouquet of Spring's best flowers. Pick up whatever blossoms look the prettiest at your local Brookshire Brothers and scatter informal bouquets throughout your home. 
*Expert tip: White ceramic pitches make charming vases!
Ribbons & Bows
Traditionally, brunches are a "women only" kind of gathering. The men usually stick to the football game on prime time TV, sitting on the sofa with a rack of ribs. With this in mind, don't skimp on the feminine touches. Wrapping your forks and spoons with a simple ribbon can give a bit of cheer and elegance to your brunch. 
*Expert tip: Your floral department can assist in making large bows!
Final Touches
We love seeing a host go the extra mile in creating the perfect scene for any occasion. To really set the stage for a perfect spring-theme brunch, try your hand at creating the perfect adornment for your guests' glasses below.
Easy Candied Mandarins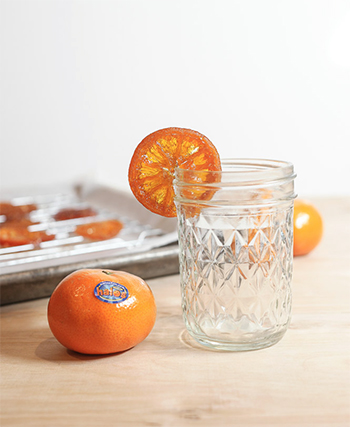 Recipe courtesy of Halos Mandarins
Ingredients
1/3 cup honey
1 cup water
5 Halos mandarins
Directions
1. In a wide-base pan, mix honey with water and heat over low until combined completely.
2. Slice mandarins as thin and uniform as possible, discarding the end pieces. Gently add them to the honey-water, and add a small amount of additional water if necessary to keep the mandarins completely submerged.
3. Cover and heat on low for 45 minutes to an hour, checking it occasionally to ensure that the mandarin slices don't burn.
4. Turn the heat up to a low-medium and keep covered for another half hour, checking frequently. Remove from the stovetop as soon as they start to bubble. The honey will have formed a caramel-colored syrup that hardens as it dries.
5. Remove the mandarin slices onto a slotted stainless steel baking rack or broiler rack placed on top of parchment paper on a baking sheet. Cook in a 250-degree preheated oven for thirty minutes. Turn them over and cook for another thirty minutes. Let cool completely.
Expert tip: If they're still slightly tacky, you can dust with coconut sugar to help make them easier to handle!
Pages