Monday March 13, 2017
A Madness-Inspired March
Grab your friends and turn on your favorite game – we've got a starting lineup that you're sure to enjoy!
When you think of March, you may think of spring, St. Patrick's Day, and spring break. But we know the sports-lovers around the world think of the buzzer-beaters, overtimes, and dramatic upsets. Whether you're keeping track of your bracket or enjoying the company of your family and friends, we're happy to bring you the best recipes, game plans and activities that will make your house the place to be this March! 
Warm-up
When sending invitations or calling your best friends to join your watching party, encourage them to wear a color of their team or a team shirt/jersey. Once everyone arrives, make sure you snap a picture of your guests. You can even hashtag #BrookshireBrothers or tag us on Facebook @BrookshireBros to share your party with us!
Decorations
Plan according to the game you're watching. Have fun theming your living room or man cave with streamers, pennants and sports posters. And don't fear color when it comes to party accessories – go for the coordinating plates, cups and napkins!
Activities
Everyone loves a little fun! When your guests arrive, ask them on whom they're rooting for and have an ongoing tally of who's going to win. You could make it even more interesting if there was a prize for the guests who pick the winning team! 
Recipes
Start off savory and serve a game-day favorite, pizza! Try out this recipe, courtesy of Betty Crocker – Moroccan Madness Pizza. Then top it off with a sweet treat! We love these Malted Madness Cookies from Betty Crocker.
Looking for more advice? Visit with one of our Employee Partners in-store! Find a store near you.
Monday February 13, 2017
Cooking with Kate: An Adventure in Food and Wine
Brookshire Brothers and the Lufkin Convention and Visitors Bureau is on its third round of
Pour & Explore: A Trip Around the World of Wine.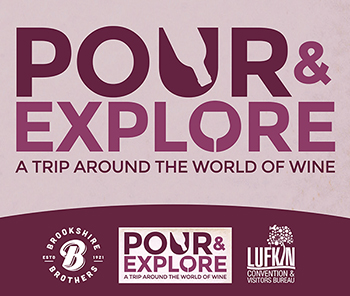 So far we've visited several wine-producing vineyards including Washington, Oregon, and coming up soon, California. This partnership with the Lufkin CVB is long-standing and has several events under its belt. After recent Pour & Explore Events, several requests have been made for recipes that were served by Brookshire Brothers Catering. As we continue our trail down the West coast, we don't want to ruin the surprise of California's recipes, but we want to share a past recipe from November's Pour & Explore: Destination Oregon. These cheese puffs were a favorite that night and will be a hit when you serve alongside soup or as a snack for your guests!
Gougères - French Cheese Puffs
Makes 24 medium cheese puffs
1 cup (8 ounces) water
1 stick unsalted butter, cut into several pieces
½ teaspoon salt
½ teaspoon dry mustard powder
1 cup (5 ounces) all-purpose flour
4 large eggs, lightly beaten
1 ½ cups (6 ounces) grated cheese, like gruyère or sharp cheddar
Combine the water, butter, salt, and dry mustard in a medium saucepan and bring to a rolling boil. Once all the butter has melted, remove the pan from heat and add the flour all at once. Stir vigorously until the mixture comes together and resembles mashed potatoes. Return the pan to medium-low heat and stir for 3-5 minutes to dry out the dough. The dough is ready when it glistens and is thick enough to hold a spoon upright. (Some starch buildup on the bottom of the pan is normal.) Transfer the dough to the bowl of a stand mixer fitted with a paddle attachment. Beat the dough on a medium-low speed for one minute until it stops steaming and is just warm to the touch. Continue beating and add the egg in four additions. Wait for each addition to be absorbed and for the dough to smooth out before adding the next. Scrape down the sides of the bowl if needed between additions. In the end, the dough should come together in a very smooth, creamy batter. Stir in the shredded cheese.
Heat the oven to 450°F. Scoop rounded tablespoons of dough onto sheet pans lined with silicone mats or parchment paper. Space them at least an inch apart. Bake the gougères for 5 minutes and then turn the heat down to 350°F. Bake for another 20-25 minutes, rotating the pans once during baking. The finished gougères will be puffed, deep golden-brown, and dry to the touch (the cheese may still be bubbling a bit). They will also feel light and hollow when picked up. Transfer the sheet pan to a cooling rack. Serve warm or room temperature. Leftovers can be stored in the refrigerator and re-crisped in a warm oven before serving or frozen for up to three months.
Additional Notes:
• Freeze for Later: To have gougères on hand for later, try freezing them shaped but un-baked. Scoop and then freeze them directly on the baking sheet. Once frozen, you can transfer them to a freezer storage container. Bake them directly from the freezer while still frozen; just add a couple of extra minutes in the oven.
• Bigger or Smaller Gougères: Make the gougères any size that appeals to you. Teaspoon scoops are a fun party snack or soup topper while double-sized gougères are nice for making sandwiches or as part of a brunch spread.
---
Pour & Explore: Destination California will be held at the Pitser Garrison Convention Center on Thursday, February 23rd, at 6:30p.m. As we "tour" the California wine regions, the renowned winemakers will be on hand to walk you through the wines they've selected to accompany each of the five courses. This specially designed menu includes ingredients native to California, like wild mushrooms and hazelnuts, and the fusion cuisine that has made California a destination culinary hot spot. Seating is limited, and tickets are available through the Lufkin CVB, (936) 633-0359, for $65 a person or $550 for a reserved table of eight.
---
Click here to see other recipes from Brookshire Brothers Catering Coordinator, Kate Rudasill.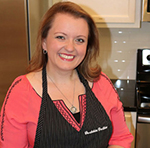 Kate Rudasill, Catering Coordinator for Brookshire Brothers, has been in the food-service industry for the past 14 years. As a graduate of Texas A&M University, a student of The Texas Culinary Academy, and a Nacogdoches, Texas native, Kate grew up with Southern tradition in her blood which caused her to have a deep love for bringing people together with food.
Monday November 28, 2016
Holiday Traditions
Now that Thanksgiving has passed, it seems like our December calendar is filling up quickly! Between Christmas parties, school programs, Secret Santa drawings, parades, bake sales, and gift-buying, when do you have time to start a tradition? We've asked our employee partners to share their favorite Holiday Traditions, and we hope you'll feel inspired to continue or start a new tradition of your own. Merry Christmas and Happy Holidays!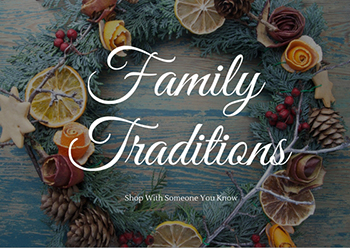 "Our family participates in the annual Lufkin Community Food Drive every year. It's something my girls, both now in college, look forward to every year. We help box the food, deliver it…the whole nine yards. I'm so glad we're able to do it as a family each year."
                                                                         Sally Alvis, Senior Director of Marketing and Public Relations
"Sharing the holiday with family is tradition enough, but we do have a few things we look forward to each year. My wife and I pick out the ugliest Christmas ornaments we can find and hang it on the tree. We've gotten so many now and it's so fun decorating the tree and retelling all the stories. We also attend a Christmas candlelight service at our church every year."
                                                                                                        Doug Barnett, Marketing and Procurement
"We have a few traditions in our house – We always have a Lego Advent calendar and we take turns who builds the item for the day, attend the midnight Mass on Christmas morning, and have a nativity scene that we do not complete until Christmas morning when we place baby Jesus in the manger. We also cook sausage balls, empanadas (fried meat pies) and banana pudding along with getting a 6-pack of glass coke bottles because it is essential to our Christmas celebration!"
                                                                         Corry Lankford, Graphic Designer/Store Signage Coordinator
"Our family traditions are long-standing and long-winded! Just to name a few, we take an annual Girls Christmas Shopping Trip, with my extended family, the first weekend of December. We try to knock out as many gifts as we can, while spending some much needed time together. With my husband and kids, we get into the Christmas spirit when we decorate our tree with themed ornaments from every year while listening to Christmas music. Finally, making Christmas candy is always a fun tradition with my mom and sisters."
                                                                                             Angela Gandy, Digital Media Associate/Copywriter
"The Lowther family always watches National Lampoon's Christmas Vacation on Christmas Eve, helps Mom make fudge and pumpkin bread, gets commemorative Christmas ornaments for each year, and eats Mexican food on Christmas Day."
                                                                                                          Adam Lowther, Public Relations Associate

Get great recipe ideas here to start your own tradition this Holiday Season!
Monday November 21, 2016
Thanksgiving, Pilgrims, and Brussels Sprouts
I love Thanksgiving. It's truly a holiday focused on love of family, friends, and country. I've recently been reading about the hardships the original Pilgrims faced, of which they certainly had their fair share. Yet, they were also exceedingly thankful for the simplest things like health, shelter, vitality, and good food.
We don't face the same hardships, so at times it can be easy to take even these simplest things for granted. What a tremendous blessing that we don't have to hunt and plant our food. Instead we have a plethora of delicious and healthy things to choose from in your local Brookshire Brothers Produce Department. After all Thanksgiving is not just about the food, it's about the people that you get to spend it with.
A Thanksgiving feast is meant to bring families together to celebrate what is really important – love and gratitude for one another. So today, I'd like to share my love of all things brussels sprouts (don't roll your eyes). They are delicious, and I promise they don't taste like they smell! When you roast them at a high temperature, the smell dissipates and what is left is a wonderful caramelized bite of happiness.
Brussels sprouts are one of the most delicious and savory vegetables around, and they deserve a place on your Thanksgiving table. As an added bonus, brussels sprouts are cruciferous vegetables, meaning they are antioxidant rich, cancer-fighting ninja veggies. They're high in vitamin C, B, and K, as well as a good source of folate and fiber.
Give this recipe a try and may your Thanksgiving be filled with deliciousness, love, laughter, family, and a grateful heart for the abundance of blessings God has so graciously bestowed upon us. Happy Thanksgiving! 
Roasted Brussels Sprouts with Bacon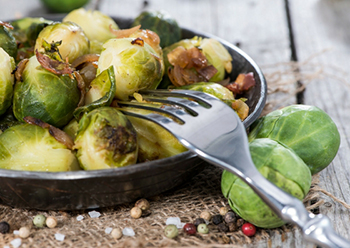 Ingredients
- 2 lbs Brussels sprouts, trimmed and halved
- 2 Tbs olive oil
- 2 tsp water
- Salt and pepper
- 3 slices bacon, cooked and chopped fine
Instructions
Adjust oven rack to middle position. Heat oven to 500 degrees. Line baking sheet with aluminum foil for easy clean-up. Toss Brussels sprouts with olive oil, water, ½ teaspoon of salt, and ¼ teaspoon of black pepper on baking sheet. Spread out Brussels sprouts in a single layer with cut side facing down. Cover baking sheet tightly with aluminum foil and roast for 10 minutes. After 10 minutes, remove foil and continue cook an additional 10 minutes until sprouts are tender and browned. Toss with chopped bacon and season to taste with additional salt and pepper. Serve. 
Note:  An optional ingredient is chopped toasted pecans. 
Angela Larson is a registered dietitian (RD) who works with Brookshire Brothers promoting real fresh, real delicious healthy foods and providing nutrition education to the community. She is also a clinical dietitian representing Woodland Heights Medical Center in Lufkin where she does community education on food and nutrition. Food is her passion, so Angela loves trying new recipes and exploring the more holistic side of nutrition. Angela loves to cook, garden, and spend time outdoors. Look for Angela's monthly articles in Charm East Texas.  
Wednesday November 2, 2016
Make the Most of the Daylight
Every year, we welcome "Fall Back" when Daylight Savings Time ends. However, there are some of us who might appreciate the extra hour of sleep, but aren't welcoming the daylight we're giving up. How, when our lives seem to go from 1-100 as soon as November hits, do we find the time to accomplish our to-do list? I don't know about some, but when the workday closes and its dark...a nice comfy fire, a movie, and some wine is all we want to cuddle up with. (We could recommend some fantastic wines from your local Brookshire Brothers, but that's another blog, right?) But alas, we have families, friends and commitments to meet and take care of. So, here's our tips for making the most of your day!
Start earlier. Yes, we said it. Move that alarm clock back 30 minutes to allow for more productivity. Studies show that you're most productive in the first few hours of waking. So pour some coffee and tackle that list! And, if you're really tired, take that 30 minutes back when you go to bed by lying down earlier.
Rearrange your day. There are some tasks that can be done in the evening after the sun goes down - like homework, laundry, and cleaning. If your kids want to soak up the few hours of sun, let them before it goes down! 
Watch the naps. Earlier sunsets throws everyone off. But when you take a late nap and wake up when its dark outside, you can really be thrown off. Try to watch when you and your little ones nap and adjust the times accordingly to not create sleepless nights.
Take your lunch outside. Here in Texas, it may have been technically "autumn" for a few weeks, but the temperatures still feel like summer. Enjoy what little bit of heat we have left and eat outside at lunch. For most 9-5ers, that little bit of sun may be all you see for the workday.
Incorporate soups, stews, and chilis into your menu. Don't spend your day cooking inside! Grab that crockpot and throw all you need in for a few hours while you spend time outdoors. It'll be ready when it's dinner time.
Embrace the change! We know, change hurts. But by December, you'll be used to it and even busier with planning for Christmas, that the time change will be a distant memory.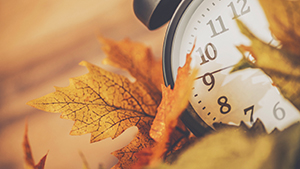 Monday October 24, 2016
Treats, Treats, Treats!
Halloween is a fun-filled family time for costumes, parties, friendly visits to neighbors, and of course, candy. Lots and lots of candy. Though the candy can bring temporary joy, it does inevitably also bring tummy aches and energy crashes that are less than pleasant for everyone involved. How can you manage the Halloween candy stash to allow for some fun while minimizing the unhealthy side effects? Here are my top 9 Halloween tips for staying happy, healthy, and sane. 
1.  Treat Halloween candy as a learning tool. Setting boundaries can be helpful for teaching kids how to manage eating treats. Decide what your family rules will be and lay them out in advance so the kids know what to expect. 
2.  Eat some real food before you head out for an evening of trick-or-treating. Having a full tummy can help prevent a full-out candy binge. This goes for chaperones too!
3.  When you return from trick-or-treating, give your kids a little time to enjoy their stash. As long as they had a good supper, let them have a little fun with their bounty before collecting it and keeping tabs on it.
4.  Collect Halloween candy and set aside the unhealthiest treats. This helps prune down the total amount of candy. For me this would include all candies with the word "hydrogenated" on the ingredient list and candy with artificial food coloring. I don't recommend kids eat anything with hydrogenated oils, and I recommend keeping food coloring to a minimum. (One "trick" is to add these treats to the candy bowl at work instead of tossing them out) 
6.  Avoid the temptation to use candy as a reward, punishment, or a babysitter. Instead include a specific amount of it as part of structured meal and snack times. Let your child choose a certain amount (maybe two pieces) and include that with a scheduled meal or snack. 
7.  On days when candy is allowed, don't allow other foods high in added sugars on the same day such as juice, sugary cereals, soda, or cupcakes and other desserts (from the latest Halloween party). 
8.  Remember to always brush kids' teeth twice daily, especially on days when they are eating added sugars. 
9.  And finally, keep a supply of healthy snacks like fruit that can be offered as a ready-to-eat substitute when the requests for candy start. 
Implement these easy suggestions to build a little structure into your trick-or-treat routine. Have fun and stay safe. Happy Halloween! 
Angela Larson is a registered dietitian (RD) who works with Brookshire Brothers promoting real fresh, real delicious healthy foods and providing nutrition education to the community. She is also a clinical dietitian representing Woodland Heights Medical Center in Lufkin where she does community education on food and nutrition. Food is her passion, so Angela loves trying new recipes and exploring the more holistic side of nutrition. Angela loves to cook, garden, and spend time outdoors. Look for Angela's monthly articles in Charm East Texas.  
Monday October 17, 2016
Cooking with Kate: Happy Halloween!
It's hard to believe that Halloween is right around the corner...especially when it still feels a bit summery outside. Hopefully the temperature will drop some before the trick-or-treating weekend is upon us! Have some fun this year with your kiddos making these fun after-school and party recipes that are simple, quick, and delicious!
Toothy Apples
3-4 apples – Granny Smith, Gala, or Fuji
smooth or crunchy peanut or almond butter
mini marshmallows
Slice apples into quarters and remove the core. Slice each quarter in half and spread a small amount of peanut or almond butter on one of the sides. Add 5-7 mini marshmallow "teeth" to one slice and top with another slice, peanut butter side down to hold the marshmallows in place. Refrigerate your "toothy" apples until ready to serve.
Fall Party Snack Mix
6 cups Chex or Crispix cereal
1 cup mini pretzel twists
6 tablespoons butter, melted
¼ cup brown sugar
1 teaspoon cinnamon
1 cup peanut butter pieces or chocolate candies
1 cup mini marshmallows
1 cup candy corn or other fall candy
Pre-heat the oven to 275°F. Line a baking sheet with parchment paper and set aside. Melt the butter in a large bowl. Add the cereal and pretzels and toss evenly to coat. In a small bowl, mix the brown sugar and cinnamon, then toss with the cereal mixture to evenly coat. Spread the cereal mixture onto the baking pan and bake for 20 minutes. Cool the cereal mixture completely. Once cool, add the candy, candy corn and marshmallows. Serve in a large bowl for a party or package into small bags to give out to friends 
Spiced Apple Cider
Makes 16-20 servings
2 ½ quarts apple cider
24 ozs pineapple juice
24 ozs orange juice
1 teaspoon ground nutmeg
1 teaspoon ground cinnamon
4-6 cinnamon sticks
1 tablespoon whole cloves
In a large crock pot, mix apple cider, pineapple juice, orange juice, ground nutmeg, and ground cinnamon. Add cinnamon sticks and cloves (see note). Heat on high for 1 hour.  Turn heat to low and continue heating for 1-2 hours or until ready to serve. Refrigerate any remaining cider.
NOTE: If you have cheesecloth available, use a small square of cloth to wrap the cinnamon sticks and cloves and then tie with twine. Add to the pot and remove before serving. If cheesecloth is not available, use a slotted spoon to remove the cloves before serving.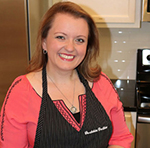 Kate Rudasill, Catering Coordinator for Brookshire Brothers, has been in the food-service industry for the past 14 years. As a graduate of Texas A&M University, a student of The Texas Culinary Academy, and a Nacogdoches, Texas native, Kate grew up with Southern tradition in her blood which caused her to have a deep love for bringing people together with food.
Monday September 19, 2016
Fall Neighborhood Soup Supper
A fun, affordable way to bring the whole neighborhood gang together is to stir up a pot (or two). Soup makes the perfect hearty meal for a casual crowd on a crisp fall day—it requires little fuss, it can be made well in advance, and neighbors can ladle it up themselves. Start up the fire pit or indoor fireplace, pull out a football and a few Frisbees, open your door and welcome the neighbors inside.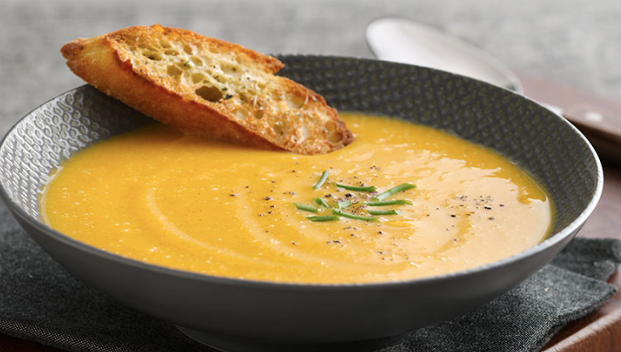 The Soups
Serve two or three soups for variety, making sure at least one is vegetarian. Offer a creamy soup and a broth-based soup to provide a good flavor balance. 
Prepare your soups a day or two in advance (soups taste better when the flavors have had time to meld) and borrow crock pots so you can warm the soups up in your kitchen the day of. 
For your third soup, consider starting a "stone soup" tradition—a potluck with a twist—where each neighbor contributes a little bit to the empty pot. Invite everyone to bring a basic pantry item or some good scraps from the fridge—cans of chicken broth, leftover veggies, potatoes, chunks of chicken, noodles, rice, herbs, Parmesan cheese. Stir it all together for a true taste of community. Have one of the eldest kids gather the younger ones around to read Marcia Brown's famous "Stone Soup" book to tie in with the theme. 
Simple Setup 
To make a simple centerpiece, collect fall leaves from the yard and scatter them around the table and mix them in with the flower arrangements. Fill glass bowls and baskets with apples, and pile up pretty pumpkins and squash. 
Fill a percolator with spiced cider and provide juice boxes for the kids, but ask guests to bring their own beer, wine and libations to contribute to your fridge and coolers. 
Label each soup and set out ladles; make sure everyone's kids know that serving the hot soup is an "adults only" task. 
Provide small bowls of soup toppings around the table for the garnish lovers. Options might include Parmesan cheese, cheddar cheese, toasted sunflower seeds, yogurt or sour cream, croutons and fresh herbs. For sides, choose an easy appetizer like a cheese platter and a couple of green salads. 
Block Party
The best part about the entertainment is that you have the run of the block—let the kids dash from yard to yard playing tag and Red Rover. Set out your lawn games and get a game of bocce or touch football going. Light up a fire pit and ask someone to bring a guitar for a sing-along. 
Take-Home Treats
Make a big batch of home-baked cookies in fall flavors and send the guests home with brown paper bags filled with the treats.
Pages