Tuesday January 22, 2019
Cooking with Kate: Game-Day Dips
The biggest game in football is coming up soon on Sunday, February 3. Whether you watch the game for the sport, the halftime show, or mute the game and just watch the commercials—one thing that makes a great watch party is the food! These two party-perfect dips will keep your game-day guests coming back for more. Both can be made a day or two early so that you can relax during the game!
Baked Potato Dip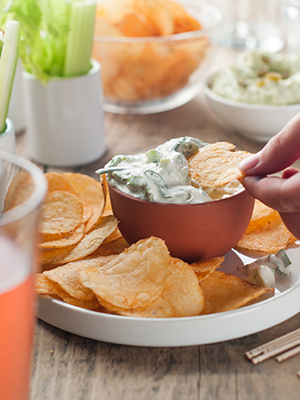 Contrary to how it sounds, this dip does not contain potatoes… but is absolutely delicious served with our Food Club Wavy Potato Chips!
Ingredients 
2 (8 oz) pkgs cream cheese
16 ozs. container sour cream
2 cups shredded sharp cheddar cheese
8 green onions, finely chopped
1 (9 oz)  package cooked crumbled bacon
2 large bags Food Club Wavy Potato Chips
Directions 
Preheat oven to 350°F. In a large bowl, beat cream cheese and sour cream until smooth. Add cheddar cheese, chopped green onions, and bacon and mix well.
Spread in a lightly greased 9X13-inch baking dish. Cover with aluminum foil and bake in preheated oven for 25-30 minutes until hot and bubbly around the edges.
Serve warm with potato chips. 
Southwest Egg Roll Dip
This flavorful dip steals its ingredient list from a popular appetizer… but is much less work than assembling egg rolls!
Ingredients  
2 cups cooked, cubed chicken breast or shredded rotisserie chicken
2 cups frozen corn, thawed
1 can black beans, rinsed and drained well
1 red bell pepper, finely chopped
1 cup Monterrey cheese, shredded
4 green onions, thinly sliced
1 box frozen spinach, thawed and drained well 
2 avocados
1 (12 oz) bottle ranch dressing
½ bunch cilantro, finely chopped
3 limes, juiced
1 tablespoon cumin 
1 tablespoon chili powder 
¼ teaspoon cayenne pepper
salt and pepper to taste 
Directions
In a large bowl, mix chicken, corn, beans, diced pepper, green onion, spinach, and shredded cheese.
In a separate bowl, smash the avocados to a smooth paste. Add the ranch dressing, cilantro, lime juice, cumin, chili powder, cayenne, salt and pepper, and mix until smooth.
Combine the dressing with the chicken mixture. Cover and refrigerate for at least 4 hours.
Serve dip with assorted chips and crackers.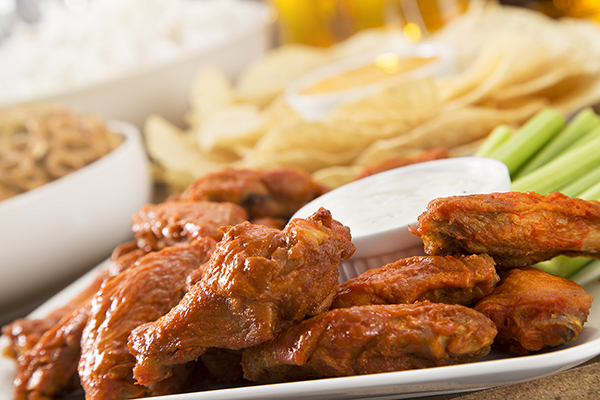 Four more easy & epic crowd pleasers (with lots of bacon):
Courtesy of our vendor partner Bar-S Foods
---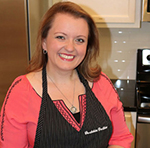 Kate knows food. She grew up with the Southern tradition of good food with the hospitality to match.  A graduate of Texas A & M University, a student of The Texas Culinary Academy, and a Nacogdoches, Texas native, Kate's greatest joy is bringing people together over a scrumptious meal.