Tuesday February 19, 2019
One Chicken, Three Easy Meals
Real Fresh, Real Delicious, and Real Satisfying
Need some meal ideas that are protein-rich, veggie-packed, quick-n-portable, and top-of-the-line DELICIOUS? With one roast chicken, you can make all three of these healthy dishes below. Pick up a tasty rotiserrie chicken
from your neighborhood Brookshire Brothers
or make time over the weekend to slow roast a chicken yourself. From there, try one (or all three) of these crowdpleasing variations for an easy lunch or a no-fuss dinner.
Get even more meal mileage out of your chicken with this thrifty and delicious idea: save the chicken bones and scraps (before and after roasting) and add them to a crockpot with water to cover and simmer on low for 24 hours. The result? Real fresh, real delicious chicken bone broth for a soup later in the week!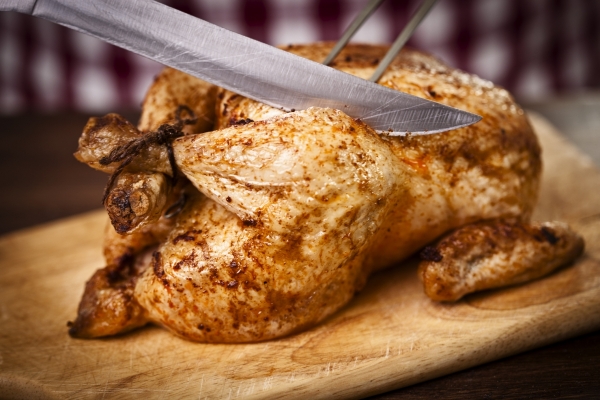 Slow-Roasted Extra Juicy Whole Chicken
Note: I used red pepper flakes and fennel seeds for a hint of spice and an herby flavor, but it tastes great with just salt and pepper or any spice mix of your choosing.
Ingredients
1 whole chicken, giblets removed
1 tablespoon extra virgin olive oil
Salt and pepper, to taste
(Optional) ½ teaspoon red pepper flakes
(Optional) 2 teaspoons fennel seeds
Feeling adventurous? Here are three more takes on roast chicken: Mediterranean Roast Chicken with Green Olives, Fennel Seeds, and Thyme, Peruvian Roast Chicken with Cilantro and Jalapeño Sauce, Balsamic Roast Chicken and Potatoes
Directions
Preheat oven to 325 degrees. Rub chicken all over with extra virgin olive oil. Generously season with salt and pepper. Sprinkle on added seasoning, as desired.
Roast, breast side up for 70-90 minutes, until breast registers 160 degrees on a thermometer.
Let cool and shred meat. Shredded meat may be stored in the refrigerator for up to 4 days.
Double Protein Veggie Wrapper's Delight
Ingredients
Wraps, such as tortilla, pita, etc. (I used coconut wraps for a grain-free option)
Turkey slices
Guacamole (I love the single serving cups for individual wraps)
Spring mix lettuce
Shredded carrots or broccoli carrot slaw
Sugar snap peas, split in half
Cherry tomatoes, halved
Shredded chicken pieces
Salad dressing (as desired)
Directions
Assemble wraps by placing turkey on top of wrap following by guacamole, lettuce, shredded carrots, snap peas, shredded chicken, and cherry tomatoes.
Drizzle with salad dressing if desired.
Roll up and take a walk while you eat!
Garden Salad with Shredded Chicken and Homemade Balsamic Vinaigrette
Ingredients
Spring mix lettuce or baby spinach
Cherry tomatoes
Shredded carrots
Fresh broccoli cut into small pieces
Shredded chicken
Pine nuts, slivered almonds, chopped walnuts, or chopped pecans
Balsamic vinegar
Extra virgin olive oil
Salt and pepper to taste
For another option, check out this Crunchy Asian Chopped Salad recipe previously featured in "Cooking with Kate: Take the Labor Out of Labor Day, PART II"
Directions
Assemble salad with lettuce and vegetables, topping with chicken and nuts, as desired. Add black pepper to salad as desired.
To prepare dressing, add equal parts balsamic vinegar and olive oil to a mason jar with a pinch of salt, seal tightly with lid and shake until emulsified.
Drizzle salad with dressing and serve.
Sweet and Crunchy Chicken Salad
Ingredients
Shredded chicken, chopped fine
Golden raisins
Dates, pitted and chopped
Pecans, toasted and chopped fine
Mayonnaise
Applesauce
Salt and pepper, to taste
Lettuce, tortillas, bread, or other wrap for serving
Directions
Mix shredded chicken, golden raisins, dates, and pecans in a bowl (proportioned as desired).
Add mayonnaise and a spoon full of applesauce for sweetness and stir until desired consistency is achieved.
Serve.
---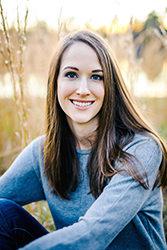 Angela Larson is a registered dietitian (RD) who works with Brookshire Brothers promoting real fresh, real delicious foods and nutrition education to the community. She is also a clinical dietitian representing Woodland Heights Medical Center in Lufkin where she does outreach education on food and nutrition. Food is her passion, so Angela loves trying new recipes and exploring the more holistic side of nutrition. Angela loves to cook, garden, and spend time outdoors. In addition to the Brookshire Brothers blog, look for Angela's monthly articles in Charm East Texas.