Tuesday August 28, 2018
Cooking with Kate: Take the Labor Out of Labor Day, PART II
BACK BY POPULAR DEMAND—recipes you can make ahead for your Labor Day get together! Whether you're hosting a backyard barbeque with family or enjoying a day at the lake with friends,
your local Brookshire Brothers
has everything you need for some fun, make-ahead recipes that are sure to please any crowd!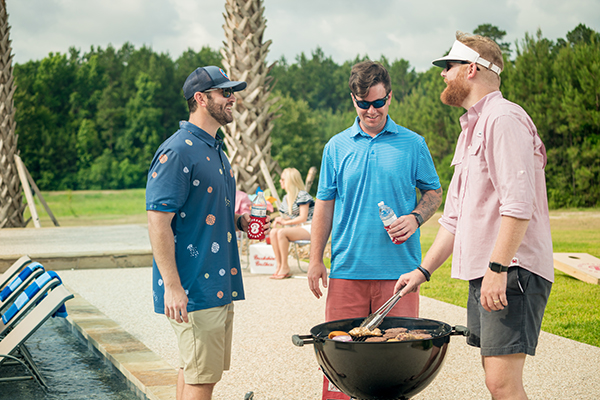 Don't forget to check out last year's recipes for Ultimate Baked Potato Salad and Honey Lime Fruit Salad!
Cobb Salad Dip
Makes 8-12 servings
This quick, layered dip incorporates all of the flavorful ingredients of the traditional Cobb salad!
Ingredients
2 (8 oz) pkgs cream cheese 
16 oz sour cream 
2 packets dry ranch dressing mix 
1 (8 oz) package shredded lettuce 
1 (8 oz) shredded cheddar cheese 
1 (6 oz) cup crumbled blue cheese 
1 (9 oz) package crumbled bacon pieces 
1 carton grape tomatoes, halved 
1 can grilled corn, drained well 
Directions
In a medium bowl, mix cream cheese, sour cream, and ranch dressing mix until smooth.
Spread evenly into the bottom of a medium-large serving dish.
Layer on top – shredded lettuce, shredded cheese, blue cheese crumbles, bacon pieces, tomatoes, and corn.  
Refrigerate for at least 2 hours or until ready to serve. Serve dip with assorted chips and crackers.
---
Quick Grilled Asian Chicken
Makes 4 servings
This succulent grilled chicken is delicious paired with fried rice and stir-fried vegetables or chilled and shredded for Asian chopped salad.

Ingredients
¼ cup regular or low sodium soy sauce
1 ½ tablespoons sesame oil
1 tablespoon seasoned rice vinegar
2 tablespoons honey
1 teaspoon fresh ginger root, grated
2 cloves fresh garlic, minced
4 boneless, skinless chicken breasts
Directions
In a medium microwave-safe bowl, combine all ingredients except the chicken breasts. Cook for 1 minute in the microwave; stir well.
Heat for an additional 30 seconds, watching closely so that the mixture does not boil over. Let marinade cool for 5 minutes.
Add chicken breasts and cooled marinade to a gallon zipper bag. Seal tightly and shake bag to ensure that all the chicken is coated in the mixture.
Marinate the chicken for 15-20 minutes. Preheat your grill to medium-high heat or heat a skillet or griddle pan on your stove over medium-high heat.
Remove chicken from marinade and cook chicken on preheated grill or skillet for 6-8 minutes on each side or until chicken is cooked through and browned. Chicken should be cooked to an internal temperature of 165°F.
---
Crunchy Asian Chopped Salad
Makes 8-12 servings
Ingredients
1 recipe Quick Grilled Asian Chicken, cooked and chilled, small diced or shredded
4 cups shredded coleslaw or romaine lettuce or a combination of both
4 green onions, thinly sliced
2 cups shredded carrots
½ bunch fresh cilantro, stems removed and roughly chopped
2 cups cooked, shelled edamame
1 cup slivered almonds, toasted
2 cups crunchy chow mein noodles
Sesame Dressing:
½ cup olive oil
¼ cup seasoned rice vinegar
2 tablespoons regular or low sodium soy sauce
2 tablespoons sesame oil
2-3 tablespoons honey, to taste
1-2 tablespoons toasted sesame seeds
Directions
In a small bowl or Mason jar, combine all the dressing ingredients. If using a jar, screw lid on tightly. Whisk or shake dressing until combined. Set aside.
In a large bowl, mix chopped/shredded chicken, coleslaw, lettuce, green onions, carrots, cilantro, edamame, and almonds. Add enough of the sesame dressing to lightly coat all ingredients. (Leftover dressing can be stored in an airtight container in the fridge for up to one week.)
Serve immediately with crunchy chow mein noodles sprinkled on top.
To make salad in advance – Mix and chill all ingredients – waiting to add the dressing and chow mein noodles until right before serving.
---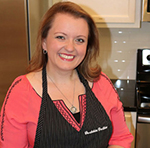 Kate knows food. She grew up with the Southern tradition of good food with the hospitality to match.  A graduate of Texas A & M University, a student of The Texas Culinary Academy, and a Nacogdoches, Texas native, Kate's greatest joy is bringing people together over a scrumptious meal.