Tuesday February 19, 2019
One Chicken, Three Easy Meals
Real Fresh, Real Delicious, and Real Satisfying
Need some meal ideas that are protein-rich, veggie-packed, quick-n-portable, and top-of-the-line DELICIOUS? With one roast chicken, you can make all three of these healthy dishes below. Pick up a tasty rotiserrie chicken
from your neighborhood Brookshire Brothers
or make time over the weekend to slow roast a chicken yourself. From there, try one (or all three) of these crowdpleasing variations for an easy lunch or a no-fuss dinner.
Get even more meal mileage out of your chicken with this thrifty and delicious idea: save the chicken bones and scraps (before and after roasting) and add them to a crockpot with water to cover and simmer on low for 24 hours. The result? Real fresh, real delicious chicken bone broth for a soup later in the week!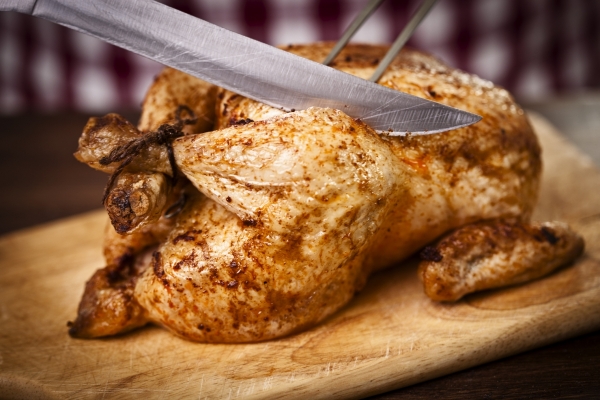 Slow-Roasted Extra Juicy Whole Chicken
Note: I used red pepper flakes and fennel seeds for a hint of spice and an herby flavor, but it tastes great with just salt and pepper or any spice mix of your choosing.
Ingredients
1 whole chicken, giblets removed
1 tablespoon extra virgin olive oil
Salt and pepper, to taste
(Optional) ½ teaspoon red pepper flakes
(Optional) 2 teaspoons fennel seeds
Feeling adventurous? Here are three more takes on roast chicken: Mediterranean Roast Chicken with Green Olives, Fennel Seeds, and Thyme, Peruvian Roast Chicken with Cilantro and Jalapeño Sauce, Balsamic Roast Chicken and Potatoes
Directions
Preheat oven to 325 degrees. Rub chicken all over with extra virgin olive oil. Generously season with salt and pepper. Sprinkle on added seasoning, as desired.
Roast, breast side up for 70-90 minutes, until breast registers 160 degrees on a thermometer.
Let cool and shred meat. Shredded meat may be stored in the refrigerator for up to 4 days.
Double Protein Veggie Wrapper's Delight
Ingredients
Wraps, such as tortilla, pita, etc. (I used coconut wraps for a grain-free option)
Turkey slices
Guacamole (I love the single serving cups for individual wraps)
Spring mix lettuce
Shredded carrots or broccoli carrot slaw
Sugar snap peas, split in half
Cherry tomatoes, halved
Shredded chicken pieces
Salad dressing (as desired)
Directions
Assemble wraps by placing turkey on top of wrap following by guacamole, lettuce, shredded carrots, snap peas, shredded chicken, and cherry tomatoes.
Drizzle with salad dressing if desired.
Roll up and take a walk while you eat!
Garden Salad with Shredded Chicken and Homemade Balsamic Vinaigrette
Ingredients
Spring mix lettuce or baby spinach
Cherry tomatoes
Shredded carrots
Fresh broccoli cut into small pieces
Shredded chicken
Pine nuts, slivered almonds, chopped walnuts, or chopped pecans
Balsamic vinegar
Extra virgin olive oil
Salt and pepper to taste
For another option, check out this Crunchy Asian Chopped Salad recipe previously featured in "Cooking with Kate: Take the Labor Out of Labor Day, PART II"
Directions
Assemble salad with lettuce and vegetables, topping with chicken and nuts, as desired. Add black pepper to salad as desired.
To prepare dressing, add equal parts balsamic vinegar and olive oil to a mason jar with a pinch of salt, seal tightly with lid and shake until emulsified.
Drizzle salad with dressing and serve.
Sweet and Crunchy Chicken Salad
Ingredients
Shredded chicken, chopped fine
Golden raisins
Dates, pitted and chopped
Pecans, toasted and chopped fine
Mayonnaise
Applesauce
Salt and pepper, to taste
Lettuce, tortillas, bread, or other wrap for serving
Directions
Mix shredded chicken, golden raisins, dates, and pecans in a bowl (proportioned as desired).
Add mayonnaise and a spoon full of applesauce for sweetness and stir until desired consistency is achieved.
Serve.
---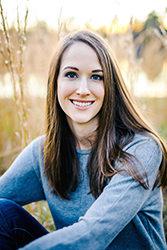 Angela Larson is a registered dietitian (RD) who works with Brookshire Brothers promoting real fresh, real delicious foods and nutrition education to the community. She is also a clinical dietitian representing Woodland Heights Medical Center in Lufkin where she does outreach education on food and nutrition. Food is her passion, so Angela loves trying new recipes and exploring the more holistic side of nutrition. Angela loves to cook, garden, and spend time outdoors. In addition to the Brookshire Brothers blog, look for Angela's monthly articles in Charm East Texas. 
Monday December 11, 2017
Good Foods, Good Moods: Holiday Stress
 'Tis the season to be jolly, except sometimes it's hard to keep up the merry spirit. Hectic holiday schedules, colder weather, shorter days, and time spent indoors can lead to a dispirited Christmas.  The holiday blues aren't imaginary – seasonal affective disorder (SAD) is the official medical term for winter-induced depression.  Luckily, one of the easiest ways to combat the winter-time blues is a quick trip to
your neighborhood Brookshire Brothers
grocery store.  To keep your spirits merry and bright, focus on foods rich in the fat-soluble vitamins, A, D, and K, arachidonic acid (found in animal fats), omega-3 fats, calcium, and B vitamins. Here's a list of ten mood-boosters to help you keep the holidays happy.
EGG YOLKS
Egg yolks are nature's multivitamin, and they don't disappoint in terms of mood-boosting nutrition. In addition to vitamin A, vitamin D, and arachidonic acid, they also contain plenty of B-vitamins to make your days merrier.   
MILK
Drinking milk is a simple way to up your vitamin A, D, and calcium intake. Whole milk is even better (who knew?!) since it contains some natural vitamin A as well as arachidonic acid.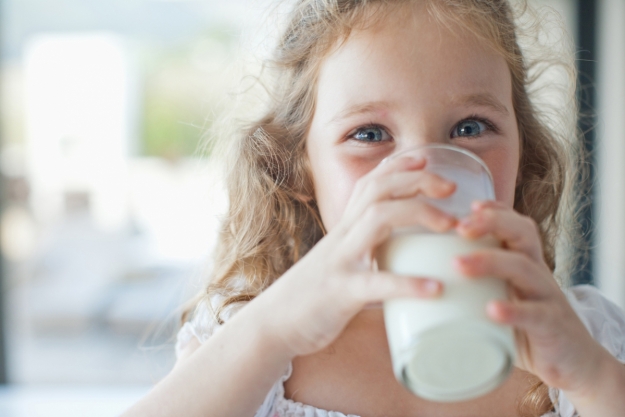 SEAFOOD
Eating a diet with a good balance of omega-3 versus omega-6 fats is a well-established strategy in fighting depression. Omega-3 fats are found in oily fish like salmon, mackerel, tuna, and sardines.  Better yet, seafood is also rich in vitamins A and D (amongst many other nutrients), so eat a variety of seafood options including shellfish and even fish eggs for maximum benefit.
PROBIOTIC FOODS
The brain and the digestive tract are linked through the central nervous system, endocrine system, and immune system.  So what happens in the gut doesn't stay in the gut! That means the healthier your gut bacteria, the happier you'll be. Make probiotic rich foods like yogurt, kefir, kombucha, and fermented vegetables (such as fermented sauerkraut) a part of your everyday diet.
ORGAN MEATS
If there's one thing that's the mecca of nutrition, it's organ meats. In general, organ meats get little glory—but they are gloriously nutritious! Liver in particular is one of the richest sources of nearly every nutrient—ESPECIALLY vitamin A and vitamin D. 
DARK CHOCOLATE
Eating chocolate is good for your mood (any surprise?). Specifically, the darker the chocolate, the better. Cocoa powder is another nutritious option. Mix up a cup of hot chocolate with whole milk, a spoonful of cocoa powder and a sweetener of your choice (I like honey) for a delicious mood-boosting treat that will warm you from the inside out.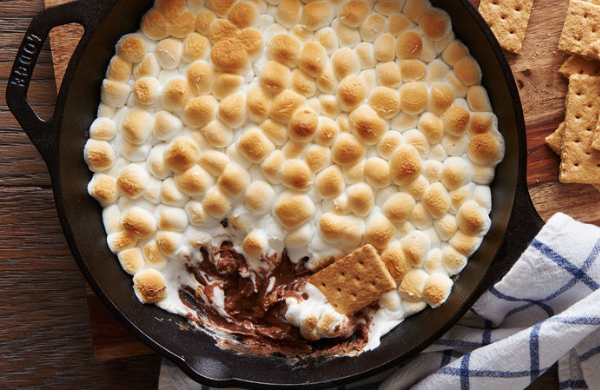 Read more: HINT—dark chocolate is also great for s'mores. Check out these five fun ways to fix your favorite campfire treat.
BUTTER
If butter doesn't make you happy, then I can't help you (kidding). But seriously, butter is the best—and it's actually good for you! It has the perfect trio of mood boosters: vitamin A, vitamin D, and arachidonic acid. Even better, it's on sale in 
this week's ad
!
GREEN TEA
Drinking as many as four cups of antioxidant-rich green tea daily has been shown to decrease depression, with the effect increasing for every additional cup!
Read more: Did you know that pistachios are also rich in antioxidants—and it's a distant cousin to mangoes and poison ivy?
CHEESE
Sprinkle a little Gouda cheer over your meal this holiday season. Cheese is rich in vitamin K2, another brain and mood boosting shining star. Some of the best varieties for vitamin K2 content are Jarlsberg, Gouda, Edam, Swiss, Emmental, and Blue Cheese
GO OUTSIDE
Going outside gets you exposed to bright outdoor light, even when it's cloudy. When you're outside, you typically move around more. And when you move more and get exposed to natural light, you sleep better. Light exposure, movement, and sleep are all closely connected with mood and wellbeing.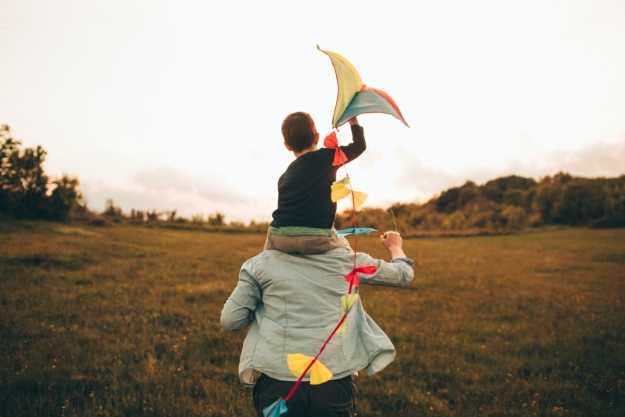 Merry Christmas and HAPPY Holidays!
---
Angela Larson is a registered dietitian (RD) who works with Brookshire Brothers promoting 
real fresh, real delicious
 foods and nutrition education to the community. She is also a clinical dietitian representing Woodland Heights Medical Center in Lufkin where she does outreach education on food and nutrition. Food is her passion, so Angela loves trying new recipes and exploring the more holistic side of nutrition. Angela loves to cook, garden, and spend time outdoors. In addition to the 
Brookshire Brothers blog
, look for Angela's monthly articles in Charm East Texas. 
Wednesday September 20, 2017
Pistachios: Everything You Need to Know
Did you know that hearing the crack of a pistachio shell is considered good luck in some countries? What about this nut's distant cousins—mangos and poison ivy? Then there's the whole weird green color (thanks to chlorophyll), and we've heard talk of Turkey wanting to fuel a town entirely on pistachio shells.
Needless to say, there's a lot to about this strange nut and its strange history. Lucky for you, we've compiled answers to some of the most-asked questions about pistachios—our September
produce
feature—as well two fun recipes. Read on to see why this nut is everything it's cracked up to be.
What is the pistachio and where did it originate?
The pistachio nut, a native of Iran, Syria and Greece, has been cultivated for more than 10,000 years. It is considered by some to be one of the oldest edible nuts on earth and is referred to in the Old Testament—Genesis 43:11—along with almonds. The pistachio belongs to the same family as the cashew. The fruit of the pistachio differs from all other nuts because of its green color and the semi-opening of the shell. In Iran, it is called the "smiling pistachio" and in China it is called the "happy nut." Because of this physical characteristic, it is the only nut that does not need to be shelled for roasting and salting. It used to be common to dye pistachios red to cover any blemishes on the shell but most consumers now prefer the natural color.
It was not until the 1930s, when vending machines became popular, that pistachios imported from Italy became a popular snack food in the United States. After WWII, the evergreen trees that bear pistachios were imported to California. The name pistachio is the Italian version of the Persian word pistah, which means "nut".
When and where do they grow now?
While it's easy to purchase pistachios at any time during the year, these nuts are at their best tasting and greatest value during the harvest, which—according to the American Pistachio Growers organization—can take place anywhere from late August to early October. In America, most pistachios are harvested in western states, such as California, Arizona, and New Mexico.
How are they picked?
Growing in clusters similar to grapes, pistachios tend to naturally fall off the tree when they ripen, where they are gathered by hand, net, or some other means. According to several sources, most harvesters will also shake the branches with machines to help the nuts fall off. Good pistachio nuts will split while on the tree, although some will not. Typically, the only pistachios sold in stores are the ones that have naturally opened.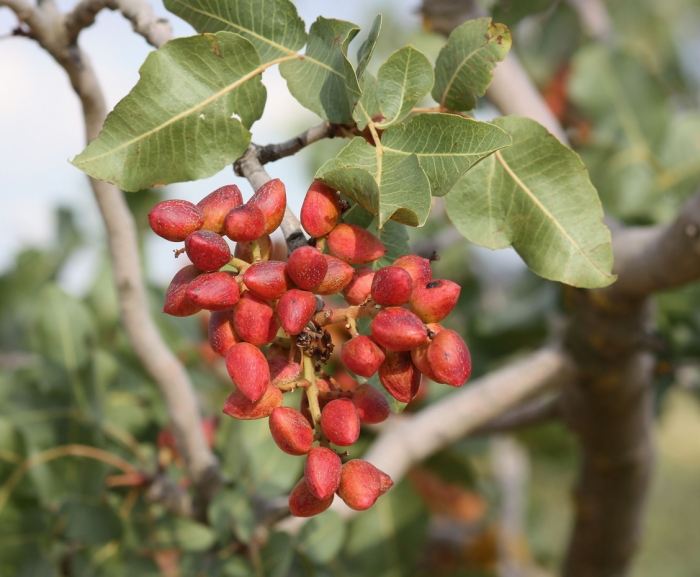 Are pistachios good for you?
Yes! In fact, you can break down the research surrounding this nutritional nut into at least six major health benefits, according to Organic Facts:
Healthy Heart
According to evidence, a daily intake of pistachios appears to help with lowering levels of "bad" cholesterol (LDL) in the body, thanks in large part to this nut's rich source of antioxidants, unsaturated fatty acids, and phytosterols.
Weight Management
In comparison to dried fruits and other nuts (almonds, cashews, pecans, etc), pistachios are low calorie, protein rich, and low fat—making this nut the go-to snack for weight management. In other words, this nut makes that feeling of fullness last longer without the extra calories/fat.
Prevents Macular Disease
Researchers have also found pistachios to be high in lutein—a nutrient that's found in most dark green leafy vegetables. This antioxidant is particularly important in healthy vision, as it helps reduce the risk of age-related macular degeneration.
Dietary Fiber
As with most nuts, pistachios are great for intestinal health due to their dietary fiber. One ounce (30g) of pistachios can contain about 3 grams of fiber, which is more than enough to boost daily digestion.
Aphrodisiac Properties
A 2011 study (Aldemir et al) suggests that pistachios can improve reproductive vitality among men by at least 50% after three weeks of 100g (roughly 3.5oz) taken daily.
Antioxidant Properties
Pistachios are such a rich source of antioxidants that even their shells contain large amounts of this nutrient, according to researchers from Tarbiat Modarres University. Antioxidants are important as they can help reduce the risk of cancer.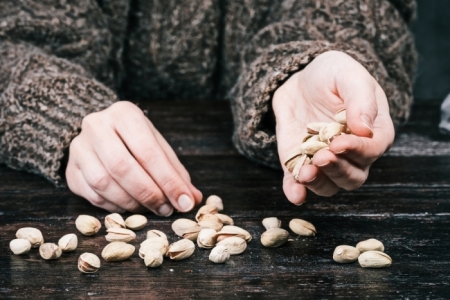 How much should you eat per day?
Most sources recommend 1-2 handfuls a day (roughly 1.5-3oz or 200-400 calories), although you should be careful about how the pistachios are served. Eating raw or roasted pistachios is the most nutritional option, but sweetened or salted pistachios can be a nice treat so long as you keep an eye on the intake.
Raw vs. Roasted Pistachios: Which one is better?
Usually the heat of cooking results in a loss of nutrients, yet pistachios are a different story. According to Healthline and other sources, these nuts largely do not change in terms of health benefits, whether they're roasted or raw. Both varieties contain similar amounts of calories, protein, carbs, and fiber.
What to do with pistachio nuts?
The great thing about nuts in general is that there are many easy ways to incorporate their nutritional goodness into your daily diet. Pistachios alone can make for a great snack at work, after school, or while watching Monday night football with friends. Beyond that, pistachios have been included in many different recipes—savory and sweet alike, as seen by these two highly rated recipes from Betty Crocker:
Apricot-Pistachio Rolled Pork
4+ stars rating
Prep: 30 min | Total: 5 hour 35 min
Servings: 12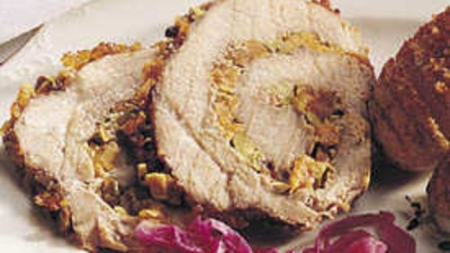 "Get dinner rolling with pork loin that's wrapped around a sweet, crunchy apricot-pistachio filling and roasted to perfection."
Ingredients
1 single uncut boneless pork loin roast (4 lb)
½ cup chopped dried apricots
½ cup chopped pistachio nuts
2 cloves garlic, finely chopped
¼ teaspoon salt
¼ teaspoon pepper
¼ cup apricot brandy or apricot nectar
1 tablespoon butter or margarine
¼ cup coarsely crushed cracker crumbs
2 tablespoons chopped pistachio nuts
¼ teaspoon garlic salt
¼ cup apricot preserves
Directions
To cut pork roast into a large rectangle that can be filled and rolled, cut lengthwise about 1/2 inch from top of pork to within 1/2 inch of opposite edge; open flat. Repeat with other side of pork, cutting from the inside edge to the outer edge; open flat to form rectangle.
Sprinkle apricots, 1/2 cup nuts, the garlic, salt and pepper over pork to within 1 inch of edge. Tightly roll up pork, beginning with short side. Secure with toothpicks, or tie with string. Pierce pork all over with metal skewer. Brush brandy over entire surface. Let stand 15 minutes. Brush again with remaining brandy. Cover and refrigerate at least 2 hours but no longer than 24 hours.
Heat oven to 325°F. Place pork, fat side up, on rack in shallow roasting pan. Insert meat thermometer so tip is in thickest part of pork. Roast uncovered 1 hour 30 minutes.
Meanwhile, in 2-quart saucepan, melt butter over medium heat. Stir in cracker crumbs, 2 tablespoons nuts and garlic salt; cook and stir 1 minute. Cool slightly.
Brush preserves over pork. Sprinkle with crumb mixture. Roast uncovered 30 to 60 minutes longer or until thermometer reads 160°F. Cover and let stand 15 minutes before serving for easier carving.
Expert Tips
Add color to the fruit and nut filling by replacing half of the dried apricots with dried sweetened cranberries.
Piercing the pork and allowing it to stand after brushing with apricot brandy helps to heighten the apricot flavor of the roast.
Cran-Pistachio Cookies
4 star rating
Prep: 60 min | Total: 60 min
Servings: 48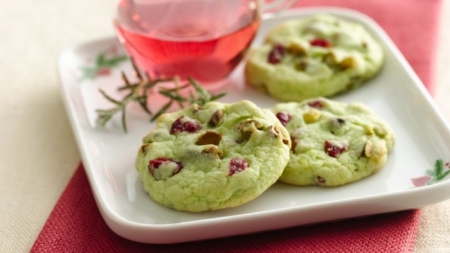 "Prize-Winning Recipe 2010! Pistachios, pudding mix and cranberries stir up with sugar cookie mix for a melt-in-your-mouth cookie."
Ingredients
Parchment Paper
1 pouch (1 lb 1.5 oz) sugar cookie mix
1 box (4-serving size) pistachio instant pudding and pie filling mix
¼ cup all-purpose flour
½ cup butter or margarine, melted
2 eggs
1 cup dry-roasted salted pistachio nuts, chopped
½ cup dried cranberries, chopped
Directions
Heat oven to 350°F. Line cookie sheet with Reynolds Parchment Paper; set aside. In large bowl, stir together cookie mix, pudding mix and flour. Stir in melted butter and eggs until soft dough forms. Add pistachios and cranberries; mix well.
Using small cookie scoop or teaspoon, drop dough 2 inches apart on lined cookie sheet. Press with fingers to slightly flatten.
Bake 9 to 11 minutes or until edges are light golden brown. Cool 2 minutes; remove from cookie sheet to wire rack. Cool completely. Store tightly covered at room temperature.
Expert Tips
Place food directly on Parchment Paper and bake as directed. Treats will bake evenly and release from paper with ease. Plus, because you're baking right on the paper, clean-up is a breeze.
For even baking, make sure cookies are of the same shape and size.
DON'T FORGET:
Pistachios can last for many months before going bad if you store them in airtight containers in cool and dry places.