Tuesday February 19, 2019
One Chicken, Three Easy Meals
Real Fresh, Real Delicious, and Real Satisfying
Need some meal ideas that are protein-rich, veggie-packed, quick-n-portable, and top-of-the-line DELICIOUS? With one roast chicken, you can make all three of these healthy dishes below. Pick up a tasty rotiserrie chicken
from your neighborhood Brookshire Brothers
or make time over the weekend to slow roast a chicken yourself. From there, try one (or all three) of these crowdpleasing variations for an easy lunch or a no-fuss dinner.
Get even more meal mileage out of your chicken with this thrifty and delicious idea: save the chicken bones and scraps (before and after roasting) and add them to a crockpot with water to cover and simmer on low for 24 hours. The result? Real fresh, real delicious chicken bone broth for a soup later in the week!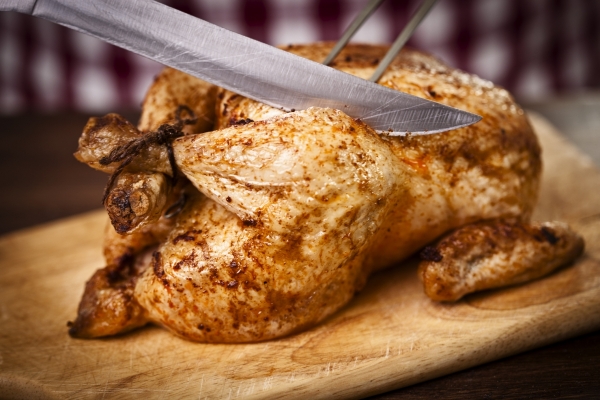 Slow-Roasted Extra Juicy Whole Chicken
Note: I used red pepper flakes and fennel seeds for a hint of spice and an herby flavor, but it tastes great with just salt and pepper or any spice mix of your choosing.
Ingredients
1 whole chicken, giblets removed
1 tablespoon extra virgin olive oil
Salt and pepper, to taste
(Optional) ½ teaspoon red pepper flakes
(Optional) 2 teaspoons fennel seeds
Feeling adventurous? Here are three more takes on roast chicken: Mediterranean Roast Chicken with Green Olives, Fennel Seeds, and Thyme, Peruvian Roast Chicken with Cilantro and Jalapeño Sauce, Balsamic Roast Chicken and Potatoes
Directions
Preheat oven to 325 degrees. Rub chicken all over with extra virgin olive oil. Generously season with salt and pepper. Sprinkle on added seasoning, as desired.
Roast, breast side up for 70-90 minutes, until breast registers 160 degrees on a thermometer.
Let cool and shred meat. Shredded meat may be stored in the refrigerator for up to 4 days.
Double Protein Veggie Wrapper's Delight
Ingredients
Wraps, such as tortilla, pita, etc. (I used coconut wraps for a grain-free option)
Turkey slices
Guacamole (I love the single serving cups for individual wraps)
Spring mix lettuce
Shredded carrots or broccoli carrot slaw
Sugar snap peas, split in half
Cherry tomatoes, halved
Shredded chicken pieces
Salad dressing (as desired)
Directions
Assemble wraps by placing turkey on top of wrap following by guacamole, lettuce, shredded carrots, snap peas, shredded chicken, and cherry tomatoes.
Drizzle with salad dressing if desired.
Roll up and take a walk while you eat!
Garden Salad with Shredded Chicken and Homemade Balsamic Vinaigrette
Ingredients
Spring mix lettuce or baby spinach
Cherry tomatoes
Shredded carrots
Fresh broccoli cut into small pieces
Shredded chicken
Pine nuts, slivered almonds, chopped walnuts, or chopped pecans
Balsamic vinegar
Extra virgin olive oil
Salt and pepper to taste
For another option, check out this Crunchy Asian Chopped Salad recipe previously featured in "Cooking with Kate: Take the Labor Out of Labor Day, PART II"
Directions
Assemble salad with lettuce and vegetables, topping with chicken and nuts, as desired. Add black pepper to salad as desired.
To prepare dressing, add equal parts balsamic vinegar and olive oil to a mason jar with a pinch of salt, seal tightly with lid and shake until emulsified.
Drizzle salad with dressing and serve.
Sweet and Crunchy Chicken Salad
Ingredients
Shredded chicken, chopped fine
Golden raisins
Dates, pitted and chopped
Pecans, toasted and chopped fine
Mayonnaise
Applesauce
Salt and pepper, to taste
Lettuce, tortillas, bread, or other wrap for serving
Directions
Mix shredded chicken, golden raisins, dates, and pecans in a bowl (proportioned as desired).
Add mayonnaise and a spoon full of applesauce for sweetness and stir until desired consistency is achieved.
Serve.
---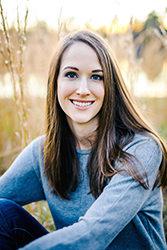 Angela Larson is a registered dietitian (RD) who works with Brookshire Brothers promoting real fresh, real delicious foods and nutrition education to the community. She is also a clinical dietitian representing Woodland Heights Medical Center in Lufkin where she does outreach education on food and nutrition. Food is her passion, so Angela loves trying new recipes and exploring the more holistic side of nutrition. Angela loves to cook, garden, and spend time outdoors. In addition to the Brookshire Brothers blog, look for Angela's monthly articles in Charm East Texas. 
Monday November 6, 2017
Nine for November: Try Something New
Nine New Foods and Drinks to Try this Month
What better way to celebrate the changing leaves than by eating something different?  Whether it's a totally new-to-you food or an old favorite done a new way, challenge yourself to taste nine new things this month to add
real fresh, real delicious
variety to your life.  Here are nine ideas you can use to get started, but don't let me limit you – just head to
your local Brookshire Brothers grocery store
for inspiration.
KOMBUCHA
This probiotic fermented tea is a totally fresh way to get your daily dose of healthy bacterial goodness. This probiotic bacteria can do beneficial wonders for your gut and immune system. Better yet, kombucha is a perfect alternative to soda because it is bubbly, tangy, low in carbohydrate, and comes in a variety of flavors.
SPROUTED FOODS
These grains and seeds have recently become trendy, but, ironically, their consumption was common before the advent of modern food production.  Because grains are actually just seeds, they can be soaked and sprouted prior to consumption.  Sprouting unleashes a seed's potential because they keep their nutrition stores locked up until germination—a process that sends a signal to the seed to release the nutrients needed to grow a plant.  Sprouting thus increases digestibility and the availability of nutrients such as zinc, magnesium, B vitamins, vitamin C, and even protein. Most of these nutrients are hard to get enough of—especially for those with limited meat intake—which makes sprouts extra beneficial.  These foods—rice, wheat, quinoa, pumpkin seeds, and a variety of others—are "sprouting" up regularly now, so give them a try!
RADISHES
So maybe you tried radishes once or even twice, and you subsequently wrote them off as something on the "don't like" list.  Please, TRY THEM AGAIN.  You see, radishes are not the kind of thing you should just bite into and decide whether you like them.  Instead, they belong as a beautiful complement to other foods.  Slice radishes thinly and add them to salads for a beautiful pop of color and a zesty crunch with a faintly peppery bite.  Better yet, toss them in with a batch of roasted veggies.  When roasted they lose their peppery bite and become sweet little veggie orbs. Here's the deal: Olive oil, salt, and pepper + any other roasting veggie of your choice + 425F degrees for about 20 minutes = RADISH MAGIC. You can even throw in the radish leaves with your roasted veggie mashup and they'll crisp up in the oven to make nicely toasted chips.
TURNIPS
Turnips are cooked like potatoes and have a similar flavor, except they're very low calorie and extremely nutritious.  Consider shaking your next soup up with turnips in place of potatoes—and don't toss the turnip greens!  With a little butter, salt, and pepper, sautéed turnip greens make for a delicious side dish. Or, try tossing the greens in your vegetable soup similar to the way you would use spinach.  Delicious, nutritious, and thrifty—turnips have it all.
FENNEL
Fennel has a surprisingly diverse flavor reminiscent of licorice or anise.  The flavor may sound strange for a vegetable, but it is very complimentary to many foods.  Sliced, raw fennel bulbs make a wonderful addition to salads and even coleslaw.  Fennel also makes for a great soup, sautéed side dish, or roasted accompaniment to chicken or pork.  Moreover, the fronds look similar to dill, making for a lovely garnish.
KEFIR
Kefir is a probiotic fermented milk product that is similar in flavor to yogurt, but typically has many more strains of beneficial bacteria and yeast. AKA, it's great for gut health.  You can find it in a variety of flavors similar to smoothie drinks.  However, be aware that—like yogurt—it often has added sugars, so keep an eye on portion size or choose plain products.  A fun twist on kefir is to make it savory rather than sweet by choosing plain kefir and adding salt to taste.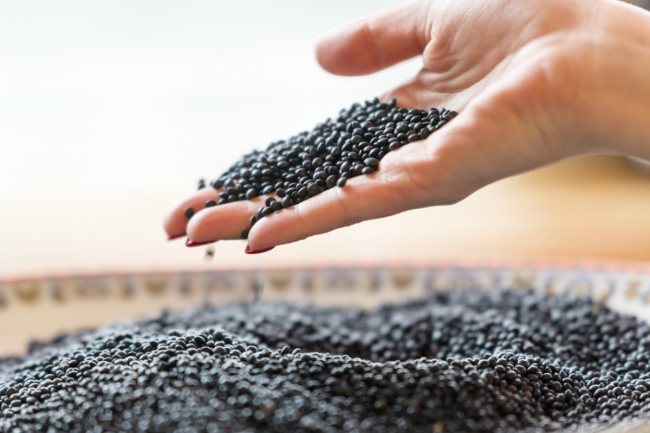 LENTILS
Lentils are nutrition powerhouses.  They are an excellent source of protein and rich in a variety of nutrients, including folate, vitamin C, iron, zinc, vitamin K, choline, and the other B vitamins. Lentils are most frequently found in soup recipes, but they can also be used in salads, rice dishes, or standalone side dishes.
FERMENTED SAUERKRAUT
Sauerkraut may have a funny name, but it's definitely a star when it comes to adding a salty crunch to sandwiches, hot dogs, burgers, or even as a snack.  Fermentation is the simple process of adding salt to the cabbage to create brine; thus, sauerkraut is traditionally made without heat canning.  If the right amount of salt is added, the conditions are perfect for the beneficial bacteria naturally present on the vegetable's surface to multiply and "cure" the cabbage, creating flavorful compounds. The bacteria even improve the nutritional qualities of the cabbage because it can produce nutrients as the cabbage cures.  Fermented sauerkraut that has never been heated retains its wonderful probiotic qualities, plus it's crispier than canned or cooked varieties. Better yet, you can even find different flavors, such as my favorite— Farmhouse Cultures Smoked Jalapeno Sauerkraut.
KERRYGOLD BUTTER
Okay, so most people like butter, so it shouldn't be a big ask to get you to try a new brand.  Kerrygold butter is worth a try because the flavor is rich and the beautiful golden hue is due to the high beta-carotene content of the premium quality milk. Once you taste it, you'll never look back.
---
Angela Larson is a registered dietitian (RD) who works with Brookshire Brothers promoting 
real fresh, real delicious
 foods and nutrition education to the community. She is also a clinical dietitian representing Woodland Heights Medical Center in Lufkin where she does outreach education on food and nutrition. Food is her passion, so Angela loves trying new recipes and exploring the more holistic side of nutrition. Angela loves to cook, garden, and spend time outdoors. In addition to the 
Brookshire Brothers blog
, look for Angela's monthly articles in Charm East Texas.
Monday February 16, 2015
Show Your Heart Some Love
Well, Valentine's Day has come and gone, and we've shown our loved ones exactly how much we love them - the more hearts the merrier, right?  But, throughout all the excitement of the season we commonly forget to show love to the heart that should really matter– our own.  February is American Heart Month, and it's time we show love to ours by keeping it healthy.
The heart is the lifeline of the body.  When it becomes ill, other vital organs can become ill.  This is reason enough for us to want to do what we can to keep it as healthy as possible.  So, here are some tips to help you show some love to your heart.
Monitor your blood pressure.  High blood is often termed the 'silent killer'. Uncontrolled high blood pressure can increase your risk of heart attack, stroke, and even cause damage to your kidneys and vision.  You can check your blood pressure anytime you'd like at any of our Brookshire Brothers Pharmacies for FREE.  Our pharmacists are always available to answer questions and give advice, as well.
Get your cholesterol checked.  High cholesterol can clog arteries and eventually cause a heart attack.  Limiting consumption of certain high-cholesterol foods like egg yolks and shrimp, as well as exercising, can help lower your cholesterol.  Check your levels regularly.
Eat a healthy diet.  Fresh fruits and veggies along with a low fat diet really make for a healthy heart!  Also, keep in mind that salty foods can increase your blood pressure.  Try limiting your salt intake by eating fresh vegetables instead of canned ones or by cooking with a salt substitute.
Maintain a healthy weight and exercise.  Exercising regularly and eating healthy foods are the best way to keep your weight in check.  No time for exercise?  Take the stairs at work instead of the elevator.  Choose the parking spot furthest away from the door wherever you go.  Those extra steps add up.
Don't use tobacco.  The nicotine in tobacco products is a known risk factor for heart disease.  Nicotine has also been shown to increase blood pressure and cause blood vessel damage.  Ask our pharmacists about products available to help you kick the habit and keep your heart healthy.  
Limit alcohol use.  The American Heart Association recommends that if you drink alcohol, do so in moderation.  This means an average of 1-2 drinks per day for men and 1 drink per day for women.  Drinking more alcohol than that can cause high blood pressure and contribute to heart disease, among many other life-threatening conditions.  
Take your medicine.  Your medicine won't work if you don't take it. To receive the best benefit, medications should be taken as prescribed by the physician.  If you have trouble remembering to take your medication daily, try setting an alarm on your phone to remind you or use a weekly pill box to help you keep track of everything. 
-Laura Edmundson, PharmD, RPh