Submitted by
brookshire-blog
on Saturday, September 30, 2017
The beautiful thing about a rainbow is that it's a visible, momentary glimpse into the extraordinary version of everyday ordinary light. Think: the light that we walk in every day—as we drive to work, drop kids off at school, wash dishes by the window—is composed of rainbows. We don't see these colors—except in circumstances where the light is dispersed into a visible arc (such as after a storm)—but they surround us all the same.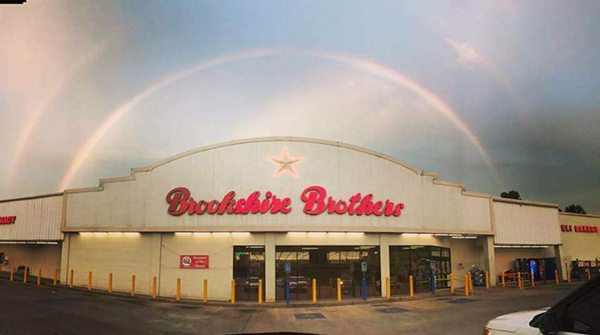 In the same way, we're surrounded by people that are as ordinary as the next person, and yet, in a shift of circumstances they burst with such bright acts of beautiful good. September started with a storm, but out of the devastation, we've encountered and witnessed such normal, big-hearted people seeking to meet community needs. These are their stories.
---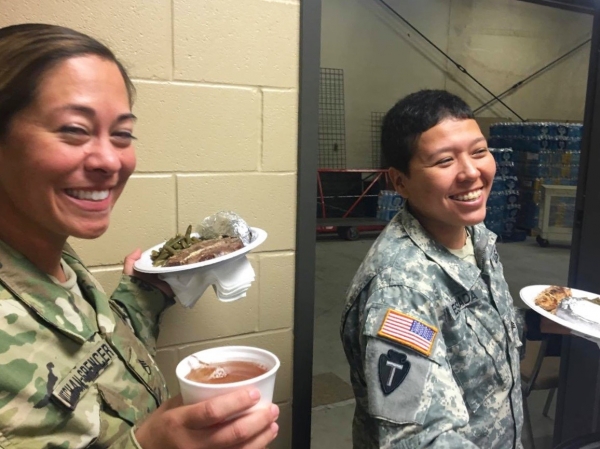 National Guard
This past month, we had the opportunity to feed the National Guard stationed in our corporate hometown for hurricane relief. Their presence was particularly memorable with the annual rememberance of 9/11. As always, we're grateful for the time to remember and reflect on the inspiring courage they—and others—embody in service to our communities.
---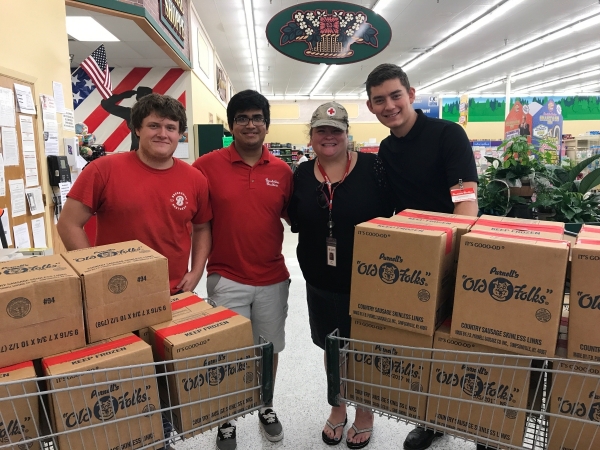 Purnell's "Old Folks" Sausage
We'd also like to give a huge shoutout to one of our valued vendor partners—Purnell's "Old Folks" Sausage. To help with hurricane relief efforts this past month, Purnell donated pounds of sausage by the THOUSANDS. These donations were distributed to shelters, churches, and emergency responders. From vendor to volunteer, this kind of selfless generosity we've seen post-Harvey has been continually inspiring.
Read more: It's because of vendor partners like Purnell's that we've been able to give back to communities more than one million dollars since 2007. Twice a year, these vendors participate in charitable golf tournaments to help us raise money for community support. Get the full recap of this year's fall tournament here.

---

Mrs. Patsy Smith
After Hurricane Harvey, Mrs. Patsy Smith (a shopper) baked THREE cakes to show our Carthage team her appreciation for treating her and all of her friends with sincere customer service, from handshakes at the door to smiling conversation at the register. Her kind gift to us embodies what we love best—caring for our customers and communities!
---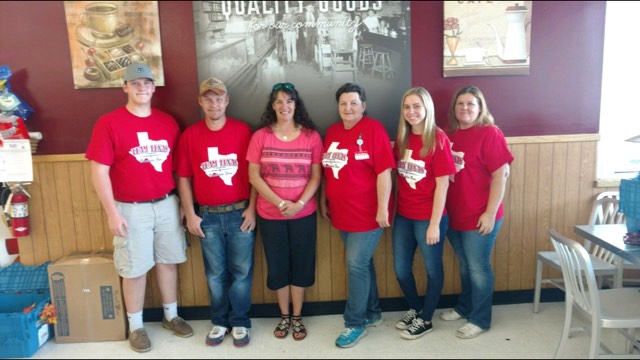 Team Texas Forever
Team Texas Forever. That's what these shirts say, but really they say a lot more to us than that. Kountze shopper Niesy B. designed and printed 62 of these shirts to show our Kountze team her appreciation for their service during Harvey and long before. According to Niesy, "Brookshire Brothers is more than just a store that sells food… it's the heartbeat of our town." Her memories include how store director Thomas Cryer would post pictures of kids from Little League or Homecoming parades on the store walls for parents to see, and how the whole intersection was decorated with balloons and signs from when the local cheerleading team made national news. When the past three major hurricanes roared through town, Niesy recalls how "the die-hard crew always showed up to sell groceries in the dark and make sure people got their prescriptions (thanks Lester!)." She loves how the deli knows just how her son likes his chicken legs, and how the team always took care of the Little League BBQ when she was on the LL board. It's stories like Niesy's that continually inspire us and our love for our communities.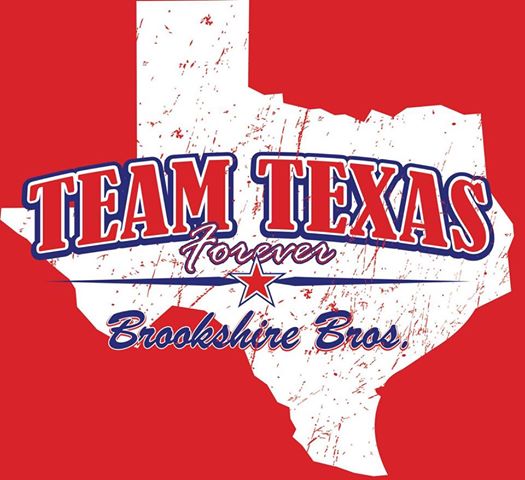 ---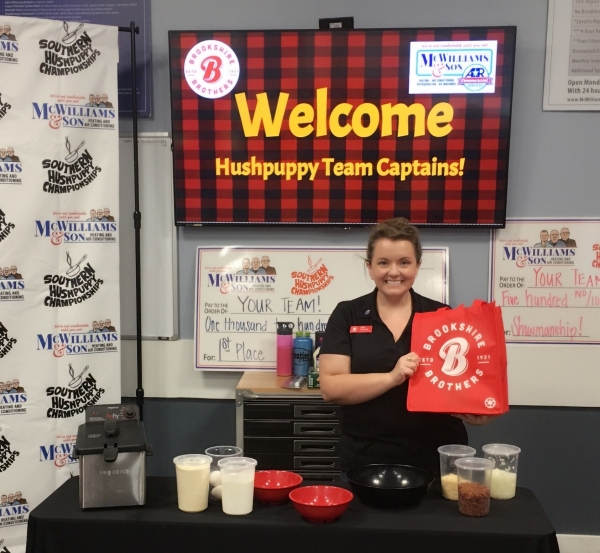 Southern Hushpuppy Championships
Community building begins with meeting needs, but that doesn't mean it excludes fun! September always brings the Texas State Forest Festival to our corporate hometown Lufkin, of which the Southern Hushpuppy Championships is always a headliner. A number of Brookshire Brothers employees volunteered at the festival, including our catering coordinator Kate Rudasill who served as a judge in the Hushpuppy competition—for the second year in a row! We love seeing our team members getting involved in events like this that bring families and fun together to build lasting relationships.
Read more: Our final Price is Right event—the Money Bags Live game—was held at the festival this year, where over $20,000 was awarded to Brookshire Brothers customers. Catch the full recap here!
---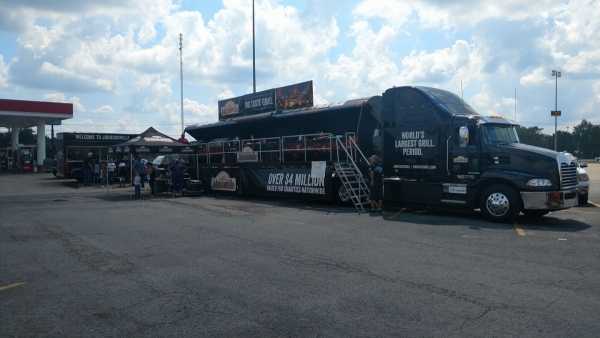 Johnsonville Big Taste Grill
20 feet tall, 65 feet long, and 6 feet in diameter. Meet the Johnsonville Big Taste Grill, a mobile grill that can cook 2,500 brats an hour on its 40 sqaure feet of grilling surface. This past month, the "World's Largest Grill" has been traveling to locations that were hit hard by Harvey, including our Liberty and Silsbee locations. With brats donated by Johnsonville and buns from our stores, nearly 1,000 hot meals were served to anyone in need.
Read more: Did you know nearly 1 in 4 children in Texas are food insecure? See how you can help with our Great American Milk Drive
---
Ellen Trout Zoo
As a continual source of family fun and community involvement, this small-town zoo is dear to our hearts here in Lufkin, our corporate hometown. Located across the street from our headquarters, we're often involved in supporting this zoo, whether we're helping clean up the facility during our annual spring workday or we're dropping off extra newspapers for the bottom of animal cages. As we've said before, we're wild about the zoo and all that they do for our hometown!
---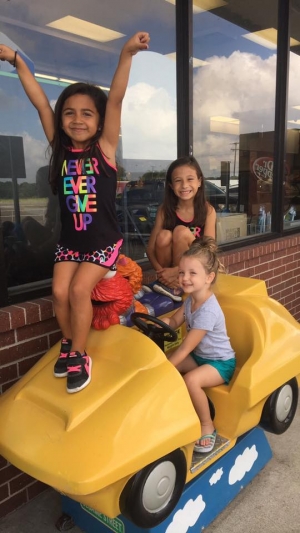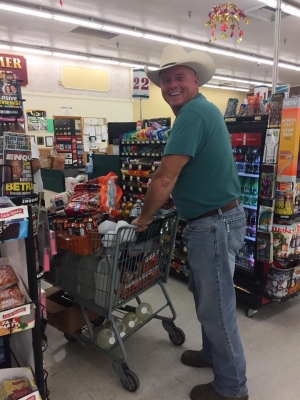 Community Building On Its Own
While our mission focus is to serve our communities, we particularly love to see community building happen in our stores on its own. Whether it's a bake sale for a local cheerleading team (pictured left) or a shopper loading up his cart with groceries for neigbors in need (pictured right), we will always stand behind community growth. So, bring on the car washes, the BBQs, the long-time-no-see selfies with a friend—we welcome it all.