Submitted by
brookshire-blog
on Monday, September 4, 2017
The unprecedented flooding following Hurricane Harvey has tapped into the strength of our communities and company like never before. We've seen favorite couches stiff and ruined on curbs, stores flickering out of power, lives being entirely rewritten—and yet, even as the thunder rolled and the rain fell, there's been joy at the core of tragedy. At the time Harvey eyed the Texas coast, Lufkin's own "Thundering 13" eyed the Little League National Championship. Together, these two storms came to embody the heart of Brookshire Brothers and our response to this disaster. From the little leaguers who hail from our corporate "home base" to our big league store directors who held firm in the path of the storm, Texans refused to let Harvey strike out their spirit.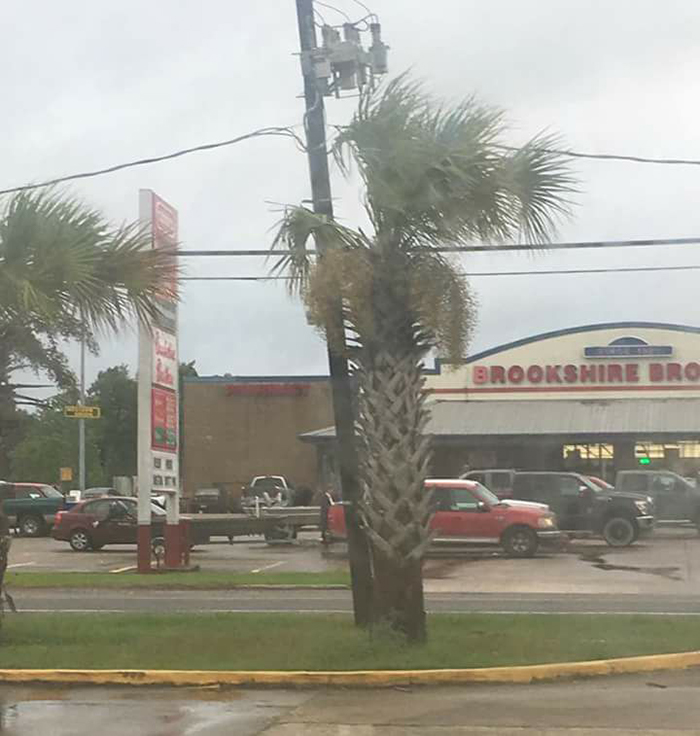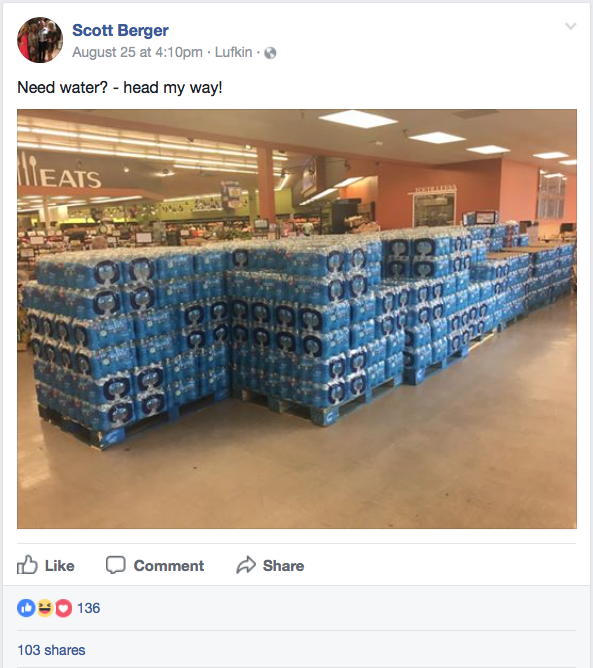 As Harvey prepared to make landfall—the first time—our stores and employee partners across the region prepared to meet community needs. Store directors continually reached out on personal social media channels to let people know that our shelves were stocked with food, water, and any other necessities—regardless of the rush to gather supplies for weathering the storm. Additionally, our pharmacies were available to access and refill prescriptions for customers, regardless of displacement. One of our Katy shoppers put it best when she wrote in to share her appreciation:
"These people opened their doors when they didn't have to, all to help the surrounding community. They also never marked up the price of water before or after Harvey hit Houston. This store and the people who work there are a shining example of the goodness of people in the darkest of times." — Sadie B., Katy (TX)
This is the same drive we witnessed in our local Little League team—the Lufkin All Stars, who went on to claim the Southwest Regional championship. These boys essentially gave up their summer to two-a-days and extended Sunday practices. This dedication has consistently been a thread in all the praise surrounding the team, including a congratulatory speech from our own chief executive:
"Watching your games from the regionals on, one of the main things that has stood out to me has been your heart. One of the most challenging aspects of life is to keep your composure when the odds are stacked against you. You did exactly that and in the process set an example that every one of us here would do well to follow. And that is to stay focused and never quit!" — John Alston, Brookshire Brothers CEO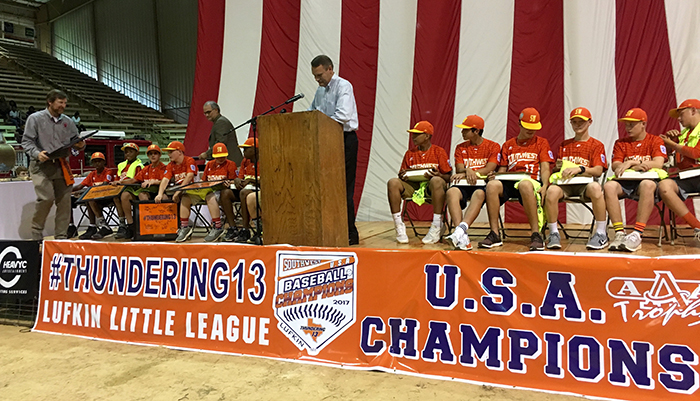 Indeed as the storm wrought destruction across our communities, we've witnessed time and time again how our communities never quit. In Katy, one of the first shelters was activated in the early morning hours. Our store opened at 2:00 A.M. so that responders could gather the essentials they needed to welcome their first guests. In Cleveland, as the waters rose, our Pharmacist Brad Smith refused to go home—despite his own battle with leukemia—because his pharmacy was the only one open in a region where the needs were many and the services few. The same can be said of a retired Brookshire Brothers pharmacist in Sour Lake. Randy Richard kept the pharmacy running when floodwaters kept the current pharmacy manager from getting to the store. Richard won't take all the credit though. He claims pharmacist Candice Bailey and tech Michelle Dunlap were his "saving grace"—particularly since Dunlap couldn't get to her own pharmacy in Winnie, yet she continued to work where she could. In this same way, team members everywhere went above and beyond their normal duties, as these two testimonies demonstrate:
"I am beyond blessed to call Thomas Cryer my father. He always goes above and beyond what is expected of him and takes care of anyone and everyone that he can. After making sure that his store stayed open every day (when he didn't have to) to make sure everyone had access to food and water during the flood—not to mention, he had to be boated in and out of our road to do so—he'd bring home bags of groceries for all of our neighbors. Please make time to tell him how much you appreciate him and what he's done for this community because I sure do." — Kenna C., Kountze (TX)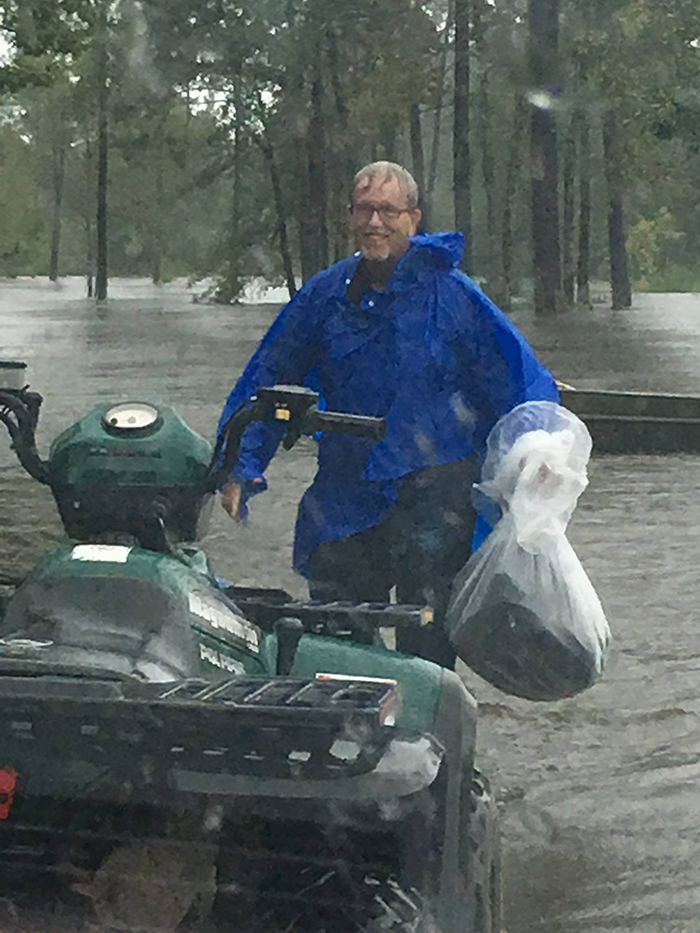 "I've been staying with my Dad in Evergreen during #HurricaneHarvey and am a Type 1 Diabetic. I didn't bring enough insulin or supplies with me since I left in a hurry due to the catastrophic flooding. The ladies in the pharmacy at the Coldspring Brookshire Brothers are true-life savers. They were able to get an override with my insurance so my insulin would be covered since they are not in network. Plus, they gave me the hook up on my supplies and found me a glucose meter that takes really affordable test strips. I walked away with tears of joy in my eyes knowing that I was able to get what I needed and get back to my children. Because of their diligent work and warm hearts, I am able to survive this storm like everyone else. Thank you, thank you, thank you!!!" — Beth Q., Coldspring (TX)
We've heard and seen moments of heart like this every single day since Harvey arrived. Throughout the impacted areas, team members have slept in their stores to be ready to render aid or re-open when power returned. They did not hesitate to give off their shelves to address the critical needs in their communities:
"I would like to give a huge thank you to the Brookshires Brothers in Jasper. We went there today to buy food to cook for the Jasper Fire Dept and Jasper P.D, and the employees would not accept payment for the goods. They donated several hundred dollars worth of meat, drinks, chips, cookies and any supplies we needed to cook with. I would like to say thank you from the bottom of our hearts for their generosity.... It's hometown people like this that make our jobs so much easier." — Jasper Fire Department.
"I am a single mom of two and a pharmacy technician at store 76 in Ganado. A few days ago, I lost everything I own but the clothes on my back due to the flood. I have been so lost these past few days, and then my store came to the rescue. Francis and Donald (the store director) started collecting donations from people in Ganado, and I received tons of clothes, toys for my two boys, and gift cards. On top of that, Donald—whose own house was in the flood—gave me a donation from his own pocket. I am beyond blessed. I didn't think we were going to get through this, and they gave me hope. I am proud to work for such a great place." — Julia O., Ganado (TX)
Customers, too, have awed us with their heart. We've seen people and companies spend $1,000+ on goods to deliver to communities in need. Others have generously paid for the groceries of someone else in need, while still more have offered gas/supply donations to first responders, National Guardsmen, and even volunteers gathering in our parking lots. This kind of community is what it's all about to us.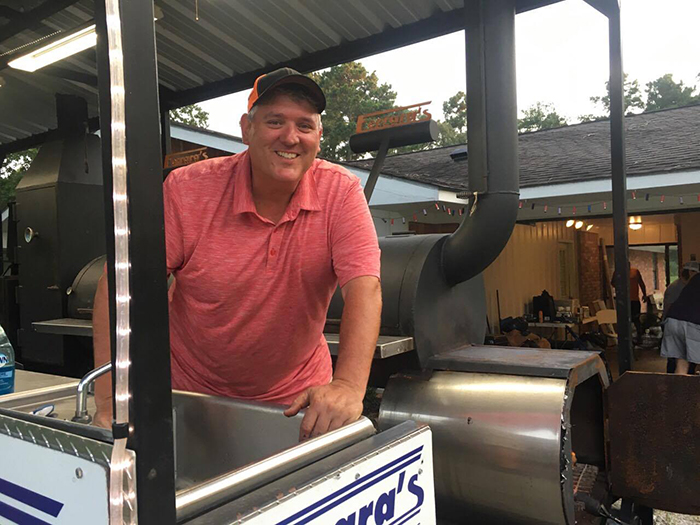 In the days since Harvey, we've sent and continue to send truckloads of products to Southeast Texas. Faith-based groups, helping agencies, and volunteers have helped serve as our hands and feet on the ground. Our vendors have blessed us with additional product set aside for either the evacuees in our communities or the people who remain in harm's way. Our Catering Division spearheaded Angelina Helps—an impromptu but highly effective pop-up feeding mission for the hundreds seeking shelter in our region. Plumbers, electricians, and other Brookshire Brothers service partners stepped up to cook for 600 individuals in the Beaumont area with food we donated. Day after day, the selfless stories of volunteers dropping everything to love on those who've lost so much continue to inspire us.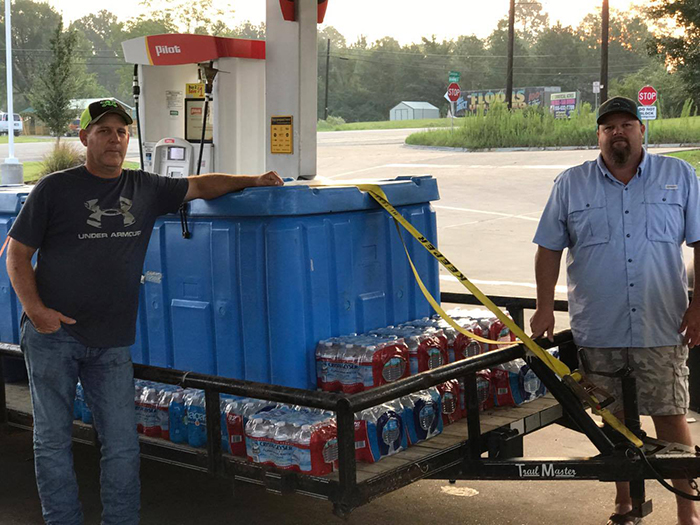 In the midst of it all, our home base—Lufkin, TX—paused to celebrate the "boys of summer." As Harvey roared through Texas, thirteen young men thundered their way to Williamsport, PA to become the U.S. Little League Champions. In doing so, they won the hearts of America as they fought to make their town and their beleaguered state proud.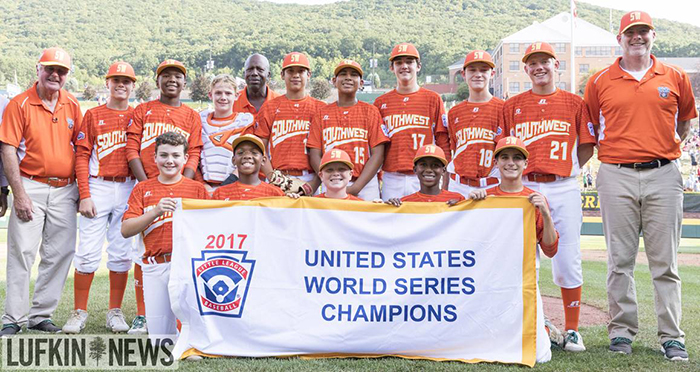 Looking back, the championship journey has been full of heart since the beginning. While an early Harvey was building momentum in the Caribbean, Brookshire Brothers and its customers rallied to raise funds to help support the travels of the team and their families to Williamsport. Our stores sold #Thundering13 rally towels, provided a fried chicken send off, and distributed gift cards to offset expenses for the families. As the team advanced round to round, we wore their colors to work and watched every hit and home run. And when the sun finally came out Thursday, August 31st after almost a week of Harvey's nonstop rain and clouds, thousands gathered at Lufkin's Expo Center to welcome the National Champions home.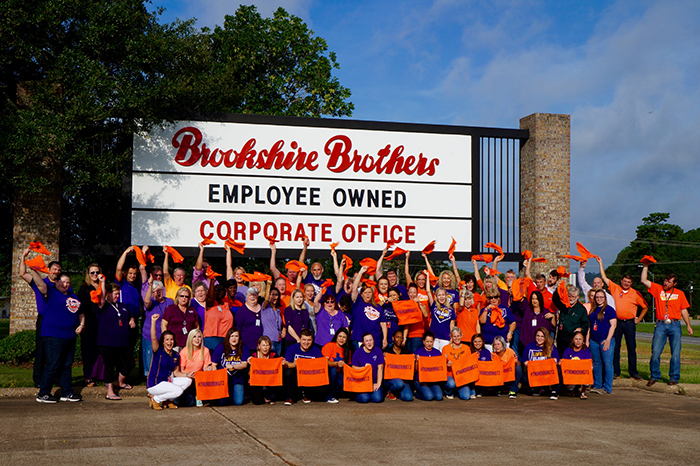 To commemorate the historic win, State Representative Trent Ashby gave each player a Texas flag that had flown over the State Capitol, while Lufkin Mayor Bob Brown lauded the respect and courtesy the young men displayed on their quest for the title. Additionally, Brookshire Brothers gave the team $17,000 from our rally towel sales—one of which ended up in the Little League Museum and Hall of Fame in Williamsport. In one tribute, Clay Oliver—Brookshire Brothers CFO, father of a twelve-year-old, and former coach to several of the players—spoke of the magnitude of their accomplishments:
"Your dedication and drive has made you very successful baseball players this summer, but you have accomplished far more than that. In a day and age where the media tries to remind us every day of all that's wrong in today's society … you thirteen boys from our small Texas town united us as a community, a state, a region, and later as one great country!"
To cap the celebration, pitcher Chip Buchanan told the crowd that his team was selling commemorative, autographed "Helping Home Base" T-shirts to raise money for Harvey relief efforts. In their honor, Brookshire Brothers followed with a $50,000 donation to the American Red Cross for disaster response, coupled with a program that enables customers to make donations during checkout at any of our 114 locations.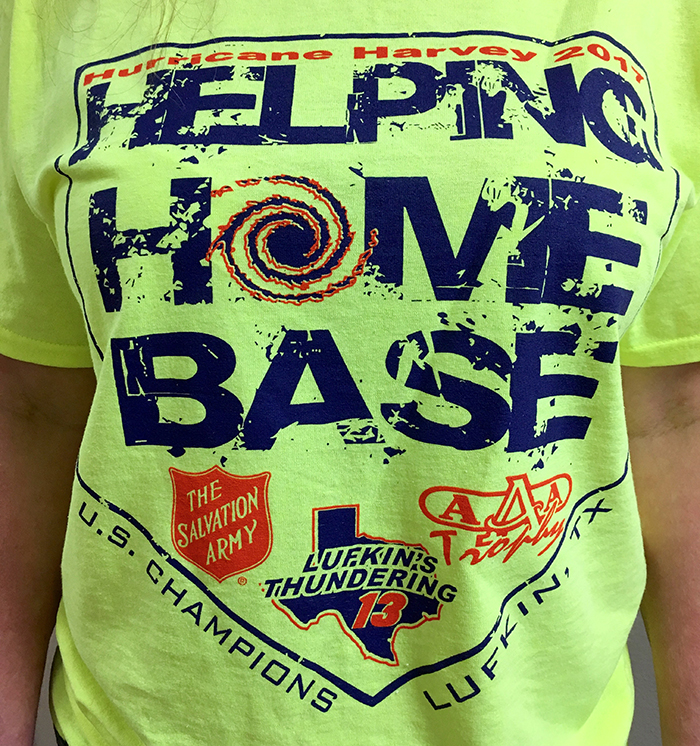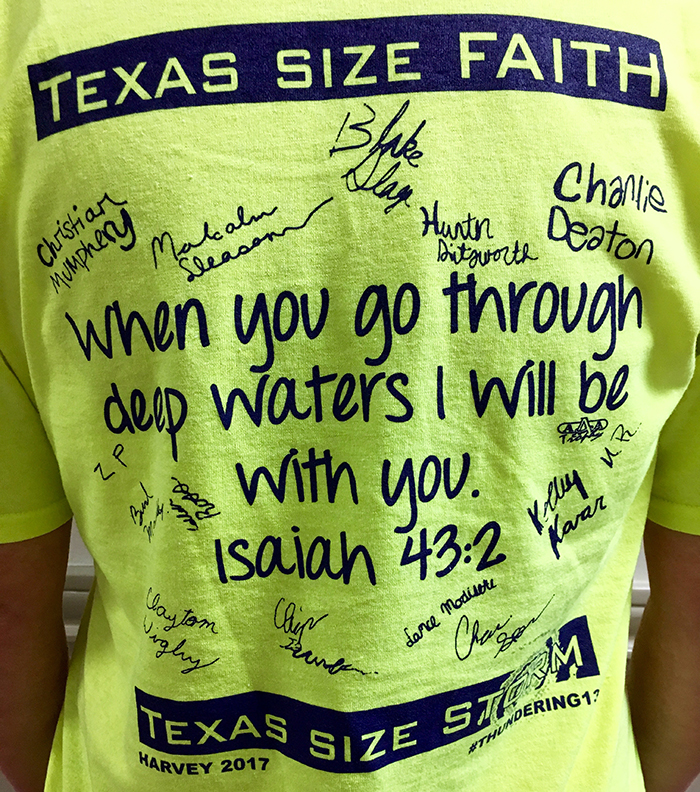 Two storms. One state. One heart.
View more testimonies and pictures below:
"To the B&B Eagle Lake Staff: THANK YOU! Thank you for all of the extra hours you guys are putting in during this time of need! Thank you for remaining opened when you wanted to be at home with your family! Thank you for constantly restocking the empty shelves! Thank you for keeping a positive attitude even though you are stressed! Thank you for giving so much of yourself to meet the needs of your townspeople, as well as neighboring towns. From the bottom of my heart, THANK YOU!!!!" — Jessica C., Eagle Lake (TX)
"I'd like to give a big shout-out to the manager at Brookshire Brothers who donated pull-ups and baby food. Still having a problem wrapping my head around all this." — Terry S., Zavalla (TX)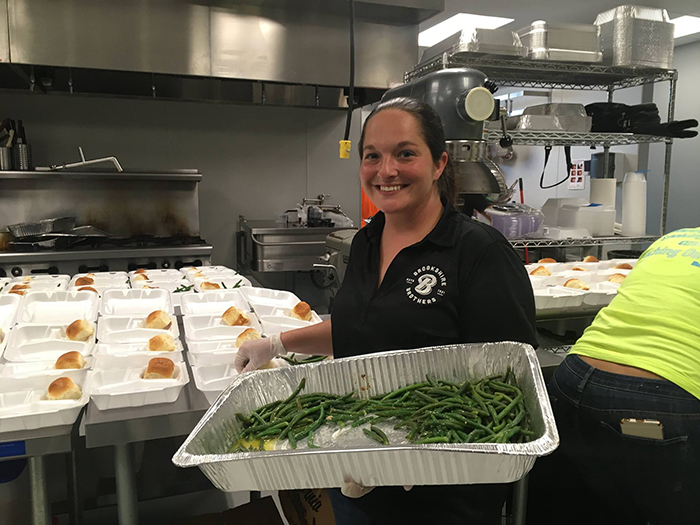 "I am forever thankful for the Brookshire Brothers in Liberty! I got off at 5 and rushed over there to grab a few things with both kids. I completely forgot their hours are different since the hurricane and they now close at 5. As we were walking up, one of the managers was at the door closing and asked if I needed anything. I told him yes, I was just seeing if they had bread or milk. He said go ahead and go in and we will get you fixed up. The other store manager walks to the front with BOTH a gallon of milk and a loaf of bread—stuff they hadn't even gotten to put out yet because it was just delivered! As I walked out thanking the manager who opened the door for us, he said 'As soon as I saw those babies, I wasn't going to let you leave till you got what you needed.' I will FOREVER shop at Brookshire Brothers! They are the true definition of a hometown grocery store. Thank you Liberty BB and the pharmacy for working sooooo hard during this time!! Y'all have been absolutely amazing!" — Kelsie Z., Liberty (TX)
"I can always count on our Katy neighborhood grocery store; so grateful for the store and staff that left their families during such a trying time to keep the store open so we could get some necessities" — Martha O., Katy (TX)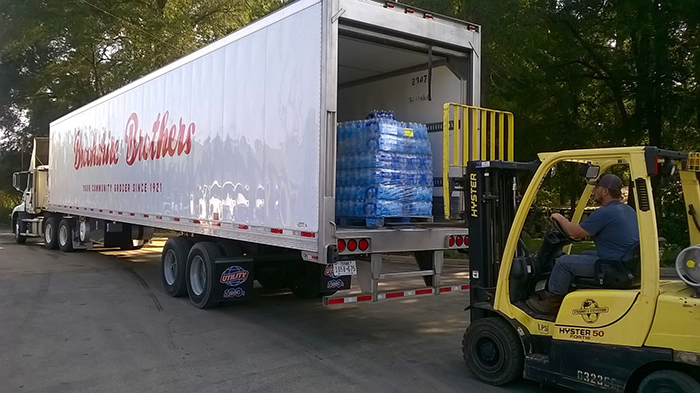 "Went over to Honey Island to repair a well pump today. When I left, I went to the Brookshire Brothers in Kountze see if there was something I didn't know I needed 'till I saw it. The place was packed with evacuees rolling in from down south—all kinds of people you wouldn't ordinarily see there. The store had imported employees from who knows where to help with the extra load of evacuees. That in its self was admirable, but the quality of the people they brought in was astounding. It was all about customer service. Some things were understandably out of stock, but there was a lot there. One dude I was talking to couldn't believe they had meat. He was from Houston, TX. What they had was displayed neatly and the stockers were at work on every aisle, stocking as fast as the customers picked away the items. The employees were amazingly helpful to all these people who had never been there before…These people at Brookshire Brothers in Kountze truly know how to run a store." — Art H., Kountze (TX)
"Easily 4500-5000 meals served to anyone hungry in Kirbyville from 9/1 to 9/3, plus over 700lbs of food fed in Silsbee on 9/3 by my friends from up North… I'd like to give a huge shoutout to Craig Coggins and the Brookshire Brothers for letting us camp out in their parking lot for 3 days and use their facilities when needed… My faith has been restored about our community and my heart is happy and full of love from the people I have been beside this past week and the ones we have helped. I love and appreciate you all!" — Andy C., Kirbyville (TX)
"I just want to give a huge shout out to the Brookshire Brothers in Liberty, TX. My mom and I finally got a chance to get to town today and do some shopping since the storm. All the employees were super nice and smiling. As the trucks came in, they got the shelves stocked as quickly as possible. Everyone was helping one another, not one employee standing around doing nothing. Places like this make times like these more bearable." — Mandi W., Liberty (TX)
"Want to give a HUGE shout out to the employees of the Brookshire Brothers in Buna, Texas. They have their store open and running for people to come in and get supplies and hot food!! Thank you to the store manager Roger Martin, Sherry Hays, Ed Wells, Christal and Julie!! #SurvivingHarvey #SmallTownLove #Proud" — Jill M., Buna (TX)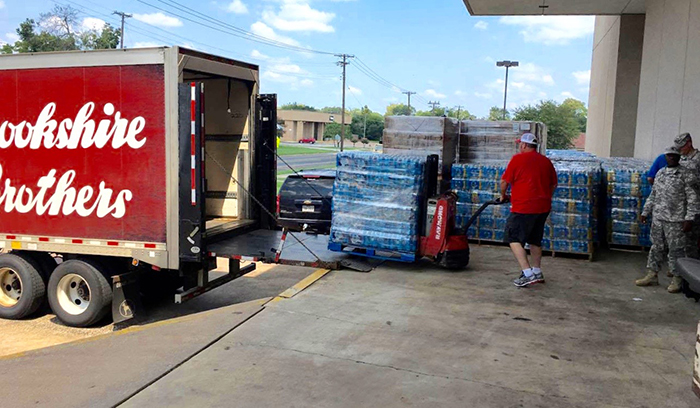 "I met an employee of Dollar Tree in Kemah and she was telling me about being stranded in Dayton. She then began to tell me about how she was treated at a grocery store in Dayton—imagine who it was! Brookshire Brothers. She said the employees were so pleasant and helpful in the darkest of times. I was so very proud to tell her I worked for that amazing grocery store. She told me anytime she was in that area, she would always shop there. Thank you, Dayton. You made such an impact on this customer." — Marilyn J., Dayton (TX)
"I wanted y'all to know how much we appreciate y'all! I had surgery in Baytown today, and we were trying to get back to the Liberty Brookshire Brothers to get my medicine filled. Well of course with the storm, traffic was horrid! So we just pulled into the Dayton store. My husband went in with my prescriptions and you wonderful, big-hearted people had them ready in 10 minutes, even though it was almost closing time. I will not have to be in too much pain tonight thanks to the wonderful people at Brookshire Brothers Pharmacy in Dayton. Thank you for all you do!" — Melissa K., Dayton (TX)