Friday July 19, 2019
A Better Year Starts Here
What is a Brown Bag of Hope?
Together, we can equip a kid headed back to school next month. For just $10, you can purchase a Brown Bag of Hope containing school supplies or toiletries for those in need. Our stores then redistribute the bags to local schools, nonprofits, and others within your community.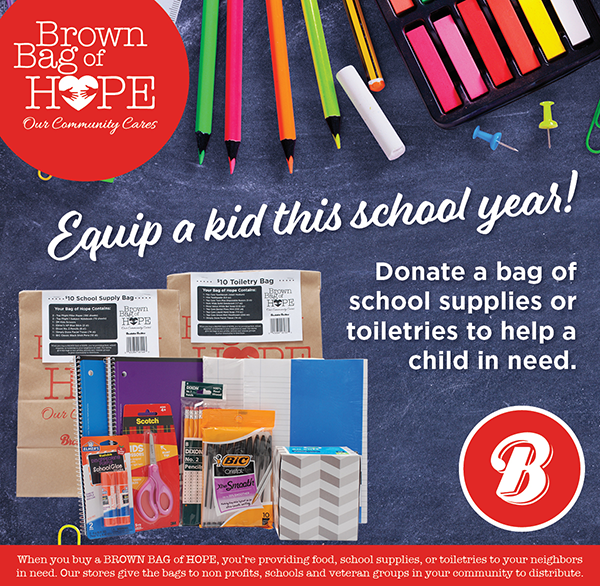 What does each Brown Bag of Hope contain?
The School Supply Bag contains:
2 - Top Flight Filler Paper (150 sheets)
2 - Top Flight 1 Subject Notebook (70 sheets)
1 - 3M Kids Scissors
1 - Elmer's AP Glue Stick (2 ct)
1 - Dixon No. 2 Pencils (8 ct)
1 - Simply Done Facial Tissue (74 ct)
1 - BIC Classic Black Stick Pens (10 ct)
The Toiletry Bag contains:
1 - Top Care Toothbrush (Adult Medium)
1 - Aim Toothpaste (5.5 oz)
1 - Top Care Twin Plus Disposable Razors (5 ct)
1 - Sure Wide Solid Deodorant (1.7 oz)
1 - Rosa Venus White Bar Soap (3.53 oz)
1 - Top Care Dental Floss Mint (100 yd)
1 - Top Care Liquid Hand Soap (7.5 oz)
1 - Top Care Green Mint Mouthwash (250 ml)
1 - Simply Done Facial Tissue (74 ct)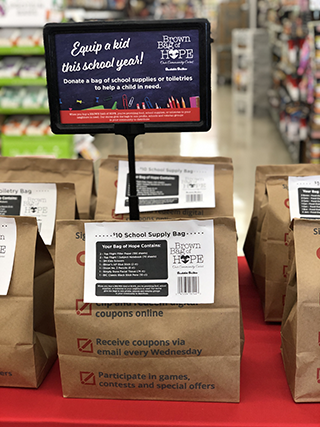 The Spaghetti Bag contains:
2 Boxes - Food Club Macaroni & Cheese (7.25 oz)
2 Cans - Food Club French Green Beans (14.5 oz)
2 Cans - Food Club Canned Corn (15.25 oz)
1 Can - Food Club Parmesan Cheese (8 oz)
1 Can - Food Club Canned Carrots (14.5 oz)
1 Box - Food Club Boxed Spaghetti (16 oz)
2 Jars - Food Club Spaghetti Sauce (24 oz)
The Multi-Meal Bag contains:
2 Cans - Food Club Tuna (5 oz)
1 Can - Food Club Chicken (12.5 oz)
1 Box - Food Club Cheesy Tuna Partner (5.5 oz)
1 Can - Food Club Petite Tomatoes (14.25 oz)
1 Bag - Food Club Rice (16 oz)
1 Bag - Food Club Pinto Beans (16 oz)
1 Box - Food Club Saltines (16 oz)
1 Jar - Food Club Peanut Butter (16 oz)
The Basics Bag contains:
1 Can - Food Club Sweet Peas (15 oz)
1 Can - Food Club Corn (15.25 oz)
1 Can - Food Club Green Beans (14.5 oz)
2 Pkgs - Food Club Yellow Cornbread Mix (6 oz)
1 Can - Food Club Fruit Cocktail (15.25 oz)
1 Can - Food Club Chicken Noodle Soup (10.75 oz)
1 Can - Food Club Tomato Soup (10.75 oz)
1 Box - Food Club Saltines (16 oz)
1 Jar - Food Club Peanut Butter (16 oz)
Where can I find a Brown Bag of Hope?
These bags can be found and purchased
in your local store
. Having trouble finding them? Talk to your local Store Director! He or she can also tell you about which specific schools and nonprofits the store distributes to.
Click to zoom in on picture
Tuesday May 21, 2019
Students Solve a Need for Brookshire Brothers Distribution Center
Six months ago, Operations Manager Jay Jelinek would've never guessed that a sixth-grade 3D Design class would have the answer to an obstacle he and his team were facing in the Brookshire Brothers Distribution Center.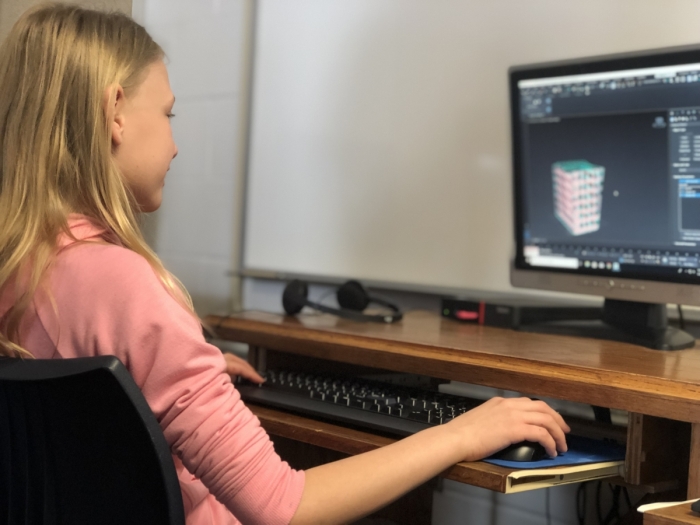 "We recently started to replace our older Vocollect wired headsets with new wireless technology. With the older wired headsets, our operators would keep the computer part of the equipment on a belt or in their pocket. However, because the new technology is wireless, it doesn't have to be kept on an individual; it just has to be in close proximity," Jelinek explained. "So, we started looking for something to help store the new technology on the electric transporter. We also needed to find something that would protect the new equipment from getting damaged."
When Jelinek and his team were unable to find a solution in-store or online, Night Supervisor Mannie Flores stepped up to design a cardboard model that would meet their needs.
"Mannie's very creative. If he can't draw it, he'll build it," Jelinek says, describing how Flores accounted for all the variables. "He fashioned it to go up underneath the handlebar on the pallet jack so you can stand and drive. It would be out of the way and protected, and it would still make that Bluetooth connection to the headset. You wouldn't ever have to worry about putting it somewhere where it would fall off; you would just turn it on and go."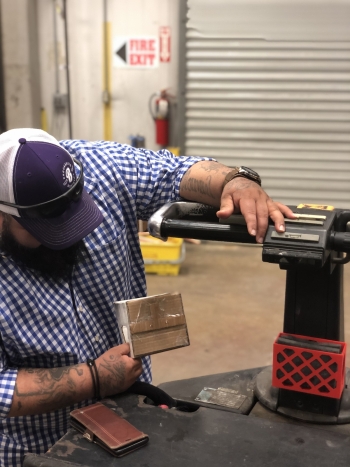 The only question was, how could Flores's design be manufactured?
"One day I was at church with Chris Smith, a good friend of mine. He pulled something out of his pocket to show me: a plastic nut and bolt. I asked him how he did that and he told me 3D printing—something I'd never seen before," Jelinek said. "That was on Sunday. On Monday, Flores's cardboard creation was on my desk and the connection dawned on me."
Smith introduced Jelinek to Stephan Matheny, a sixth-grade Math and 3D Design teacher at Hudson Middle School. Matheny turned the need into a class project for his students.
"The kids worked on the project for their nine-weeks major project," Matheny said. "Up until this project, I've been very hands-on with helping them every step of the way with their work. This is the first project that I've just let them go, and I've been very impressed. They've actually given me some cool ideas that I would've never thought about."
Using an animation software called Autodesk 3ds Max, the students added and subtracted shapes to produce a variety of designs similar to Flores's original model. Part of the challenge was to also incorporate honeycomb patterns to minimize the amount of material used and keep production costs down.
"It was cool knowing that what we were doing was going to be useful," said Jenna Ivey, one of the students. 
After working through multiple designs, the class produced a prototype that Jelinek took to his operators to test on one of the transporters. According to Jelinek, the feedback was very positive and the people liked it.
"I couldn't be more impressed by the way our young future took a design out of cardboard, put it onto a USB drive, and had a 3D printer sculpt it right before their eyes," Flores said after seeing his model come to life as a plastic prototype. "I never imagined that 6thgraders would come to be the heroes that completed this project."
With only one slight modification for added stability, the Distribution Center is moving forward to outfit all of the transporters with the final product. To show their appreciation, Brookshire Brothers is donating an extra $500 for the school to invest in programs like Matheny's 3D Design class.
"It's exciting to know that there are sixth-graders in Hudson who are knocking it out of the ballpark," Jelinek says. "We appreciate the effort they've put in to help us resolve a need on our part."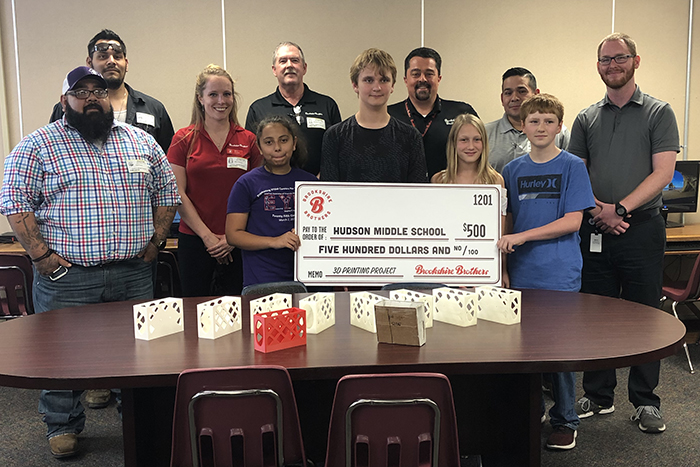 Wednesday January 30, 2019
Charitable Foundation 2019 Recipients
Organizations that lay the foundation for stronger communities will have more resources to help them help others thanks to Brookshire Brothers. On Wednesday, January 30th the Brookshire Brothers Charitable Foundation awarded $130,000 in grants to 26 nonprofit organizations and 5 education foundations across its market area. The grants give organizations the resources they need to continue living out their mission of serving those in need. Trustees and company executives presented funds to the recipients at the Brookshire Brothers' Distribution Center in Lufkin, Texas.    
In making the presentations, Brookshire Brothers President, CEO and Charitable Foundation Board Member John Alston said, "You make things happen in your communities. You change lives. We are grateful to have the opportunity to help you live out your mission. We thank you for what you do everyday."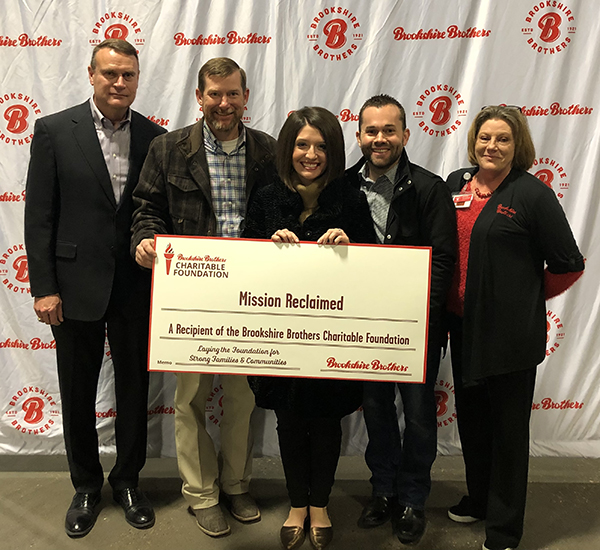 During the last decade, the Brookshire Brothers Charitable Foundation has given more than a million dollars to a variety of non-profits. For nearly twenty years, Brookshire Brothers has invited its vendors to play in two Charitable Foundation golf tournaments each year. Vendor partners appreciate the opportunity to network with their colleagues while raising money for nonprofits – all which support children and families and align with Brookshire Brothers' core value of being a community grocer.  Each year, the funds are granted based on the organizations' needs and application requests.
The 2019 recipients are:
Alcohol and Drug Abuse Council of Deep East Texas (ADAC)
American Cancer Society
Angelina Alliance for Children (Harold's House)
Angelina Arts Alliance
Boys & Girls Clubs of Deep East Texas
Buckner Children and Family Services
Christian Information and Service Center, Inc.
Dublin Goodfellows
Food Share Bank of Newton County
Friends of the Ellen Trout Zoo
Habitat for Humanity of Angelina County
Junior Achievement of East Texas
Junior League of Lufkin 
Lake Whitney Ministerial Alliance
Legacy Institute for Financial Education
Lufkin Neighborhood Strong
Mission Reclaimed 
Texas Forestry Museum
The Joseph House, Inc.
The Mosaic Center, Inc.
The Salvation Army
Twin City Mission
Volunteer Services Council
Women's Shelter of East Texas
Women's Sober House
Zavalla Food Pantry
Education Foundations:
Angelina College Center for Non-Profit Leadership
Hemphill ISD Education Foundation
Lufkin ISD Education Foundation
McGregor ISD Education Foundation
Vidor ISD
In addition to these contributions, Brookshire Brothers has a separate employee-run Donations Committee which meets monthly to consider hundreds of donation requests from throughout the company's footprint.
Tuesday December 5, 2017
How Brookshire Brothers Pharmacies Offer Personalized Service & More
A panicky voice began with "I'm in trouble," as I lifted the ringing phone to my ear a Wednesday evening or two ago.
I knew the customer (let's call her Mrs. Smith) and was familiar with her medications.  Mrs. Smith takes a few medications that control the rate and rhythm of the heart, but the computer indicated that it had been a few months since my pharmacy had filled her blood thinner that went along with her condition.
She went on to explain that she filled most of her medications locally but that her insurance had urged her to begin filling this particular medication through their mail order system.  It would be a little cheaper for her and them that way, they reasoned.
"But my medicine's not here and I am totally and completely out of pills," Mrs. Smith sighed.  "What do I do?"
Ask any
community pharmacist
and they can validate the ubiquity of this refrain.  When there are delays in the mail or when prescriptions are delayed in arriving at the mail order pharmacy, patients are often forced to just wait—with little or possibly no remaining medication on hand.
In the end, we called the insurance company to obtain an override for delayed medication.  This allowed our pharmacy to fill a seven day supply of her blood thinner after her physician sent us a new prescription.  Without this override the patient would have been forced to pay $115 for seven pills while she waited for her full prescription to arrive.
Now my aim is not to bash mail order pharmacies as they are a great option and work well for some individuals who may be on two or three regular, very predictable prescription drugs. My larger point is that a customer of a mail order pharmacy (especially someone with a complicated health condition) should not expect the flexibility, accessibility, and personal familiarity that you would have at your local pharmacy—especially when it comes to questions about your prescription(s).
Community pharmacies and mail order facilities are apples and oranges; they exist for different purposes. Mail order facilities are tasked with filling thousands of prescriptions daily, verifying they were filled correctly, and then preparing them for shipment.  Cost and convenience—that's about it.
There is no way that one of their many pharmacists can remember idiosyncrasies regarding individual patients and their medications. They can't help you select an over-the-counter medication while considering the many prescription products you are taking. They won't call your physician's office to clarify instructions you may have been given at your visit that seem confusing now. Those "longer than expected wait times" may discourage patients from calling the mail order pharmacy to ask a simple question about their prescription, if only to put their mind at ease.    
Customers who utilize a mail order pharmacy will obviously fill antibiotics or urgent prescriptions locally.  However, it is impossible for your community pharmacist to fully judge whether or not a potential drug interaction may occur because he/she can't see your whole medication picture.
Rectifying Mrs. Smith's situation took my pharmacy staff and me less than an hour.  Before we closed she picked up her life sustaining medication and her worry ended. Moreover, in the process she was treated kindly, her phone calls were answered promptly and her medication, once filled, was immediately available for her to pick up.
Sometimes, even in 2017, the important things in life come down to a little more than cost and convenience.
---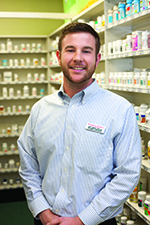 Matt Baker is a pharmacist with Brookshire Brothers Pharmacy in Lufkin.  He received his undergraduate degree from Texas A&M University in 2005 and his Doctor of Pharmacy from the University of Houston in 2010.  He writes a monthly pharmacy and wellness article for the Lufkin Daily News and is active in the community.  Matt's passion is serving his patients while ensuring that they are equipped to understand and take their medications properly. 
Saturday September 30, 2017
Your Community Grocer: September
The beautiful thing about a rainbow is that it's a visible, momentary glimpse into the extraordinary version of everyday ordinary light. Think: the light that we walk in every day—as we drive to work, drop kids off at school, wash dishes by the window—is composed of rainbows. We don't see these colors—except in circumstances where the light is dispersed into a visible arc (such as after a storm)—but they surround us all the same.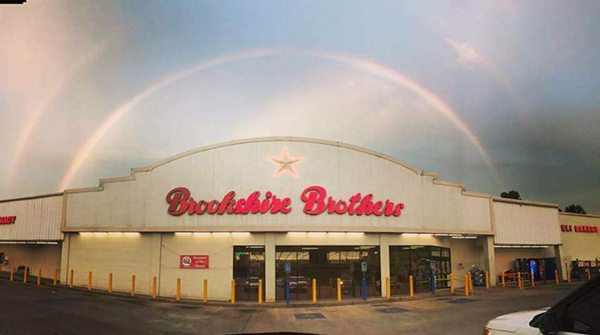 In the same way, we're surrounded by people that are as ordinary as the next person, and yet, in a shift of circumstances they burst with such bright acts of beautiful good. September started with a storm, but out of the devastation, we've encountered and witnessed such normal, big-hearted people seeking to meet community needs. These are their stories.
---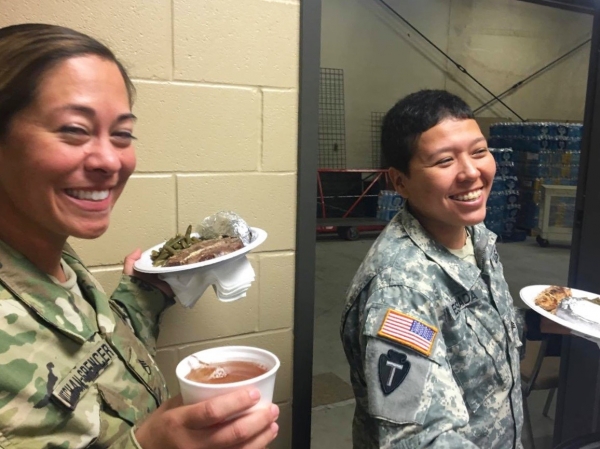 National Guard
This past month, we had the opportunity to feed the National Guard stationed in our corporate hometown for hurricane relief. Their presence was particularly memorable with the annual rememberance of 9/11. As always, we're grateful for the time to remember and reflect on the inspiring courage they—and others—embody in service to our communities.
---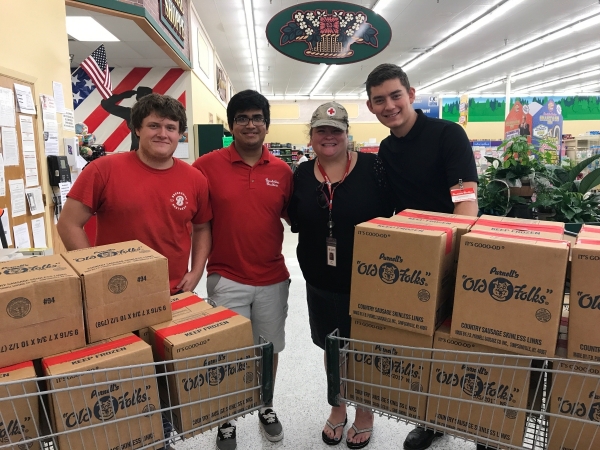 Purnell's "Old Folks" Sausage
We'd also like to give a huge shoutout to one of our valued vendor partners—Purnell's "Old Folks" Sausage. To help with hurricane relief efforts this past month, Purnell donated pounds of sausage by the THOUSANDS. These donations were distributed to shelters, churches, and emergency responders. From vendor to volunteer, this kind of selfless generosity we've seen post-Harvey has been continually inspiring.
Read more: It's because of vendor partners like Purnell's that we've been able to give back to communities more than one million dollars since 2007. Twice a year, these vendors participate in charitable golf tournaments to help us raise money for community support. Get the full recap of this year's fall tournament here.

---

Mrs. Patsy Smith 
After Hurricane Harvey, Mrs. Patsy Smith (a shopper) baked THREE cakes to show our Carthage team her appreciation for treating her and all of her friends with sincere customer service, from handshakes at the door to smiling conversation at the register. Her kind gift to us embodies what we love best—caring for our customers and communities!
---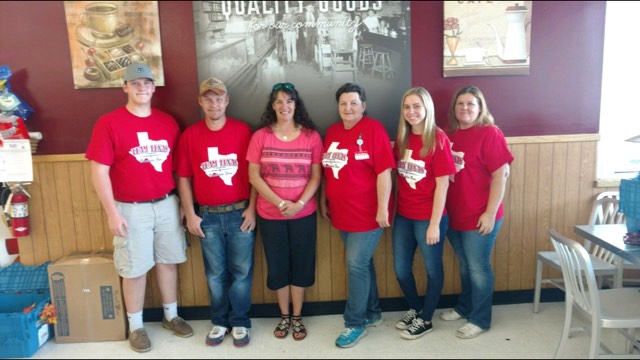 Team Texas Forever
Team Texas Forever. That's what these shirts say, but really they say a lot more to us than that. Kountze shopper Niesy B. designed and printed 62 of these shirts to show our Kountze team her appreciation for their service during Harvey and long before. According to Niesy, "Brookshire Brothers is more than just a store that sells food… it's the heartbeat of our town." Her memories include how store director Thomas Cryer would post pictures of kids from Little League or Homecoming parades on the store walls for parents to see, and how the whole intersection was decorated with balloons and signs from when the local cheerleading team made national news. When the past three major hurricanes roared through town, Niesy recalls how "the die-hard crew always showed up to sell groceries in the dark and make sure people got their prescriptions (thanks Lester!)." She loves how the deli knows just how her son likes his chicken legs, and how the team always took care of the Little League BBQ when she was on the LL board. It's stories like Niesy's that continually inspire us and our love for our communities.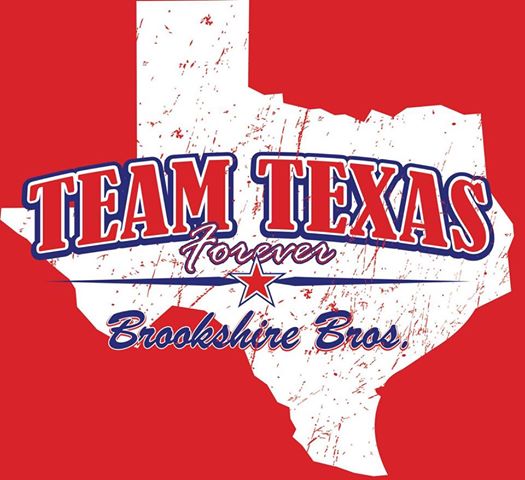 ---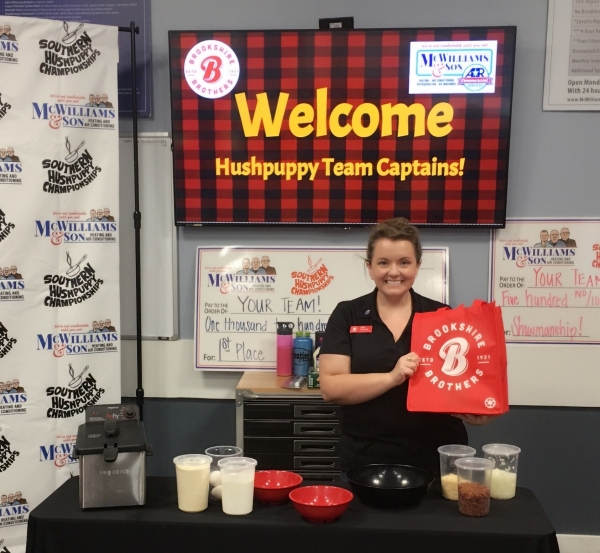 Southern Hushpuppy Championships
Community building begins with meeting needs, but that doesn't mean it excludes fun! September always brings the Texas State Forest Festival to our corporate hometown Lufkin, of which the Southern Hushpuppy Championships is always a headliner. A number of Brookshire Brothers employees volunteered at the festival, including our catering coordinator Kate Rudasill who served as a judge in the Hushpuppy competition—for the second year in a row! We love seeing our team members getting involved in events like this that bring families and fun together to build lasting relationships.
Read more: Our final Price is Right event—the Money Bags Live game—was held at the festival this year, where over $20,000 was awarded to Brookshire Brothers customers. Catch the full recap here!
---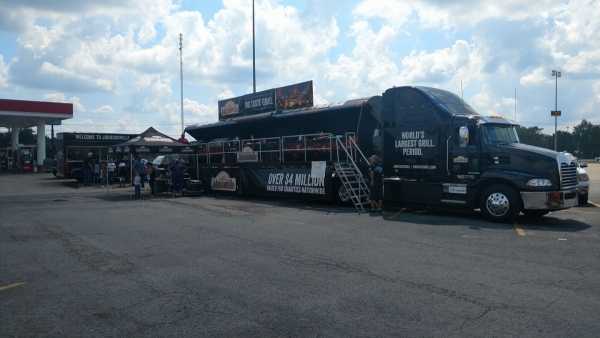 Johnsonville Big Taste Grill
20 feet tall, 65 feet long, and 6 feet in diameter. Meet the Johnsonville Big Taste Grill, a mobile grill that can cook 2,500 brats an hour on its 40 sqaure feet of grilling surface. This past month, the "World's Largest Grill" has been traveling to locations that were hit hard by Harvey, including our Liberty and Silsbee locations. With brats donated by Johnsonville and buns from our stores, nearly 1,000 hot meals were served to anyone in need.
Read more: Did you know nearly 1 in 4 children in Texas are food insecure? See how you can help with our Great American Milk Drive
---
Ellen Trout Zoo
As a continual source of family fun and community involvement, this small-town zoo is dear to our hearts here in Lufkin, our corporate hometown. Located across the street from our headquarters, we're often involved in supporting this zoo, whether we're helping clean up the facility during our annual spring workday or we're dropping off extra newspapers for the bottom of animal cages. As we've said before, we're wild about the zoo and all that they do for our hometown!
---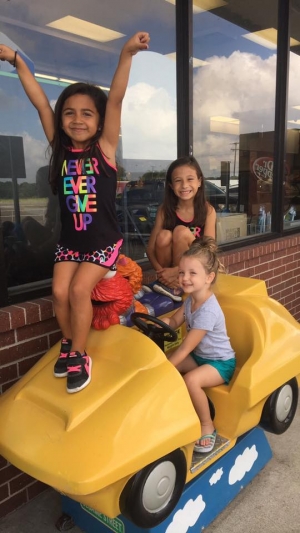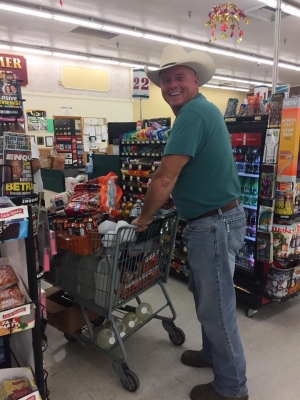 Community Building On Its Own
While our mission focus is to serve our communities, we particularly love to see community building happen in our stores on its own. Whether it's a bake sale for a local cheerleading team (pictured left) or a shopper loading up his cart with groceries for neigbors in need (pictured right), we will always stand behind community growth. So, bring on the car washes, the BBQs, the long-time-no-see selfies with a friend—we welcome it all.
Monday September 25, 2017
Fill A Glass. Feed A Family.
That gallon of milk you consider a staple in your refrigerator – including the essential nutrients it provides – is missing in food banks and in the refrigerators of families in your community.
The rate of food insecurity in Texas and Louisiana is startlingly higher than even the national average. More than five million of our neighbors – including more than one in every four children – do not have access to enough nutritious food to enjoy an active and healthy life.
According to Feeding America, the nation's largest domestic hunger-relief organization, milk is one of the most requested items by food banks. While Americans are generous with canned and dry goods, many don't think to donate milk because it is perishable…but you can!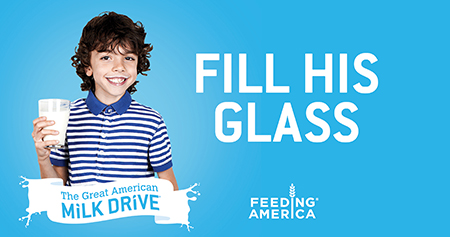 In partnership with Feeding America and The Great American Milk Drive, Brookshire Brothers is helping to fight hunger in our communities by making it easy for shoppers to provide milk, including its high-quality protein, to families in need. Milk is more than just a drink – it is the top food source for three out of the four nutrients Americans, including children, are most likely to be missing– calcium, vitamin D and potassium.
Since its launch in 2014, The Great American Milk Drive has delivered more than 400,000 gallons – that's more than 6.3 million servings – of highly desired milk to Feeding America food banks across the country, including more than 8,000 gallons for families in need right here in Texas and Louisiana. However, there's so much more that we can do.
Now through October 31, 2017, you can help bring even more nutritious milk to families and children in need in your community with a donation of as little as $1, $3 or $5 when checking out at Brookshire Brothers and David's locations across Texas and Louisiana. 
All donations collected will help local families in Texas and Louisiana get milk that they may otherwise be missing out on.  We hope to see you in a Brookshire Brothers or David's store soon, and at check-out, please consider making a donation to The Great American get Milk Drive to ensure our local Feeding America food banks can provide nutrient-rich milk to our neighbors in need.
Tuesday September 19, 2017
Golfing to Give Back: Fall 2017 Tournament
LUFKIN, TEXAS — More than 250 golfers took to the greens Monday to raise money for the Brookshire Brothers Charitable Foundation, which distributes grants to regional non-profits each January. Twice a year, Brookshire Brothers invites its vendors to the tourney at Lufkin's Crown Colony Country Club.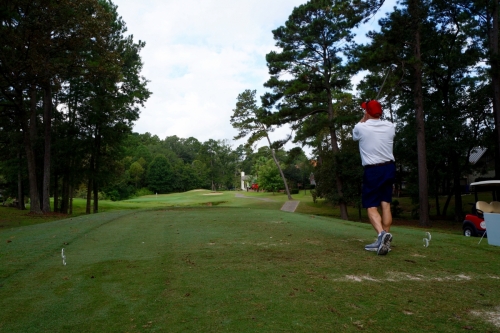 The evening portion of yesterday's tournament was cut short by rain, however it didn't keep vendors from rallying around a great cause! Representatives from some of the recipient organizations like The Mosaic Center, Harold's House, and the Lufkin State Supported Living Center help worked the tourney. It's their way to thank these vendor donors from all across the country. They also served as official witnesses on Hole 17, where if a golfer hits a hole-in-one, they take home a 2017 Toyota Tundra courtesy of Loving Auto Group.
Since 2007, Brookshire Brothers has given back more than one million dollars through the funds raised at its golf tournaments. Vendors appreciate the opportunity to network with their colleagues while raising money for so many worthy causes in the areas of education, hunger, health and the arts.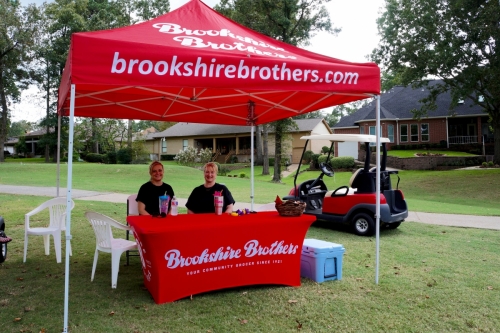 The 2017 recipients are:
Alcohol and Drug Abuse Council of Deep East Texas (ADAC)

American Cancer Society

Angelina Arts Alliance

Boys & Girls Clubs of Deep East Texas

CRRC of Canyon Lake

Court Appointed Special Advocates-CASA in the Pines

East Texas Alliance for Children (Harold's House)

Friends of the Ellen Trout Zoo

Gateway Community Partners

The Joseph House, Inc

Junior Achievement of Angelina County, Inc

Junior League of Lufkin

Lufkin State Supported Living Center – Volunteer Services Council

The Mosaic Center, Inc

Texas Forestry Museum

Women's Shelter of East Texas
Special Donation:  9/2017: American Red Cross - $20,000 toward Hurricane Harvey relief (matched by $30,000 from local foundations)
Education Foundations:
Friends of Hamilton ISD
Hemphill ISD Education Foundation
Lufkin ISD Education Foundation
McGregor ISD Education Foundation
Wells ISD Education Foundation
In addition to these contributions, Brookshire Brothers has a separate employee-run Donations Committee which meets monthly to consider hundreds of donation requests from throughout the company's footprint.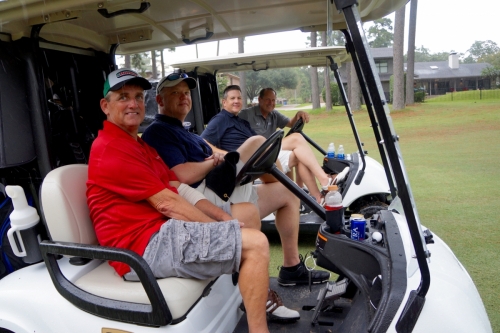 Monday September 4, 2017
In Harvey's wake: Hearts the size of Texas
The unprecedented flooding following Hurricane Harvey has tapped into the strength of our communities and company like never before. We've seen favorite couches stiff and ruined on curbs, stores flickering out of power, lives being entirely rewritten—and yet, even as the thunder rolled and the rain fell, there's been joy at the core of tragedy. At the time Harvey eyed the Texas coast, Lufkin's own "Thundering 13" eyed the Little League National Championship. Together, these two storms came to embody the heart of Brookshire Brothers and our response to this disaster. From the little leaguers who hail from our corporate "home base" to our big league store directors who held firm in the path of the storm, Texans refused to let Harvey strike out their spirit.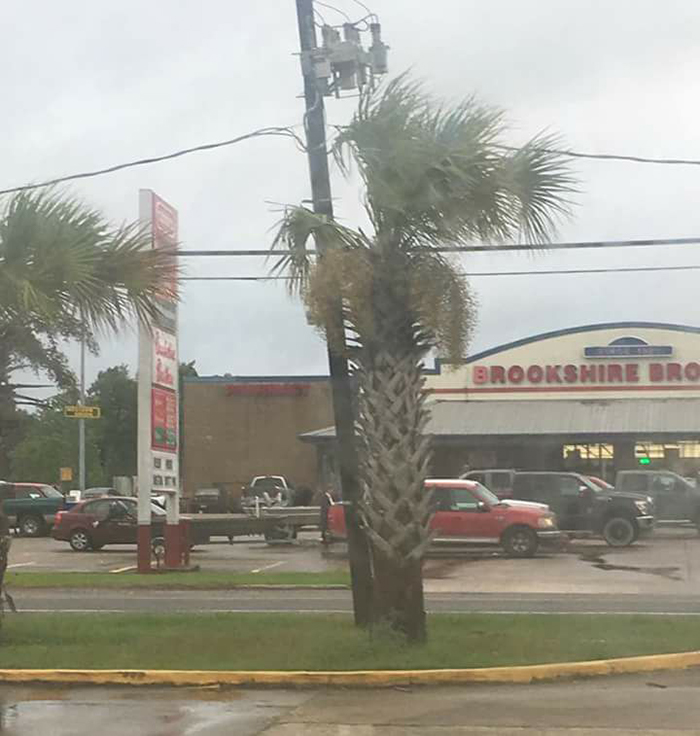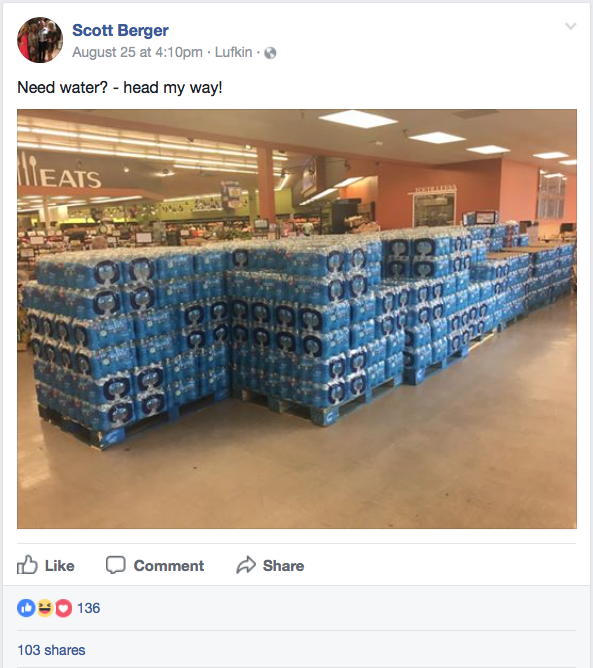 As Harvey prepared to make landfall—the first time—our stores and employee partners across the region prepared to meet community needs. Store directors continually reached out on personal social media channels to let people know that our shelves were stocked with food, water, and any other necessities—regardless of the rush to gather supplies for weathering the storm. Additionally, our pharmacies were available to access and refill prescriptions for customers, regardless of displacement. One of our Katy shoppers put it best when she wrote in to share her appreciation:
"These people opened their doors when they didn't have to, all to help the surrounding community. They also never marked up the price of water before or after Harvey hit Houston. This store and the people who work there are a shining example of the goodness of people in the darkest of times." — Sadie B., Katy (TX)
This is the same drive we witnessed in our local Little League team—the Lufkin All Stars, who went on to claim the Southwest Regional championship. These boys essentially gave up their summer to two-a-days and extended Sunday practices. This dedication has consistently been a thread in all the praise surrounding the team, including a congratulatory speech from our own chief executive:
"Watching your games from the regionals on, one of the main things that has stood out to me has been your heart. One of the most challenging aspects of life is to keep your composure when the odds are stacked against you. You did exactly that and in the process set an example that every one of us here would do well to follow. And that is to stay focused and never quit!" — John Alston, Brookshire Brothers CEO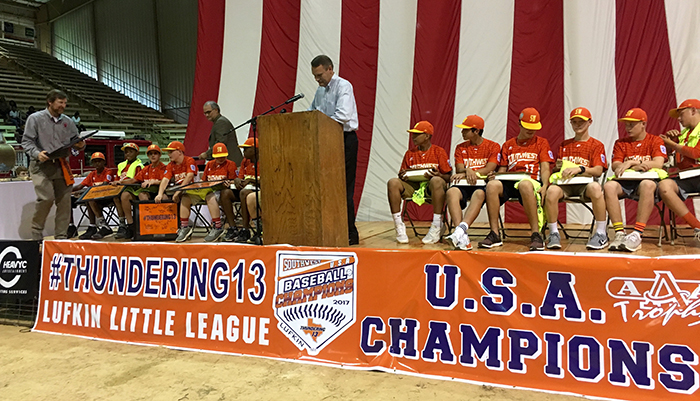 Indeed as the storm wrought destruction across our communities, we've witnessed time and time again how our communities never quit. In Katy, one of the first shelters was activated in the early morning hours. Our store opened at 2:00 A.M. so that responders could gather the essentials they needed to welcome their first guests. In Cleveland, as the waters rose, our Pharmacist Brad Smith refused to go home—despite his own battle with leukemia—because his pharmacy was the only one open in a region where the needs were many and the services few. The same can be said of a retired Brookshire Brothers pharmacist in Sour Lake. Randy Richard kept the pharmacy running when floodwaters kept the current pharmacy manager from getting to the store. Richard won't take all the credit though. He claims pharmacist Candice Bailey and tech Michelle Dunlap were his "saving grace"—particularly since Dunlap couldn't get to her own pharmacy in Winnie, yet she continued to work where she could. In this same way, team members everywhere went above and beyond their normal duties, as these two testimonies demonstrate:
"I am beyond blessed to call Thomas Cryer my father. He always goes above and beyond what is expected of him and takes care of anyone and everyone that he can. After making sure that his store stayed open every day (when he didn't have to) to make sure everyone had access to food and water during the flood—not to mention, he had to be boated in and out of our road to do so—he'd bring home bags of groceries for all of our neighbors. Please make time to tell him how much you appreciate him and what he's done for this community because I sure do." — Kenna C., Kountze (TX)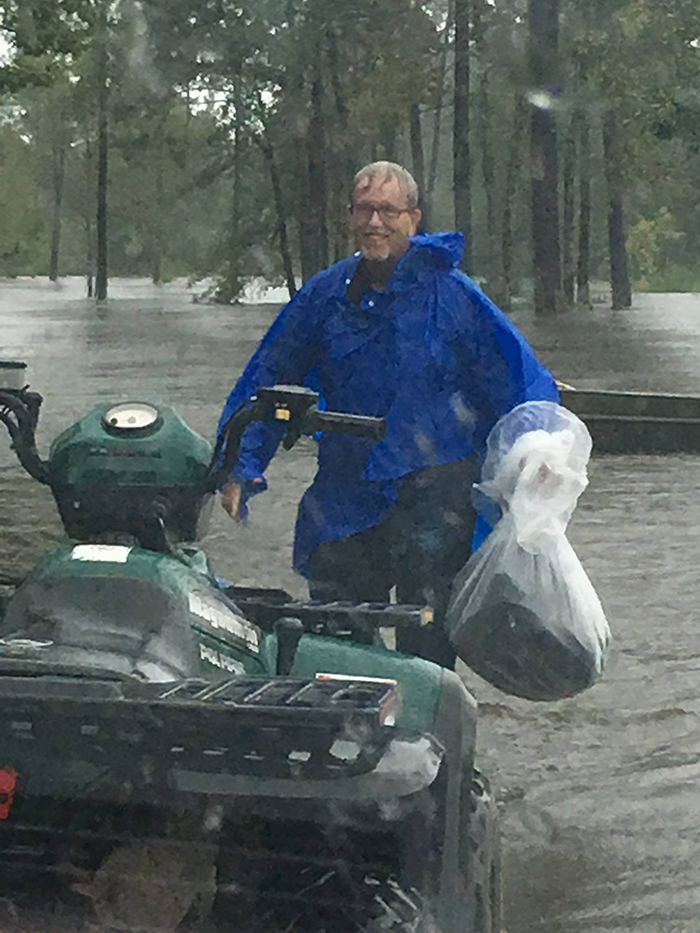 "I've been staying with my Dad in Evergreen during #HurricaneHarvey and am a Type 1 Diabetic. I didn't bring enough insulin or supplies with me since I left in a hurry due to the catastrophic flooding. The ladies in the pharmacy at the Coldspring Brookshire Brothers are true-life savers. They were able to get an override with my insurance so my insulin would be covered since they are not in network. Plus, they gave me the hook up on my supplies and found me a glucose meter that takes really affordable test strips. I walked away with tears of joy in my eyes knowing that I was able to get what I needed and get back to my children. Because of their diligent work and warm hearts, I am able to survive this storm like everyone else. Thank you, thank you, thank you!!!" — Beth Q., Coldspring (TX)
We've heard and seen moments of heart like this every single day since Harvey arrived. Throughout the impacted areas, team members have slept in their stores to be ready to render aid or re-open when power returned. They did not hesitate to give off their shelves to address the critical needs in their communities:
"I would like to give a huge thank you to the Brookshires Brothers in Jasper. We went there today to buy food to cook for the Jasper Fire Dept and Jasper P.D, and the employees would not accept payment for the goods. They donated several hundred dollars worth of meat, drinks, chips, cookies and any supplies we needed to cook with. I would like to say thank you from the bottom of our hearts for their generosity.... It's hometown people like this that make our jobs so much easier." — Jasper Fire Department.
"I am a single mom of two and a pharmacy technician at store 76 in Ganado. A few days ago, I lost everything I own but the clothes on my back due to the flood. I have been so lost these past few days, and then my store came to the rescue. Francis and Donald (the store director) started collecting donations from people in Ganado, and I received tons of clothes, toys for my two boys, and gift cards. On top of that, Donald—whose own house was in the flood—gave me a donation from his own pocket. I am beyond blessed. I didn't think we were going to get through this, and they gave me hope. I am proud to work for such a great place." — Julia O., Ganado (TX)
Customers, too, have awed us with their heart. We've seen people and companies spend $1,000+ on goods to deliver to communities in need. Others have generously paid for the groceries of someone else in need, while still more have offered gas/supply donations to first responders, National Guardsmen, and even volunteers gathering in our parking lots. This kind of community is what it's all about to us.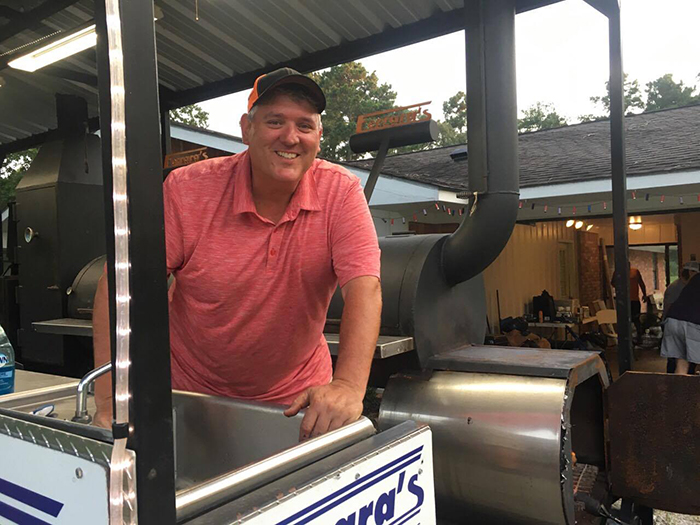 In the days since Harvey, we've sent and continue to send truckloads of products to Southeast Texas.  Faith-based groups, helping agencies, and volunteers have helped serve as our hands and feet on the ground. Our vendors have blessed us with additional product set aside for either the evacuees in our communities or the people who remain in harm's way. Our Catering Division spearheaded Angelina Helps—an impromptu but highly effective pop-up feeding mission for the hundreds seeking shelter in our region.  Plumbers, electricians, and other Brookshire Brothers service partners stepped up to cook for 600 individuals in the Beaumont area with food we donated. Day after day, the selfless stories of volunteers dropping everything to love on those who've lost so much continue to inspire us.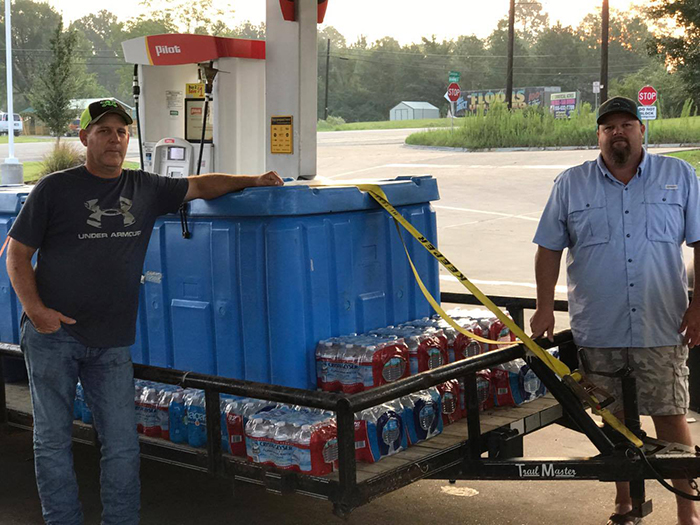 In the midst of it all, our home base—Lufkin, TX—paused to celebrate the "boys of summer."  As Harvey roared through Texas, thirteen young men thundered their way to Williamsport, PA to become the U.S. Little League Champions. In doing so, they won the hearts of America as they fought to make their town and their beleaguered state proud.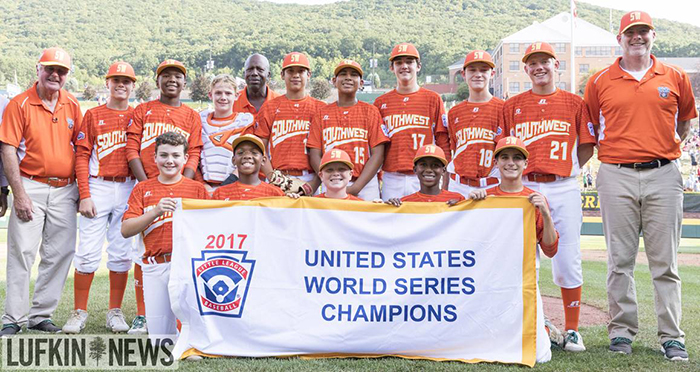 Looking back, the championship journey has been full of heart since the beginning. While an early Harvey was building momentum in the Caribbean, Brookshire Brothers and its customers rallied to raise funds to help support the travels of the team and their families to Williamsport.  Our stores sold #Thundering13 rally towels, provided a fried chicken send off, and distributed gift cards to offset expenses for the families. As the team advanced round to round, we wore their colors to work and watched every hit and home run. And when the sun finally came out Thursday, August 31st after almost a week of Harvey's nonstop rain and clouds, thousands gathered at Lufkin's Expo Center to welcome the National Champions home.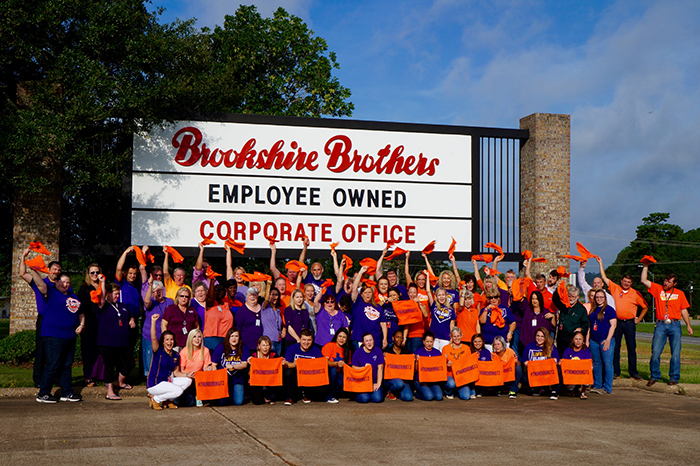 To commemorate the historic win, State Representative Trent Ashby gave each player a Texas flag that had flown over the State Capitol, while Lufkin Mayor Bob Brown lauded the respect and courtesy the young men displayed on their quest for the title. Additionally, Brookshire Brothers gave the team $17,000 from our rally towel sales—one of which ended up in the Little League Museum and Hall of Fame in Williamsport. In one tribute, Clay Oliver—Brookshire Brothers CFO, father of a twelve-year-old, and former coach to several of the players—spoke of the magnitude of their accomplishments:
"Your dedication and drive has made you very successful baseball players this summer, but you have accomplished far more than that. In a day and age where the media tries to remind us every day of all that's wrong in today's society … you thirteen boys from our small Texas town united us as a community, a state, a region, and later as one great country!"
To cap the celebration, pitcher Chip Buchanan told the crowd that his team was selling commemorative, autographed "Helping Home Base" T-shirts to raise money for Harvey relief efforts.  In their honor, Brookshire Brothers followed with a $50,000 donation to the American Red Cross for disaster response, coupled with a program that enables customers to make donations during checkout at any of our 114 locations.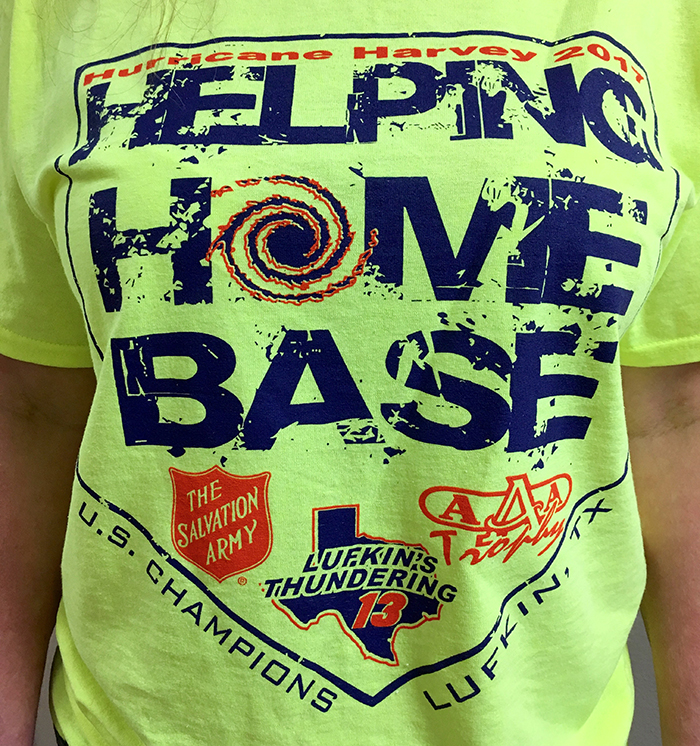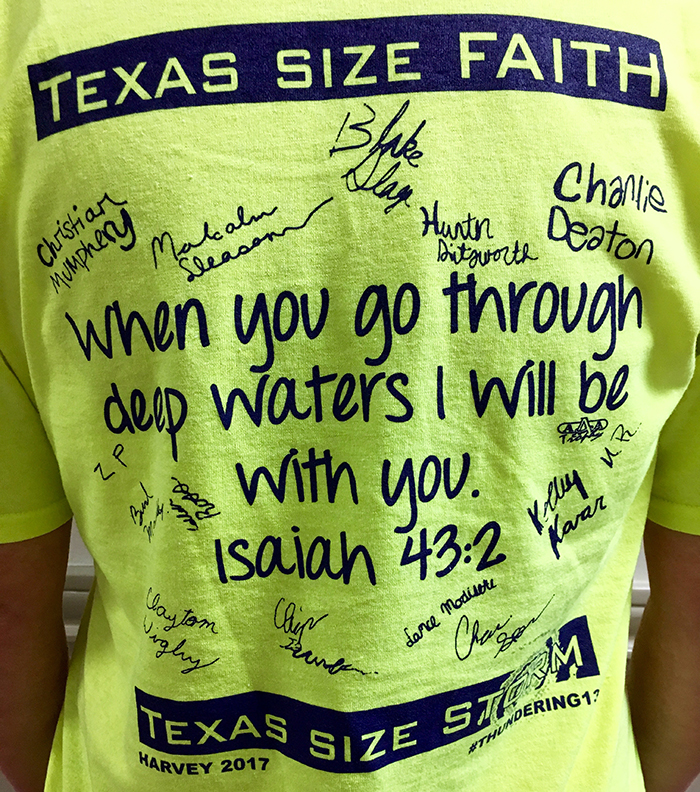 Two storms.  One state.  One heart.
View more testimonies and pictures below:
"To the B&B Eagle Lake Staff: THANK YOU! Thank you for all of the extra hours you guys are putting in during this time of need! Thank you for remaining opened when you wanted to be at home with your family! Thank you for constantly restocking the empty shelves! Thank you for keeping a positive attitude even though you are stressed! Thank you for giving so much of yourself to meet the needs of your townspeople, as well as neighboring towns. From the bottom of my heart, THANK YOU!!!!" — Jessica C., Eagle Lake (TX)
"I'd like to give a big shout-out to the manager at Brookshire Brothers who donated pull-ups and baby food. Still having a problem wrapping my head around all this." — Terry S., Zavalla (TX)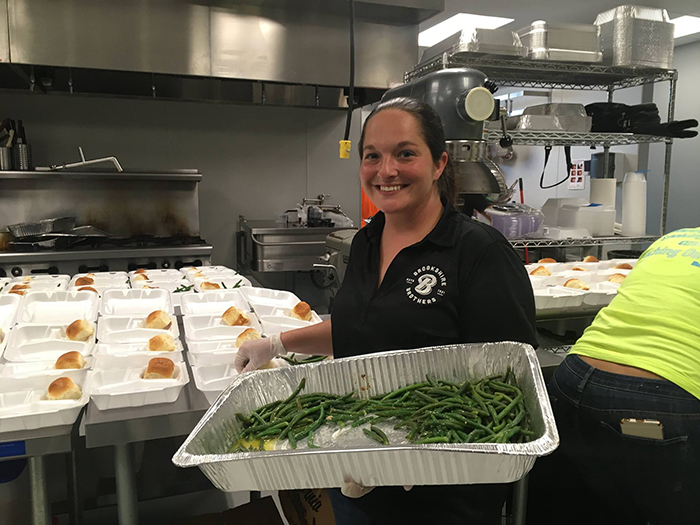 "I am forever thankful for the Brookshire Brothers in Liberty! I got off at 5 and rushed over there to grab a few things with both kids. I completely forgot their hours are different since the hurricane and they now close at 5. As we were walking up, one of the managers was at the door closing and asked if I needed anything. I told him yes, I was just seeing if they had bread or milk. He said go ahead and go in and we will get you fixed up. The other store manager walks to the front with BOTH a gallon of milk and a loaf of bread—stuff they hadn't even gotten to put out yet because it was just delivered! As I walked out thanking the manager who opened the door for us, he said 'As soon as I saw those babies, I wasn't going to let you leave till you got what you needed.' I will FOREVER shop at Brookshire Brothers! They are the true definition of a hometown grocery store. Thank you Liberty BB and the pharmacy for working sooooo hard during this time!! Y'all have been absolutely amazing!" — Kelsie Z., Liberty (TX)
"I can always count on our Katy neighborhood grocery store; so grateful for the store and staff that left their families during such a trying time to keep the store open so we could get some necessities" — Martha O., Katy (TX)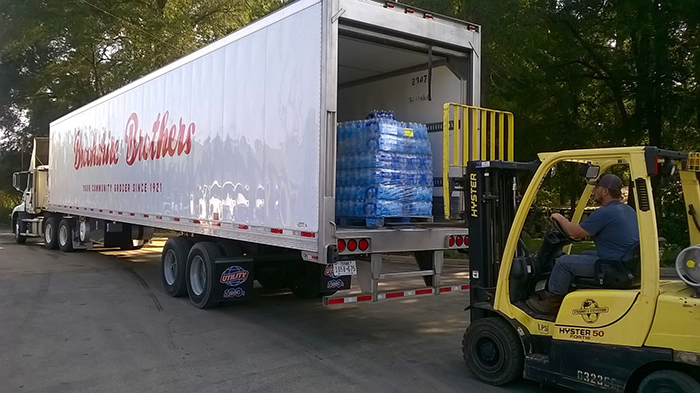 "Went over to Honey Island to repair a well pump today. When I left, I went to the Brookshire Brothers in Kountze see if there was something I didn't know I needed 'till I saw it. The place was packed with evacuees rolling in from down south—all kinds of people you wouldn't ordinarily see there. The store had imported employees from who knows where to help with the extra load of evacuees. That in its self was admirable, but the quality of the people they brought in was astounding. It was all about customer service. Some things were understandably out of stock, but there was a lot there. One dude I was talking to couldn't believe they had meat. He was from Houston, TX. What they had was displayed neatly and the stockers were at work on every aisle, stocking as fast as the customers picked away the items. The employees were amazingly helpful to all these people who had never been there before…These people at Brookshire Brothers in Kountze truly know how to run a store." — Art H., Kountze (TX)
"Easily 4500-5000 meals served to anyone hungry in Kirbyville from 9/1 to 9/3, plus over 700lbs of food fed in Silsbee on 9/3 by my friends from up North… I'd like to give a huge shoutout to Craig Coggins and the Brookshire Brothers for letting us camp out in their parking lot for 3 days and use their facilities when needed… My faith has been restored about our community and my heart is happy and full of love from the people I have been beside this past week and the ones we have helped. I love and appreciate you all!" — Andy C., Kirbyville (TX)
"I just want to give a huge shout out to the Brookshire Brothers in Liberty, TX. My mom and I finally got a chance to get to town today and do some shopping since the storm. All the employees were super nice and smiling. As the trucks came in, they got the shelves stocked as quickly as possible. Everyone was helping one another, not one employee standing around doing nothing. Places like this make times like these more bearable." — Mandi W., Liberty (TX)
"Want to give a HUGE shout out to the employees of the Brookshire Brothers in Buna, Texas. They have their store open and running for people to come in and get supplies and hot food!! Thank you to the store manager Roger Martin, Sherry Hays, Ed Wells, Christal and Julie!! #SurvivingHarvey #SmallTownLove #Proud" — Jill M., Buna (TX)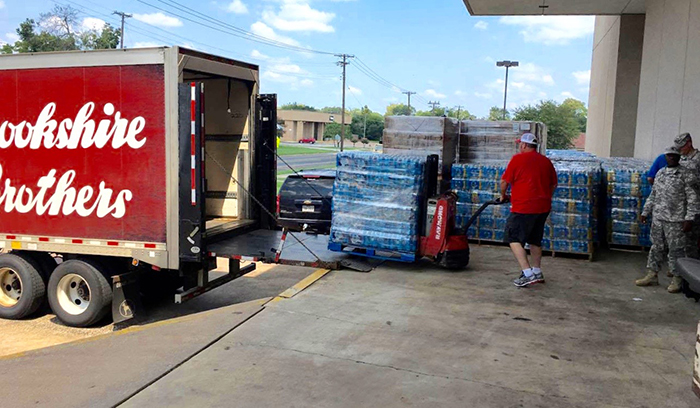 "I met an employee of Dollar Tree in Kemah and she was telling me about being stranded in Dayton. She then began to tell me about how she was treated at a grocery store in Dayton—imagine who it was! Brookshire Brothers. She said the employees were so pleasant and helpful in the darkest of times. I was so very proud to tell her I worked for that amazing grocery store. She told me anytime she was in that area, she would always shop there. Thank you, Dayton. You made such an impact on this customer." — Marilyn J., Dayton (TX)
"I wanted y'all to know how much we appreciate y'all! I had surgery in Baytown today, and we were trying to get back to the Liberty Brookshire Brothers to get my medicine filled. Well of course with the storm, traffic was horrid! So we just pulled into the Dayton store. My husband went in with my prescriptions and you wonderful, big-hearted people had them ready in 10 minutes, even though it was almost closing time. I will not have to be in too much pain tonight thanks to the wonderful people at Brookshire Brothers Pharmacy in Dayton. Thank you for all you do!" — Melissa K., Dayton (TX)
Tuesday August 29, 2017
Your Community Grocer: August
In this fast-paced world, it's very easy to get caught up in the mechanics of just existing. Days becomes reduced to an eat-sleep-work-repeat routine, which is why those moments when we rise above the whirlwind to take a breath and stretch out a hand to someone else—in love, over a meal, in friendship, whatever it may be—those are the times we discover something profound: life. 
With the last minute summer vacations and hustle of school starting, August is often particularly busy. That's why we wanted to take a minute to reflect on the little moments of life we encountered this month. As always, we are incredibly grateful for those that cherish their communities, and we hope to see those hands continue stretching out—hand to hand to hand.
---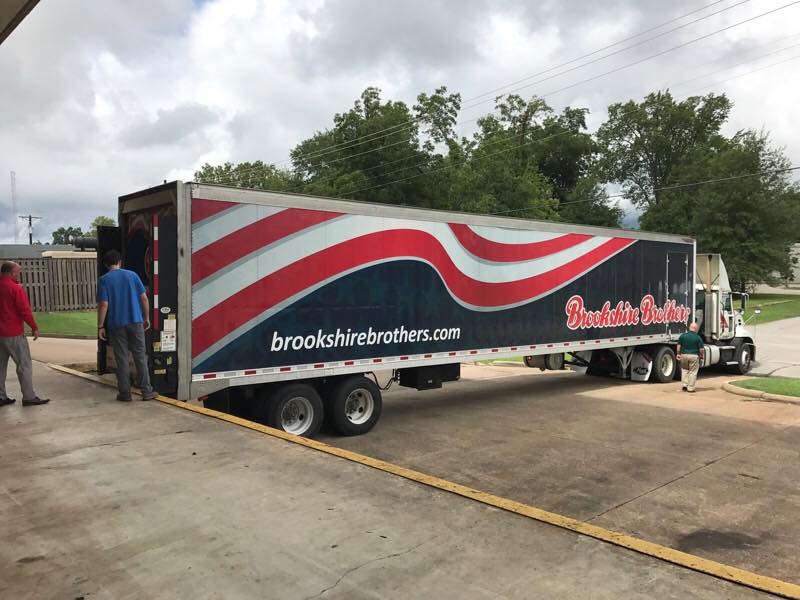 Junior League of Lufkin's Back to School Bonanza
Shoutout to the Junior League of Lufkin for letting us help with their incredible Back to School Bonanza on August 12. Thousands of local students entering kindergarten through 12th grade were able to pick up a free backpack filled with school supplies—PLUS a free hair cut, dental checkup, school uniform, and new pair of shoes! Thank you, Junior League, for your devotion to kids and community needs.
---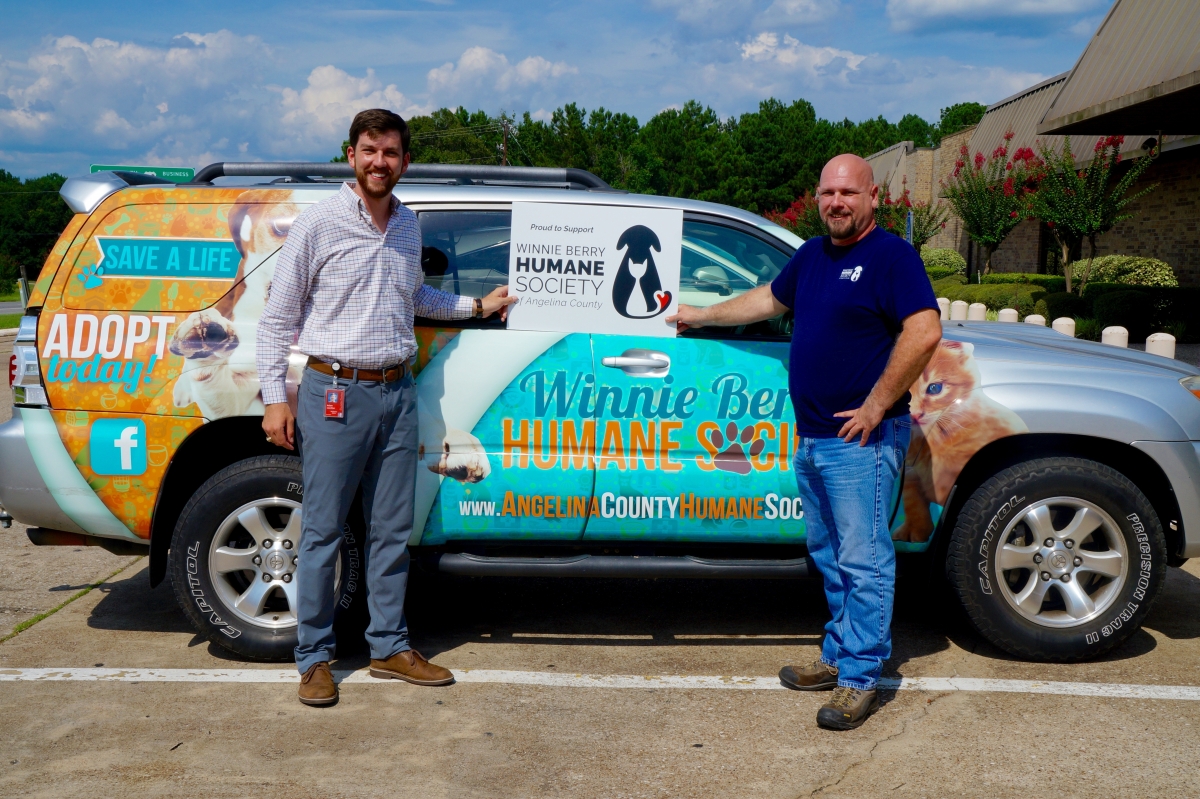 Winnie Berry Humane Society of Angelina County
This month, we were privileged to recognize the Winnie Berry Humane Society of Angelina County. This non-profit no-kill shelter works hard towards educating the public, providing services to improve animal welfare, supporting homeless animals with adoption, and preventing pet overpopulation. Thank you Winnie Berry Humane Society for all that you do to help our furry friends.
---

#Thundering13 
It's been a particularly exciting month here in Lufkin (our corporate headquarters) where the Lufkin All-Stars, a local Little League team, advanced all the way to the World Series championship game. Brookshire Brothers was one of many hometown businesses who came out in full to support the #Thundering13. We provided a fried chicken lunch to celebrate their Southwest Regional championship win, supplied goody bags and gift cards for the road to Williamsport, helped facilitate a parade to celebrate their send off and their welcome home, and distributed the popular orange rally towels as seen on ESPN (of which all proceeds went to supporting the team). We're so proud of these boys and the hard work they put in! Way to represent the USA!!
---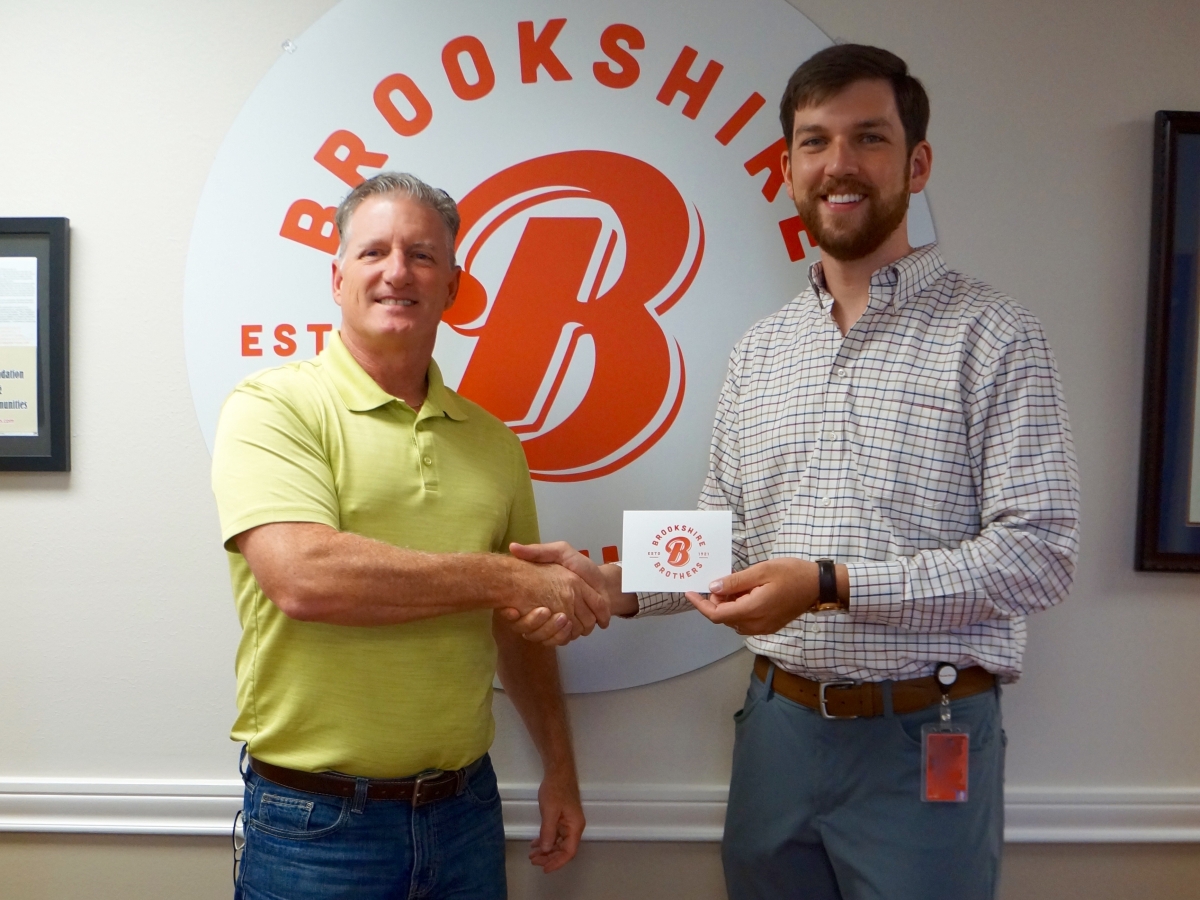 National Wild Turkey Federation (NWTF) Texas
With a mission to conserve or enhance more than 40,000 acres of wildlife habitat, the National Wild Turkey Federation Texas is an organization that we were thrilled to support this month. Thank you NWTF Texas for all that you do to restore wild turkey habitat!
---
West Grayson Retired School Personnel Association (WGRSPA)
Store Manager Rita Byal, center, received a certificate of appreciation from the West Grayson Retired School Personnel Association (WGRSPA) president Mary Nan Story and member Curtis Anne Kinsfather this week. According to WGRSPA, our Whitesboro store was instrumental in the group's successful fall pumpkin sale, which seeks to raise funds for scholarships and book projects in Whitesboro, S&S, Collinsville, and Tioga schools. Thank you WGRSPA for your mission to support education in your community! It's a privilege to do good with you!!
---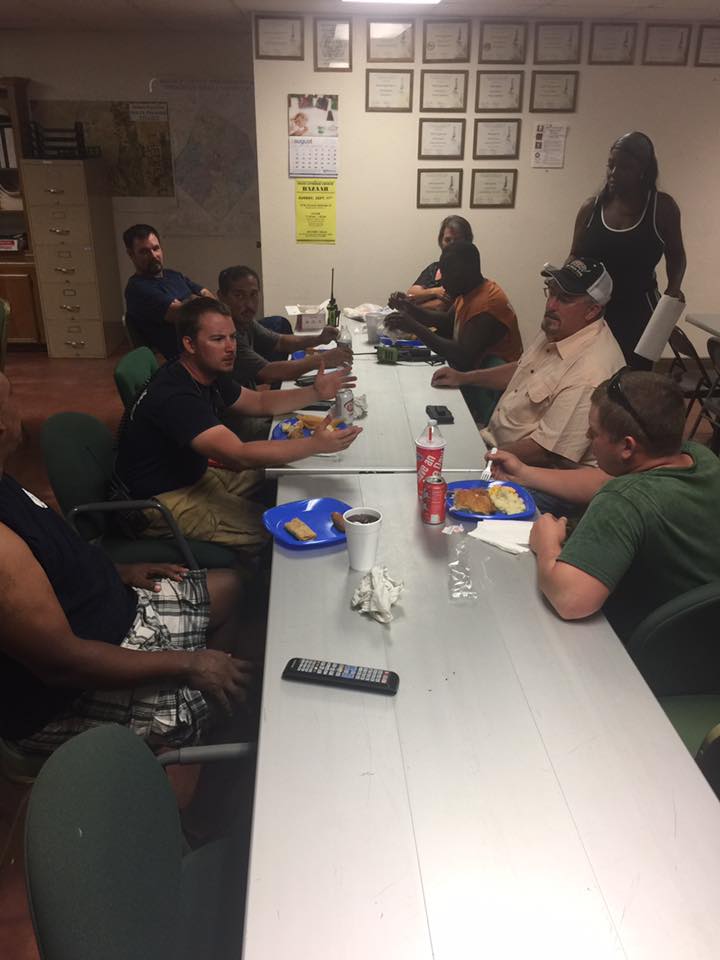 Firefighters in Smithville, TX
We're so incredibly grateful for the heroes that serve. Their courage not only saves houses, but also hearts, memories, and dreams. For that, we're thankful for the opportunity to partner with The Rack Clothing Company in feeding the Smithville firefighters some of our famous fried chicken this month. Thank you for your dedication to protect and serve!
Friday September 9, 2016
Something Special Happening in Newton
Laughter and joy are spreading in the Newton, Tx Brookshire Brothers. Store Director, Gina Adams, has tear-filled eyes as she explains the opportunity that she and her store has each week. "During the summer, Brad Marshall (teacher) came by and asked what I thought about students from CBI visiting," Adams said. Immediately excited, Adams started thinking of all the activities the students would enjoy. "They are so appreciative of the little things we do for them. They come with warm hearts and hugs... so eager to learn."
So, who are these young people who are visiting? They are students of Community-Based Instruction (CBI); an organization who provides students with real-life, functional experiences in a natural environment during on-site vocational training. Local businesses, such as Brookshire Brothers, serve as an extension of the classroom. 
A normal week gets brightened each Tuesday when eight students visit Adams and her staff for 30-45 minutes. They've been able to see the behind-the-scenes workings of our bakery, deli and Subway operations, as well as many other facets of our business. The employees from Store #14 are blessed to visit with the students and see each bright, smiling face. "Even our customers have commented on what it means to them to experience this learning adventure," Adams said.
Stories such as these are the backbone of our company. We appreciate our Store Directors and their committment to customer service, above and beyond.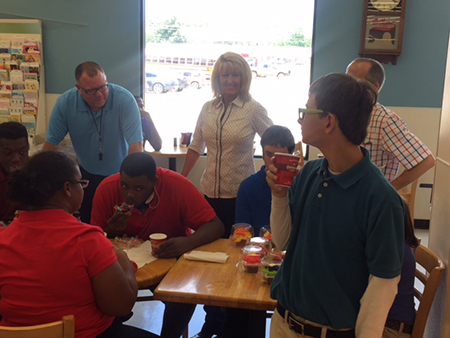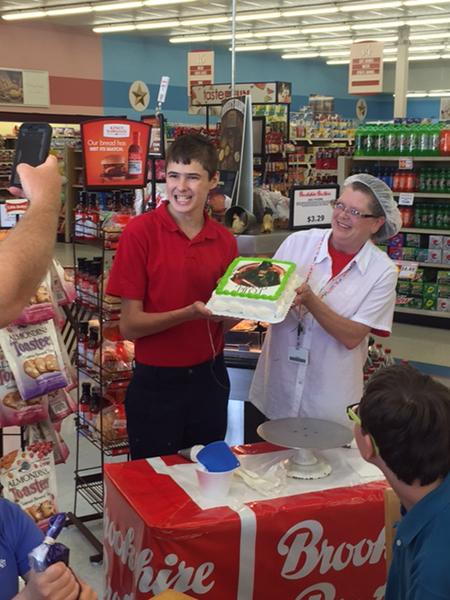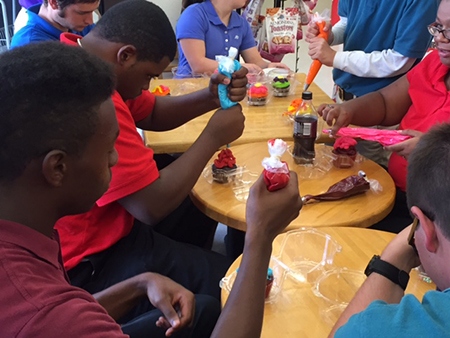 Pages