Friday September 9, 2016
Something Special Happening in Newton
Laughter and joy are spreading in the Newton, Tx Brookshire Brothers. Store Director, Gina Adams, has tear-filled eyes as she explains the opportunity that she and her store has each week. "During the summer, Brad Marshall (teacher) came by and asked what I thought about students from CBI visiting," Adams said. Immediately excited, Adams started thinking of all the activities the students would enjoy. "They are so appreciative of the little things we do for them. They come with warm hearts and hugs... so eager to learn."
So, who are these young people who are visiting? They are students of Community-Based Instruction (CBI); an organization who provides students with real-life, functional experiences in a natural environment during on-site vocational training. Local businesses, such as Brookshire Brothers, serve as an extension of the classroom. 
A normal week gets brightened each Tuesday when eight students visit Adams and her staff for 30-45 minutes. They've been able to see the behind-the-scenes workings of our bakery, deli and Subway operations, as well as many other facets of our business. The employees from Store #14 are blessed to visit with the students and see each bright, smiling face. "Even our customers have commented on what it means to them to experience this learning adventure," Adams said.
Stories such as these are the backbone of our company. We appreciate our Store Directors and their committment to customer service, above and beyond.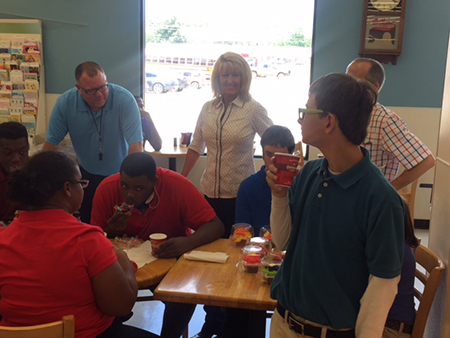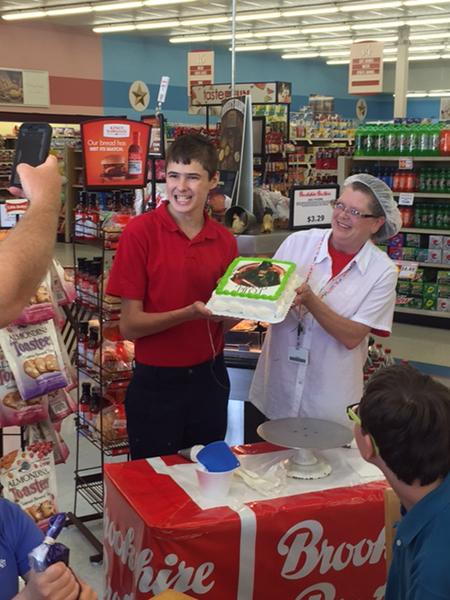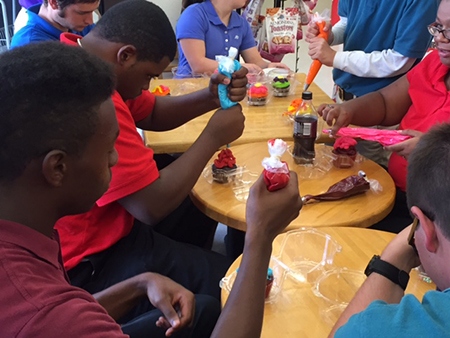 Tuesday September 8, 2015
Brown Bags of Hope - Our Community Cares
Hope. Such a powerful word that when spoken can bring such happiness, but when lost can bring such despair. Hopeless. A feeling many neighbors in your community are feeling, but don't know where to turn for help. Brookshire Brothers is looking to keep your neighborhood hopeful by answering the question, "What can I do to help?"
When originally faced with that question, Brookshire Brothers turned to Lufkin Independent School District counselors to find some of the needs of those in the community that weren't being met. It also gave Brookshire Brothers the opportunity to expand upon the brown bag program already in stores. Together, LISD and Brookshire Brothers came up with their new company wide initiative, Brown Bags of Hope. 
Our customers will have the chance to literally give hope to those in need by purchasing a Brown Bag of Hope. For just $10, you're providing food, school supplies, or toiletries to the members of your community. Our stores give the bags to non-profits, schools, and veterans groups in your area to distribute. By giving our customers a way to be the helping hands of their city, we are hoping to offer support to those in need.
As easy as it is for us all to get lost in the whirlwind that is life, it is important to remember that there are those among us who are struggling day to day to make ends meet. It's in that moment that you stop moving and start doing that hope is given a chance. Stop by your local store today and give yourself a chance to feel the magical gift of delivering hope to the hopeless.
Monday September 15, 2014
Brookshire Brothers Hosts Food Drive
(Tyler, Texas) September 15, 2014 – Brookshire Brothers store locations throughout East Texas have partnered with the East Texas Food Bank for a food drive.  Starting today, Customers can purchase a pre-packaged $7 spaghetti bag or $12 tuna bag that contains many of the most requested items the East Texas Food Bank needs.
"Brookshire Brothers stores, their associates and customers are valued partners," said Dennis Cullinane, CEO of the East Texas Food Bank.  "These pre-packaged bags are an easy way for customers to get involved in the fight against hunger, and allow us the ability to get products that are not usually donated."
Items in the pre-packaged bags include staples such as canned vegetables, pasta, tuna, peanut butter and rice.  The bags will be available for purchase thru September 30th.
"This partnership speaks to our mission of supporting initiatives that help build strong foundations in our communities.  The East Texas Food Bank does that very well every day of the year," said Jerry Johnson, President and CEO of Brookshire Brothers.  "Engaging our customers in this outreach during Hunger Action Month is powerful.  Their purchases directly impact hurting families in their towns."
September is also Hunger Action Month, a month-long campaign to raise awareness and end hunger across the country.  For more about Hunger Action Month and other events planned, visit EastTexasFoodBank.org/HungerAction.
About Brookshire Brothers
Founded in 1921 and headquartered in Lufkin, Texas, Brookshire Brothers is 100% employee-owned. Its assets include 149 retail outlets incorporating grocery stores, convenience stores, as well as free standing pharmacy, tobacco and petro locations.  Its 6500 employee-owners are dedicated to providing solutions and exceptional service to their customers throughout the market area that stretches east to Lake Charles, Louisiana, west to Wimberley, Texas, north to Whitesboro, Texas, and south to Ganado, Texas.  For more information about Brookshire Brothers and its family of brands go to www.brookshirebrothers.com.
About East Texas Food Bank
The East Texas Food Bank provided more than 20 million meals each year to 200 partner agencies in 26 East Texas counties.  Our vision is for a hunger-free East Texas and our mission is to fight hunger and feed hope in East Texas.  The East Texas Food Bank is a member of Feeding America and the Texas Food Bank Network.  To learn more, please visit EastTexasFoodBank.org. Find us on Facebook at facebook.com/etfoodbank or follow our news on Twitter at twitter.com/etfoodbank. 
Tuesday April 1, 2014
Format Agility Helps Brookshire Brothers Meet Community Needs
Report profiled Brookshire Brothers and its CEO and President in its April edition.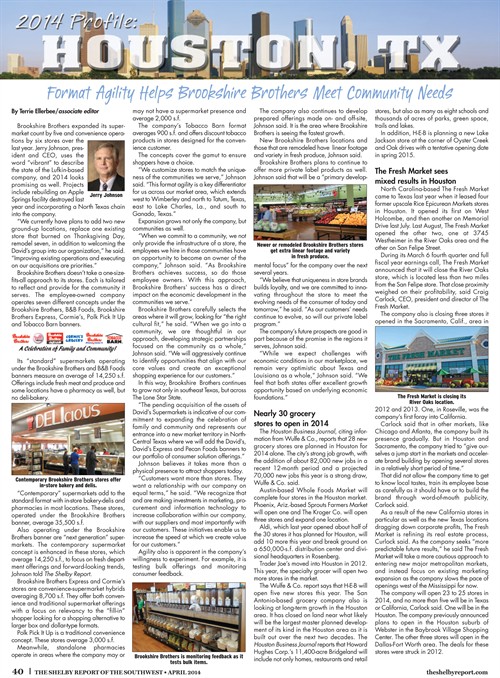 Pages