Saturday September 30, 2017
Your Community Grocer: September
The beautiful thing about a rainbow is that it's a visible, momentary glimpse into the extraordinary version of everyday ordinary light. Think: the light that we walk in every day—as we drive to work, drop kids off at school, wash dishes by the window—is composed of rainbows. We don't see these colors—except in circumstances where the light is dispersed into a visible arc (such as after a storm)—but they surround us all the same.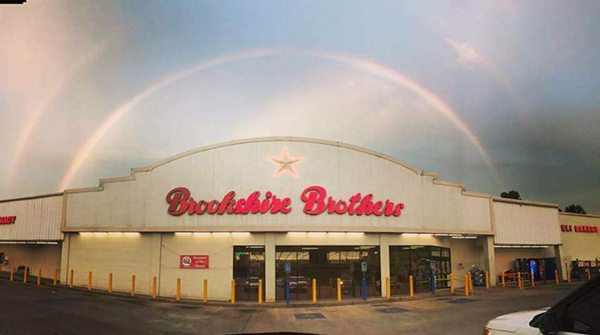 In the same way, we're surrounded by people that are as ordinary as the next person, and yet, in a shift of circumstances they burst with such bright acts of beautiful good. September started with a storm, but out of the devastation, we've encountered and witnessed such normal, big-hearted people seeking to meet community needs. These are their stories.
---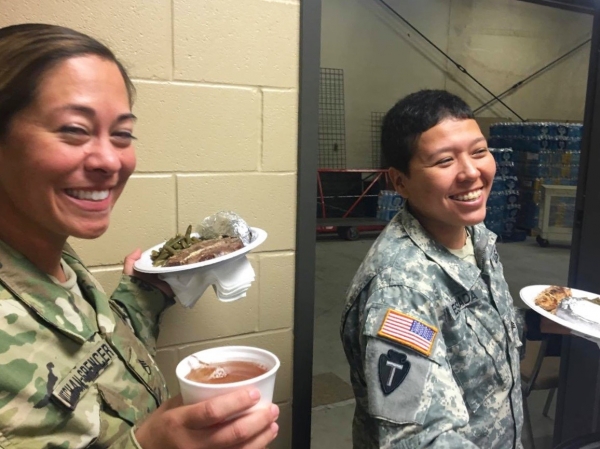 National Guard
This past month, we had the opportunity to feed the National Guard stationed in our corporate hometown for hurricane relief. Their presence was particularly memorable with the annual rememberance of 9/11. As always, we're grateful for the time to remember and reflect on the inspiring courage they—and others—embody in service to our communities.
---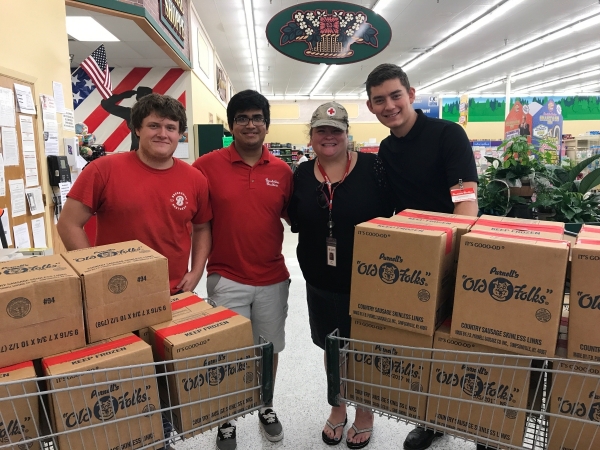 Purnell's "Old Folks" Sausage
We'd also like to give a huge shoutout to one of our valued vendor partners—Purnell's "Old Folks" Sausage. To help with hurricane relief efforts this past month, Purnell donated pounds of sausage by the THOUSANDS. These donations were distributed to shelters, churches, and emergency responders. From vendor to volunteer, this kind of selfless generosity we've seen post-Harvey has been continually inspiring.
Read more: It's because of vendor partners like Purnell's that we've been able to give back to communities more than one million dollars since 2007. Twice a year, these vendors participate in charitable golf tournaments to help us raise money for community support. Get the full recap of this year's fall tournament here.

---

Mrs. Patsy Smith 
After Hurricane Harvey, Mrs. Patsy Smith (a shopper) baked THREE cakes to show our Carthage team her appreciation for treating her and all of her friends with sincere customer service, from handshakes at the door to smiling conversation at the register. Her kind gift to us embodies what we love best—caring for our customers and communities!
---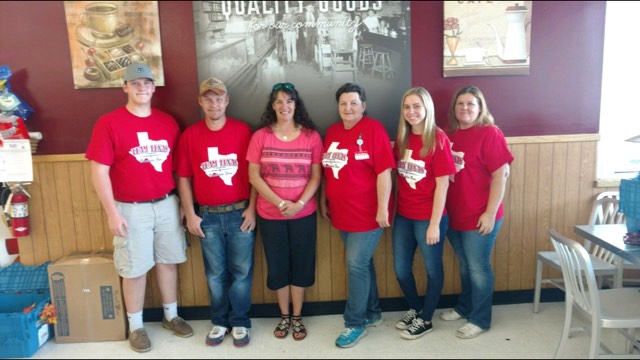 Team Texas Forever
Team Texas Forever. That's what these shirts say, but really they say a lot more to us than that. Kountze shopper Niesy B. designed and printed 62 of these shirts to show our Kountze team her appreciation for their service during Harvey and long before. According to Niesy, "Brookshire Brothers is more than just a store that sells food… it's the heartbeat of our town." Her memories include how store director Thomas Cryer would post pictures of kids from Little League or Homecoming parades on the store walls for parents to see, and how the whole intersection was decorated with balloons and signs from when the local cheerleading team made national news. When the past three major hurricanes roared through town, Niesy recalls how "the die-hard crew always showed up to sell groceries in the dark and make sure people got their prescriptions (thanks Lester!)." She loves how the deli knows just how her son likes his chicken legs, and how the team always took care of the Little League BBQ when she was on the LL board. It's stories like Niesy's that continually inspire us and our love for our communities.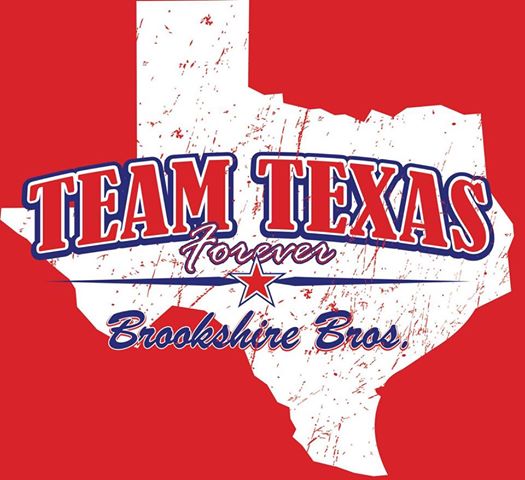 ---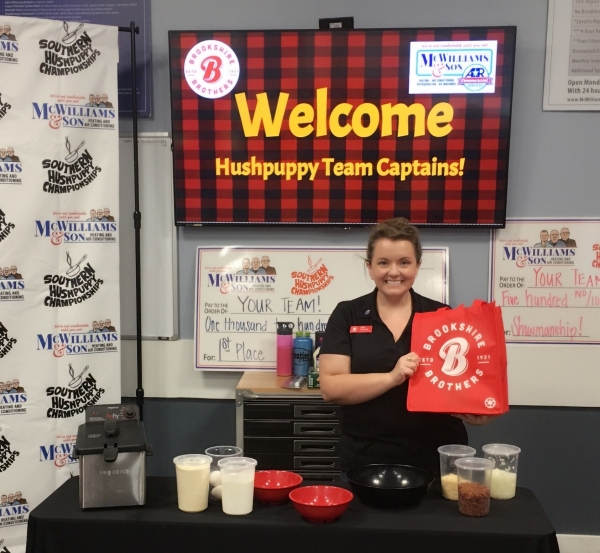 Southern Hushpuppy Championships
Community building begins with meeting needs, but that doesn't mean it excludes fun! September always brings the Texas State Forest Festival to our corporate hometown Lufkin, of which the Southern Hushpuppy Championships is always a headliner. A number of Brookshire Brothers employees volunteered at the festival, including our catering coordinator Kate Rudasill who served as a judge in the Hushpuppy competition—for the second year in a row! We love seeing our team members getting involved in events like this that bring families and fun together to build lasting relationships.
Read more: Our final Price is Right event—the Money Bags Live game—was held at the festival this year, where over $20,000 was awarded to Brookshire Brothers customers. Catch the full recap here!
---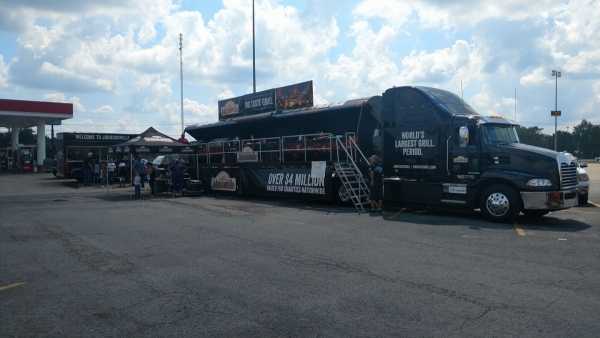 Johnsonville Big Taste Grill
20 feet tall, 65 feet long, and 6 feet in diameter. Meet the Johnsonville Big Taste Grill, a mobile grill that can cook 2,500 brats an hour on its 40 sqaure feet of grilling surface. This past month, the "World's Largest Grill" has been traveling to locations that were hit hard by Harvey, including our Liberty and Silsbee locations. With brats donated by Johnsonville and buns from our stores, nearly 1,000 hot meals were served to anyone in need.
Read more: Did you know nearly 1 in 4 children in Texas are food insecure? See how you can help with our Great American Milk Drive
---
Ellen Trout Zoo
As a continual source of family fun and community involvement, this small-town zoo is dear to our hearts here in Lufkin, our corporate hometown. Located across the street from our headquarters, we're often involved in supporting this zoo, whether we're helping clean up the facility during our annual spring workday or we're dropping off extra newspapers for the bottom of animal cages. As we've said before, we're wild about the zoo and all that they do for our hometown!
---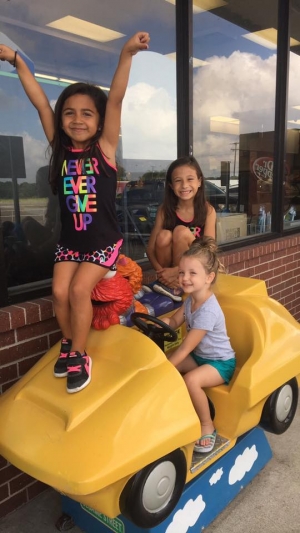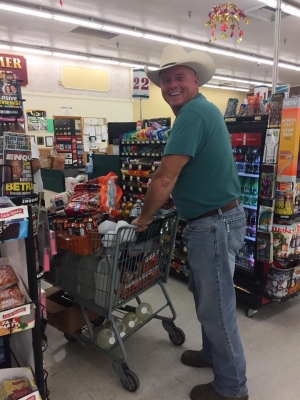 Community Building On Its Own
While our mission focus is to serve our communities, we particularly love to see community building happen in our stores on its own. Whether it's a bake sale for a local cheerleading team (pictured left) or a shopper loading up his cart with groceries for neigbors in need (pictured right), we will always stand behind community growth. So, bring on the car washes, the BBQs, the long-time-no-see selfies with a friend—we welcome it all.
Tuesday August 29, 2017
Your Community Grocer: August
In this fast-paced world, it's very easy to get caught up in the mechanics of just existing. Days becomes reduced to an eat-sleep-work-repeat routine, which is why those moments when we rise above the whirlwind to take a breath and stretch out a hand to someone else—in love, over a meal, in friendship, whatever it may be—those are the times we discover something profound: life. 
With the last minute summer vacations and hustle of school starting, August is often particularly busy. That's why we wanted to take a minute to reflect on the little moments of life we encountered this month. As always, we are incredibly grateful for those that cherish their communities, and we hope to see those hands continue stretching out—hand to hand to hand.
---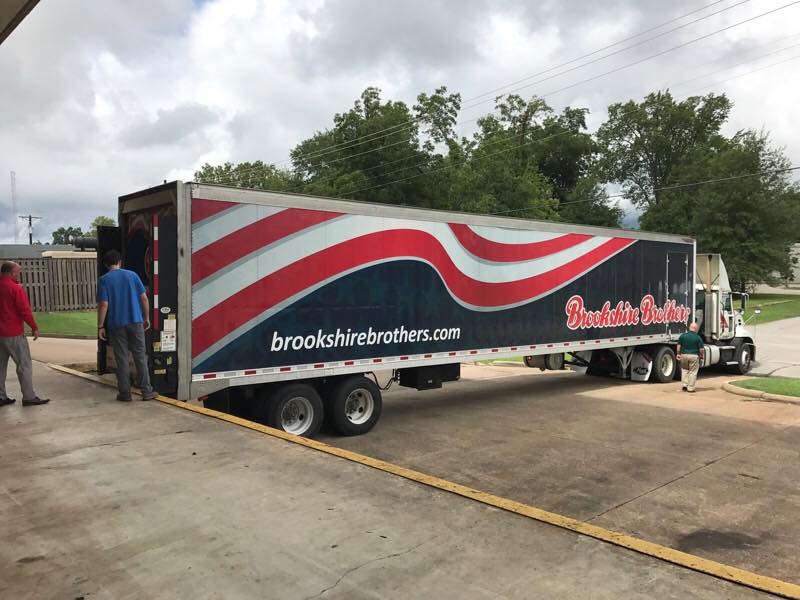 Junior League of Lufkin's Back to School Bonanza
Shoutout to the Junior League of Lufkin for letting us help with their incredible Back to School Bonanza on August 12. Thousands of local students entering kindergarten through 12th grade were able to pick up a free backpack filled with school supplies—PLUS a free hair cut, dental checkup, school uniform, and new pair of shoes! Thank you, Junior League, for your devotion to kids and community needs.
---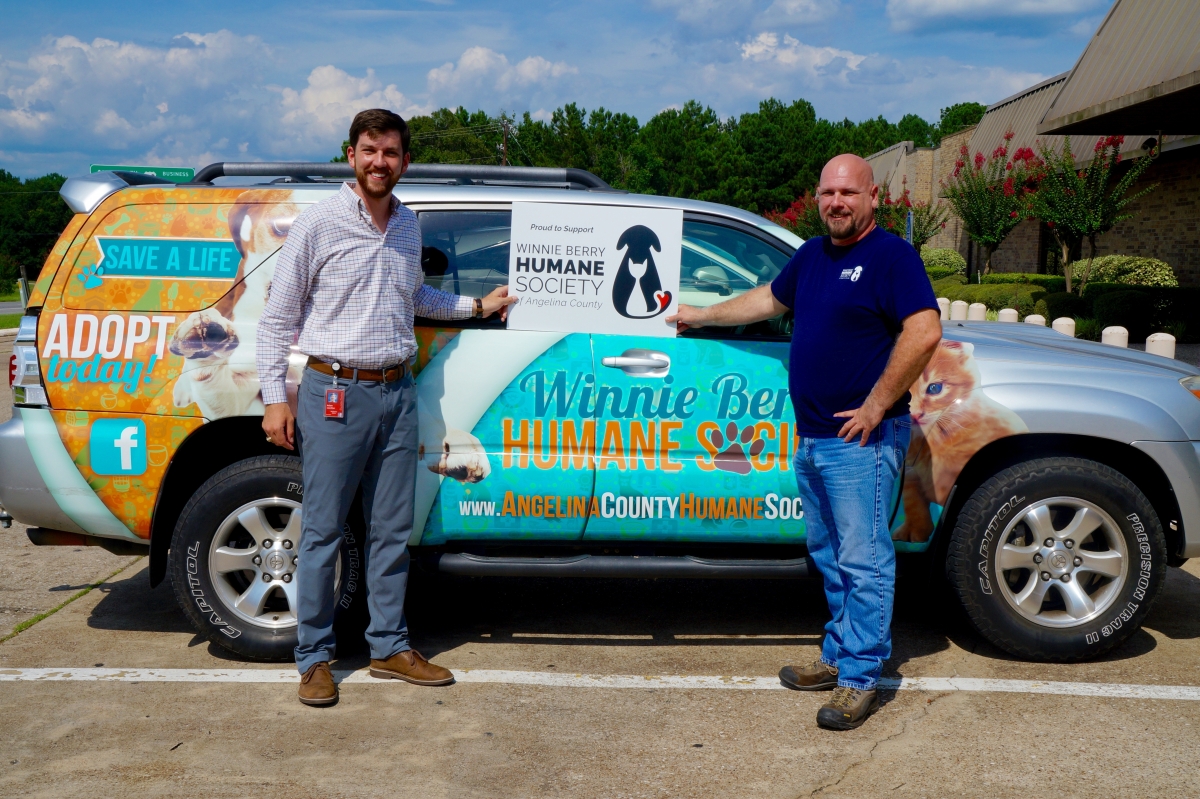 Winnie Berry Humane Society of Angelina County
This month, we were privileged to recognize the Winnie Berry Humane Society of Angelina County. This non-profit no-kill shelter works hard towards educating the public, providing services to improve animal welfare, supporting homeless animals with adoption, and preventing pet overpopulation. Thank you Winnie Berry Humane Society for all that you do to help our furry friends.
---

#Thundering13 
It's been a particularly exciting month here in Lufkin (our corporate headquarters) where the Lufkin All-Stars, a local Little League team, advanced all the way to the World Series championship game. Brookshire Brothers was one of many hometown businesses who came out in full to support the #Thundering13. We provided a fried chicken lunch to celebrate their Southwest Regional championship win, supplied goody bags and gift cards for the road to Williamsport, helped facilitate a parade to celebrate their send off and their welcome home, and distributed the popular orange rally towels as seen on ESPN (of which all proceeds went to supporting the team). We're so proud of these boys and the hard work they put in! Way to represent the USA!!
---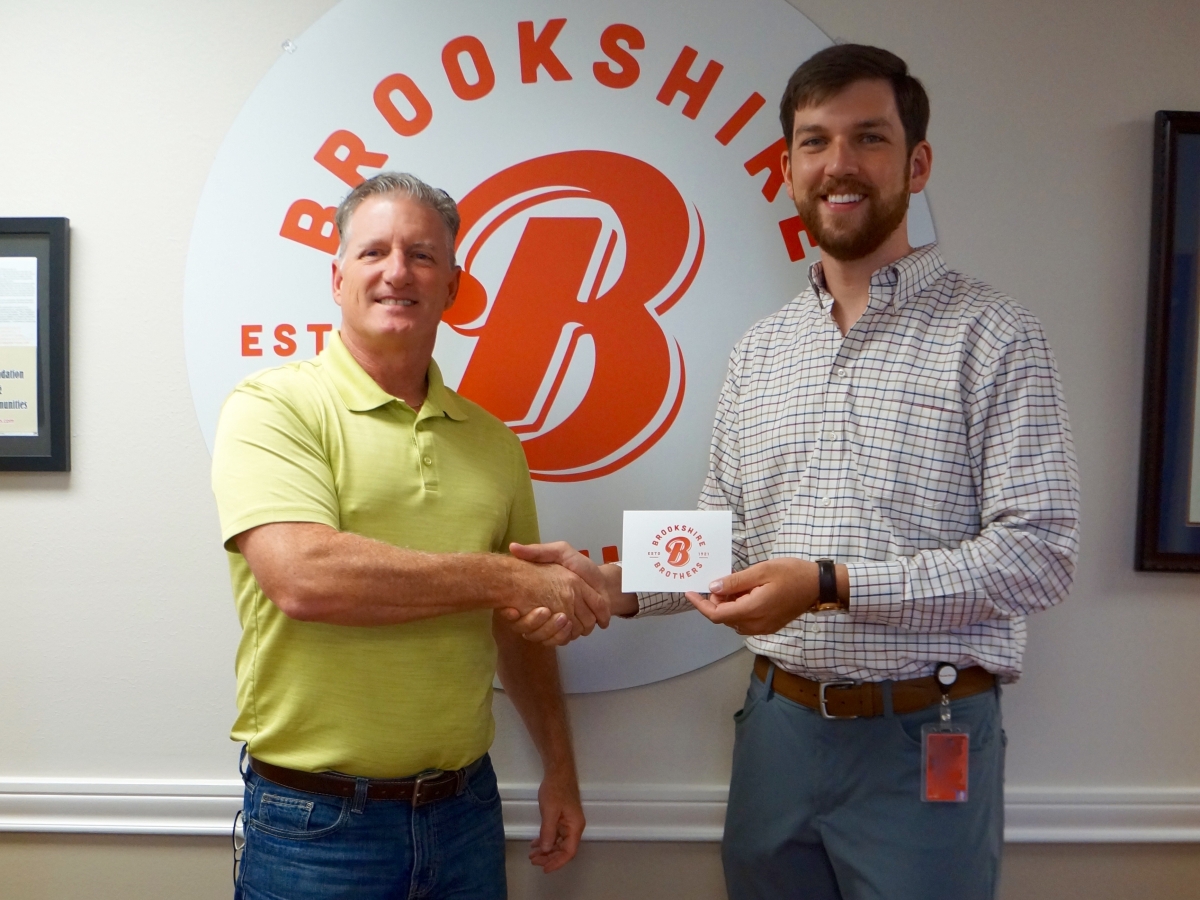 National Wild Turkey Federation (NWTF) Texas
With a mission to conserve or enhance more than 40,000 acres of wildlife habitat, the National Wild Turkey Federation Texas is an organization that we were thrilled to support this month. Thank you NWTF Texas for all that you do to restore wild turkey habitat!
---
West Grayson Retired School Personnel Association (WGRSPA)
Store Manager Rita Byal, center, received a certificate of appreciation from the West Grayson Retired School Personnel Association (WGRSPA) president Mary Nan Story and member Curtis Anne Kinsfather this week. According to WGRSPA, our Whitesboro store was instrumental in the group's successful fall pumpkin sale, which seeks to raise funds for scholarships and book projects in Whitesboro, S&S, Collinsville, and Tioga schools. Thank you WGRSPA for your mission to support education in your community! It's a privilege to do good with you!!
---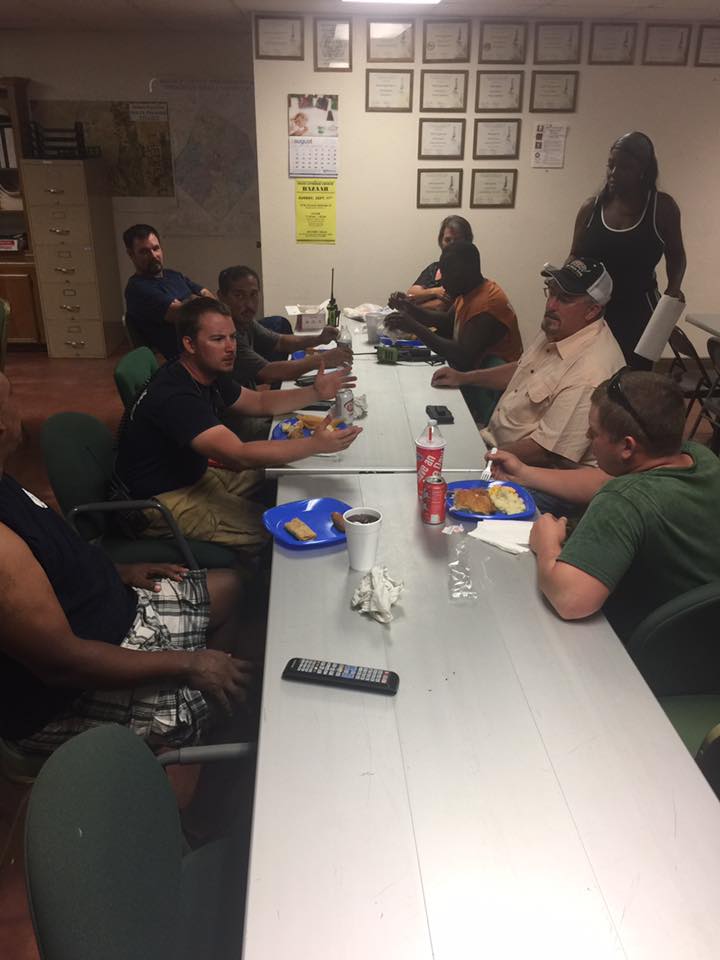 Firefighters in Smithville, TX
We're so incredibly grateful for the heroes that serve. Their courage not only saves houses, but also hearts, memories, and dreams. For that, we're thankful for the opportunity to partner with The Rack Clothing Company in feeding the Smithville firefighters some of our famous fried chicken this month. Thank you for your dedication to protect and serve!
Thursday January 30, 2014
Foundation Furthers Work of a Dozen Non-Profits
Brookshire Brothers warmed the hearts of twelve non-profits Thursday, January 30th by recognizing the amazing work they do in the communities they serve.  The Lufkin-based company's Charitable Foundation distributed checks totaling $110,000 to organizations whose core mission aligns with Brookshire Brothers' A Celebration of Family and Community.
Company spokesperson Sally Alvis says, "It was fitting we distributed checks to these deserving organizations from our Distribution Center. It truly is the heart of this employee-owned company.  Our guests saw how the merchandise they see in the store gets from the warehouse, to the eighteen-wheelers and off to our 123 retail locations.  They also got to meet a cross section of our employee-owners, many of whom volunteer and serve beside them in the non-profit arena or are served by their organization. "
It is the vendors who sell their lines of groceries and goods to Brookshire Brothers that make these grants possible. They play in the Foundation's spring and fall golf tournaments. Their entry fees go directly to the Charitable Foundation.  An invite to the Brookshire Brothers tourneys is among the most sought after in the industry because the golfers know their participation fuels Brookshire Brothers passion for giving.
Brookshire Brothers Charitable Foundation Recipients:
Boys and Girls Clubs of Deep East Texas
Volunteer Services Council - Lufkin State Supported Living Center
The Mosaic Center
Friends of the Ellen Trout Zoo
Sarah's Hope
East Texas Alliance for Children - Harold's House
Junior Achievement of East Texas
American Cancer Society/Pineywoods Cattle Barons Gala
Friends of Blue Hole
Alzheimer's Association - Capital of Texas Chapter
Alzheimer's Association - Southeast Texas/Houston Chapter
Angelina Arts Alliance
Brookshire Brothers also has an employee-run Donations Committee that meets monthly to consider hundreds of funding requests.  Alvis explained, "That committee represents every single Brookshire Brothers employee. The money they earmark for donations comes directly from our employee-owners.  Committee members discern how  best to allocate our giving in every market we serve.  From education to wellness, community celebrations to fundraising efforts, we give back in extraordinary levels - financially and with our gifts of time, re   sources and volunteer service."
Friday March 1, 2013
Brookshire Brothers Links Golf with Giving
What do golf and giving have in common? More than you'd think according to Lufkin-based Brookshire Brothers. The company hosts two charity golf tournaments each year for its vendors and business associates. The entry fees and other funds raised at the tourneys go into the company's Charitable Foundation. Yesterday, that Foundation dispersed nearly $100,000 to seven non profits in its market area.
These helping entities will, in turn, use those funds to further their outreach to the children, the hurting, the hungry, the aging and the intellectually challenged residents they serve. Company President and Chief Executive Officer Jerry Johnson says, "It's a privilege for Brookshire Brothers to help these incredible organizations live out their mission. They know first hand the needs of those they serve. Providing this funding helps them do what they do well - even better."
This year's recipients include the American Cancer Society, Friends of the Ellen Trout Zoo, Harold's House (East Texas Alliance for Children), Boys and Girls Club of Deep East Texas, Alzheimer's Association's Houston/Southeast Texas and Capitol of Texas chapters, Volunteer Services Council of the Lufkin State Supported Living Center and Angelina Arts Alliance. Representatives from those organizations were honored yesterday at Brookshire Brother's corporate office in Lufkin.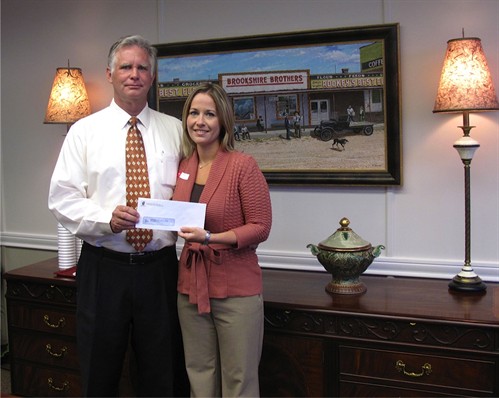 Brookshire Brothers recognizes the Alzheimers Association for serving its customers and employee-owners 54 of the counties in the grocer's market area. Jerry Johnson - President and CEO presents two checks from the Brookshire Brothers Charitable Foundation to Mandy Humes - representing both the Houston/Southeast Texas and Capital of Texas chapters of the Alzheimers Association.
Harold's House - The East Texas Alliance for Children benefits from Brookshire Brothers generosity for its work with children who have been physically and sexually abused. Brookshire Brothers President and CEO Jerry Johnson presents a check from the company's Charitable Foundation to Executive Director Laura Squiers and Board President Debbie Brown.
Brookshire Brothers helps the Boys and Girls Clubs of Deep East Texas provide 4,000 children with the tools they need to be successful. Accepting a donation from the company's Charitable Foundation is Boys and Girls Club of Deep East Texas President and CEO Jeff Woods with Brookshire Brothers' President and CEO Jerry Johnson.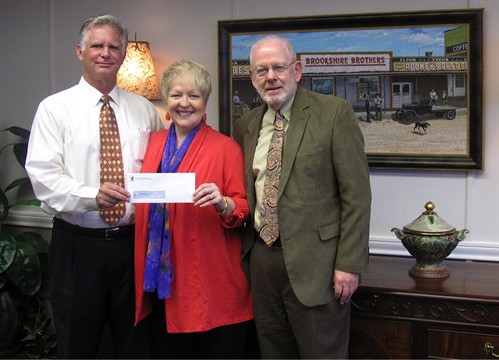 Bravo to the Angelina Arts Alliance for bringing performing artists from around the world to the Texas Forest Country. Brookshire Brothers President and CEO Jerry Johnson presents the Arts Alliance's Traci Pinkerton and Rick Schiller with a contribution from Brookshire Brothers' Charitable Foundation to help the Arts Alliance further its work.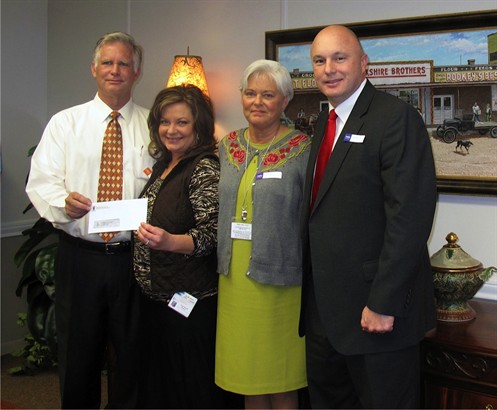 Lufkin's State Supported Living Center enjoys its continuing relationship with Brookshire Brothers.  The company maintains and upkeeps a family house on the campus and recently gave the Center's Volunteer Services Council a financial gift from its Charitable Foundation.
Pictured from left to right are Brookshire Brothers President and CEO Jerry Johnson with Lynn Hopper - Community Relations manager,  Gale Wassom - Center Director and Chris Moss - Board Chairman.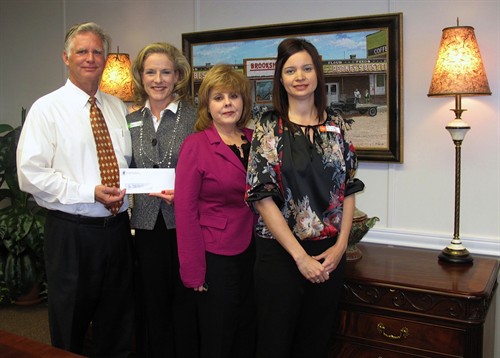 The High Plains/East Texas Region of the American Cancer Society exits to save lives and end cancer for good! Brookshire Brothers' Charitable Foundation recognizes the local chapter for all it does in the region. Brookshire Brothers President and CEO Jerry Johnson presents a check to ACS Cattle Baron's Gala Chair Becca Chance and ACS Regional Vice President Letha Tullos and Regional Development VP Melissa McKnight.
Brookshire Brothers recognizes the FINEST SMALL CITY ZOO IN AMERICA for all it does for families throughout the region. Brookshire Brothers' President and CEO Jerry Johnson is pictured here presenting a check from its Charitable Foundation to Friends of the Ellen Trout Zoo President Dennis Rankin and Zoo Director Gordon Henley.