Submitted by
brookshire-blog
on Monday, September 25, 2017
That gallon of milk you consider a staple in your refrigerator – including the essential nutrients it provides – is missing in food banks and in the refrigerators of families in your community.
The rate of food insecurity in Texas and Louisiana is startlingly higher than even the national average. More than five million of our neighbors – including more than one in every four children – do not have access to enough nutritious food to enjoy an active and healthy life.
According to Feeding America, the nation's largest domestic hunger-relief organization, milk is one of the most requested items by food banks. While Americans are generous with canned and dry goods, many don't think to donate milk because it is perishable…but you can!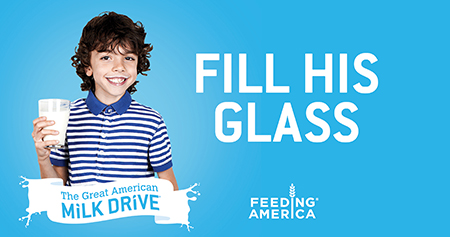 In partnership with Feeding America and The Great American Milk Drive, Brookshire Brothers is helping to fight hunger in our communities by making it easy for shoppers to provide milk, including its high-quality protein, to families in need. Milk is more than just a drink – it is the top food source for three out of the four nutrients Americans, including children, are most likely to be missing– calcium, vitamin D and potassium.
Since its launch in 2014, The Great American Milk Drive has delivered more than 400,000 gallons – that's more than 6.3 million servings – of highly desired milk to Feeding America food banks across the country, including more than 8,000 gallons for families in need right here in Texas and Louisiana. However, there's so much more that we can do.
Now through October 31, 2017, you can help bring even more nutritious milk to families and children in need in your community with a donation of as little as $1, $3 or $5 when checking out at Brookshire Brothers and David's locations across Texas and Louisiana.
All donations collected will help local families in Texas and Louisiana get milk that they may otherwise be missing out on. We hope to see you in a Brookshire Brothers or David's store soon, and at check-out, please consider making a donation to The Great American get Milk Drive to ensure our local Feeding America food banks can provide nutrient-rich milk to our neighbors in need.