Monday September 25, 2017
Fill A Glass. Feed A Family.
That gallon of milk you consider a staple in your refrigerator – including the essential nutrients it provides – is missing in food banks and in the refrigerators of families in your community.
The rate of food insecurity in Texas and Louisiana is startlingly higher than even the national average. More than five million of our neighbors – including more than one in every four children – do not have access to enough nutritious food to enjoy an active and healthy life.
According to Feeding America, the nation's largest domestic hunger-relief organization, milk is one of the most requested items by food banks. While Americans are generous with canned and dry goods, many don't think to donate milk because it is perishable…but you can!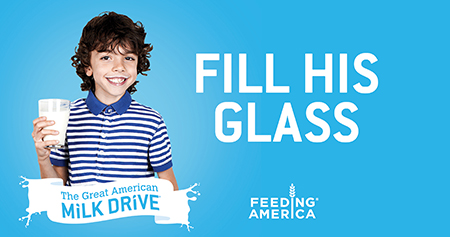 In partnership with Feeding America and The Great American Milk Drive, Brookshire Brothers is helping to fight hunger in our communities by making it easy for shoppers to provide milk, including its high-quality protein, to families in need. Milk is more than just a drink – it is the top food source for three out of the four nutrients Americans, including children, are most likely to be missing– calcium, vitamin D and potassium.
Since its launch in 2014, The Great American Milk Drive has delivered more than 400,000 gallons – that's more than 6.3 million servings – of highly desired milk to Feeding America food banks across the country, including more than 8,000 gallons for families in need right here in Texas and Louisiana. However, there's so much more that we can do.
Now through October 31, 2017, you can help bring even more nutritious milk to families and children in need in your community with a donation of as little as $1, $3 or $5 when checking out at Brookshire Brothers and David's locations across Texas and Louisiana. 
All donations collected will help local families in Texas and Louisiana get milk that they may otherwise be missing out on.  We hope to see you in a Brookshire Brothers or David's store soon, and at check-out, please consider making a donation to The Great American get Milk Drive to ensure our local Feeding America food banks can provide nutrient-rich milk to our neighbors in need.
Wednesday September 7, 2016
Hope Springs Water
During the month of September, we're providing hope to the hopeless with your help. 1.2 billion people have no access to pure drinking water. Hope Springs Water from Athens, Texas was founded to provide safe water, sanitation, and public health education in developing countries.
Brookshire Brothers and our family of brands is partnering with Hope Springs Water to bring the opportunity to you, our customers. For every case of Hope Springs Water you purchase at our stores, we'll give 50¢ to help bring clean water to the thirsty in the developing world. You can help make a difference by drinking Hope Springs Water. Let's impact the lives around the globe today!
Learn more about Hope Springs Water at HopeSpringsWater.org.

Tuesday September 8, 2015
Brown Bags of Hope - Our Community Cares
Hope. Such a powerful word that when spoken can bring such happiness, but when lost can bring such despair. Hopeless. A feeling many neighbors in your community are feeling, but don't know where to turn for help. Brookshire Brothers is looking to keep your neighborhood hopeful by answering the question, "What can I do to help?"
When originally faced with that question, Brookshire Brothers turned to Lufkin Independent School District counselors to find some of the needs of those in the community that weren't being met. It also gave Brookshire Brothers the opportunity to expand upon the brown bag program already in stores. Together, LISD and Brookshire Brothers came up with their new company wide initiative, Brown Bags of Hope. 
Our customers will have the chance to literally give hope to those in need by purchasing a Brown Bag of Hope. For just $10, you're providing food, school supplies, or toiletries to the members of your community. Our stores give the bags to non-profits, schools, and veterans groups in your area to distribute. By giving our customers a way to be the helping hands of their city, we are hoping to offer support to those in need.
As easy as it is for us all to get lost in the whirlwind that is life, it is important to remember that there are those among us who are struggling day to day to make ends meet. It's in that moment that you stop moving and start doing that hope is given a chance. Stop by your local store today and give yourself a chance to feel the magical gift of delivering hope to the hopeless.