Submitted by
Kate Rudasill - Director of Catering
on Tuesday, February 13, 2018
Surf and Turf Dinner Menu: Two Easy Side Dish Recipes
If you are cooking dinner for your significant other or a gathering with friends, here are two great recipes that will make your Valentine's Day celebration extra special. These quick and easy side dishes pair perfectly with grilled steaks and sautéed shrimp for an unforgettable meal.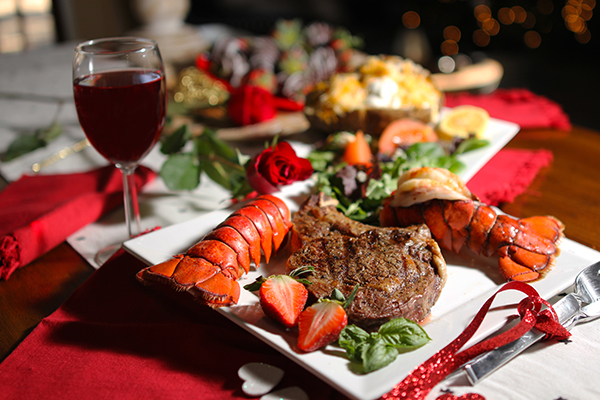 Quick Bacon-Wrapped Green Bean Bundles
Ingredients
1 ½ pounds fresh or frozen whole green beans
6-10 slices uncooked thick-sliced bacon, cut in half
1 tablespoon brown sugar
½ tablespoon Worcestershire sauce
½ teaspoon garlic powder
salt and pepper to taste
Directions
Preheat oven to 375 degrees. Lay bacon strips on a baking sheet and bake in the preheated oven for 10 minutes. Remove from oven (bacon will not be fully cooked!)
For fresh green beans: trim off the ends and wash the beans. Bring a large pot of water to a boil. Add green beans and cook 3 minutes until tender crisp. Immediately remove the beans from boiling water and place in a bowl of ice water to stop cooking. Drain well and blot dry with a kitchen or paper towel. For frozen green beans, proceed straight to the next step.
Wrap ½ slice of bacon around 6-8 green beans, secure with a toothpick and place on a parchment lined pan. Repeat with remaining bacon slices and green beans. In a small bowl, mix brown sugar, Worcestershire sauce, garlic powder, salt and pepper. Brush mixture evenly over each bundle. Roast in preheated oven for 20-22 minutes or until bacon is crisp and beans are lightly roasted. Keep warm to serve.
Cajun Corn Maque Choux
Ingredients
32 oz fresh or frozen sweet corn kernels
½ pound uncooked bacon, cut into ½" pieces
1 large sweet onion, small diced
1 large red bell pepper, small diced
1 large green bell pepper, small diced
3 cloves fresh garlic, minced
1 cup heavy cream
1 bunch green onions, thinly sliced
1 teaspoon Tony Cachere's or Cajun seasoning
Salt and black pepper, to taste
Directions
In a large pot or skillet, cook bacon pieces over medium-high heat until browned and crispy. Remove from pan with a slotted spoon and set aside.
Add the diced onion and bell peppers to the bacon grease and cook over medium heat 4-5 minutes until softened.
Add the minced garlic and cook for 2 minutes.
Add the cooked bacon, frozen corn, Tony Cachere's, and salt and pepper. Cook for 3-5 minutes until corn begins to warm.
Add the heavy cream and stir well to coat all the vegetables. Cover and bring the mixture to a low simmer. Continue cooking over medium-low heat until the cream begins to thicken – about 10 minutes.
Taste and add additional seasoning, as needed. Stir in the sliced green onions before serving.
---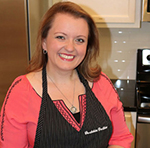 Kate Rudasill, Catering Coordinator for Brookshire Brothers, has been in the food-service industry for the past 14 years. As a graduate of Texas A&M University, a student of The Texas Culinary Academy, and a Nacogdoches, Texas native, Kate grew up with Southern tradition in her blood which caused her to have a deep love for bringing people together with food.