Tuesday February 12, 2019
Savory Slow-Cooked Pot Roast
While we're all about
surf and turf
for Valentine's Day, a classic pot roast is romantic in its own way as well—tender, comforting, and full of flavor. Treat your special someone to a night of sweet nostalgia with this simple and easy recipe. BONUS: Keep reading to find out how you can get most of the ingredients FREE as well with our latest Fast Feast!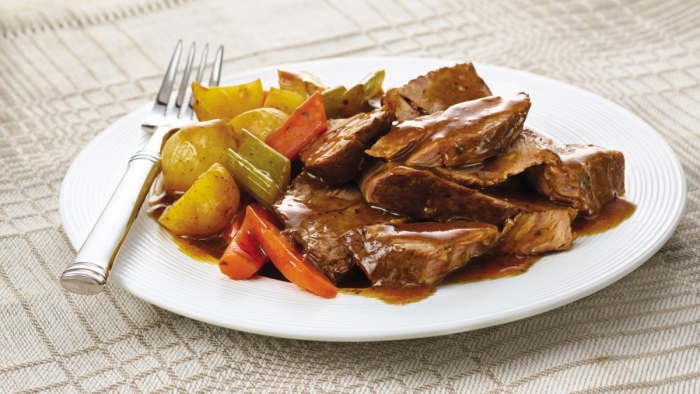 Savory Slow-Cooked Pot Roast
Prep: 10 min | Cook: 4 hrs | Yield: 10 servings | 297 calories
*Recipe courtesy of our vendor partner McCormick
Ingredients
2 1/2 to 3 pounds boneless chuck roast (for the richest taste) or boneless rump roast well-trimmed (for lower fat)

1 1/2 cups cut-up or baby carrots
1 1/2 cups cut-up potatoes 
1 cup cut-up celery 
1 cup cut-up onions 
1 package McCormick Slow Cookers Savory Pot Roast Seasoning*
1 to 1 1/2 cup water or beef broth
*Possible substitution:
2 (10.75-ounce) cans condensed cream of mushroom soup
1 (1-ounce) packet dry onion soup mix
 Serve with canned veggies, brown-n-serve rolls, and/or any other sides you enjoy! 
Directions 
Place beef and vegetables in slow cooker.
Mix pot roast seasoning mix and water (or broth) until blended. Pour over beef and vegetables. Cover. You can substitute the seasoning mix with the condensed soups and onion soup mix listed above. For this version, combine the condensed soups, onion soup mix, and water or broth. Follow all other directions as stated.
Cook 8 hours on LOW or 4 hours on HIGH. Remove roast and vegetables to serving platter. Stir sauce before serving.
---
But wait, there's MORE!!  
We've prepared a feast of savings perfect for this delicious dish—don't miss out!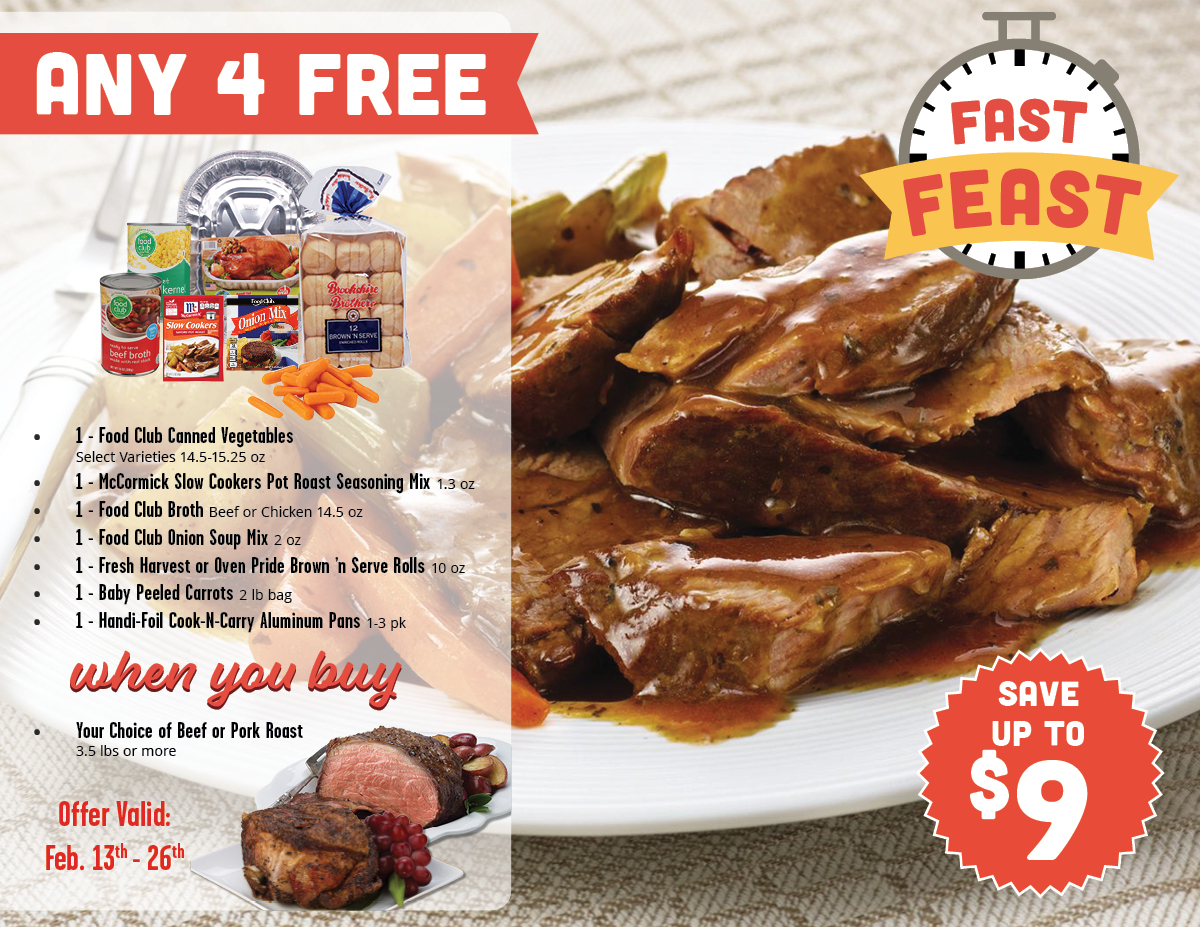 Fast Feast: Buy 1, CHOOSE ANY 4 FREE
February 13 through February 26, 2019
When you buy one (1) Beef or Pork Roast (3.5 lbs or more, your choice), you can choose any four of these foods 
FREE.
**NOTE: You can mix and match, or you can get four of the same free item. It's whatever combination you prefer!**
1 - Food Club Canned Vegetables (14.5-15.25 oz, select varieties)
1 - McCormick Slow Cookers Pot Roast Seasoning Mix (1.3 oz)
1 - Food Club Broth (14.5 oz, Beef or Chicken)
1 - Food Club Onion Soup Mix (2 oz)
1 - Fresh Harvest or Oven Pride Brown 'n Serve Rolls (10 oz)
1 - Baby Peeled Carrots (2 lb bag)
1 - Handi-Foil Cook-N-Carry Aluminum Pan (1-3 pk)
Save fast and feast big TODAY—
find a store near you
. Can't find one of these items? Talk to your local store director!
Tuesday February 13, 2018
Cooking with Kate: A Little Bit of Love, A Whole Lot of Yummy
Surf and Turf Dinner Menu: Two Easy Side Dish Recipes
If you are cooking dinner for your significant other or a gathering with friends, here are two great recipes that will make your Valentine's Day celebration extra special. These quick and easy side dishes pair perfectly with grilled steaks and sautéed shrimp for an unforgettable meal.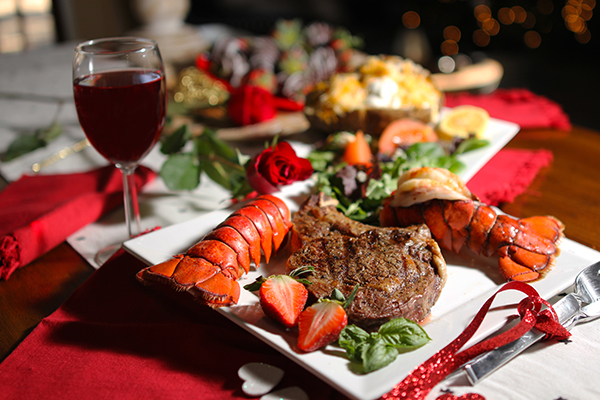 Quick Bacon-Wrapped Green Bean Bundles
Ingredients
1 ½ pounds fresh or frozen whole green beans
6-10 slices uncooked thick-sliced bacon, cut in half
1 tablespoon brown sugar
½ tablespoon Worcestershire sauce
½ teaspoon garlic powder
salt and pepper to taste
Directions
Preheat oven to 375 degrees. Lay bacon strips on a baking sheet and bake in the preheated oven for 10 minutes. Remove from oven (bacon will not be fully cooked!)
For fresh green beans: trim off the ends and wash the beans. Bring a large pot of water to a boil. Add green beans and cook 3 minutes until tender crisp. Immediately remove the beans from boiling water and place in a bowl of ice water to stop cooking. Drain well and blot dry with a kitchen or paper towel. For frozen green beans, proceed straight to the next step.
Wrap ½ slice of bacon around 6-8 green beans, secure with a toothpick and place on a parchment lined pan. Repeat with remaining bacon slices and green beans. In a small bowl, mix brown sugar, Worcestershire sauce, garlic powder, salt and pepper. Brush mixture evenly over each bundle. Roast in preheated oven for 20-22 minutes or until bacon is crisp and beans are lightly roasted. Keep warm to serve.
Cajun Corn Maque Choux
Ingredients
32 oz fresh or frozen sweet corn kernels
½ pound uncooked bacon, cut into ½" pieces
1 large sweet onion, small diced
1 large red bell pepper, small diced
1 large green bell pepper, small diced
3 cloves fresh garlic, minced
1 cup heavy cream
1 bunch green onions, thinly sliced
1 teaspoon Tony Cachere's or Cajun seasoning
Salt and black pepper, to taste
Directions
In a large pot or skillet, cook bacon pieces over medium-high heat until browned and crispy. Remove from pan with a slotted spoon and set aside.
Add the diced onion and bell peppers to the bacon grease and cook over medium heat 4-5 minutes until softened.
Add the minced garlic and cook for 2 minutes.
Add the cooked bacon, frozen corn, Tony Cachere's, and salt and pepper. Cook for 3-5 minutes until corn begins to warm.
Add the heavy cream and stir well to coat all the vegetables. Cover and bring the mixture to a low simmer. Continue cooking over medium-low heat until the cream begins to thicken – about 10 minutes.
Taste and add additional seasoning, as needed. Stir in the sliced green onions before serving.
---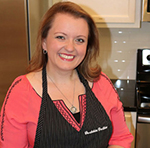 Kate Rudasill, Catering Coordinator for Brookshire Brothers, has been in the food-service industry for the past 14 years. As a graduate of Texas A&M University, a student of The Texas Culinary Academy, and a Nacogdoches, Texas native, Kate grew up with Southern tradition in her blood which caused her to have a deep love for bringing people together with food.
Friday February 3, 2017
Valentine Chocolate Covered Strawberries
You may have heard about, or even tasted, our famous Chocolate Covered Strawberries!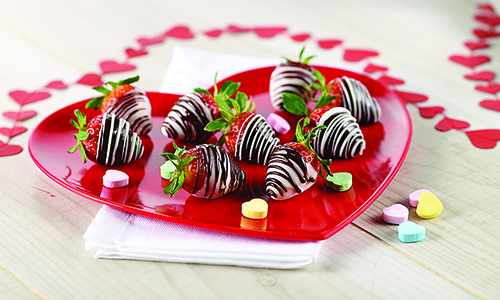 These delicious berries will be the highlight of your Valentine's Day. Take the worry out of gift ideas and treat your sweetheart! Pick from 6 or 12 ct, and choose your choice of chocolate, white chocolate or mixed chocolate. You can pre-order yours today by printing the form below and returning to your local Bakery Department or Store Management. 
Click here to download your order form!
*Some varieties may not be available in all locations. See store for exclusions.