Tuesday February 12, 2019
Savory Slow-Cooked Pot Roast
While we're all about
surf and turf
for Valentine's Day, a classic pot roast is romantic in its own way as well—tender, comforting, and full of flavor. Treat your special someone to a night of sweet nostalgia with this simple and easy recipe. BONUS: Keep reading to find out how you can get most of the ingredients FREE as well with our latest Fast Feast!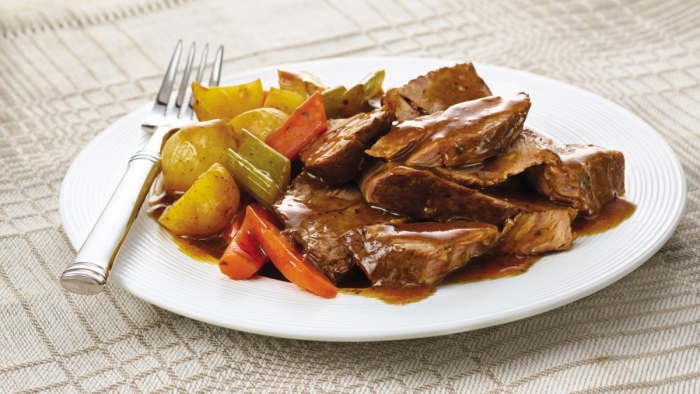 Savory Slow-Cooked Pot Roast
Prep: 10 min | Cook: 4 hrs | Yield: 10 servings | 297 calories
*Recipe courtesy of our vendor partner McCormick
Ingredients
2 1/2 to 3 pounds boneless chuck roast (for the richest taste) or boneless rump roast well-trimmed (for lower fat)

1 1/2 cups cut-up or baby carrots
1 1/2 cups cut-up potatoes 
1 cup cut-up celery 
1 cup cut-up onions 
1 package McCormick Slow Cookers Savory Pot Roast Seasoning*
1 to 1 1/2 cup water or beef broth
*Possible substitution:
2 (10.75-ounce) cans condensed cream of mushroom soup
1 (1-ounce) packet dry onion soup mix
 Serve with canned veggies, brown-n-serve rolls, and/or any other sides you enjoy! 
Directions 
Place beef and vegetables in slow cooker.
Mix pot roast seasoning mix and water (or broth) until blended. Pour over beef and vegetables. Cover. You can substitute the seasoning mix with the condensed soups and onion soup mix listed above. For this version, combine the condensed soups, onion soup mix, and water or broth. Follow all other directions as stated.
Cook 8 hours on LOW or 4 hours on HIGH. Remove roast and vegetables to serving platter. Stir sauce before serving.
---
But wait, there's MORE!!  
We've prepared a feast of savings perfect for this delicious dish—don't miss out!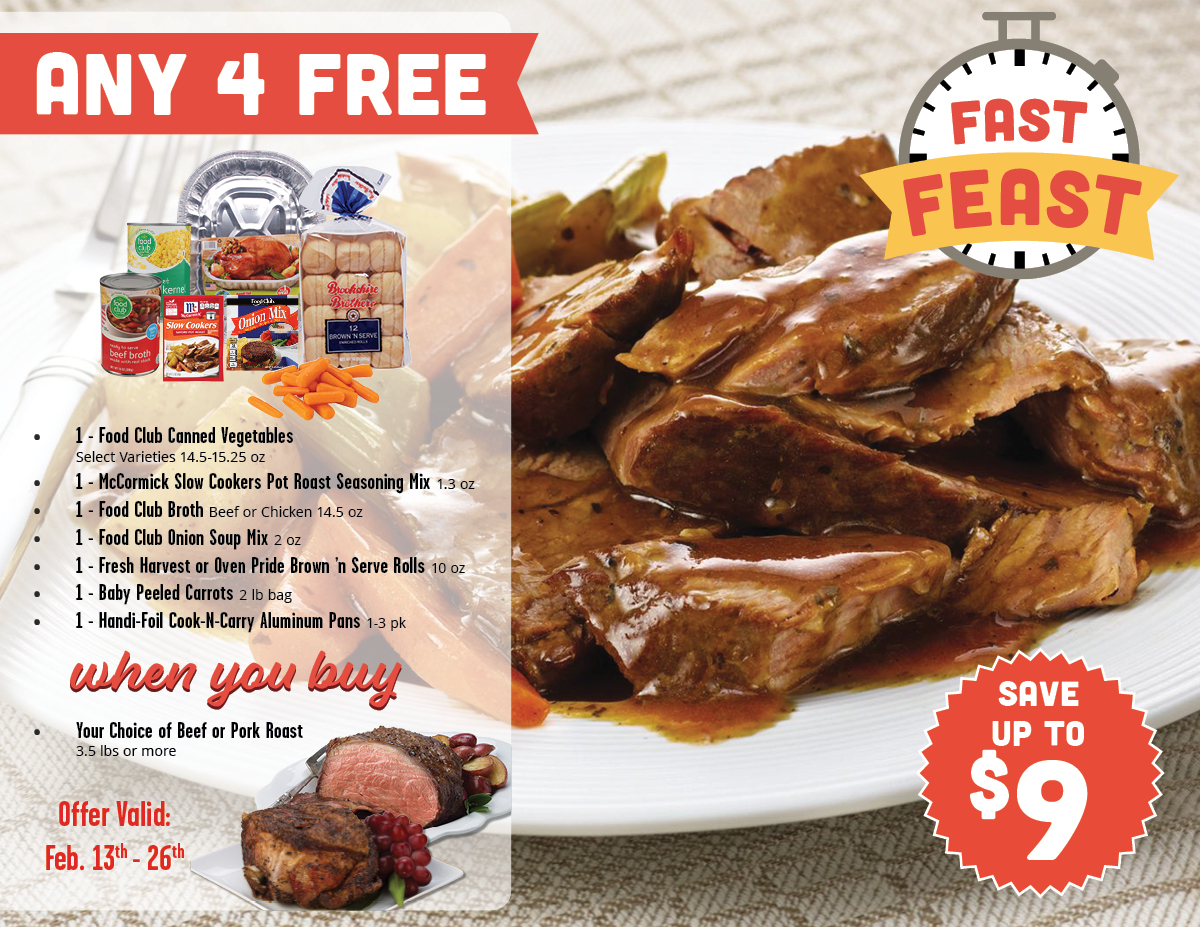 Fast Feast: Buy 1, CHOOSE ANY 4 FREE
February 13 through February 26, 2019
When you buy one (1) Beef or Pork Roast (3.5 lbs or more, your choice), you can choose any four of these foods 
FREE.
**NOTE: You can mix and match, or you can get four of the same free item. It's whatever combination you prefer!**
1 - Food Club Canned Vegetables (14.5-15.25 oz, select varieties)
1 - McCormick Slow Cookers Pot Roast Seasoning Mix (1.3 oz)
1 - Food Club Broth (14.5 oz, Beef or Chicken)
1 - Food Club Onion Soup Mix (2 oz)
1 - Fresh Harvest or Oven Pride Brown 'n Serve Rolls (10 oz)
1 - Baby Peeled Carrots (2 lb bag)
1 - Handi-Foil Cook-N-Carry Aluminum Pan (1-3 pk)
Save fast and feast big TODAY—
find a store near you
. Can't find one of these items? Talk to your local store director!
Tuesday February 13, 2018
Cooking with Kate: A Little Bit of Love, A Whole Lot of Yummy
Surf and Turf Dinner Menu: Two Easy Side Dish Recipes
If you are cooking dinner for your significant other or a gathering with friends, here are two great recipes that will make your Valentine's Day celebration extra special. These quick and easy side dishes pair perfectly with grilled steaks and sautéed shrimp for an unforgettable meal.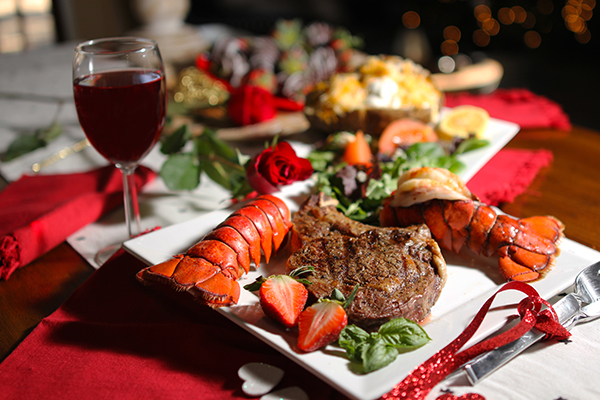 Quick Bacon-Wrapped Green Bean Bundles
Ingredients
1 ½ pounds fresh or frozen whole green beans
6-10 slices uncooked thick-sliced bacon, cut in half
1 tablespoon brown sugar
½ tablespoon Worcestershire sauce
½ teaspoon garlic powder
salt and pepper to taste
Directions
Preheat oven to 375 degrees. Lay bacon strips on a baking sheet and bake in the preheated oven for 10 minutes. Remove from oven (bacon will not be fully cooked!)
For fresh green beans: trim off the ends and wash the beans. Bring a large pot of water to a boil. Add green beans and cook 3 minutes until tender crisp. Immediately remove the beans from boiling water and place in a bowl of ice water to stop cooking. Drain well and blot dry with a kitchen or paper towel. For frozen green beans, proceed straight to the next step.
Wrap ½ slice of bacon around 6-8 green beans, secure with a toothpick and place on a parchment lined pan. Repeat with remaining bacon slices and green beans. In a small bowl, mix brown sugar, Worcestershire sauce, garlic powder, salt and pepper. Brush mixture evenly over each bundle. Roast in preheated oven for 20-22 minutes or until bacon is crisp and beans are lightly roasted. Keep warm to serve.
Cajun Corn Maque Choux
Ingredients
32 oz fresh or frozen sweet corn kernels
½ pound uncooked bacon, cut into ½" pieces
1 large sweet onion, small diced
1 large red bell pepper, small diced
1 large green bell pepper, small diced
3 cloves fresh garlic, minced
1 cup heavy cream
1 bunch green onions, thinly sliced
1 teaspoon Tony Cachere's or Cajun seasoning
Salt and black pepper, to taste
Directions
In a large pot or skillet, cook bacon pieces over medium-high heat until browned and crispy. Remove from pan with a slotted spoon and set aside.
Add the diced onion and bell peppers to the bacon grease and cook over medium heat 4-5 minutes until softened.
Add the minced garlic and cook for 2 minutes.
Add the cooked bacon, frozen corn, Tony Cachere's, and salt and pepper. Cook for 3-5 minutes until corn begins to warm.
Add the heavy cream and stir well to coat all the vegetables. Cover and bring the mixture to a low simmer. Continue cooking over medium-low heat until the cream begins to thicken – about 10 minutes.
Taste and add additional seasoning, as needed. Stir in the sliced green onions before serving.
---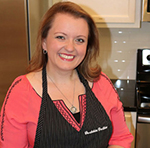 Kate Rudasill, Catering Coordinator for Brookshire Brothers, has been in the food-service industry for the past 14 years. As a graduate of Texas A&M University, a student of The Texas Culinary Academy, and a Nacogdoches, Texas native, Kate grew up with Southern tradition in her blood which caused her to have a deep love for bringing people together with food.
Tuesday February 7, 2017
Life is Like a Box of Chocolates
February often brings boxes of mystery chocolates and other treats that break the monotony of winter. Sweet treats are fun, and no one avoids them completely (despite those still-fresh New Year's resolutions). So how can sweets fit into a healthy diet and not wreck it?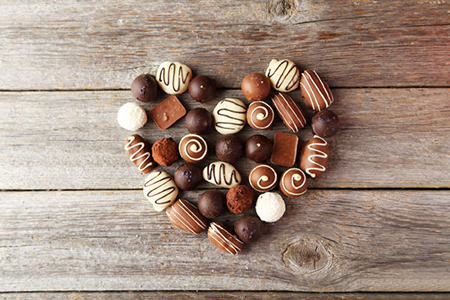 1. To start, choose sweets that are less junky than others. There are many ways to substitute your sweet tooth, but one way is to avoid hydrogenated oils. So what's so bad about them? They are made through a chemical process where hydrogen is blasted on vegetable oils to make them more shelf-stable, but they are completely artificial and not found in nature. So flip over your treats and other foods before you buy and look for "hydrogenated" anywhere on the ingredient list; if you see it, put that product back and look for another option.
Luckily, different brands and food manufacturers make similar foods without hydrogenated oils, so there are better options for most things. Examples of choices without hydrogenated oils are Reese's peanut butter cups, most truffles, and plain (unfilled chocolates). These are just a few that I've tried out, but it's a good idea to check the label of any product if you are unsure. Your local Brookshire Brothers store has plenty of high quality options to choose from to find an option that works for you. 
2. The second way to make treats better is to choose chocolate over other types of candy. What you hear about chocolate is true — it does have antioxidants that bring some health benefits, but remember that chocolate also has sugar, so keep a cap on the total amount you eat each day.
3. And, finally, keep tabs on your sweets intake by setting limits for yourself. Decide in advance how much you will eat rather than indulging mindlessly. For instance, decide to eat no more than three or four pieces of chocolate a day and leave the wrappers there as a visual reminder of how many you've had. We all know it's easy to lose track of that whole bag of chocolate. Setting limits also encourages you to savor every bite, so you can eat less and enjoy what you eat more.
Remember, life is like a box of chocolates — you never really know what you're going to get. So don't waste your life on the kind of chocolates that will make it shorter. Indulge your sweet tooth this month, but keep hydrogenated oils out, choose chocolate over other sweets, keep tabs on how much you eat to keep those New Year's resolutions going strong, and finally, savor every last bite.
Angela Larson is a registered dietitian (RD) who works with Brookshire Brothers promoting real fresh, real delicious healthy foods and providing nutrition education to the community. She is also a clinical dietitian representing Woodland Heights Medical Center in Lufkin where she does community education on food and nutrition. Food is her passion, so Angela loves trying new recipes and exploring the more holistic side of nutrition. Angela loves to cook, garden, and spend time outdoors. Look for Angela's monthly articles in Charm East Texas.  
Friday February 3, 2017
Valentine Chocolate Covered Strawberries
You may have heard about, or even tasted, our famous Chocolate Covered Strawberries!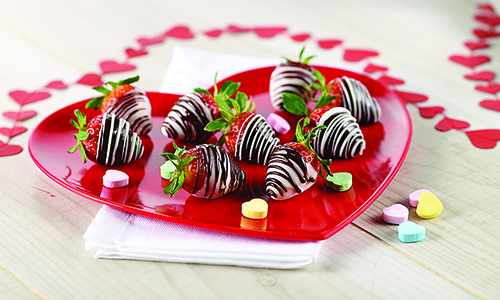 These delicious berries will be the highlight of your Valentine's Day. Take the worry out of gift ideas and treat your sweetheart! Pick from 6 or 12 ct, and choose your choice of chocolate, white chocolate or mixed chocolate. You can pre-order yours today by printing the form below and returning to your local Bakery Department or Store Management. 
Click here to download your order form!
*Some varieties may not be available in all locations. See store for exclusions.
Tuesday February 9, 2016
How to Get Cozy with Your Special Someone
Valentine's Day Shopping can be frightful, but getting cozy with your S.O. can be oh-so-delightful! If you find yourself empty-handed on Valentine's Day, heat things up on your own terms with these sizzling ways to warm their heart.
Build a Blanket Fort
When is the last time you've done something this fun and carefree? Go all out with mountains of blankets and plush pillows to create your own cuddle-worthy hideaway. If you really want to go the extra step, take candles with you and create a warm and cozy space to treat both of you!
Steamy Bubble Bath
Take a dip together in a piping hot bath drawn with calming bubbles and plenty of mood-setting candles. Don't forget to throw in some equally mood-setting Ménage à Trois Silk!
Wine & Dine
We've all heard the quickest way to a man's heart is through his stomach, but it doesn't stop with the men! Everyone likes to feel special with a homecooked meal and a nice glass of wine. 
Never underestimate the power of a simple, but thoughtful Valentine's Day celebration!