Submitted by
Angela Larson - Dietitian
on Monday, November 21, 2016
I love Thanksgiving. It's truly a holiday focused on love of family, friends, and country. I've recently been reading about the hardships the original Pilgrims faced, of which they certainly had their fair share. Yet, they were also exceedingly thankful for the simplest things like health, shelter, vitality, and good food.

We don't face the same hardships, so at times it can be easy to take even these simplest things for granted. What a tremendous blessing that we don't have to hunt and plant our food. Instead we have a plethora of delicious and healthy things to choose from in your local Brookshire Brothers Produce Department. After all Thanksgiving is not just about the food, it's about the people that you get to spend it with.

A Thanksgiving feast is meant to bring families together to celebrate what is really important – love and gratitude for one another. So today, I'd like to share my love of all things brussels sprouts (don't roll your eyes). They are delicious, and I promise they don't taste like they smell! When you roast them at a high temperature, the smell dissipates and what is left is a wonderful caramelized bite of happiness.

Brussels sprouts are one of the most delicious and savory vegetables around, and they deserve a place on your Thanksgiving table. As an added bonus, brussels sprouts are cruciferous vegetables, meaning they are antioxidant rich, cancer-fighting ninja veggies. They're high in vitamin C, B, and K, as well as a good source of folate and fiber.
Give this recipe a try and may your Thanksgiving be filled with deliciousness, love, laughter, family, and a grateful heart for the abundance of blessings God has so graciously bestowed upon us. Happy Thanksgiving!
Roasted Brussels Sprouts with Bacon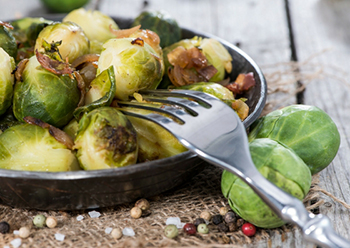 Ingredients
- 2 lbs Brussels sprouts, trimmed and halved
- 2 Tbs olive oil
- 2 tsp water
- Salt and pepper
- 3 slices bacon, cooked and chopped fine
Instructions
Adjust oven rack to middle position. Heat oven to 500 degrees. Line baking sheet with aluminum foil for easy clean-up. Toss Brussels sprouts with olive oil, water, ½ teaspoon of salt, and ¼ teaspoon of black pepper on baking sheet. Spread out Brussels sprouts in a single layer with cut side facing down. Cover baking sheet tightly with aluminum foil and roast for 10 minutes. After 10 minutes, remove foil and continue cook an additional 10 minutes until sprouts are tender and browned. Toss with chopped bacon and season to taste with additional salt and pepper. Serve.
Note: An optional ingredient is chopped toasted pecans.
Angela Larson is a registered dietitian (RD) who works with Brookshire Brothers promoting real fresh, real delicious healthy foods and providing nutrition education to the community. She is also a clinical dietitian representing Woodland Heights Medical Center in Lufkin where she does community education on food and nutrition. Food is her passion, so Angela loves trying new recipes and exploring the more holistic side of nutrition. Angela loves to cook, garden, and spend time outdoors. Look for Angela's monthly articles in Charm East Texas.