Tuesday December 18, 2018
Mrs. Lynne's Famous Holiday Party Punch
This holiday, we are delighted to feature Mrs. Lynne Haney with Lufkin Coca-Cola and her famous Holiday Party Punch. Simple to make and spectacular to taste, this punch is everything you and your favorite folks needs for a holiday get-together. Trust us, you'll be thanking Mrs. Lynne later!
Lufkin Coca-Cola has always been one of our favorite companies to collaborate with because our stories and values have grown from the same rich Texas roots. We both began as family-owned companies in the early 1900's and care deeply about our local communities. What an honor it is to live and work alongside another local business always seeking better growth for our community!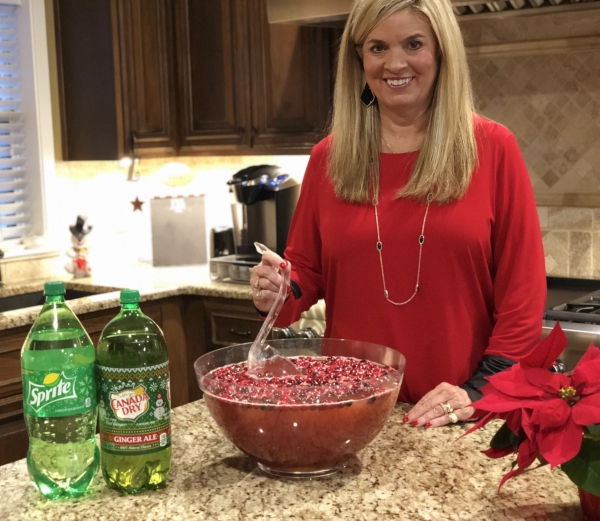 And oh by golly,
DON'T FORGET
: The deals are coming down like confetti this week, one of which is PERFECT for this recipe!
Coca-Cola and Dr Pepper products (2 liter bottles) are $0.88,* now through January 1.**
THAT'S RIGHT, you better check your RSVP list twice—you might need to double down on this great deal!! 
*When you buy 5
**Offer valid at these participating stores: Groveton, Trinity, Apple Springs, Corrigan, Diboll, Huntington, Pollok, Wells, Zavalla, Livingston, Onalaska, and all Lufkin locations.
Mrs. Lynne's Famous Holiday Party Punch
This recipe is wonderful for any occasion but we especially love it during the holidays! So easy, so yummy, such a great compliment to your holiday party!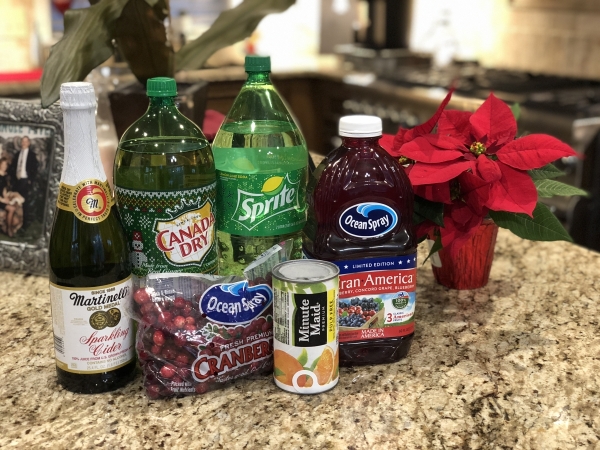 INGREDIENTS
One 2 liter bottle of Sprite, chilled
One 2 liter bottle of Ginger Ale, chilled
25 ounces (one bottle) Sparkling Cider, chilled
12 ounces Frozen Orange Juice Concentrate, slightly thawed
64 ounces (one bottle) Cranberry Juice, chilled
Fresh Cranberries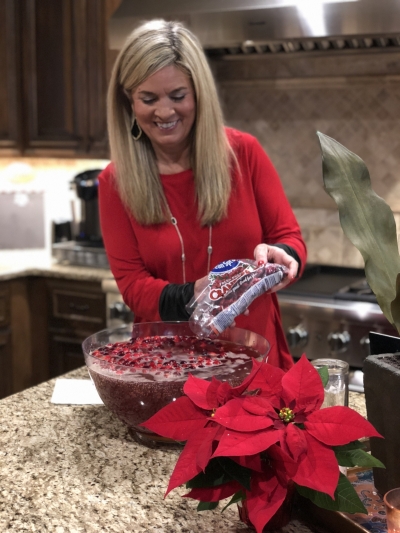 DIRECTIONS
Combine all ingredients together, stir… and serve! ENJOY!
PRO TIPS
Serves approximately 35 one-cup servings. Depending on party size, you may want to double or triple the recipe. When determining amount to make, take into consideration the size of your cups, and keep in mind that guests may want seconds (or even thirds).
If you would like your party punch to have a little more "punch", add champagne!
Tuesday February 6, 2018
Lent: A Time for Mindfulness
The forty days of Lent are a time of reflection, fasting, and prayer in preparation for the celebration of Easter. Many who participate in Lent choose to fast from certain things, typically personal vices. Here are a few ideas on what you can give up (or take on) so that your time is purposeful, meditative, and constructive.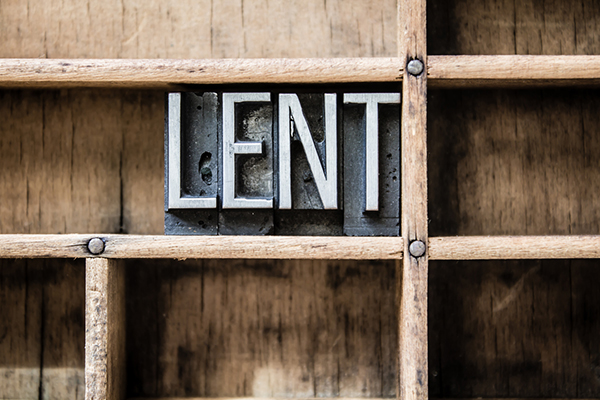 TECHNOLOGY
Taking a rest from social media is a great way to improve mindfulness and well-being—particularly while eating.  When you avoid screen time and other distractions, you can fully engage and enjoy the company of who you're with, whether it's friends, family, or others. If eating alone, you might find yourself appreciating the subtlest of sensory inputs from what you're eating—taste, smell, texture, appearance, even the sounds made while chewing—without the distraction of technology.
SWEETS
Sweets are another popular choice to give up during Lent. Whether you sacrifice soda, added sugars, or sweets in general, just the exercise of giving up sweets can show you how often you are tempted to indulge. For the best chance at success, have a plan in place when cravings strike. One classic strategy is to drink a glass of water, which comes from the fact that dehydration triggers snack cravings. Keeping 
fresh fruit
handy is another great alternative.
SNACKING
Snacking mindlessly can be a problem if it leads to excess calorie intake, plus many snack foods can be full of empty calories without any intrinsic nutritional benefit. Consider limiting your snacks to one purposefully planned snack each day. Pick a time for your snack—such as mid-morning or mid-afternoon—as well as a choice with nutritional quality, such as nuts, seeds, fruit, cheese, popcorn, or dried veggie products.
Read more: Here's 20+ ideas for mixing up a healthy snack with cottage cheese
SLEEP
Making wise choices to improve sleep habits is another excellent way to spend the Lenten season.  An earlier bedtime can lead to better sleep, in addition to more time for meditation and morning walks.
Did you know poor sleep can lead to obesity, diabetes, heart disease, and more? Find out more about healthy habits and why they're so important
NATURE
Make a commitment to spend some time outdoors every day. Whether it's a walk, a picnic, a trip to the park, or work in the garden, being outdoors is a great time for reflection while simultaneously enjoying the benefits of fresh air, increased movement, and even vitamin D production from the sunshine on your skin.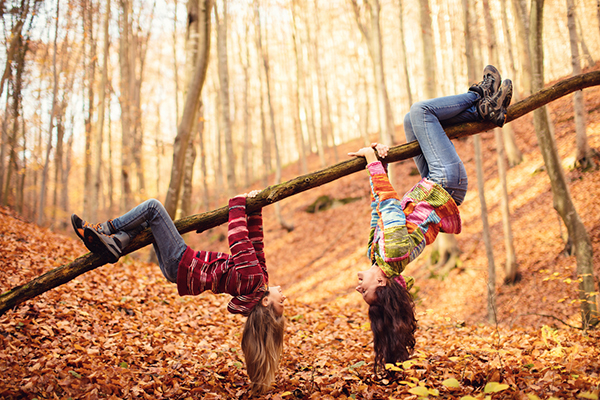 FISH ON FRIDAY
If you're taking the more traditional "fish on Friday" path for Lent—in other words, a meatless forty days except for seafood on Fridays—plan wisely to make sure your diet is rich in the nutrients you might be missing out on.  Choose nutritious starches with plenty of protein such as beans, peas, Lentils, and quinoa. Eggs and dairy are also nutrient dense foods helpful with balancing the diet and providing protein. With your Friday seafood, be sure to choose a variety of selections to meet all your nutritional needs and alleviate boredom. 
Your neighborhood Brookshire Brothers
has a great selection of fresh, frozen, and packaged seafood options.
---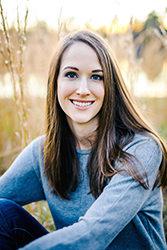 Angela Larson is a registered dietitian (RD) who works with Brookshire Brothers promoting 
real fresh, real delicious
 foods and nutrition education to the community. She is also a clinical dietitian representing Woodland Heights Medical Center in Lufkin where she does outreach education on food and nutrition. Food is her passion, so Angela loves trying new recipes and exploring the more holistic side of nutrition. Angela loves to cook, garden, and spend time outdoors. In addition to the 
Brookshire Brothers blog
, look for Angela's monthly articles in Charm East Texas. 
Tuesday November 28, 2017
Thanksgiving may be over but the leftovers are not...
Cooking with Kate: Quick and Easy Thanksgiving Leftover Recipes
Thanksgiving may be over, but that leftover turkey is probably still taking up valuable space in your fridge or freezer. Make room for Christmas baking and party food prep by putting your Thanksgiving favorites to good use with these two easy recipes. Even those who are tired of turkey will chow down on these dishes!
Quick Turkey Chowder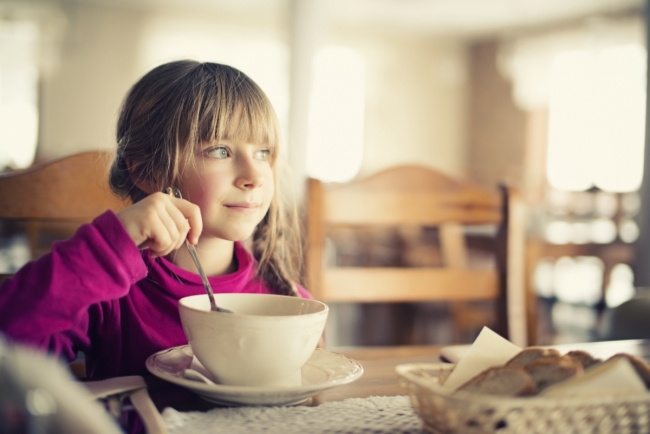 Serving size: 1 cup | Yield: 8 servings
Ingredients
1 cup green onion, thinly sliced
1 cup celery, thinly sliced
4 tablespoons butter
2 (10.5 oz) cans condensed cream of potato soup
2 (16.5 oz) cans cream-style corn
2 cups turkey or chicken stock (not broth)
½ teaspoon nutmeg
Salt and pepper, to taste
2 cups cooked turkey, ½ inch pieces
2 tablespoons fresh parsley, minced
Directions
In a large pot over medium-high heat, sauté green onion and celery in butter until celery is almost tender.
Add potato soup, corn, turkey or chicken stock, and nutmeg. Season generously with salt and black pepper.
Stirring constantly, bring to a gentle boil. Reduce heat to low and add turkey and parsley.
Simmer for 5-10 minutes or until turkey is heated through.
Read more: Get the full scoop on how to prepare this soup as a freezer meal. It's quite the rewarding weekend project!
Loaded Mashed Potato Cakes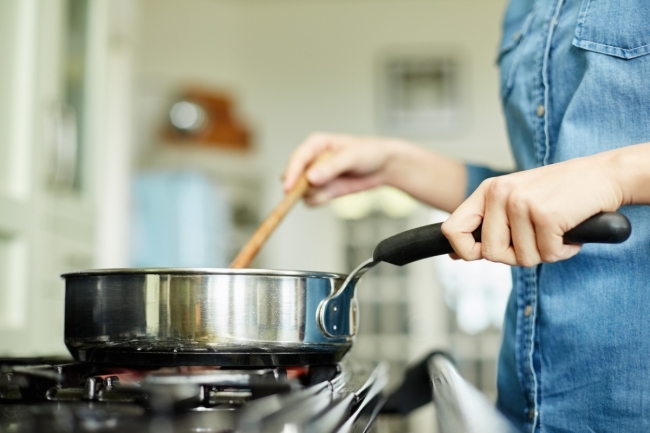 Ingredients
2 cups cold mashed potatoes
1 cup shredded cheese (cheddar or pepper jack)
½ cup flour
6 strips bacon - 
Check out our special prices on Wright Bacon in this week's ad!
1 bunch green onion, thinly sliced – white and green divided
2 cloves garlic, minced
1 teaspoon salt
½ teaspoon pepper
2 tablespoon fresh parsley , minced
2 eggs
4 tablespoons butter
Read more: These cakes can be a GREAT party appetizer. Don't forget to also visit our deli for other great appetizers and holiday deli trays!
Directions
In a skillet, cook the bacon until crispy and drain on a paper towel until cool. Crumble into small bits. Place the bacon bits into a large bowl. Pour off all but 2 tablespoons of bacon grease from the frying pan and cook the garlic and white parts of the green onion over medium heat until translucent. Add garlic and onions to the bacon along with mashed potatoes, cheese, flour, green onions, spices, parsley, and eggs. Blend well with a spoon or your hands; the mixture will be thick and sticky.

Wash and dry your frying pan, then melt 1 tablespoon of butter over medium heat.

Scoop up about ¼ cup of the potato mixture and form it into a ball. Place it in the hot pan, flattening it out until it is ½ – ¾″ thick. Fry for about 3 minutes on each side, until they are lightly golden brown.

For best results, serve immediately, while hot and crispy, with sliced green onions, sour cream, or ketchup.
---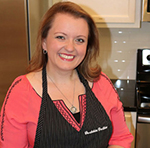 Kate Rudasill, Catering Coordinator for Brookshire Brothers, has been in the food-service industry for the past 14 years. As a graduate of Texas A&M University, a student of The Texas Culinary Academy, and a Nacogdoches, Texas native, Kate grew up with Southern tradition in her blood which caused her to have a deep love for bringing people together with food.
Monday November 13, 2017
Thanksgiving: The Make-Ahead Menu
There are four things you never want to be late for: weddings, funerals, airplane flights, and—you called it—Thanksgiving dinner. Being early for Thanksgiving—particularly if you're a contributing chef—is key to a healthy, happy holiday for everyone. Here are three recipes based on classic Thanksgiving dishes to help you get a jump-start on the ultimate feast, whether you're a host or honorary guest.
Make-Ahead Baked Sweet Potatoes
(Recipe courtesy of our valued vendor partner Betty Crocker)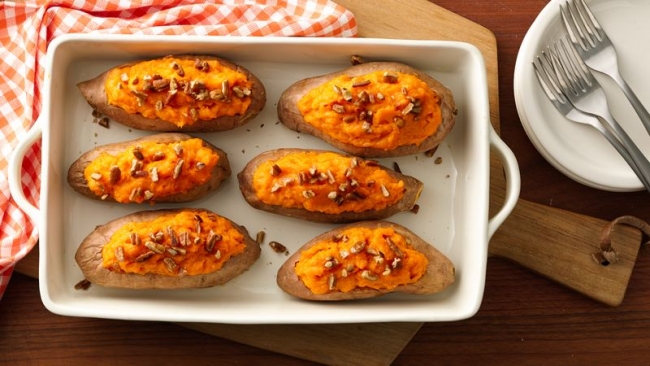 This healthy side dish only takes 15 minutes to prepare—and it keeps well for up to 24 hours! Who knew saving time could taste so delicious?
Read more: Another great option is this
crock-pot recipe
for a sweet potato casserole!
Ingredients
6 medium sweet potatoes (2¼ pounds)
2 tablespoons packed brown sugar
2 tablespoons butter or margarine, softened
Directions
Heat oven to 375ºF. Pierce sweet potatoes with fork to allow steam to escape. Bake about 45 minutes or until tender.
Cut thin lengthwise slice from each potato; carefully scoop out inside of potato, leaving a thin shell. Mash potatoes in a large bowl until no lumps remain. Beat in sour cream and milk. Beat in brown sugar, butter, and salt until potatoes are light and fluffy.
Place shells in ungreased rectangular baking dish, 13x9x2 inches. Fill shells with potato mixture. Cover and refrigerate no longer than 24 hours.
Heat oven to 400ºF. Bake uncovered about 25 minutes or until potato mixture is golden brown. If baking filled shells immediately after mashing potatoes, bake about 20 minutes.
---
Slow-Cooker Chive-and-Onion Creamed Corn
(Recipe courtesy of our valued vendor partner Betty Crocker)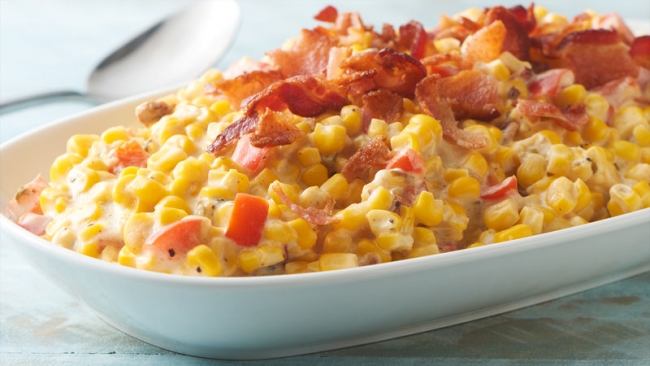 Keep things worry-free with this comforting side dish that's crock-pot easy and bursting with sweet flavor.
Ingredients
Slow Cooker Liners
4 slices bacon
4½ cups frozen whole kernel corn (from two 1-lb bags), thawed
½ medium red bell pepper, chopped (½ cup)
½ cup milk
¼ cup butter or margarine, melted
1 teaspoon sugar
½ teaspoon salt
⅛ teaspoon pepper
1 container (8 oz) reduced-fat chive-and-onion cream cheese
Directions
Place a slow cooker liner inside a 5 to 6½ quart slow cooker bowl. Make sure that the liner fits snugly against the bottom and sides of the bowl, and pull the top of the liner over the rim of the bowl.
In a 12 inch nonstick skillet, cook bacon over medium-high heat, turning occasionally, until crisp. Drain on paper towels. Crumble bacon.
Mix corn, bell pepper, milk, butter, sugar, salt, pepper and half of the bacon in the cooker. Refrigerate the remaining bacon.
Cover and cook on a High heat setting for 2 to 2 ½ hours.
Stir in cream cheese. Cook on a High heat setting for 10 more minutes. Stir well and then sprinkle with remaining bacon. Corn can be kept warm on a Low heat setting for up to 1 hour.
---
Layered Pumpkin Cheesecake
(Recipe courtesy of our valued vendor partner Betty Crocker)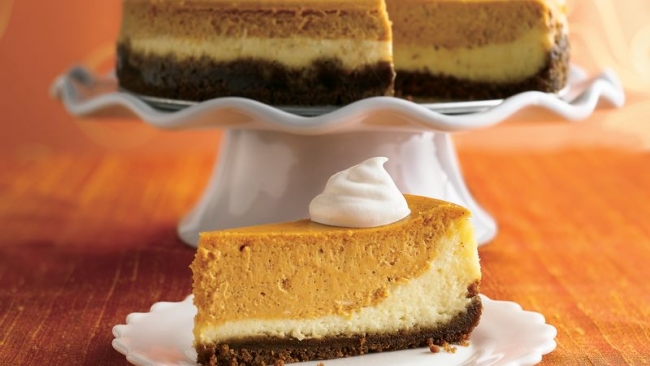 This highly-rated cheesecake recipe doubles the flavor with a layer of classic vanilla stacked with a layer of spiced-up pumpkin. Make it up to 24 hours ahead of your Thanksgiving get-together!
Ingredients
2 cups gingersnap cookie crumbs
¼ cup butter or margarine, melted
CHEESECAKE
4 packages (8 oz each) cream cheese, softened
1 cup canned pumpkin (not pumpkin pie mix)
1½ teaspoons ground ginger
1 teaspoon ground cinnamon
Directions
Heat oven to 300°F. Grease 9-inch springform pan with shortening or cooking spray. Wrap foil around pan to catch drips. In a small bowl, mix cookie crumbs and butter. Press crumb mixture in bottom and 1 inch up the side of the pan. Bake 8 to 10 minutes or until set. Cool 5 minutes.
In a large bowl, beat cream cheese with electric mixer on medium speed until just smooth and creamy;

do not overbeat

. On low speed, gradually beat in sugar. On low speed, beat in eggs, one at a time, until just blended. Spoon 3 cups of the cream cheese mixture into pan; spread evenly.
Stir pumpkin, ginger, cinnamon, and nutmeg into remaining cream cheese mixture; mix with wire whisk until smooth. Spoon over mixture in pan.
Bake 1 hour 25 minutes to 1 hour 30 minutes or until edges are set but center of cheesecake still jiggles slightly when moved.
Turn oven off; open oven door at least 4 inches. Leave cheesecake in oven 30 minutes longer. Remove from oven; place on cooling rack. Without releasing the side of the pan, run knife around edge of pan to loosen cheesecake. Cool in pan on cooling rack for 30 minutes. Cover loosely; refrigerate at least 6 hours but no longer than 24 hours.
Run knife around the edge of the pan to loosen cheesecake again; carefully remove the side of the pan. Place cheesecake on serving plate. Store cheesecake covered in refrigerator.
Monday November 28, 2016
Holiday Traditions
Now that Thanksgiving has passed, it seems like our December calendar is filling up quickly! Between Christmas parties, school programs, Secret Santa drawings, parades, bake sales, and gift-buying, when do you have time to start a tradition? We've asked our employee partners to share their favorite Holiday Traditions, and we hope you'll feel inspired to continue or start a new tradition of your own. Merry Christmas and Happy Holidays!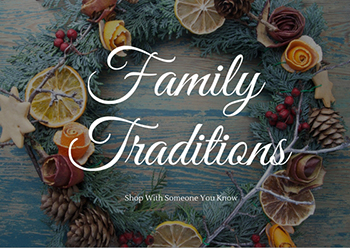 "Our family participates in the annual Lufkin Community Food Drive every year. It's something my girls, both now in college, look forward to every year. We help box the food, deliver it…the whole nine yards. I'm so glad we're able to do it as a family each year."
                                                                         Sally Alvis, Senior Director of Marketing and Public Relations
"Sharing the holiday with family is tradition enough, but we do have a few things we look forward to each year. My wife and I pick out the ugliest Christmas ornaments we can find and hang it on the tree. We've gotten so many now and it's so fun decorating the tree and retelling all the stories. We also attend a Christmas candlelight service at our church every year."
                                                                                                        Doug Barnett, Marketing and Procurement
"We have a few traditions in our house – We always have a Lego Advent calendar and we take turns who builds the item for the day, attend the midnight Mass on Christmas morning, and have a nativity scene that we do not complete until Christmas morning when we place baby Jesus in the manger. We also cook sausage balls, empanadas (fried meat pies) and banana pudding along with getting a 6-pack of glass coke bottles because it is essential to our Christmas celebration!"
                                                                         Corry Lankford, Graphic Designer/Store Signage Coordinator
"Our family traditions are long-standing and long-winded! Just to name a few, we take an annual Girls Christmas Shopping Trip, with my extended family, the first weekend of December. We try to knock out as many gifts as we can, while spending some much needed time together. With my husband and kids, we get into the Christmas spirit when we decorate our tree with themed ornaments from every year while listening to Christmas music. Finally, making Christmas candy is always a fun tradition with my mom and sisters."
                                                                                             Angela Gandy, Digital Media Associate/Copywriter
"The Lowther family always watches National Lampoon's Christmas Vacation on Christmas Eve, helps Mom make fudge and pumpkin bread, gets commemorative Christmas ornaments for each year, and eats Mexican food on Christmas Day."
                                                                                                          Adam Lowther, Public Relations Associate

Get great recipe ideas here to start your own tradition this Holiday Season!
Monday November 21, 2016
Thanksgiving, Pilgrims, and Brussels Sprouts
I love Thanksgiving. It's truly a holiday focused on love of family, friends, and country. I've recently been reading about the hardships the original Pilgrims faced, of which they certainly had their fair share. Yet, they were also exceedingly thankful for the simplest things like health, shelter, vitality, and good food.
We don't face the same hardships, so at times it can be easy to take even these simplest things for granted. What a tremendous blessing that we don't have to hunt and plant our food. Instead we have a plethora of delicious and healthy things to choose from in your local Brookshire Brothers Produce Department. After all Thanksgiving is not just about the food, it's about the people that you get to spend it with.
A Thanksgiving feast is meant to bring families together to celebrate what is really important – love and gratitude for one another. So today, I'd like to share my love of all things brussels sprouts (don't roll your eyes). They are delicious, and I promise they don't taste like they smell! When you roast them at a high temperature, the smell dissipates and what is left is a wonderful caramelized bite of happiness.
Brussels sprouts are one of the most delicious and savory vegetables around, and they deserve a place on your Thanksgiving table. As an added bonus, brussels sprouts are cruciferous vegetables, meaning they are antioxidant rich, cancer-fighting ninja veggies. They're high in vitamin C, B, and K, as well as a good source of folate and fiber.
Give this recipe a try and may your Thanksgiving be filled with deliciousness, love, laughter, family, and a grateful heart for the abundance of blessings God has so graciously bestowed upon us. Happy Thanksgiving! 
Roasted Brussels Sprouts with Bacon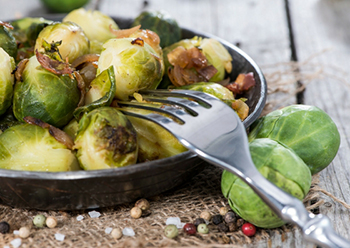 Ingredients
- 2 lbs Brussels sprouts, trimmed and halved
- 2 Tbs olive oil
- 2 tsp water
- Salt and pepper
- 3 slices bacon, cooked and chopped fine
Instructions
Adjust oven rack to middle position. Heat oven to 500 degrees. Line baking sheet with aluminum foil for easy clean-up. Toss Brussels sprouts with olive oil, water, ½ teaspoon of salt, and ¼ teaspoon of black pepper on baking sheet. Spread out Brussels sprouts in a single layer with cut side facing down. Cover baking sheet tightly with aluminum foil and roast for 10 minutes. After 10 minutes, remove foil and continue cook an additional 10 minutes until sprouts are tender and browned. Toss with chopped bacon and season to taste with additional salt and pepper. Serve. 
Note:  An optional ingredient is chopped toasted pecans. 
Angela Larson is a registered dietitian (RD) who works with Brookshire Brothers promoting real fresh, real delicious healthy foods and providing nutrition education to the community. She is also a clinical dietitian representing Woodland Heights Medical Center in Lufkin where she does community education on food and nutrition. Food is her passion, so Angela loves trying new recipes and exploring the more holistic side of nutrition. Angela loves to cook, garden, and spend time outdoors. Look for Angela's monthly articles in Charm East Texas.  
Tuesday November 10, 2015
Cooking with Kate: Full of Thanks
Thanksgiving has always been my favorite holiday. Many in my family love to cook and we always have delicious food, but more importantly, my family has a tradition we call, "Share Time." One by one, from the youngest to the oldest, we share what we are thankful for and then encourage another member of our family to do the same. It's a sweet time for our family to be together and remember what has happened over the year. I hope you have time, as you make your Thanksgiving plans, to gather around a table with your family and friends and share why you are thankful this year. If you're looking for tried and true traditional Thanksgiving dish, I'd love to share my family's favorites. Many blessings for a Happy Thanksgiving!
Aunt Sandra's Homemade Yeast Rolls
3 ½ teaspoons rapid rise yeast (1 ½ pkgs)
1 ½ teaspoons salt
½ cup sugar
2 cups hot tap water – not boiling, but hot to the touch
½ cup butter-flavored Crisco, melted
5 cups all-purpose flour
1 stick butter, melted
In a large bowl (or using an electric mixer with a dough hook) mix hot water, sugar, and salt. Add yeast and melted shortening. Slowly add the flour and mix until dough begins to form. Work the remaining flour into the dough with your hands (or with the mixer on low speed). Knead dough until smooth and elastic. Place dough in a large bowl and cover with a clean dish cloth. Let the dough rise until doubled in size (about an hour) in a warm area of your kitchen. Punch down the dough and knead for five minutes. Prepare 2 rimmed cookie sheets by adding 4 tablespoons of melted butter to each. Tilt the sheets in all directions to coat the bottoms with the butter. Pinch off pieces of dough and shape into rolls. Lay the rolls on the buttered sheets, turning them over so that they're coated with butter on both sides. Let rolls rise another 30-45 minutes. Bake at 350°F for 20 minutes or until brown. Enjoy immediately.
Cheesy Broccoli Casserole
(A slightly different take on the traditional green bean casserole)
2 (16 oz) bags frozen broccoli florets, thawed
1 (10.75 oz) can cream of mushroom soup
1 (8 oz) carton sour cream
2 cups shredded sharp cheddar cheese, divided
1 (6 oz) can French fried onions, divided
Preheat oven to350°F. Mix thawed broccoli, mushroom soup, sour cream, 1 ½ cups cheese, and 1 cup fried onions in a large bowl. Spread in a baking dish that has been sprayed with non-stick spray. Cover with foil and bake at 350°F for 30 minutes. Stir well and continuing baking for another 30 minutes. Remove from oven and uncover. Sprinkle with additional cheese and fried onions. Bake uncovered for another 10 minutes until onions are crisp and cheese is melted. Serve immediately.
Tuesday September 22, 2015
6 Ways to Avoid Holiday Madness
Summer might have just ended, but the busiest season of the year is right around the corner - the Holiday Season! Fall parties are starting up, which lends its hand to Halloween parties, then Thanksgiving get togethers, Christmas parties, and finally the pinnacle of all, New Year's Eve Celebrations. With this albeit fun, but energy-sucking time of the year, we've got you covered on how to save on time!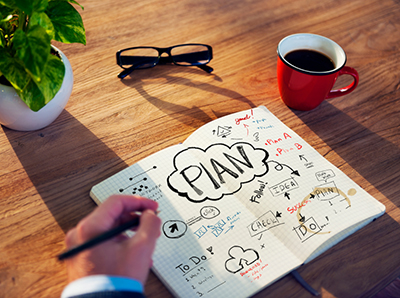 Shop the sale
When running your daily or weekly errands, pay attention to the sale prices and clearance aisles. You may not need it now, but you could next week. If you're already out and about, chances are you have the time to spend now rather than later. Don't put yourself in a bind next week when you need a last minute gift for a birthday party or one more ingredient to finish your meal.
Make a list
Sure, you get the basics every time you go to the store, but the one time you don't make a list is the one time you forget the very thing you went to the store for. Next time, plan ahead and take stock of what items you need.
Avoid peak shopping hours
When shopping during the week, lunchtime and rush hour (5-6 PM) are peak shopping times. To avoid long lines, try mid-morning or mid-afternoon to have a relaxing shopping experience.
Break out the crockpot
The best time saving utensil in your kitchen is your crockpot. Throw everything in before you leave for work and return to a nice smelling house with dinner ready to go.
Delegate
Get your husband and kids involved. While you're cleaning one room, have them clean the others. Or while you're shopping for milk and eggs, have your husband step an aisle over to grab cheese.
Make a routine
This may go against the free spirits, but schedules and routines can really help save time. Set a day of the week for cleaning certain rooms, or cooking certain meals. Whatever things you do everyday, make routines for.
Monday August 31, 2015
Cooking with Kate: Cooking Away the Labor Day Blues
Labor Day, the official mark of the end of summer, is here...but there's no reason to cry away those summer blues. How about cook them away? Keep the Labor Day spirit in your house by whipping up these classic Kate Rudasill approved recipes!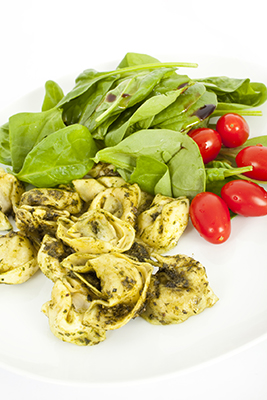 Chilled Pesto Tortellini Salad
2 (9 oz) packages refrigerated three-cheese tortellini
1 container grape tomatoes
1 can large black olives
½ cup pesto, jarred or homemade
Bring a large pot of lightly salted water to a boil. Add tortellini to the boiling water, and cook, stirring occasionally, until pasta floats to the surface, about 4-5 minutes. Drain and rinse under cold water to stop pasta from cooking further. Slice tomatoes and olives in half and add to a large bowl. Add the cooled tortellini and the pesto. Gently toss to coat everything with the pesto. Refrigerate pasta salad for at least 1 hour before serving.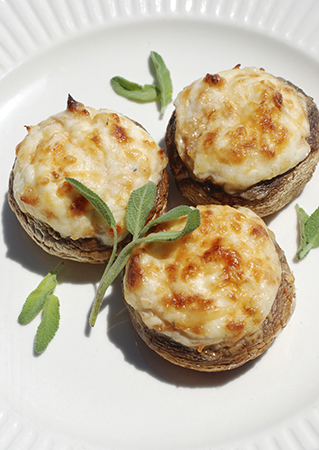 Barbeque Stuffed Mushrooms with Mozzarella
3 (16 oz) packages whole white mushrooms
1 container barbecued shredded pork (Lloyd's or Curly's)
1 (8 oz) package shredded mozzarella cheese
Remove stems from mushrooms and lay upside down on a lightly greased baking sheet. Spoon a small amount of pork into each mushroom. Bake at 375°F for 10 minutes. Remove from oven and sprinkle with mozzarella cheese. Serve immediately.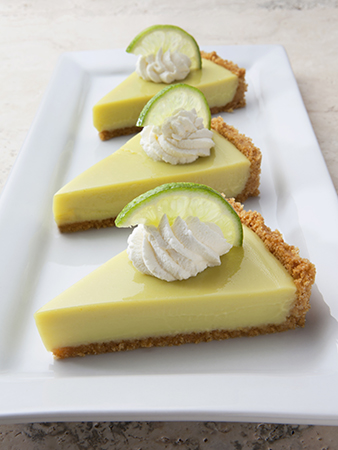 No-Bake Creamy Key Lime Pie
1 can sweetened condensed milk
8 oz. sour cream
zest of 2 limes
½ cup fresh lime juice
8 oz. Cool Whip, thawed
Graham cracker crust (1 - 9" or 2 packages of tart shells)
In a large bowl with an electric mixer, mix condensed milk, sour cream, lime juice and zest until creamy. Turn mixer to high and whip until fluffy. Fold in cool whip. Spoon filling into large crust. Cover and chill at least 2 hours before serving. Serve with additional Cool Whip.
Thursday December 18, 2014
Casual New Year's Eve Get-Together
Keep it SIMPLE! That's our advice for celebrating the New Year.
You can make the night special without creating a fuss.
Start things popping with sparkling wine or champagne.  Pick up a small carton of fresh raspberries or cranberries. Drop one in the bottom of the champagne flute and you have a specialty drink!
To make things really sparkle – stir a little cranberry juice in the bubbly and call it a poinsettia!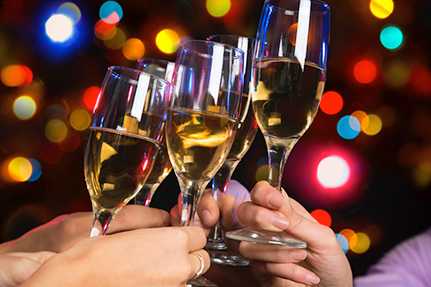 10-9-8-7-6-5-4-3-2-1!
DECORATIONS
Less is MORE!  Ask everyone to bring a battery operated alarm clock (or set their cell phones with a fun ring tone for an alarm)   Place the clocks all over the party area or a collection on a mirrored tray as a centerpiece. You know what happens at midnight – you've got 'live' music just like Times Square.
Make a quick centerpiece by placing glittering ball ornaments in a wire basket or crystal bowl.
Fun Serving Ideas
Use hollowed-out colorful bell peppers, cabbage, squash or round bread loaves for fun and colorful containers to hold veggie dip.

Add a little swag to your glasses! Tie a little metallic curly ribbon to the stems!  A different color of ribbon for each guest can keep drinkware from being misplaced.

Bump up plain coffee served with dessert to an inviting espresso bar! Set up espresso carafes (regular and decaf) with extras for stir-ins and toppers.
Stir-Ins: flavored syrups, flavored creams or eggnog, cream and sugar
Toppers: whipped cream, ice-cream toppings, candy sprinkles, ground nutmeg or cinnamon
TOASTS (not so Trivial!)
Pour out some trivia to stir things up.
Did you know the name 'champagne' is copyrighted? Only wine produced in the Champagne region of France can be called Champagne.
Everything is considered sparkling by using the method champenoise.
How many bubbles are in one bottle of champagne?  49 million
Under pressure – The pressure in a champagne bottle is three times higher than in an automobile tire.
Tub time!  American actress Marilyn Monroe is believed to have taken a champagne bath. That would require about 350 bottles of the good stuff!
How fast does a cork travel?  Try 38-40 miles per hour. It pops out as fast as 100 mph then slows down!
Pages