Wednesday December 10, 2014
6 Easy Ways to Shortcut Holiday Baking
As the busy holidays approach, you might think there is no time for baking in your schedule. No worries. With these quick tips and helpful hints, you're going to have time this year to bake your cookies and eat them, too. Plus, you'll have time to get the rest of the to-dos done!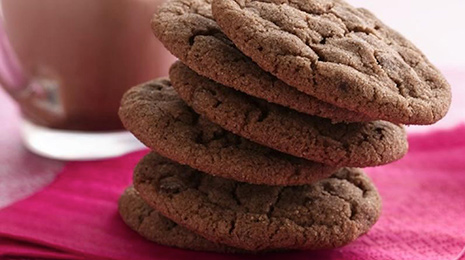 Use top-quality ingredients
Always use the best ingredients when baking so your cookies look and taste great. Nothing says indulgence like the holidays, so don't skimp on the fine cocoa, pure vanilla and real butter. Line baking sheets with high-quality Reynolds Parchment Paper to help cookies bake evenly and keep them from sticking, so they always look as perfect as they taste.
Avoid decorating disasters
To keep your counters and table clean and stain-free, place sheets of Reynolds Parchment Paper under your cooling racks while you frost and decorate your cookies. When you're finished fold up and throw out the paper along with the mess.    
Cleanup rescue
Don't get trapped in the kitchen forever because clean-up takes hours! Using Reynolds Parchment Paper on cookie sheets keeps cleanup under a minute. Just lay the paper on an ungreased baking sheet, place the cookies on the paper, and bake as usual. When the cookies are cool enough to remove, simply toss the paper and wipe off the pans.
Package perfection
Lay sheets of Reynolds Parchment Paper between cookie layers. This will help keep cookies from crumbling, losing their decorations and sticking together. Use the lids of your containers to trace the right size and shape, and cut out sheets that fit perfectly. Lay the Reynolds Parchment Paper on the bottom of the container, in between the cookies, and on the top. If there's extra room in the container, place a crumpled sheet on top before securing the lid to keep cookies from shifting and breaking.
Participate in a cookie exchange
There's no better way add an assortment of different cookies to your mix than to be a part of a cookie exchange with friends, coworkers, or neighbors. If none of your acquaintances organize cookie exchanges initiate one yourself. It can be as simple or elaborate as you like, but the general rule is that each guest brings 1 dozen cookies for every person participating.
Make the holidays extra sweet by baking cookies with Reynolds Parchment Paper. For more cookie ideas and tips visit www.reynoldsparchment.com.
Wednesday November 12, 2014
Planning Thanksgiving appetizers
You've got a big Thanksgiving menu planned—and we've got the Thanksgiving appetizer tips that will help make the pre-dinner nibblefest a success.
Plan ahead and start early. Find recipes that can be prepared in advance and frozen. Keep the appetizers simple, so your guests are still hungry for the main meal.
When deciding how many appetizers to serve your guests, plan on about 6 per person for a dinner party. 
When planning your menu, think "variety" - serve foods with an assortment of colors, flavors and textures.
Storing thanksgiving appetizers
If serving cold dips, make them 1 or 2 days ahead of time. Not only will this reduce your kitchen prep duties on the day of the party, but the flavors of the dips will actually improve with the overnight refrigeration.
Don't forget food safety. Keep hot foods hot and cold foods cold when serving them at the party.
A common catering trick is to place a used napkin or plate on a tray so guests know where to place their dirty dishes. Keep a few trays or other receptacles spaced around the room to make cleanup easier.
Clearly label all dishes so guests with allergies or other dietary concerns will know what's safe for them to eat.
Serving Thanksgiving appetizers
Line serving bowls with fall-colored napkins or linens for a festive touch. Or line serving platters with pressed leaves covered with waxed paper for a stained-glass effect.
Make sure you cut or slice appetizers into small pieces. Bite-size portions are best for easy eating.
Tuesday November 11, 2014
Holiday Party Planning Guide
Plan on making the holidays merry with a little bubbly or brew?  Let your friends at Brookshire Brothers help you!
Here's a handy guide to help you determine how much and what type of wine you'll need for your event.
Cocktail Parties
How much is enough?
½ bottle of wine/person for each 2-hour period.
If your event begins before 5pm, or you are also serving liquor or beer: 
½ bottle of wine/person per 3-hour period.
What If It's Self Serve?
If guests will serve themselves, add 10% to your estimate.
Dinner Events
Plan on 1.5 glasses per course per person.
Each 750ml bottle will provide five 5-oz. servings.
Do the Math:
For each course multiply
[# of guests] x [1.5]  /  5 = # of bottles you will need per course.
How to Choose Wine
Events before 5pm (or for outdoor events in warm weather): 
70% white wine, 30% red wine
Events after 5pm:
 40% white wine, 60% red wine
White Wine Choices:
In general, Moscato and Chardonnay are popular, and also very versatile.
On a warm day, you may also choose to serve a crisp, refreshing Sauvignon Blanc.
If you are serving spicy foods, Riesling pairs perfectly.
Fruity desserts and sweet appetizers pair wonderfully with white dessert wines.
Red Wine Choices:
Pinot Noir is the most versatile and an excellent red wine choice for warmer weather.
Merlot is a popular crowd pleaser because of its chocolate flavors and soft finish.
Zinfandel offers jammy fruit flavors that pair well with grilled foods.
Full-bodied wines like Cabernet Sauvignon and Syrah are recommended for pairing with beef, lamb, other hearty main courses and dark chocolate desserts.
Craft Beer is king when it comes to entertaining!  Craft breweries are popping up across the country. This growing beverage favorite now makes up the majority of breweries in the U.S. Beer, like wine, comes in different styles and colors and is excellent for pairing with food. In addition to popular domestic and imported pale and light lagers there is a whole world of specialty beers on the market.  Variety is the spice of life and there are dozens of seasonal beers that celebrate any occasion.  The possibilities are endless, but here are a few varieties to consider.
Shiner
Shock Top
Goose Island
Sam Adams
Sierra Nevada
How to Serve?
Straight from the bottle or in a pilsner glass provide glassware when at all possible. Beer tastes best from a glass rather than from a can or bottle.  
How Much to Plan For?
A beer drinker may consumer 2-4 bottles/cans at an event. 
Pages