Tuesday November 12, 2019
DIY Apple Turkey Craft
 The holiday's are fast upon us and we've got this fun edible carft that kids can do in the classroom and at home. Keep reading on how to make an Apple Turkey for Thanksgiving fun! 
DIY Apple Turkey Craft
Supplies
*Needed for each turkey
1 medium apple 
Toothpicks
Spice drops 
1 large marshmallow
Eyes - Icing gel, raisins, edible markers or even edible store purchased eyes.
Candy corn
Directions
 Add 2 toothpick legs to steady the bird. Add a Spice drop to each to make feet.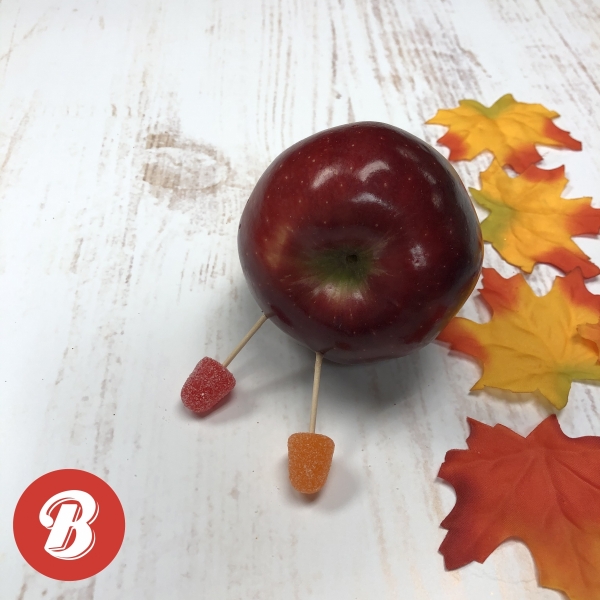 Place 3 spice drops on a toothpick, be sure to leave room on the bottom to poke it into the apple. Make as many feathers you would like.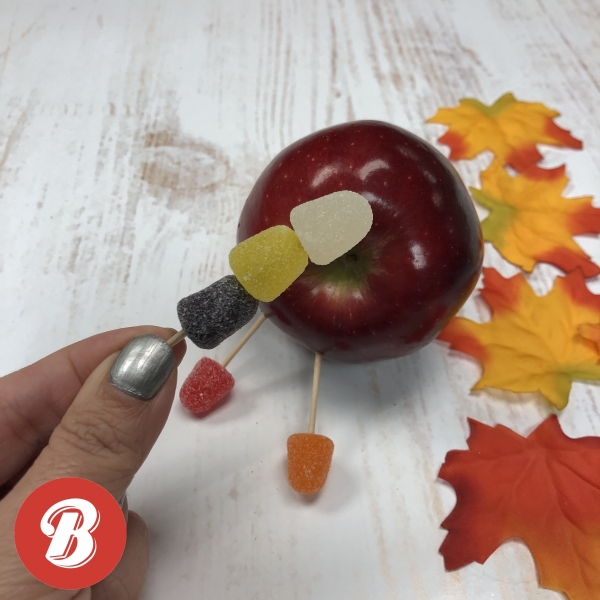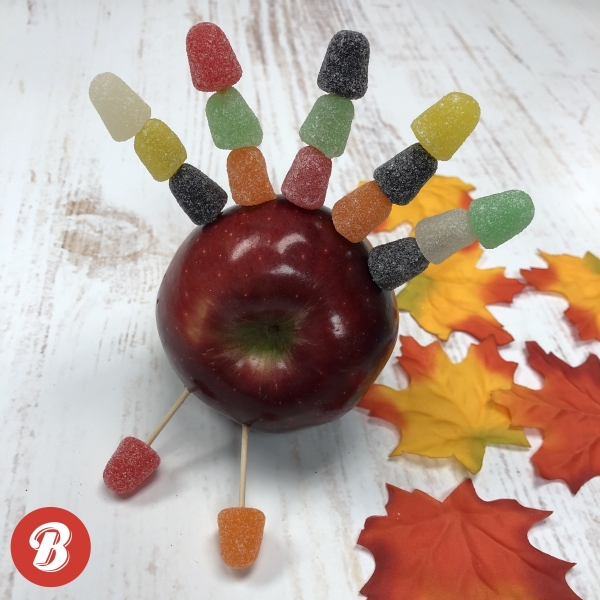 Push half of a toothpick into the apple for the head, then place the large marshmallow over it.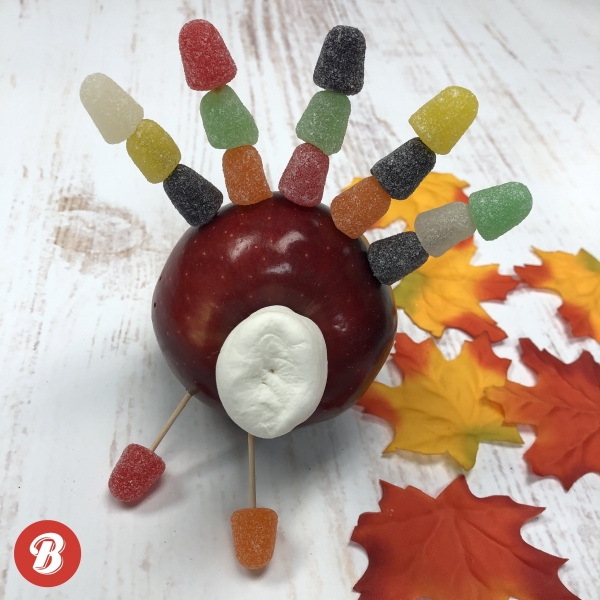 Add eyes (gel icing) and candy corn for the beak.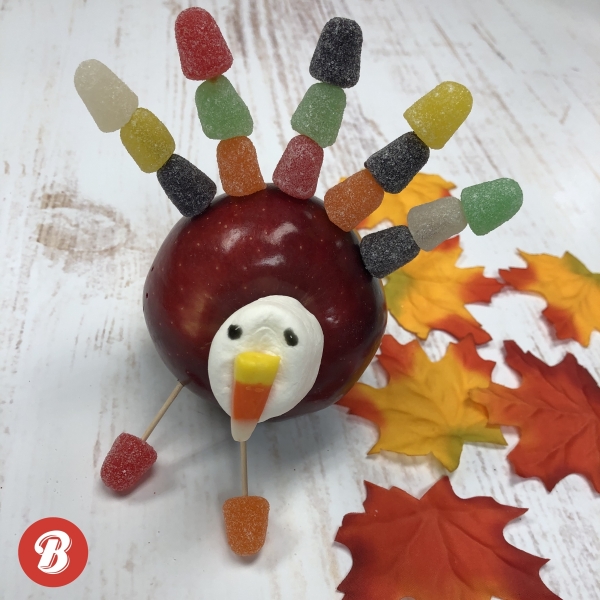 Get all your Thanksgiving grocery and edible craft needs at your local
Br
ookshire Brothers
store!
Tuesday November 20, 2018
No-Fuss Side Dishes (Plus a Fun Dessert!)
I love Thanksgiving-style sides so much that I cook them year-round. Why not? Everyone needs healthy, delicious, no-fuss side dishes that can please the whole family. As you'll soon see, oven roasting is my absolute favorite way to prepare any vegetable. It can bring out their magical qualities enough to lure even the wariest eaters to the table. Even better, roasting veggies means I can toss them in a hot oven while I'm working on something else. A giant piece of foil on the sheet pan makes clean-up a cinch too.
So, here's the run-down on my family's go-to Thanksgiving sides (plus a special dessert).
Roasted Veggies
Roast your green beans instead of casserolizing them this year ("casserolizing" is my new word contribution to English language—you're welcome). If you prefer another veggie over green beans (Brussels sprouts, asparagus, etc.), this roasting recipe will still do the trick; your choice greens will come out of the oven spotty brown with a few crisp edges. Yum. Top the roasted vegetables with a little chopped bacon (cooked) or a sprinkle of cheese, and you'll be in side dish heaven. 
This is more of a method than an exact recipe, so have fun with it and enjoy!
INGREDIENTS
Brussels sprouts, fresh green beans, or asparagus—trimmed and washed (amount can vary based on needs but it should still be able to fit in a single layer on a large sheet pan)
Extra virgin olive oil
Salt and pepper, to taste
Optional toppings: chopped pecans or walnuts, parmesan cheese, chopped cooked bacon
DIRECTIONS
Preheat oven to 425F degrees. Cover a large sheet pan with heavy-duty foil. 
Take prepped veggies and place them on the sheet pan with a good drizzle of olive oil for a light coating. Add salt and pepper to taste. Add other seasonings and spices as desired.
Place veggies in the oven and roast for about 20-25 minutes. 
Optional (if you'd like them to be even more browned): Before removing from the oven, turn the broiler on high and place on top rack for a minute or two. Watch closely as they turn even more spotty brown and caramelized. 
Top with any other optional toppings and serve immediately. 
Pro Tip: Sometimes it works best to place veggies on very bottom rack for first 10 minutes of cooking time and then move to very top rack of oven for last 10 minutes of cooking to help brown both top and bottom, but this is optional. Check on veggies toward the end of cooking time and look for them to have little brown spots.
Roasted Sweet Potatoes
Any time I get sweet potato duty for Thanksgiving, roasted sweet potatoes are my go-to recipe. The prep is a breeze, and they come out caramelized on the outside while still creamy on the inside. Moreover, they're perfectly delicious left as is, or you can jazz them up even further with a drizzle of maple syrup, fresh herbs, or chopped pecans. You can also easily substitute with butternut squash for another spin on this delicious recipe.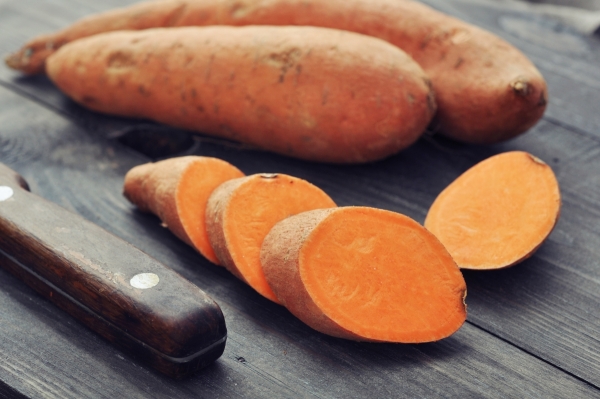 INGREDIENTS
5 pounds of sweet potatoes (about 8 medium potatoes)
2 tablespoons extra virgin olive oil
2 tablespoons butter, cut into small pieces
1 ¾ teaspoon salt
Pepper, to taste
DIRECTIONS
This recipe starts in a cold oven.
Peel potatoes (or scrub well) and trim ends. Cut into ¾ inch thick rounds. 
Toss potatoes in a large bowl with olive oil, salt, and pepper to taste until evenly coated. Line an 18- by 13-inch heavy-duty rimmed baking sheet with aluminum foil and coat with nonstick cooking spray (my favorite is coconut oil spray). Arrange potatoes in a single layer on two baking sheets, dotting evenly with pieces of butter, and cover tightly with aluminum foil. Adjust oven racks to upper and lower middle positions and place potatoes in cold oven. Turn oven to 425 degrees and cook potatoes 30 minutes.
Remove baking sheets from oven and carefully remove top layer of foil. Return potatoes to oven and cook until bottom edges of potatoes are golden brown (reversing and rotating pans halfway through cooking time), 15 to 25 minutes. 
Remove baking sheets from oven and, using a thin metal spatula, flip slices over. Continue to roast until the bottom edges of the potatoes are golden brown, 18 to 22 minutes longer. Remove from oven and let potatoes cool 5 to 10 minutes, then transfer to platter and serve.
Optional toppings: If desired, drizzle lightly with real maple syrup, chopped toasted pecans, or fresh/dried thyme leaves, to taste.
Five Cup Fruit Salad
This super simple fruit salad is a family favorite recipe. Everyone is always fighting for the last serving, and the best part is it's portable, healthy, and oh-so-easy to make. We always double (or triple) the recipe to make it go a little further and help settle any fights over who gets the last spoonful.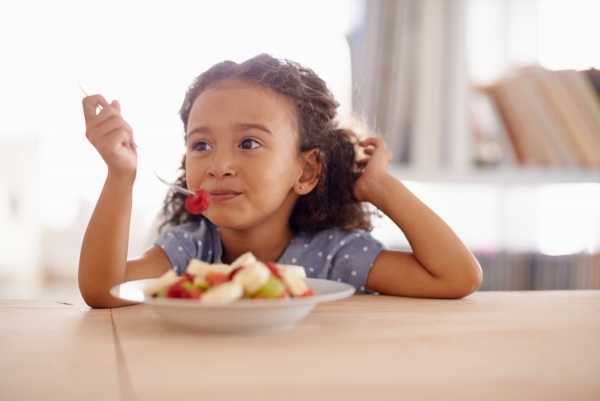 INGREDIENTS
1 cup drained pineapple chunks
1 cup grapes (any variety)
1 cup mandarin orange segments, canned or fresh
1 cup shredded coconut, sweetened or unsweetened
1 cup sour cream (regular or light) 
DIRECTIONS
Mix together all ingredients and serve.
Pecan Pie with Maple Syrup and Brown Sugar
Dessert is always a highly anticipated part of any Thanksgiving celebration. This dietitian isn't going to tell you to skip the dessert table because that's just cruel. Instead, what I recommend is to contribute a delicious dessert made of
real fresh, real delicious
ingredients from
your neighborhood Brookshire Brothers
. Above all, enjoy your dessert fully without any guilt. There's a time and a place for restraint and Thanksgiving ain't it. 
My favorite recipe is a pecan pie that skips corn syrup in favor of brown sugar and maple syrup. The flavors are out of this world.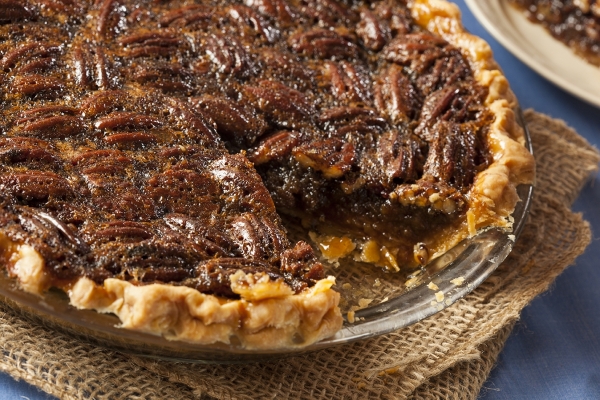 Adapted from America's Test Kitchen "Old-Fashioned Pecan Pie"
INGREDIENTS
1 cup maple syrup
1 cup packed light brown sugar
½ cup heavy cream
1 tablespoon regular molasses
4 tablespoons unsalted butter, cut into ½ inch pieces
½ teaspoon salt
6 large egg yolks, lightly beaten
2 cups toasted and chopped pecans
One 9-inch unbaked pie shell, chilled in the pie plate for 30 minutes
DIRECTIONS
Make Filling: Adjust oven rack to lowest position and heat oven to 450 degrees. Heat sugar, syrup, cream, and molasses in saucepan over medium heat, stirring occasionally until sugar dissolves (about 3 minutes). Remove from heat and let cool 5 minutes. Whisk butter and salt into syrup mixture until combined. Whisk in egg yolks until incorporated.
Bake Pie: Scatter pecans in pie shell. Carefully pour filling over. Place pie in hot oven (on a sheet pan covered with foil in case of spills) and immediately reduce oven temperature to 325 degrees. Bake until filling is set and the center jiggles slightly when pie is gently shaken (45 to 60 minutes). Cool pie on rack for 1 hour, then refrigerate until set (about 3 hours and up to 1 day). Bring to room temperature before serving.
Serve: Serve with homemade whipped cream and go to dessert heaven.
---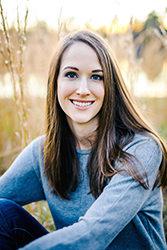 Angela Larson is a registered dietitian (RD) who works with Brookshire Brothers promoting 
real fresh, real delicious
 foods and nutrition education to the community. She is also a clinical dietitian representing Woodland Heights Medical Center in Lufkin where she does outreach education on food and nutrition. Food is her passion, so Angela loves trying new recipes and exploring the more holistic side of nutrition. Angela loves to cook, garden, and spend time outdoors. In addition to the 
Brookshire Brothers blog
, look for Angela's monthly articles in Charm East Texas. 
Tuesday November 28, 2017
Thanksgiving may be over but the leftovers are not...
Cooking with Kate: Quick and Easy Thanksgiving Leftover Recipes
Thanksgiving may be over, but that leftover turkey is probably still taking up valuable space in your fridge or freezer. Make room for Christmas baking and party food prep by putting your Thanksgiving favorites to good use with these two easy recipes. Even those who are tired of turkey will chow down on these dishes!
Quick Turkey Chowder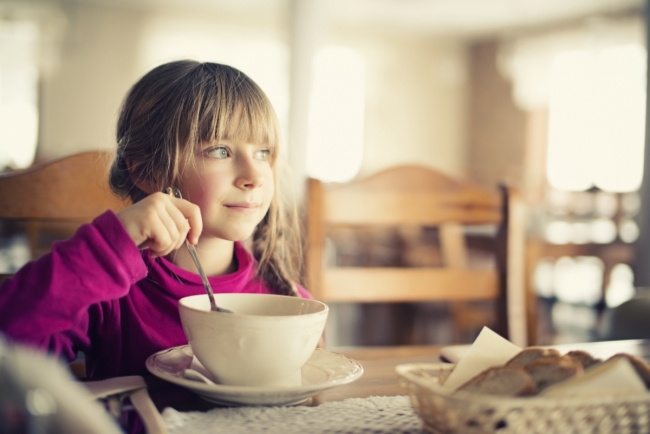 Serving size: 1 cup | Yield: 8 servings
Ingredients
1 cup green onion, thinly sliced
1 cup celery, thinly sliced
4 tablespoons butter
2 (10.5 oz) cans condensed cream of potato soup
2 (16.5 oz) cans cream-style corn
2 cups turkey or chicken stock (not broth)
½ teaspoon nutmeg
Salt and pepper, to taste
2 cups cooked turkey, ½ inch pieces
2 tablespoons fresh parsley, minced
Directions
In a large pot over medium-high heat, sauté green onion and celery in butter until celery is almost tender.
Add potato soup, corn, turkey or chicken stock, and nutmeg. Season generously with salt and black pepper.
Stirring constantly, bring to a gentle boil. Reduce heat to low and add turkey and parsley.
Simmer for 5-10 minutes or until turkey is heated through.
Read more: Get the full scoop on how to prepare this soup as a freezer meal. It's quite the rewarding weekend project!
Loaded Mashed Potato Cakes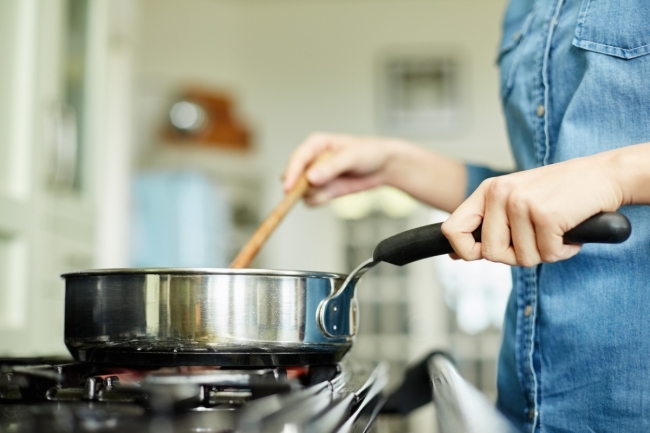 Ingredients
2 cups cold mashed potatoes
1 cup shredded cheese (cheddar or pepper jack)
½ cup flour
6 strips bacon - 
Check out our special prices on Wright Bacon in this week's ad!
1 bunch green onion, thinly sliced – white and green divided
2 cloves garlic, minced
1 teaspoon salt
½ teaspoon pepper
2 tablespoon fresh parsley , minced
2 eggs
4 tablespoons butter
Read more: These cakes can be a GREAT party appetizer. Don't forget to also visit our deli for other great appetizers and holiday deli trays!
Directions
In a skillet, cook the bacon until crispy and drain on a paper towel until cool. Crumble into small bits. Place the bacon bits into a large bowl. Pour off all but 2 tablespoons of bacon grease from the frying pan and cook the garlic and white parts of the green onion over medium heat until translucent. Add garlic and onions to the bacon along with mashed potatoes, cheese, flour, green onions, spices, parsley, and eggs. Blend well with a spoon or your hands; the mixture will be thick and sticky.

Wash and dry your frying pan, then melt 1 tablespoon of butter over medium heat.

Scoop up about ¼ cup of the potato mixture and form it into a ball. Place it in the hot pan, flattening it out until it is ½ – ¾″ thick. Fry for about 3 minutes on each side, until they are lightly golden brown.

For best results, serve immediately, while hot and crispy, with sliced green onions, sour cream, or ketchup.
---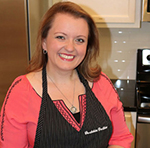 Kate Rudasill, Catering Coordinator for Brookshire Brothers, has been in the food-service industry for the past 14 years. As a graduate of Texas A&M University, a student of The Texas Culinary Academy, and a Nacogdoches, Texas native, Kate grew up with Southern tradition in her blood which caused her to have a deep love for bringing people together with food.
Monday November 13, 2017
Thanksgiving: The Make-Ahead Menu
There are four things you never want to be late for: weddings, funerals, airplane flights, and—you called it—Thanksgiving dinner. Being early for Thanksgiving—particularly if you're a contributing chef—is key to a healthy, happy holiday for everyone. Here are three recipes based on classic Thanksgiving dishes to help you get a jump-start on the ultimate feast, whether you're a host or honorary guest.
Make-Ahead Baked Sweet Potatoes
(Recipe courtesy of our valued vendor partner Betty Crocker)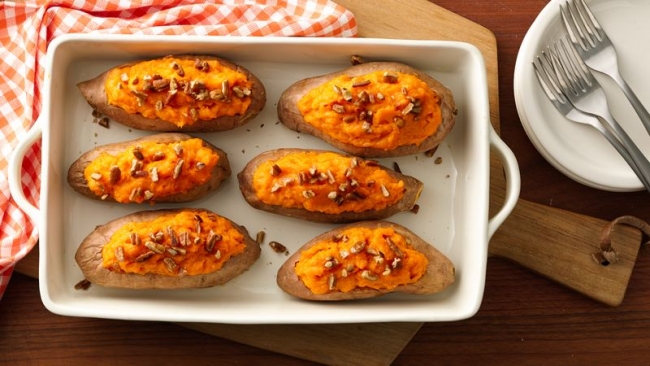 This healthy side dish only takes 15 minutes to prepare—and it keeps well for up to 24 hours! Who knew saving time could taste so delicious?
Read more: Another great option is this
crock-pot recipe
for a sweet potato casserole!
Ingredients
6 medium sweet potatoes (2¼ pounds)
2 tablespoons packed brown sugar
2 tablespoons butter or margarine, softened
Directions
Heat oven to 375ºF. Pierce sweet potatoes with fork to allow steam to escape. Bake about 45 minutes or until tender.
Cut thin lengthwise slice from each potato; carefully scoop out inside of potato, leaving a thin shell. Mash potatoes in a large bowl until no lumps remain. Beat in sour cream and milk. Beat in brown sugar, butter, and salt until potatoes are light and fluffy.
Place shells in ungreased rectangular baking dish, 13x9x2 inches. Fill shells with potato mixture. Cover and refrigerate no longer than 24 hours.
Heat oven to 400ºF. Bake uncovered about 25 minutes or until potato mixture is golden brown. If baking filled shells immediately after mashing potatoes, bake about 20 minutes.
---
Slow-Cooker Chive-and-Onion Creamed Corn
(Recipe courtesy of our valued vendor partner Betty Crocker)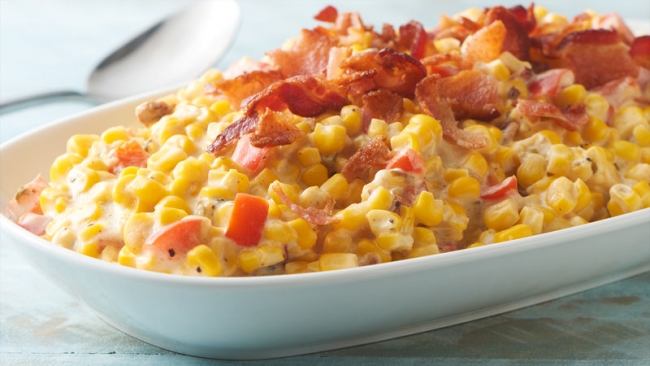 Keep things worry-free with this comforting side dish that's crock-pot easy and bursting with sweet flavor.
Ingredients
Slow Cooker Liners
4 slices bacon
4½ cups frozen whole kernel corn (from two 1-lb bags), thawed
½ medium red bell pepper, chopped (½ cup)
½ cup milk
¼ cup butter or margarine, melted
1 teaspoon sugar
½ teaspoon salt
⅛ teaspoon pepper
1 container (8 oz) reduced-fat chive-and-onion cream cheese
Directions
Place a slow cooker liner inside a 5 to 6½ quart slow cooker bowl. Make sure that the liner fits snugly against the bottom and sides of the bowl, and pull the top of the liner over the rim of the bowl.
In a 12 inch nonstick skillet, cook bacon over medium-high heat, turning occasionally, until crisp. Drain on paper towels. Crumble bacon.
Mix corn, bell pepper, milk, butter, sugar, salt, pepper and half of the bacon in the cooker. Refrigerate the remaining bacon.
Cover and cook on a High heat setting for 2 to 2 ½ hours.
Stir in cream cheese. Cook on a High heat setting for 10 more minutes. Stir well and then sprinkle with remaining bacon. Corn can be kept warm on a Low heat setting for up to 1 hour.
---
Layered Pumpkin Cheesecake
(Recipe courtesy of our valued vendor partner Betty Crocker)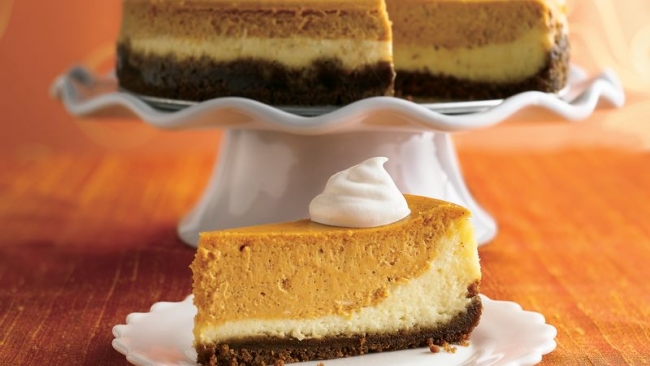 This highly-rated cheesecake recipe doubles the flavor with a layer of classic vanilla stacked with a layer of spiced-up pumpkin. Make it up to 24 hours ahead of your Thanksgiving get-together!
Ingredients
2 cups gingersnap cookie crumbs
¼ cup butter or margarine, melted
CHEESECAKE
4 packages (8 oz each) cream cheese, softened
1 cup canned pumpkin (not pumpkin pie mix)
1½ teaspoons ground ginger
1 teaspoon ground cinnamon
Directions
Heat oven to 300°F. Grease 9-inch springform pan with shortening or cooking spray. Wrap foil around pan to catch drips. In a small bowl, mix cookie crumbs and butter. Press crumb mixture in bottom and 1 inch up the side of the pan. Bake 8 to 10 minutes or until set. Cool 5 minutes.
In a large bowl, beat cream cheese with electric mixer on medium speed until just smooth and creamy;

do not overbeat

. On low speed, gradually beat in sugar. On low speed, beat in eggs, one at a time, until just blended. Spoon 3 cups of the cream cheese mixture into pan; spread evenly.
Stir pumpkin, ginger, cinnamon, and nutmeg into remaining cream cheese mixture; mix with wire whisk until smooth. Spoon over mixture in pan.
Bake 1 hour 25 minutes to 1 hour 30 minutes or until edges are set but center of cheesecake still jiggles slightly when moved.
Turn oven off; open oven door at least 4 inches. Leave cheesecake in oven 30 minutes longer. Remove from oven; place on cooling rack. Without releasing the side of the pan, run knife around edge of pan to loosen cheesecake. Cool in pan on cooling rack for 30 minutes. Cover loosely; refrigerate at least 6 hours but no longer than 24 hours.
Run knife around the edge of the pan to loosen cheesecake again; carefully remove the side of the pan. Place cheesecake on serving plate. Store cheesecake covered in refrigerator.
Monday November 21, 2016
Thanksgiving, Pilgrims, and Brussels Sprouts
I love Thanksgiving. It's truly a holiday focused on love of family, friends, and country. I've recently been reading about the hardships the original Pilgrims faced, of which they certainly had their fair share. Yet, they were also exceedingly thankful for the simplest things like health, shelter, vitality, and good food.
We don't face the same hardships, so at times it can be easy to take even these simplest things for granted. What a tremendous blessing that we don't have to hunt and plant our food. Instead we have a plethora of delicious and healthy things to choose from in your local Brookshire Brothers Produce Department. After all Thanksgiving is not just about the food, it's about the people that you get to spend it with.
A Thanksgiving feast is meant to bring families together to celebrate what is really important – love and gratitude for one another. So today, I'd like to share my love of all things brussels sprouts (don't roll your eyes). They are delicious, and I promise they don't taste like they smell! When you roast them at a high temperature, the smell dissipates and what is left is a wonderful caramelized bite of happiness.
Brussels sprouts are one of the most delicious and savory vegetables around, and they deserve a place on your Thanksgiving table. As an added bonus, brussels sprouts are cruciferous vegetables, meaning they are antioxidant rich, cancer-fighting ninja veggies. They're high in vitamin C, B, and K, as well as a good source of folate and fiber.
Give this recipe a try and may your Thanksgiving be filled with deliciousness, love, laughter, family, and a grateful heart for the abundance of blessings God has so graciously bestowed upon us. Happy Thanksgiving! 
Roasted Brussels Sprouts with Bacon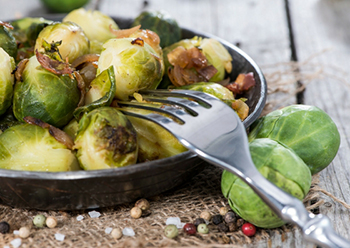 Ingredients
- 2 lbs Brussels sprouts, trimmed and halved
- 2 Tbs olive oil
- 2 tsp water
- Salt and pepper
- 3 slices bacon, cooked and chopped fine
Instructions
Adjust oven rack to middle position. Heat oven to 500 degrees. Line baking sheet with aluminum foil for easy clean-up. Toss Brussels sprouts with olive oil, water, ½ teaspoon of salt, and ¼ teaspoon of black pepper on baking sheet. Spread out Brussels sprouts in a single layer with cut side facing down. Cover baking sheet tightly with aluminum foil and roast for 10 minutes. After 10 minutes, remove foil and continue cook an additional 10 minutes until sprouts are tender and browned. Toss with chopped bacon and season to taste with additional salt and pepper. Serve. 
Note:  An optional ingredient is chopped toasted pecans. 
Angela Larson is a registered dietitian (RD) who works with Brookshire Brothers promoting real fresh, real delicious healthy foods and providing nutrition education to the community. She is also a clinical dietitian representing Woodland Heights Medical Center in Lufkin where she does community education on food and nutrition. Food is her passion, so Angela loves trying new recipes and exploring the more holistic side of nutrition. Angela loves to cook, garden, and spend time outdoors. Look for Angela's monthly articles in Charm East Texas.  
Tuesday November 10, 2015
Mile High Pumpkin Pie
A creamy, golden pumpkin pie that will make you feel like you've just tasted heaven (hence the name). Try this recipe out and serve during the Thanksgiving football frenzy!
To download PDF, click here
Tuesday November 10, 2015
Cooking with Kate: Full of Thanks
Thanksgiving has always been my favorite holiday. Many in my family love to cook and we always have delicious food, but more importantly, my family has a tradition we call, "Share Time." One by one, from the youngest to the oldest, we share what we are thankful for and then encourage another member of our family to do the same. It's a sweet time for our family to be together and remember what has happened over the year. I hope you have time, as you make your Thanksgiving plans, to gather around a table with your family and friends and share why you are thankful this year. If you're looking for tried and true traditional Thanksgiving dish, I'd love to share my family's favorites. Many blessings for a Happy Thanksgiving!
Aunt Sandra's Homemade Yeast Rolls
3 ½ teaspoons rapid rise yeast (1 ½ pkgs)
1 ½ teaspoons salt
½ cup sugar
2 cups hot tap water – not boiling, but hot to the touch
½ cup butter-flavored Crisco, melted
5 cups all-purpose flour
1 stick butter, melted
In a large bowl (or using an electric mixer with a dough hook) mix hot water, sugar, and salt. Add yeast and melted shortening. Slowly add the flour and mix until dough begins to form. Work the remaining flour into the dough with your hands (or with the mixer on low speed). Knead dough until smooth and elastic. Place dough in a large bowl and cover with a clean dish cloth. Let the dough rise until doubled in size (about an hour) in a warm area of your kitchen. Punch down the dough and knead for five minutes. Prepare 2 rimmed cookie sheets by adding 4 tablespoons of melted butter to each. Tilt the sheets in all directions to coat the bottoms with the butter. Pinch off pieces of dough and shape into rolls. Lay the rolls on the buttered sheets, turning them over so that they're coated with butter on both sides. Let rolls rise another 30-45 minutes. Bake at 350°F for 20 minutes or until brown. Enjoy immediately.
Cheesy Broccoli Casserole
(A slightly different take on the traditional green bean casserole)
2 (16 oz) bags frozen broccoli florets, thawed
1 (10.75 oz) can cream of mushroom soup
1 (8 oz) carton sour cream
2 cups shredded sharp cheddar cheese, divided
1 (6 oz) can French fried onions, divided
Preheat oven to350°F. Mix thawed broccoli, mushroom soup, sour cream, 1 ½ cups cheese, and 1 cup fried onions in a large bowl. Spread in a baking dish that has been sprayed with non-stick spray. Cover with foil and bake at 350°F for 30 minutes. Stir well and continuing baking for another 30 minutes. Remove from oven and uncover. Sprinkle with additional cheese and fried onions. Bake uncovered for another 10 minutes until onions are crisp and cheese is melted. Serve immediately.
Monday November 2, 2015
Nature's Health Food - Sweet Potatoes
Sweet potatoes. A staple for Thanksgiving, but have you tried them like this?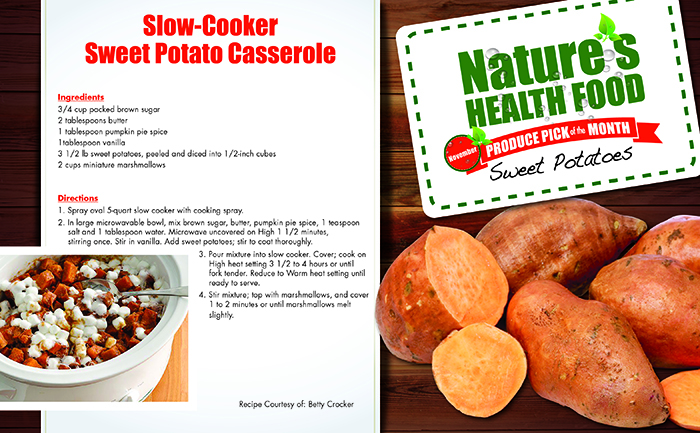 To download PDF, click here
Wednesday November 19, 2014
Spreading Good Cheer With Beer
Beers of every flavor and description are 'hot' on the buying and serving list this year.  We've "drafted" a few pointers that will help you with your holiday entertaining.
Buy fresh.
Be sure to buy beers made by American craft brewers. This will ensure that you are getting fresh, flavorful beer produced with pride right here in the USA.
Pour It On. 
Beer is meant to be shared. A perfect way to do this is to pour bottles into a glass or clear plastic pitcher that can be passed around the table. Don't over serve. One to one-and-a-half beers per person should be enough beer on the table at the beginning of the meal.
Give Options.
Offer at least two varieties of beer. Some like dark, others light. Offering two different choices can help to keep everyone happy.
Go with Glass.
Would you believe that brewers have longed used stemware for special beers. A thistle glass or "old-fashioned" glass is great if you have it, but wine glasses work well, too. When in doubt go with a six to eight ounce glass tumbler. It enhances the taste!
Thursday November 13, 2014
4 Great Thanksgiving Wines
Pinot Noir is far and away the most popular red wine to grace Thanksgiving tables across the country, and these four are excellent choices. Pinot Noir wine goes well with everything from turkey and gravy to cranberries and pumpkin pie. You cannot go wrong with one of these distinguished Pinot Noir wines on your Thanksgiving table. 
Pinot Noir for Thanksgiving
There is nothing novel or trailblazing about recommending Pinot Noir with turkey. They have been happy partners for a very long time. There are a number of factors about Pinot Noir that render it such a good turkey and Thanksgiving partner. These include:
Pinot Noir wines are generally light to medium bodied in weight. 
This can be a very important factor to consider. Powerful full-bodied wines such as Cabernet Sauvignon (especially if young and New World) can easily overpower a turkey-centered meal. Additionally, because the Thanksgiving meal usually lasts several hours, it is best to avoid big, powerful wines, which can make you and your guests tired and sleepy more quickly.
Pinot Noir exudes vibrant red and black fruit. 
Pinot wines are characterized by their delightfully vibrant palette of juicy red and black cherry and berry fruit. This liveliness and juiciness will enliven and enhance the succulence of any turkey or stuffing (even if they seem a bit dry when cooked).
Pinot Noir has an elegant flavor profile. 
Gentle aromas and flavors of red and black fruit, layered with subtle savory and earthy notes, spice and often a distinct floral or gamey note make it a very versatile wine to pair with the many different turkey preparations, the stuffing as well as a spectrum of different side dishes.
Pinot Noir has bright acidity and gentle tannins. 
These two aspects of Pinot Noir are important. The bright acidity brings out the juiciness in the turkey as well as the flavor in the sweet potatoes, cranberry sauce, mushroom dishes, etc. The gentle tannins marry well with all the green vegetables such Brussels sprouts, leafy greens such as kale, chard or spinach, as well as the proverbial dish of green beans.