Posted on Monday, October 23, 2017
A fall take on a summer favorite.
With our Texas weather fickle as ever, it's no surprise that we're looking at a fairly warm Halloween this year. It seems like summer just won't say goodbye! To mix up the summer temperatures with some fall spirit, here's an easy-to-make, sweet snack recipe. Basically, think Rice Krispies Treats but with fall flavors and fun topping ideas. Even better, this snack mix makes for a quick, easy party favor for a Halloween bash and trick-or-treaters.
Visit your local Brookshire Brothers today
to find these ingredients and other wicked good snacks!
Rice Krispies Treat Snack Mix
Ingredients
1 (12 oz) box crisp rice cereal
5 tablespoons butter
2 tablespoons brown sugar
1 (7 oz) container marshmallow fluff / crème
Directions
In a small saucepan, melt the butter with the brown sugar until sugar dissolves.
Add the cereal to a large bowl and toss with the melted butter mixture until all the cereal is coated.
Add the marshmallow fluff and gently mix into the cereal until most of it is mixed in but you still have small clumps of coated cereal (the rice krispie "treats").
Add in ingredients for flavor combinations (see below) or make up your own!
Chill mix for at least 2 hours before serving (it's a LOT less messy if you serve it cold) and ENJOY!
FLAVOR COMBINATIONS:
Citrus-y Cranberry
1 tablespoon orange zest
1 (12 oz) bag mini chocolate chips
1 cup sliced almonds, toasted
1 (3 oz) package dried cranberries
Movie Night Magic
1 (11 oz) bag Kraft caramel bits
1 (12 oz) bag mini chocolate chips
1 tablespoon coarse or flaky sea salt
White Christmas Mint
1 (12 oz) package white chocolate chips
1 (4-6 oz) package soft peppermint candy, crushed
Tropical Oasis
1 (12 oz) bag white or chocolate chips
1 (14 oz) package shredded coconut, toasted
1-2 cups dried tropical fruit (mango, pineapple, etc.)
1 cup sliced almonds, toasted
After School Snack
1 (10-12 oz) bag peanut butter chips
1 cup dried strawberries or raisins
---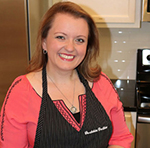 Kate Rudasill, Catering Coordinator for Brookshire Brothers, has been in the food-service industry for the past 14 years. As a graduate of Texas A&M University, a student of The Texas Culinary Academy, and a Nacogdoches, Texas native, Kate grew up with Southern tradition in her blood which caused her to have a deep love for bringing people together with food.