Posted on Monday, October 17, 2016
It's hard to believe that Halloween is right around the corner...especially when it still feels a bit summery outside. Hopefully the temperature will drop some before the trick-or-treating weekend is upon us! Have some fun this year with your kiddos making these fun after-school and party recipes that are simple, quick, and delicious!
Toothy Apples
3-4 apples – Granny Smith, Gala, or Fuji
smooth or crunchy peanut or almond butter
mini marshmallows
Slice apples into quarters and remove the core. Slice each quarter in half and spread a small amount of peanut or almond butter on one of the sides. Add 5-7 mini marshmallow "teeth" to one slice and top with another slice, peanut butter side down to hold the marshmallows in place. Refrigerate your "toothy" apples until ready to serve.
Fall Party Snack Mix
6 cups Chex or Crispix cereal
1 cup mini pretzel twists
6 tablespoons butter, melted
¼ cup brown sugar
1 teaspoon cinnamon
1 cup peanut butter pieces or chocolate candies
1 cup mini marshmallows
1 cup candy corn or other fall candy
Pre-heat the oven to 275°F. Line a baking sheet with parchment paper and set aside. Melt the butter in a large bowl. Add the cereal and pretzels and toss evenly to coat. In a small bowl, mix the brown sugar and cinnamon, then toss with the cereal mixture to evenly coat. Spread the cereal mixture onto the baking pan and bake for 20 minutes. Cool the cereal mixture completely. Once cool, add the candy, candy corn and marshmallows. Serve in a large bowl for a party or package into small bags to give out to friends
Spiced Apple Cider
Makes 16-20 servings
2 ½ quarts apple cider
24 ozs pineapple juice
24 ozs orange juice
1 teaspoon ground nutmeg
1 teaspoon ground cinnamon
4-6 cinnamon sticks
1 tablespoon whole cloves
In a large crock pot, mix apple cider, pineapple juice, orange juice, ground nutmeg, and ground cinnamon. Add cinnamon sticks and cloves (see note). Heat on high for 1 hour. Turn heat to low and continue heating for 1-2 hours or until ready to serve. Refrigerate any remaining cider.
NOTE: If you have cheesecloth available, use a small square of cloth to wrap the cinnamon sticks and cloves and then tie with twine. Add to the pot and remove before serving. If cheesecloth is not available, use a slotted spoon to remove the cloves before serving.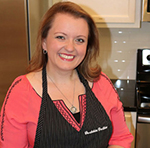 Kate Rudasill, Catering Coordinator for Brookshire Brothers, has been in the food-service industry for the past 14 years. As a graduate of Texas A&M University, a student of The Texas Culinary Academy, and a Nacogdoches, Texas native, Kate grew up with Southern tradition in her blood which caused her to have a deep love for bringing people together with food.