Friday April 3, 2020
Extend the Life of Your Produce
From pickled vegetables to homemade sauce we've got four ways to Extend the Life of Your Produce for you!
Pickled Vegetables
Ingredients
2½ cups sliced carrots (about ¼-inch thick)
2 cups sliced cucumbers (about ¼-inch thick)
2 bay leaves
2 garlic cloves, thinly sliced 
3 cups distilled white vinegar 
2 cups granulated sugar 
1 cup water
3 tablespoons salt
2 teaspoons dried dill 
1½ teaspoons whole black peppercorns 
1½ teaspoons yellow mustard seed
1 teaspoon coriander seed 
Directions
Fill 2 (1-quart) glass jars with carrots and cucumbers.
In medium saucepan, heat remaining ingredients to a boil over medium-high heat, stirring until sugar dissolves; cool. Pour vinegar mixture into jars over vegetables; seal jars with lids and refrigerate up to 1 week.
Chef Tip
Other vegetables to use in this recipe include asparagus, cauliflower, green beans and/or radishes.
---
Fruit Ice Cubes
Ingredients
2 cups raspberries, blueberries strawberries or blackberries
1½ teaspoons granulated sugar
1½ teaspoons fresh lemon juice
2 tablespoons water
Directions
In blender, purée all ingredients; pour into ice cube trays and freeze overnight. Makes 30 (1-inch) ice cubes.
---
Vegetable Soup
Ingredients
2 cans (19-ounces each) vegetable soup
3 cups greens such as baby arugula or chopped kale or spinach
¼ cup shaved or grated Parmesan cheese
Directions
In large saucepot, heat soup as label directs; stir in greens and cook. Serve soup topped with cheese.
---
Homemade Tomato Soup
Ingredients
5 garlic cloves, crushed with press
¼ cup extra virgin olive oil
½ teaspoon crushed red pepper flakes
1 medium yellow onion, chopped 
1½ teaspoons salt 
5½ cups chopped tomatoes (about 7 medium)
1 tablespoon Italian seasoning 
1 teaspoon ground black pepper 
1 tablespoon granulated sugar 
1 tablespoon red wine vinegar 
Directions
In large saucepot, cook garlic, oil and crushed red pepper flakes over medium-low heat 2 minutes, stirring occasionally. Add onion and 1 teaspoon salt; cook 7 minutes or until onion is tender, stirring occasionally. Add tomatoes, Italian seasoning, pepper and remaining ½ teaspoon salt; heat to a simmer over medium-high heat. Reduce heat to medium-low; simmer 2 hours or until thickened, stirring occasionally.
Stir in sugar and vinegar; transfer to blender and purée.
Visit your local Brookshire Brothers for all of your produce needs.
Tuesday January 16, 2018
What's in Season: The Easy Winter Guide
With two-day shipping, online streaming, swipe-right dating, we're living in an instant-click world. However, there are still some things that require extra time and patience—fruits and vegetables included. While you can purchase certain produce all year round, there's often a time and place when you can get them at their best flavor and greatest value. For example, when the temperatures are too cold here in the U.S. to get fresh blueberries—a summer fruit—you'd have to go farther south to get what you wanted, perhaps a two week shipment from Chile—with tax.
Our point is, when you shop for produce according to the season, you're guaranteed to pick fruits & vegetables that are not only better tasting, but also the best bang for your buck. Here's a quick list of what you should look for this winter.
Winter Fruits and Vegetables
(According to the USDA)
Apples
Avocados
Bananas
Beets
Brussels Sprouts
Cabbage
Carrots
Celery
Grapefruit*
Kale
Leeks*
Lemons*
Onions
Oranges*
Parsnips
Pears
Pineapple
Potatoes
Pumpkins
Rutabagas
Sweet Potatoes and Yams
Turnips
Winter Squash
The produce marked with an asterisk(*) is only in season during the winter. All other produce is in season for more than one season.
More ideas for tapping into your taste buds with winter produce:
A hot pot of chili on a cold winter's day is one of the most comforting foods in Southern cuisine. This particular recipe is quick and easy, and it features several winter veggies!
Butternut squash is a seasonal favorite because of its delicious buttery undertones, plus it's oh-so-nutritious! Check out this recipe from registered dietitian Angela Larson.
Turnips are a delicious low-carb alternative to potatoes with less than half the calories and carbs. Furthermore, they're rich in minerals, B vitamins, vitamin C, and—most importantly—in flavor.
Kate features several winter ingredients in her favorite recipes for National Soup Month: White Chicken Chili and Tuscan Bean & Kale Soup.
Monday July 31, 2017
Seasonal Produce: Summer Refresher
In our current society of instant everything, it's easy to forget that some things aren't so "ready-right-now." Produce is one such thing that often requires extra time and patience. Sure, some fruits and vegetables are available to purchase all year round, but there's usually a time and place when you can get them at their best flavor and greatest value. It may be hard, for example, not to indulge a craving for summer blueberries at any time during the year, but consider how during the winter it would take two weeks for blueberries to be shipped from Chile—with tax. Shopping according to the seasons means you'll save money, plus you'll prepare five-star meals with ingredients that are seasonally fresh. 
Our point is, it's always good for any shopper to get a refresher on what's currently in season and what's not. Since it's the beginning of August—which most of us equate with being the height of summer, according to the temperatures—let's talk summer 
produce
:
Summer Fruits
(According to the USDA)
Apples
Apricots
Avocados
Bananas
Blackberries*
Blueberries*
Cantaloupe*
Cherries*
Honeydew Melon*
Kiwifruit*
Mangos
Nectarines*
Peaches*
Plums*
Raspberries
Strawberries
Watermelon*
Summer Vegetables
(According to the USDA)
Beets
Bell Peppers
Corn*
Carrots
Collard Greens
Cucumbers*
Eggplant*
Garlic
Green beans
Lima beans*
Okra*
Summer Squash & Zucchini*
Tomatillos*
Tomatoes*
The produce marked with an asterisk(*) is only in season during the summer. All other produce is in season for more than one season.
Next time you
visit your local store
, keep this guide handy! You can always count on Brookshire Brothers to do our best in bringing quality produce to customers.
Looking for ideas on how to tap into your taste buds with summer produce? Check these out:
Healthy fruit snacks—with a twist! Here's the menu: Grape Sticks, Grilled Peach Salsa, Melon Rings, and more.
Corn, zucchini, squash… a whole garden of summer veggies comes together to make two garden fresh recipes from our Catering Coordinator, Kate Rudasill.
In case you need another reason to fill up on summer fruit, here's a brief overview of their nutritional merits from Angela Larson, a registered dietitian.
Sweet tooth? Kate's got you covered. Amaretto Peach Parfaits and Peach Blueberry Upside-Down Cake are great recipes to send off the summer before school starts.
Tuesday July 18, 2017
Cooking with Kate: Fresh From the Garden
One of the best things about growing up in the country was our family's summer garden—sun-ripe tomatoes, fresh sweet corn, carrots of all sizes, and so many different kinds of peas. As such, I'm forever disappointed that I did not inherit the family green thumb. Plants tend to die under my care with alarming frequency! Thus, I'm always grateful for the fresh produce available at my local Brookshire Brothers as one of my favorite recipes lets you use a whole garden of veggies!
My sweet friend, Valena Spradley, gave me this summer sauté recipe, and I've always loved how quickly this dish comes together, using whatever vegetables you have on hand. I've also included a recipe for cream peas, which can make a delicious addition to this recipe—or any summer meal! Lady Cream, Zipper Cream, Texas Cream, Crowders, Field Peas—take your pick and turn on the stove!
Fresh Summer Vegetable Sauté
Ingredients
6 slices uncooked bacon, diced
2 tablespoons butter
1 small white onion, diced
1 clove garlic, minced
2-3 ears fresh sweet corn, cut off the cob
2 yellow squash, diced
2 zucchini, diced
½ - 1 cup heavy cream
1 pinch cayenne pepper or red pepper flakes
Optional Additions
1 jalapeño pepper, diced
1 bell pepper (any color), diced
1 bunch fresh asparagus, cut into 1-inch pieces
1 carton grape tomatoes, cut in half
Directions
In a large, deep-sided skillet with a lid, sauté the bacon pieces over medium heat until crisp. Remove bacon from skillet and place in a paper-towel lined bowl or plate, leaving the bacon grease in the skillet. Add the butter, onions, and garlic to the skillet. Sauté for 1-2 minutes until the onions begin to soften. Add the corn, squash, zucchini, and any other vegetables you are using. Sauté over medium-high heat for 2 minutes, stirring occasionally. Add enough heavy cream to lightly coat the vegetables – you do not want them swimming in cream, but need enough liquid to keep the vegetables from drying out. Reduce the heat to medium-low, cover the skillet, and gently simmer for 5-10 minutes or until vegetables are soft. Add the crisp bacon to the skillet with a generous pinch of freshly ground pepper and a small pinch of cayenne or red pepper flakes. Taste the vegetables before adding any salt – the bacon, butter, and cream will add some salt to the dish so you might not need to add any! Serve warm with your favorite grilled or roasted meats.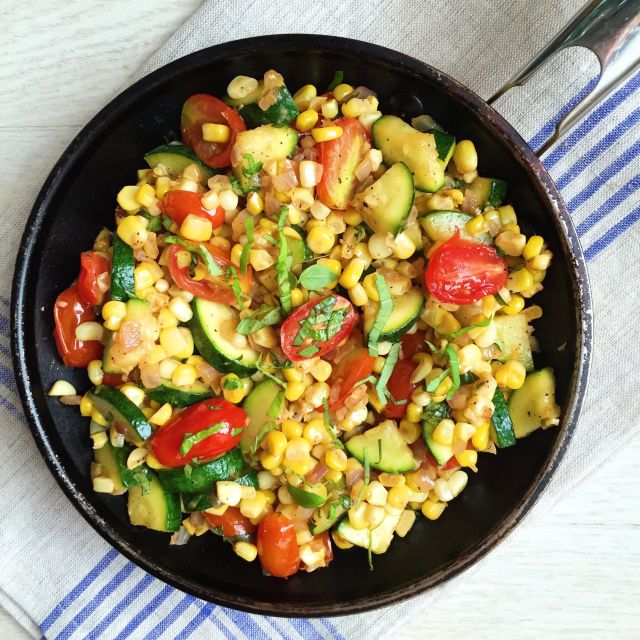 The Rudasills' Fresh Cream Peas
Ingredients
½ pound uncooked bacon, diced
½ stick salted butter
1 medium-large white onion, diced small
2 cloves garlic, minced
1 ½ - 2 pounds shelled cream peas, preferably fresh but frozen can be used
2 cups chicken broth
Salt and pepper to taste
Directions
In a large pot with a lid, sauté the bacon pieces over medium heat until the bacon grease begins to render and the bacon is barely cooked. Remove the bacon from the pot with a slotted spoon and reserve for later. Increase the heat to medium-high, and add the butter to the pot. Add the diced onion and garlic to the pot and sauté for 3-5 minutes until the onions are translucent. Add the peas, cooked bacon, and chicken broth to the pot. Add enough water so that the peas are covered by about one inch of liquid. Bring the peas to a low simmer over medium-high heat, reduce the heat to low, cover the pot halfway with the lid, and continuing cooking for 1 to 1 ½ hours until the peas are soft, stirring every 10-15 minutes. Taste the peas and season with freshly ground black pepper and salt, if needed. Serve warm with fresh cornbread!
Hope y'all are having a great summer!
Tuesday May 30, 2017
Cooking with Kate: An Easy Summer Meal
With things heating up outside and the summer season upon us, I'm often looking for quick and easy meals that do not take much thought or cooking. Avocado toast is all the rage and with good reason – nutrient-dense avocados, from our farm-fresh produce selection, are an excellent source of monounsaturated fats (the good kind), Vitamins C, E, K, and B-6, folate, magnesium, potassium, and beta-carotene. Adding protein-rich eggs makes this a great meal for a quick breakfast or a busy weeknight. Enjoy!
Avocado Toast with Poached or Shirred Eggs
Makes 2 breakfast servings or 1 dinner serving
Ingredients
2 slices whole grain bread
1 tablespoon salted butter, softened
1 ripe avocado
1 lime, juiced
2 eggs, room temperature
pinch smoked paprika
a sprig fresh thyme or pinch of dried thyme leaves
salt and pepper
For shirred eggs                                                                                          
2 tablespoons heavy cream
2 tablespoons shredded parmesan or gruyere cheese
For poached eggs                                                      
1 tablespoon white vinegar
Directions
Preheat oven to 425°F. Spread softened butter on sliced bread; lay on cookie sheet. Set aside. As soon as you begin cooking the eggs, place the buttered bread in the oven to toast for 3-5 minutes. Watch carefully to prevent burning.
Scoop avocado flesh into a small bowl. Season to taste with salt, pepper, and lime juice. Mash and mix well. Set aside.
For shirred eggs
In a small greased ramekin, mug, or baking dish, add eggs (not beaten). Drizzle with heavy cream, sprinkle with cheese, and season with salt, pepper, paprika, and thyme. Bake in preheated oven for 7-10 minutes (7 minutes for runny yolks; 10 minutes for a firm yolk).
For poached eggs
Crack the eggs into 2 separate small bowls or cups. Bring a small, deep saucepan of water to a low simmer (small bubbles barely breaking on the surface). Salt the water and add 1 tablespoon vinegar. Use a spoon to create a swirling whirlpool in the water. Slowly lower the egg into the center of the whirlpool. This will help the egg white to wrap around the yolk. Add the second egg. Cover the saucepan and let the eggs cook for 5 minutes without stirring. Use a slotted spoon to remove the eggs from the water. Carefully drain the eggs on paper towels.
Serving
Spread mashed avocado on buttered toast. Add shirred or poached eggs. Sprinkle with additional salt, pepper, and paprika. Serve immediately.
---
Click here to see other recipes from Brookshire Brothers Catering Coordinator, Kate Rudasill.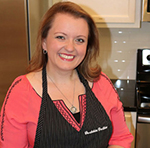 Kate Rudasill, Catering Coordinator for Brookshire Brothers, has been in the food-service industry for the past 14 years. As a graduate of Texas A&M University, a student of The Texas Culinary Academy, and a Nacogdoches, Texas native, Kate grew up with Southern tradition in her blood which caused her to have a deep love for bringing people together with food.
Monday April 17, 2017
Spring Clean Your Pantry
What's in the back of your pantry? Scared to look? Me too. I once (unknowingly) fed my husband a bowl of Cinnamon Toast Crunch cereal that had expired about five years prior. When he complained about the taste I explained that it was the reduced sugar variety and he dutifully finished the bowl before we discovered that the cereal rightfully belonged in a history museum. It's not just neglected items that can make the pantry a treacherous place, but it can also reveal our personal dietary pitfalls. The best place to start when making positive changes in your diet is in your pantry. By implementing some practical tips, keeping healthy staples on standby, and making a few impactful substitutions, you can have a pantry keeps you and your family eating well. 
     
     
     1.Keep the best stuff at the front of your pantry and at
     eye level. Ever had the tendency to open the pantry or
     refrigerator and just… stare? I would never do that, but I
     know plenty of people who do. (Okay, maybe I've been
     done that once or two hundred times.) Most everyone
     has a few treats squirreled away, but to keep your diet in
     the best possible balance, stash the unhealthy treats in
     the least visible places - near the back of shelves that
     aren't at eye level. If you have to think and act a bit more
     purposefully, you'll tend to eat "treat" foods less often.
     This is also helpful for remembering to use pantry
     staples that expire quickly or for using fresh goods like
     fruit, potatoes and onions (which have fewer
     preservatives and might expire sooner). 
     Find more tips on Farm Fresh Produce here.
2. Speaking of the good stuff, load up your pantry with more fresh products and staples that can be whipped into quick nutritious meals. Potatoes and sweet potatoes keep well and are a versatile ingredient for quick and easy meals and sides like baked and roasted potatoes. Keep some healthy soup options, chicken broth, and frozen or canned veggies on hand for mixing up a quick pot of soup. Don't forget nutritious starches like rice, quinoa, and beans to round out your healthy meal options. Seafood products like packages of salmon, tuna, oysters, sardines, and clams make a nutritious addition to any pantry, and don't forget to have some whole grain crackers to pair up with your seafood stash. Be prepared with a variety herbs, seasonings, and seasoning blends for tweaking recipes. 
3. Maintain a supply of grab-and-go snacks that will keep you satisfied and energized. Load your pantry with a variety of nuts, seeds, dried fruit, jerky, seasoned popcorn, quality granola bars, dark chocolate, and even dried veggie snacks.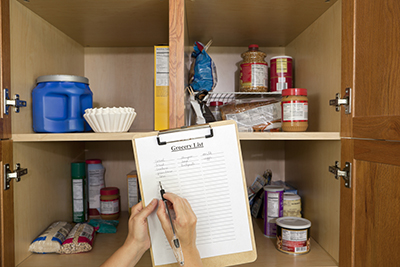 4. As you replenish pantry staples, replace them with healthier alternatives. Swap out vegetable oil for refined coconut oil, regular salt for sea salt or other less refined salts like pink Himalayan salt, and refined sugar for coconut sugar. Each of these replacement options is more nutrient dense and can be used one-for-one as a direct substitute in recipes compared to the items being replaced. 
Your most delicious, nutritious, and productive spring yet starts here. Make a trip to your local Brookshire Brothers store today for supplies and inspiration to whip your pantry into shape. Find a store near you!
Angela Larson is a registered dietitian (RD) who works with Brookshire Brothers promoting real fresh, real delicious healthy foods and providing nutrition education to the community. She is also a clinical dietitian representing Woodland Heights Medical Center in Lufkin where she does community education on food and nutrition. Food is her passion, so Angela loves trying new recipes and exploring the more holistic side of nutrition. Angela loves to cook, garden, and spend time outdoors. Look for Angela's monthly articles in Charm East Texas.  
Monday October 17, 2016
Cooking with Kate: Happy Halloween!
It's hard to believe that Halloween is right around the corner...especially when it still feels a bit summery outside. Hopefully the temperature will drop some before the trick-or-treating weekend is upon us! Have some fun this year with your kiddos making these fun after-school and party recipes that are simple, quick, and delicious!
Toothy Apples
3-4 apples – Granny Smith, Gala, or Fuji
smooth or crunchy peanut or almond butter
mini marshmallows
Slice apples into quarters and remove the core. Slice each quarter in half and spread a small amount of peanut or almond butter on one of the sides. Add 5-7 mini marshmallow "teeth" to one slice and top with another slice, peanut butter side down to hold the marshmallows in place. Refrigerate your "toothy" apples until ready to serve.
Fall Party Snack Mix
6 cups Chex or Crispix cereal
1 cup mini pretzel twists
6 tablespoons butter, melted
¼ cup brown sugar
1 teaspoon cinnamon
1 cup peanut butter pieces or chocolate candies
1 cup mini marshmallows
1 cup candy corn or other fall candy
Pre-heat the oven to 275°F. Line a baking sheet with parchment paper and set aside. Melt the butter in a large bowl. Add the cereal and pretzels and toss evenly to coat. In a small bowl, mix the brown sugar and cinnamon, then toss with the cereal mixture to evenly coat. Spread the cereal mixture onto the baking pan and bake for 20 minutes. Cool the cereal mixture completely. Once cool, add the candy, candy corn and marshmallows. Serve in a large bowl for a party or package into small bags to give out to friends 
Spiced Apple Cider
Makes 16-20 servings
2 ½ quarts apple cider
24 ozs pineapple juice
24 ozs orange juice
1 teaspoon ground nutmeg
1 teaspoon ground cinnamon
4-6 cinnamon sticks
1 tablespoon whole cloves
In a large crock pot, mix apple cider, pineapple juice, orange juice, ground nutmeg, and ground cinnamon. Add cinnamon sticks and cloves (see note). Heat on high for 1 hour.  Turn heat to low and continue heating for 1-2 hours or until ready to serve. Refrigerate any remaining cider.
NOTE: If you have cheesecloth available, use a small square of cloth to wrap the cinnamon sticks and cloves and then tie with twine. Add to the pot and remove before serving. If cheesecloth is not available, use a slotted spoon to remove the cloves before serving.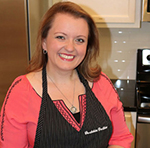 Kate Rudasill, Catering Coordinator for Brookshire Brothers, has been in the food-service industry for the past 14 years. As a graduate of Texas A&M University, a student of The Texas Culinary Academy, and a Nacogdoches, Texas native, Kate grew up with Southern tradition in her blood which caused her to have a deep love for bringing people together with food.
Friday May 20, 2016
Cooking with Kate: Blackberries, May & Summer
The month of May brings a welcome break from school and lots of anticipation for the summer. The days are getting longer, it is warm enough for swimming, and baseball season is in full swing. With the warmer weather, May also gives us an exciting array of fresh produce. Here are two recipes with the Produce Pick of the Month for May – blackberries!
Mascarpone Dip with Balsamic Basil Blackberries
1 container (8-9 ounces) mascarpone cheese
1/3 cup balsamic vinegar, good quality
1 tablespoon light brown sugar
1 (6 oz) package (1 ½ cups) fresh blackberries
2 tablespoons fresh basil leaves, thinly sliced
½ teaspoon freshly ground black pepper
1 large pinch sea salt
Assorted crackers, for serving
Bring vinegar and brown sugar to a simmer in a saucepan over medium-high heat. Simmer until reduced to 2 tablespoons. Pour into a medium bowl and let cool completely. Once cooled, gently stir in blackberries, basil, pepper and salt. Dip the bottom of the mascarpone container in a small bowl of very hot water for about 5 seconds. Using a rubber spatula, unmold mascarpone onto a serving platter. Spoon blackberry mixture over mascarpone, being sure to scrape all the juices out of the bowl. Serve with assorted crackers.
Blackberry Skillet Cake
1 ½ cups all-purpose flour
1 ½ teaspoons baking powder
¼ teaspoon fine salt
10 tablespoons unsalted butter, room temperature, divided
¾ cup granulated sugar
2 large eggs, room temperature
2 teaspoons pure vanilla extract
½ teaspoon grated lemon zest
½ cup whole milk, room temperature
1/3 cup dark-brown sugar
3 cups fresh blackberries
Preheat oven to 350°F. In a medium bowl, whisk together flour, baking powder, and salt. In a large bowl, using an electric mixer, beat 6 tablespoons butter and sugar on high until light and fluffy. Beat in eggs, vanilla, and zest until combined. With mixer on low, add ½ of the flour mixture, then the milk, then the remaining flour mixture. Blend until combined.
In a 10-inch, oven-proof skillet, melt remaining 4 tablespoons butter over medium heat. Add brown sugar and cook, stirring constantly for until bubbly (about 30 seconds). Remove from heat and arrange blackberries evenly in skillet. Pour cake batter over berries and smooth top. Bake in preheated oven until cake is deep golden brown and a toothpick inserted in center comes out clean, 35 to 40 minutes. Let cake cool in skillet on a wire rack for 5 minutes. Run a knife around edge and carefully invert cake onto a serving plate. Serve warm or at room temperature with whipped cream.
Thursday March 31, 2016
Nature's Health Food - Asparagus
The perfect addition to any meal this spring and summer - asparagus!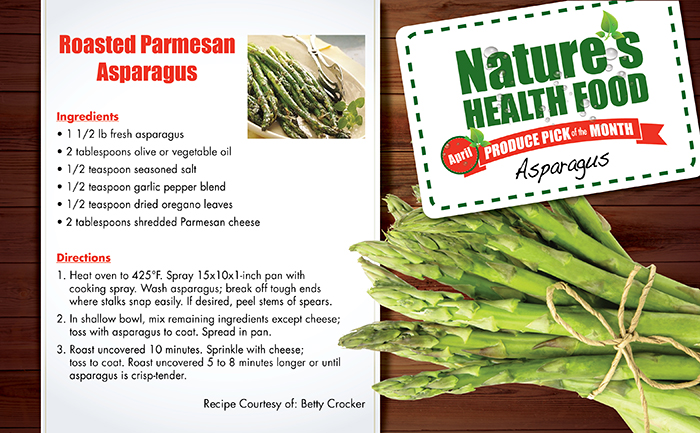 To download PDF, click here
Monday February 29, 2016
Nature's Health Food - Sweet Onions
Buttery, Sweet, Cheesy...Onion? That's right! Our Produce Pick for March will redefine sweet onions for you. Try this dip for a great crowd pleasing treat!
To download PDF, click here
Pages