Posted on Tuesday, October 9, 2018
Hispanic Heritage Month celebrates the long and important presence of Hispanic and Latino Americans in North America – beginning with the Spanish colonial settlement of St. Augustine, Florida in 1565 and continuing through the 1600s, 1700s, and 1800s with the Spanish colonization of Texas, New Mexico, Nevada, Arizona, and the founding of San Francisco in California. As a result, Hispanic and Latino cuisine has heavily influenced American dishes for hundreds of years. This is especially true in the southwest region where tortillas and salsa are as common as sliced bread and peanut butter. Tex-Mex and more traditional Mexican dishes are incredibly popular here in Texas, but many Spanish and South American specialties are virtually unknown. To celebrate Hispanic Heritage Month, I am sharing with you two recipes that you might not know, but you should definitely try!
Spanish Chorizo-Filled Dates Wrapped in Bacon
Spanish chorizo differs from Mexican chorizo. The Spanish variety is a smoked, hard sausage similar to hard salami and the Mexican variety is often ground meat and spicier.
Ingredients
2-3 ounces Spanish chorizo, casing removed
24 Medjool dates, pitted
12 slices raw bacon, cut in half crosswise
Directions
Cut the chorizo into 24 small sticks. Tuck 1 piece of chorizo into each date. Wrap each stuffed date with a half slice of bacon. Secure with a toothpick. Heat a large skillet over medium heat. Add stuffed dates to the hot skillet and cook, turning often, until bacon is browned and cooked through. Drain on paper towels and serve hot.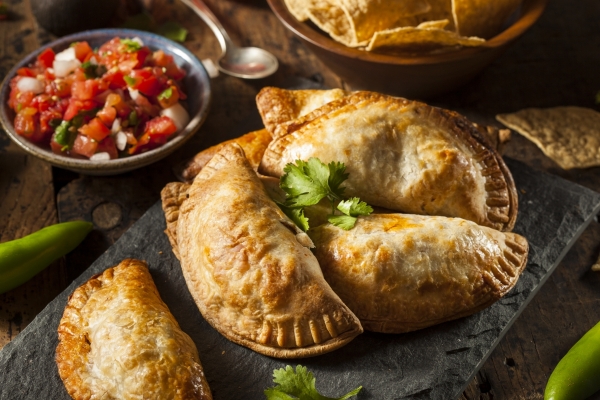 Salteῆas Bolivianas (Bolivian-Style Empanadas)
I was fortunate to get to try these from a street vendor in El Alto, Bolivia during a trip last year. There are many different variations of salteῆas with beef, chicken, and pork, but my favorite was similar to this recipe—a rich chicken stew with potatoes, peas, and raisins encased in a slightly sweet, flaky pastry.
Ingredients
For the dough:
4 cups all purpose flour
½ cup white sugar
½ teaspoon salt
2 eggs, beaten
1 stick butter, melted
1 cup warm water
For the filling:
1 russet potato, cut into ½" cubes
¼ cup butter
2 tablespoons yellow pepper paste
½ teaspoon cumin
½ teaspoon oregano
¼ teaspoon salt
½ teaspoon black pepper, or to taste
1 green onion, sliced
½ yellow onion, small diced
3 boneless, skinless chicken breasts, cooked and shredded
¼ cup green peas, frozen
¼ cup plain or golden raisins
1 tablespoon sugar
¼ teaspoon white vinegar
1 tablespoon chopped fresh parsley
4 cups chicken stock
1 packet unflavored gelatin
Directions
Make the dough:
In a large bowl, mix together the flour, sugar, and salt. Add the beaten eggs and melted butter. Add a little less than 1 cup warm water, mixing until a soft dough forms. Cover the bowl with a clean towel, and let the dough rest on the counter for 20-30 minutes while you start the filling.
Make the filling:
Add the diced potato to a small pot of boiling water and cook for 5 minutes (potatoes will not be fully cooked). Drain the potatoes and set aside.
Melt the butter with the yellow pepper in a large saucepan over medium heat for about 4 minutes. Turn the temperature to low and add the spices (cumin, oregano, salt and pepper) and let everything cook together for 10 minutes. Add the diced green and yellow onion and cook until onions soften, about 3-4 minutes. Add the shredded chicken, partially cooked potatoes, green peas, raisins, sugar, vinegar, parsley, and chicken broth. Cook over medium heat for 5 minutes until the mixture is heated throughout. Stir in the packet of gelatin to the mixture and then transfer to a large bowl and cool completely in the refrigerator before filling pastry. The gelatin will partially set the broth mixture as it cools in the fridge.
To assemble:
Divide dough into 18 equal portions. Roll each portion into a 7-8" circle, about 1/8" thick. Add a generous scoop of the chilled and gelatinous filling to the center of each circle of dough. To seal the salteῆas, lightly dampen the dough along the edges. Bring the edges of the dough together over the top of the filling. Starting at one side, pinch and twist the dough together to ensure a strong seal. Freeze the sealed salteῆas until ready to bake.
Preheat oven to 500°F. Line a cookie sheet with foil and spray with non-stick spray. Transfer the frozen salteῆas to the foil-lined sheet and brush the salteῆas with a little beaten egg. Bake in the preheated oven for 12-18 minutes or until dough is golden brown and the filling is heated through. Let cool for 5 minutes before serving.
---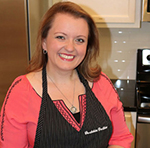 Kate knows food. She grew up with the Southern tradition of good food with the hospitality to match. A graduate of Texas A & M University, a student of The Texas Culinary Academy, and a Nacogdoches, Texas native, Kate's greatest joy is bringing people together over a scrumptious meal.