Tuesday October 9, 2018
Cooking With Kate: Hispanic Heritage Month
Hispanic Heritage Month celebrates the long and important presence of Hispanic and Latino Americans in North America – beginning with the Spanish colonial settlement of St. Augustine, Florida in 1565 and continuing through the 1600s, 1700s, and 1800s with the Spanish colonization of Texas, New Mexico, Nevada, Arizona, and the founding of San Francisco in California. As a result, Hispanic and Latino cuisine has heavily influenced American dishes for hundreds of years. This is especially true in the southwest region where tortillas and salsa are as common as sliced bread and peanut butter. Tex-Mex and more traditional Mexican dishes are incredibly popular here in Texas, but many Spanish and South American specialties are virtually unknown. To celebrate Hispanic Heritage Month, I am sharing with you two recipes that you might not know, but you should definitely try!
Spanish Chorizo-Filled Dates Wrapped in Bacon
Spanish chorizo differs from Mexican chorizo. The Spanish variety is a smoked, hard sausage similar to hard salami and the Mexican variety is often ground meat and spicier.  
Ingredients
2-3 ounces Spanish chorizo, casing removed
24 Medjool dates, pitted
12 slices raw bacon, cut in half crosswise
Directions
Cut the chorizo into 24 small sticks. Tuck 1 piece of chorizo into each date. Wrap each stuffed date with a half slice of bacon. Secure with a toothpick. Heat a large skillet over medium heat. Add stuffed dates to the hot skillet and cook, turning often, until bacon is browned and cooked through. Drain on paper towels and serve hot.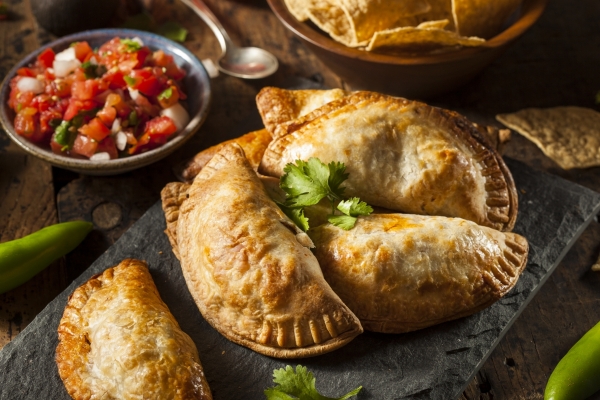 Salteῆas Bolivianas (Bolivian-Style Empanadas)
I was fortunate to get to try these from a street vendor in El Alto, Bolivia during a trip last year. There are many different variations of salteῆas with beef, chicken, and pork, but my favorite was similar to this recipe—a rich chicken stew with potatoes, peas, and raisins encased in a slightly sweet, flaky pastry. 
Ingredients
For the dough:
4 cups all purpose flour
½ cup white sugar
½ teaspoon salt
2 eggs, beaten
1 stick butter, melted
1 cup warm water
For the filling:
1 russet potato, cut into ½" cubes                                                
¼ cup butter                                                                                      
2 tablespoons yellow pepper paste                                            
½ teaspoon cumin                                                                           
½ teaspoon oregano                                                                       
¼ teaspoon salt                                                                               
½ teaspoon black pepper, or to taste
1 green onion, sliced
½ yellow onion, small diced
3 boneless, skinless chicken breasts, cooked and shredded
¼ cup green peas, frozen
¼ cup plain or golden raisins
1 tablespoon sugar
¼ teaspoon white vinegar
1 tablespoon chopped fresh parsley
4 cups chicken stock
1 packet unflavored gelatin
Directions 
Make the dough:
In a large bowl, mix together the flour, sugar, and salt. Add the beaten eggs and melted butter. Add a little less than 1 cup warm water, mixing until a soft dough forms. Cover the bowl with a clean towel, and let the dough rest on the counter for 20-30 minutes while you start the filling.
Make the filling:
Add the diced potato to a small pot of boiling water and cook for 5 minutes (potatoes will not be fully cooked). Drain the potatoes and set aside.
Melt the butter with the yellow pepper in a large saucepan over medium heat for about 4 minutes. Turn the temperature to low and add the spices (cumin, oregano, salt and pepper) and let everything cook together for 10 minutes. Add the diced green and yellow onion and cook until onions soften, about 3-4 minutes. Add the shredded chicken, partially cooked potatoes, green peas, raisins, sugar, vinegar, parsley, and chicken broth. Cook over medium heat for 5 minutes until the mixture is heated throughout. Stir in the packet of gelatin to the mixture and then transfer to a large bowl and cool completely in the refrigerator before filling pastry. The gelatin will partially set the broth mixture as it cools in the fridge.
To assemble:
Divide dough into 18 equal portions. Roll each portion into a 7-8" circle, about 1/8" thick. Add a generous scoop of the chilled and gelatinous filling to the center of each circle of dough. To seal the salteῆas, lightly dampen the dough along the edges. Bring the edges of the dough together over the top of the filling. Starting at one side, pinch and twist the dough together to ensure a strong seal. Freeze the sealed salteῆas until ready to bake.
Preheat oven to 500°F. Line a cookie sheet with foil and spray with non-stick spray. Transfer the frozen salteῆas to the foil-lined sheet and brush the salteῆas with a little beaten egg. Bake in the preheated oven for 12-18 minutes or until dough is golden brown and the filling is heated through. Let cool for 5 minutes before serving.
---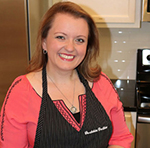 Kate knows food. She grew up with the Southern tradition of good food with the hospitality to match.  A graduate of Texas A & M University, a student of The Texas Culinary Academy, and a Nacogdoches, Texas native, Kate's greatest joy is bringing people together over a scrumptious meal.
Sunday October 15, 2017
Celebrating Hispanic Heritage 2017
Six Dishes, Four Countries, One Kitchen. 
While today marks the last day of National Hispanic Heritage Month, we think this bold and exciting culture is always worth celebrating. At Brookshire Brothers, we continually strive to understand and celebrate other cultures so that we can better serve our communities.  Hispanic heritage is particularly important to us as a company with a richly diverse workforce, as well as a footprint that reaches as far south as Ganado.
As such, we'd like to share six traditional dishes—courtesy of our vendor partner Goya Foods—to take a journey of flavors across the world without ever leaving your home kitchen. With a menu that's perhaps both familiar and foreign, treat your friends and family to an adventure at your next dinner or gathering.
Visit your local Brookshire Brothers to get started today!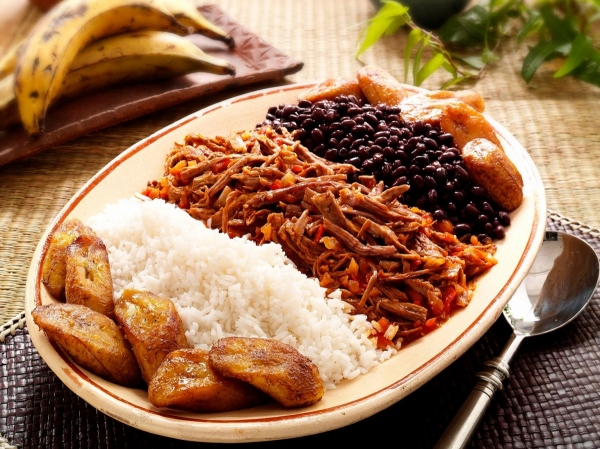 Venezuelan Shredded Beef (Pabellón Criollo)
 Yields 4-6 Servings
Ingredients
1 flank steak about 2 lbs., cut in 4 pieces
1 onion roughly chopped
2 packets GOYA® Beef Bouillon*
1 quart water
2 cups chopped onion
2 tsp. GOYA® Minced Garlic, or 4 cloves fresh garlic, minced* 
2 tbsp. GOYA®Corn Oil*
1 can (8 oz.) GOYA® Tomato Sauce*
1 packet GOYA® Sazón without Annatto*
½ tsp. GOYA® Leaf Oregano*
½ tsp. GOYA® Adobo with Cumin*
1 can (15 oz.) GOYA® Black Bean Soup, heated*
1 packet (11 oz.) GOYA® Frozen Ripe Plantain, cooked according to package directions*
3 cups cooked CANILLA® Extra Long Grain Rice*
* Brands are substitutable
Directions
In saucepan, combine meat, onion, bouillon and water. Bring to boil, lower heat and simmer until very tender (about 1½ hours). Add more water as necessary to keep meat covered. Allow meat to cool in broth. When cool enough to handle, shred meat. Reserve 1 cup of broth.
In meantime, puree onion, red pepper and garlic in food processor.
In skillet heat oil on medium high. Add shredded meat and lightly brown. Add pureed vegetables, tomato sauce, Sazon, oregano, Adobo and reserved broth. Bring to boil, lower heat and simmer until mixture dries about 20 minutes. 
Arrange meat, black beans, rice and plantain on platter and serve.
CONTINUE THE JOURNEY
Mexico
Chicken Flautas — "Tacos are an everyday event in Mexico with many different fillings. When tacos are rolled tightly and pan-fried until crisp so they resemble tubes or "flutes," they become flautas. This delicious, crunchy variation of tacos comes from Jalisco, Mexico, where it is a popular snack food. Here, chicken stewed with tomato sauce and onions is the filling of choice, but can be substituted for steak or pork. Whichever protein you choose, the flautas should be prepared and eaten right away for the best taste." (GOYA)
Grilled Chicken Fajitas — "For an outdoor meal that's fun for everyone, serve up a sizzling batch of Grilled Chicken Fajitas! Here, boneless, skinless chicken breasts come alive with flavor and pizzazz when marinated in GOYA® Mojo Criollo. Grill the marinated chicken breasts, peppers and onions and serve with the toppings of your choice for a festive dinner, tonight!" (GOYA)
Chicken and Avocado Quesadillas — "These chicken and avocado quesadillas are guaranteed to be the life of your summertime fiestas! Here, a tasty combination of GOYA® Fancy Pimientos, GOYA® Diced Green Chiles, scallions, fresh cilantro and GOYA® Salsita are topped with shredded cooked chicken and creamy avocado, coming cozily together in GOYA® Soft Taco Flour Tortillas with melted shredded cheese. This flavor-loaded quesadilla is bound to keep your party guests coming back for more!" (GOYA)
El Salvador
Salvadoran Pupusas with Cabbage Salad

 — "A staple of Salvadoran cuisine, 

pupusas

 are handmade, stuffed corn tortillas. Savory, flavor-packed 

pupusas 

Salvadoreñas are traditionally filled with beans, cheese, and pork. This 

pupusas

 recipe is especially easy, made with GOYA® Masarica Instant Corn Masa Flour, and stuffed with a choice of GOYA® Refried Red Beans (Volteados Style) and white cheese. 

Pupusas

 are served with a tangy pickled cabbage salad." (GOYA)
Colombia
Colombian Beef and Pork Empanadas

 — "These typical Colombian-style 

empanadas

 are tasty turnovers made with savory yellow corn dough stuffed with seasoned pork and beef mixed with cooked potatoes. The meat filling is typically made with cooked and shredded beef and pork, but here, we use ground meat to cut down in cooking time with similar tasty results. Served at social gatherings, family parties and celebrations throughout the year, these Colombian Beef and Pork Empanadas are the perfect tasty, hand-held party food. Serve with lime wedges and a 

ají picante

." (GOYA)
Thursday December 10, 2015
Las Posadas
As the holiday season is nearing, we are encouraging our customers and employees to share their traditions. We hope you enjoy the tradition of Las Posadas and encourage your family to participate with us this year!
The Tradition of Las Posadas
The Mexican Posadas is a 9-day Mexican Christmas celebration to recreate the journey that Mary and Joseph took traveling from Nazareth to Bethlehem looking for a warm place to give birth. During the journey, Mary and Joseph are turned away by many but finally come to a home that lets them in. However, in Hispanic cultures, the recreation of the journey is represented by those who attend the Posadas and ask for a 'welcoming' via songs. Traditionally, most begin singing further away from the home and are turned down until they reach the front home. After entering the home, one of the most important things in the celebration is the food that brings people together. Enjoy tamales, empanadas, and all traditional hispanic dishes.
Join us in the celebration of Las Posadas and tell us your Posadas turned out!
Posada Song
           Outside:                                            Inside:
In the name of Heaven                   This is not an inn
I beg you for lodging,                        so keep going.
for she cannot walk                           I cannot open
my beloved wife.                           you may be a rogue.
         Outside:                                              Inside:
We are worn out                      I don't care about your name.
coming from Nazareth.                     Let me sleep,
I am a carpenter,                       because I already told you
Joseph by name.                          we shall not open up.
         Outside:                                              Inside:
My wife is Mary                                  Are you Joseph?
She's the Queen of Heaven          Your wife is Mary?
and she's going to be a mother     Enter, pilgrims.
of the Divine Word.                   I did not recognize you.
          Outside:                                              Inside:
May God pay, gentle folks,           Blessed is the house
your charity,                                    that shelters this day
and thus heaven heap                        the pure Virgin,
happiness upon you.                        the beautiful Mary.
Outside and Inside Sing together:
Enter, holy pilgrims, holy pilgrims, receive this corner, for though this dwelling is poor, I offer it with all my heart.
To find a great Red Chili Pork Tamale Recipe, click here