Submitted by
brookshire-blog
on Sunday, April 22, 2018
In 1970, Senator Gaylord Nelson established Earth Day to garner national support and bring attention to the most pressing environmental issues. Since then, this day annually serves as a celebratory reminder of mankind's mutualistic relationship with nature, along with its increased importance in our globalized world economy and the need for institutions to continually examine their environmental impact. Environmental concerns are one aspect of corporate social responsibility (CSR), an emerging business practice focused on sustainable contributions to society.
Get outdoors this Earth Day. Celebrate with our latest Fast Feast, perfect for backyard burgers!
The European conglomerate Unilever—whose brands include Axe, Dove, Lipton, Breyers, and Dollar Shave Club—is recognized as a global leader in corporate social responsibility. According to CEO Paul Polman, his personal mission is "to galvanize our company to be an effective force for good." The results speak for themselves: the company's brands that were committed to sustainability grew 50% faster than the others, contributing to 60% of the Unilever's growth in 2016.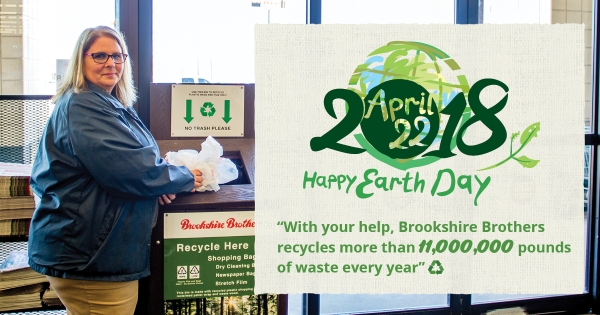 Like Unilever, Brookshire Brothers is committed to reducing its environmental footprint throughout its operations. Company-wide, we salvage more than 11 million pounds of waste that would have otherwise ended up in a landfill, including cardboard, soft plastics,
meat
,
deli
, and
produce
wastes. As a grocer, we are the retailer for nature's products, whether we're selling Cheerios, oranges, or a strip steak. Thus, we have a responsibility—really, an obligation—to be good stewards of the resources we use and sell.
This stewardship has led us to enroll in a program with Manomet called the Grocery Stewardship Certification. Using a point-based methodology in green practices and infrastructure, Manomet awards the certification from a weighted criteria covering areas such as food waste, efficient refrigerant, water usage, and recycling. We currently have 16 stores working toward the GSC and with each store's renovation, green practices and features are implemented. We look to add more locations in the near future.
We love being Your Community Grocer, and that includes the bigger community that we are all a part of beyond ourselves: our planet. As we aim to lessen our impact on the natural world, we encourage you to do the same. Happy Earth Day!