Tuesday November 27, 2018
Oven Baked Chili Cheese Dogs
Fast Feast: Buy 2, GET 5 FREE
 • November 28 through December 11, 2018 •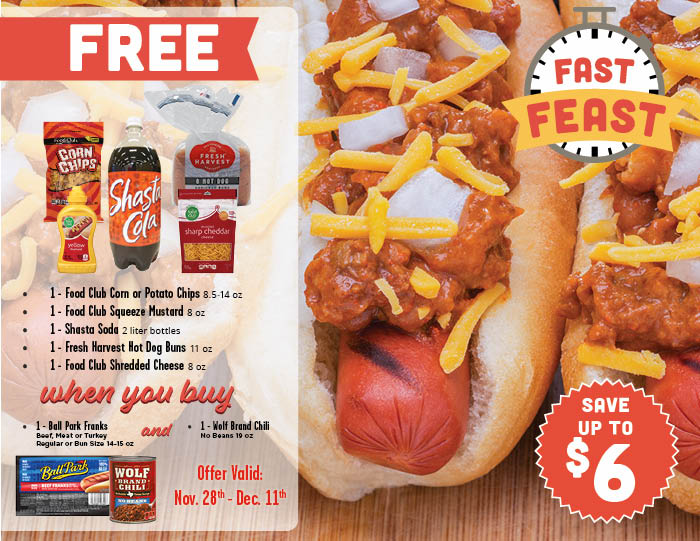 A classic crowdpleaser, chili dogs are an easy fix for almost any occasion—football watch parties, family dinners, friendly potlucks, and more. Go for the win-win with hot & ready savings on this delicious dish, now through December 11! 
FAST FEAST: When you buy one (1) Ball Park Franks (Beef, Meat or Turkey / Regular or Bun Size / 14-15 oz) and one (1) Wolf Brand Chili (No Beans / 19 oz), you get these foods FREE:
1 - Food Club Corn or Potato Chips (8.5-14 oz)
1 - Food Club Squeeze Mustard (8 oz)
1 - Shasta Soda (2 liter bottles)
1 - Fresh Harvest Hot Dog Buns (11 oz)
1 - Food Club Shredded Cheese (8 oz)
Can't find one of these items? Talk to your local store director!
---
Oven-Baked Chili Cheese Dogs
 Prep: 15 min | Total: 1 hr
Ingredients
7-8 Ball Park Franks (depending on how many you can fit into your pan)
7-8 Fresh Harvest Hot Dog Buns
1 cup Food Club mayonnaise
1/2 cup Food Club Relish
1 can Wolf Brand Chili (19 oz)
1 cup Food Club Shredded Cheese
1 onion, diced
Optional: Mustard, to taste
Serve with chips, soda, and any other sides you enjoy! 
Directions 
Preheat your oven to 350*F. 
Spread 2 tablespoons of mayonnaise and 1 tablespoon of relish into each hot dog bun (mustard optional)
Add a hot dog (uncooked) to each bun, then place in a 9×13 baking dish.
Evenly top each with chili, followed by shredded cheese and diced onion. 
Cover with foil, place in preheated oven, and bake for 45 minutes.
Enjoy!