Tuesday May 30, 2017
Cooking with Kate: An Easy Summer Meal
With things heating up outside and the summer season upon us, I'm often looking for quick and easy meals that do not take much thought or cooking. Avocado toast is all the rage and with good reason – nutrient-dense avocados, from our farm-fresh produce selection, are an excellent source of monounsaturated fats (the good kind), Vitamins C, E, K, and B-6, folate, magnesium, potassium, and beta-carotene. Adding protein-rich eggs makes this a great meal for a quick breakfast or a busy weeknight. Enjoy!
Avocado Toast with Poached or Shirred Eggs
Makes 2 breakfast servings or 1 dinner serving
Ingredients
2 slices whole grain bread
1 tablespoon salted butter, softened
1 ripe avocado
1 lime, juiced
2 eggs, room temperature
pinch smoked paprika
a sprig fresh thyme or pinch of dried thyme leaves
salt and pepper
For shirred eggs                                                                                          
2 tablespoons heavy cream
2 tablespoons shredded parmesan or gruyere cheese
For poached eggs                                                      
1 tablespoon white vinegar
Directions
Preheat oven to 425°F. Spread softened butter on sliced bread; lay on cookie sheet. Set aside. As soon as you begin cooking the eggs, place the buttered bread in the oven to toast for 3-5 minutes. Watch carefully to prevent burning.
Scoop avocado flesh into a small bowl. Season to taste with salt, pepper, and lime juice. Mash and mix well. Set aside.
For shirred eggs
In a small greased ramekin, mug, or baking dish, add eggs (not beaten). Drizzle with heavy cream, sprinkle with cheese, and season with salt, pepper, paprika, and thyme. Bake in preheated oven for 7-10 minutes (7 minutes for runny yolks; 10 minutes for a firm yolk).
For poached eggs
Crack the eggs into 2 separate small bowls or cups. Bring a small, deep saucepan of water to a low simmer (small bubbles barely breaking on the surface). Salt the water and add 1 tablespoon vinegar. Use a spoon to create a swirling whirlpool in the water. Slowly lower the egg into the center of the whirlpool. This will help the egg white to wrap around the yolk. Add the second egg. Cover the saucepan and let the eggs cook for 5 minutes without stirring. Use a slotted spoon to remove the eggs from the water. Carefully drain the eggs on paper towels.
Serving
Spread mashed avocado on buttered toast. Add shirred or poached eggs. Sprinkle with additional salt, pepper, and paprika. Serve immediately.
---
Click here to see other recipes from Brookshire Brothers Catering Coordinator, Kate Rudasill.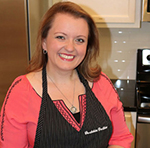 Kate Rudasill, Catering Coordinator for Brookshire Brothers, has been in the food-service industry for the past 14 years. As a graduate of Texas A&M University, a student of The Texas Culinary Academy, and a Nacogdoches, Texas native, Kate grew up with Southern tradition in her blood which caused her to have a deep love for bringing people together with food.