Tuesday May 30, 2017
Cooking with Kate: An Easy Summer Meal
With things heating up outside and the summer season upon us, I'm often looking for quick and easy meals that do not take much thought or cooking. Avocado toast is all the rage and with good reason – nutrient-dense avocados, from our farm-fresh produce selection, are an excellent source of monounsaturated fats (the good kind), Vitamins C, E, K, and B-6, folate, magnesium, potassium, and beta-carotene. Adding protein-rich eggs makes this a great meal for a quick breakfast or a busy weeknight. Enjoy!
Avocado Toast with Poached or Shirred Eggs
Makes 2 breakfast servings or 1 dinner serving
Ingredients
2 slices whole grain bread
1 tablespoon salted butter, softened
1 ripe avocado
1 lime, juiced
2 eggs, room temperature
pinch smoked paprika
a sprig fresh thyme or pinch of dried thyme leaves
salt and pepper
For shirred eggs                                                                                          
2 tablespoons heavy cream
2 tablespoons shredded parmesan or gruyere cheese
For poached eggs                                                      
1 tablespoon white vinegar
Directions
Preheat oven to 425°F. Spread softened butter on sliced bread; lay on cookie sheet. Set aside. As soon as you begin cooking the eggs, place the buttered bread in the oven to toast for 3-5 minutes. Watch carefully to prevent burning.
Scoop avocado flesh into a small bowl. Season to taste with salt, pepper, and lime juice. Mash and mix well. Set aside.
For shirred eggs
In a small greased ramekin, mug, or baking dish, add eggs (not beaten). Drizzle with heavy cream, sprinkle with cheese, and season with salt, pepper, paprika, and thyme. Bake in preheated oven for 7-10 minutes (7 minutes for runny yolks; 10 minutes for a firm yolk).
For poached eggs
Crack the eggs into 2 separate small bowls or cups. Bring a small, deep saucepan of water to a low simmer (small bubbles barely breaking on the surface). Salt the water and add 1 tablespoon vinegar. Use a spoon to create a swirling whirlpool in the water. Slowly lower the egg into the center of the whirlpool. This will help the egg white to wrap around the yolk. Add the second egg. Cover the saucepan and let the eggs cook for 5 minutes without stirring. Use a slotted spoon to remove the eggs from the water. Carefully drain the eggs on paper towels.
Serving
Spread mashed avocado on buttered toast. Add shirred or poached eggs. Sprinkle with additional salt, pepper, and paprika. Serve immediately.
---
Click here to see other recipes from Brookshire Brothers Catering Coordinator, Kate Rudasill.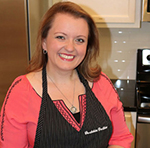 Kate Rudasill, Catering Coordinator for Brookshire Brothers, has been in the food-service industry for the past 14 years. As a graduate of Texas A&M University, a student of The Texas Culinary Academy, and a Nacogdoches, Texas native, Kate grew up with Southern tradition in her blood which caused her to have a deep love for bringing people together with food.
Monday April 18, 2016
Boost Your Beauty with Avocados
You may not realize it, but the benefits of avocados go beyond just enjoying the taste. Many of the same properties that make avocados vital to our internal health can keep you looking vibrant and youthful on the outside, too. Avocados contain 4% of your daily value of vitamin E — an antioxidant that protects body tissue from damage caused by substances called free radicals. Free radicals can harm cells, tissues and organs. They are believed to play a role in certain conditions related to aging. Avocados are an all-natural moisturizer that can rejuvenate and dramatically soften your skin and hair. To see for yourself, try these all-natural remedies that you can make at home using avocados and other ingredients found right in your kitchen.
Dry Hands
We all know that hands can get dry in the winter. Between the cold, rainy weather and wind, many of us have googled "home remedies for dry hands" a time or two. But did you know that besides the normal "wash your hands with warm water" and "use mild soap" suggestions and tips, you can actually find your best moisturizer in your kitchen?
Give moisturizing with an avocado hand cream a try by whipping up this easy treatment. It provides all of the benefits of avocado's nourishing oils with gentle exfoliation delivered by the rolled oats.
Avocado hand cream recipe:
1/4 fully ripened Hass avocado, halved, pitted, peeled
1 egg white
2 tablespoon rolled oats
1 tablespoon lemon juice
In a shallow bowl, mash avocado until smooth. Add egg white, oats, and lemon juice. Stir until combined. Massage into hands. Leave mixture on for 20 minutes. Rinse with warm water.
Dark Circles & Puffy Eyes
A little Vitamin K, C and E are all your eyes need to get some relief! You can get all three of those things from avocados! Just cut up some triangle-shaped slices and place under your eyes for 20-30 minutes.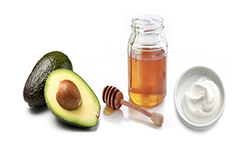 Frizzy Hair
Why can avocados calm frizzy hair? Its oils are light and moist, much like the oils that our skin produces naturally. The nutrients in avocados help smooth and weigh down frizzy hair.
The avocado hair mask recipe below combines avocado with egg whites for an extra protein boost that can ramp up your hair's shine factor and tame frizzy hair at the same time.
Avocado hair mask recipe:
1/2 Hass avocado
2 egg whites
Combine egg whites with mashed-up avocado. Leave in hair for 15 minutes, then wash and condition.
Dead Skin Cells
We all want the glowing skin that comes from a facial. But, how realistic is that for us all with our busy lives? For at-home skin benefits, mix an avocado with yogurt and raw honey and rub it onto your skin. This soothing facemask will get rid of dead skin cells.