Submitted by
Kate Rudasill - Director of Catering
on Tuesday, July 18, 2017
One of the best things about growing up in the country was our family's summer garden—sun-ripe tomatoes, fresh sweet corn, carrots of all sizes, and so many different kinds of peas. As such, I'm forever disappointed that I did not inherit the family green thumb. Plants tend to die under my care with alarming frequency! Thus, I'm always grateful for the fresh produce available at my local Brookshire Brothers as one of my favorite recipes lets you use a whole garden of veggies!
My sweet friend, Valena Spradley, gave me this summer sauté recipe, and I've always loved how quickly this dish comes together, using whatever vegetables you have on hand. I've also included a recipe for cream peas, which can make a delicious addition to this recipe—or any summer meal! Lady Cream, Zipper Cream, Texas Cream, Crowders, Field Peas—take your pick and turn on the stove!
Fresh Summer Vegetable Sauté
Ingredients
6 slices uncooked bacon, diced
2 tablespoons butter
1 small white onion, diced
1 clove garlic, minced
2-3 ears fresh sweet corn, cut off the cob
2 yellow squash, diced
2 zucchini, diced
½ - 1 cup heavy cream
1 pinch cayenne pepper or red pepper flakes
Optional Additions
1 jalapeño pepper, diced
1 bell pepper (any color), diced
1 bunch fresh asparagus, cut into 1-inch pieces
1 carton grape tomatoes, cut in half
Directions
In a large, deep-sided skillet with a lid, sauté the bacon pieces over medium heat until crisp. Remove bacon from skillet and place in a paper-towel lined bowl or plate, leaving the bacon grease in the skillet. Add the butter, onions, and garlic to the skillet. Sauté for 1-2 minutes until the onions begin to soften. Add the corn, squash, zucchini, and any other vegetables you are using. Sauté over medium-high heat for 2 minutes, stirring occasionally. Add enough heavy cream to lightly coat the vegetables – you do not want them swimming in cream, but need enough liquid to keep the vegetables from drying out. Reduce the heat to medium-low, cover the skillet, and gently simmer for 5-10 minutes or until vegetables are soft. Add the crisp bacon to the skillet with a generous pinch of freshly ground pepper and a small pinch of cayenne or red pepper flakes. Taste the vegetables before adding any salt – the bacon, butter, and cream will add some salt to the dish so you might not need to add any! Serve warm with your favorite grilled or roasted meats.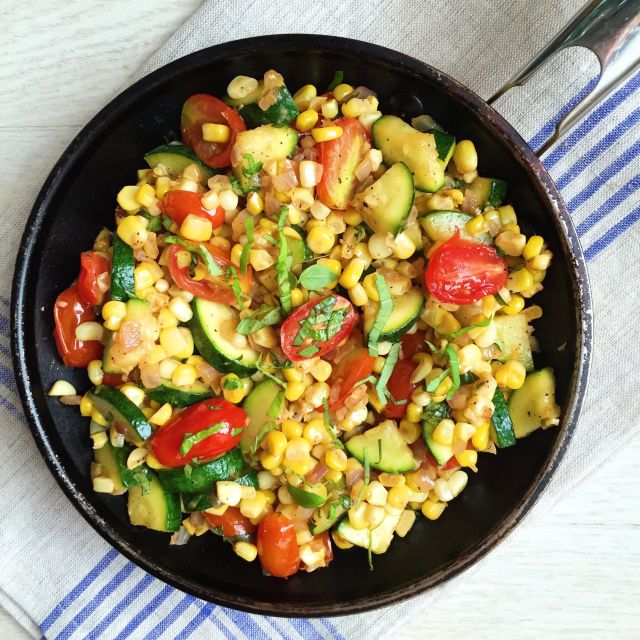 The Rudasills' Fresh Cream Peas
Ingredients
½ pound uncooked bacon, diced
½ stick salted butter
1 medium-large white onion, diced small
2 cloves garlic, minced
1 ½ - 2 pounds shelled cream peas, preferably fresh but frozen can be used
2 cups chicken broth
Salt and pepper to taste
Directions
In a large pot with a lid, sauté the bacon pieces over medium heat until the bacon grease begins to render and the bacon is barely cooked. Remove the bacon from the pot with a slotted spoon and reserve for later. Increase the heat to medium-high, and add the butter to the pot. Add the diced onion and garlic to the pot and sauté for 3-5 minutes until the onions are translucent. Add the peas, cooked bacon, and chicken broth to the pot. Add enough water so that the peas are covered by about one inch of liquid. Bring the peas to a low simmer over medium-high heat, reduce the heat to low, cover the pot halfway with the lid, and continuing cooking for 1 to 1 ½ hours until the peas are soft, stirring every 10-15 minutes. Taste the peas and season with freshly ground black pepper and salt, if needed. Serve warm with fresh cornbread!
Hope y'all are having a great summer!