Tuesday January 28, 2020
Cooking With Kate: Super Simple, Super Game Day Food
The BIG game is coming up this Sunday, February 2nd. Whether you watch the game for the football, the halftime show, or mute the game and just watch the commercials – one thing that makes it a great Super Bowl party is the food! Super Bowl snacks are legendary…and these three recipes are just what you need to keep the food prep simple and quick. Check out your local Brookshire Brothers for other great deals on all of your Super Bowl snacks!
Bacon-Wrapped Crackers
Makes 12-15 servings.
Ingredients
1 sleeve Club crackers
¾ cup grated Parmesan cheese
1 lb thinly sliced bacon
Directions
Preheat oven to 250°F.
Lay the crackers face up on a large rack over a rimmed baking sheet.
Sprinkle evenly with grated Parmesan. Cut the bacon in half to make 3-4" pieces.
Wrap each cracker with a slice of bacon, being careful to not disturb the shredded cheese.
Place the bacon-wrapped crackers on the rack.
Bake at 250°F for 2 hours or until crackers are crisp and bacon is cooked through.
Serve warm or room temperature.
Mini Buffalo Chicken Cups
Makes 12-15 servings.
Ingredients
6 tablespoons butter, melted
½ cup hot sauce (Frank's or other)
¼ teaspoon seasoned salt
¼ teaspoon black pepper
2 cups shredded cooked chicken
1 cup shredded sharp Cheddar cheese
2 tablespoons ranch dressing or blue cheese dressing
½ cup Food Club biscuit / baking mix
½ cup milk                                                            
2 eggs
½ cup blue cheese crumbles
½ bunch fresh cilantro, chopped
additional sauce (for drizzle)
Directions
Preheat oven to 375°F.
Spray a muffin cup pan with non-stick cooking spray.
In a small bowl, mix melted butter, hot sauce, seasoned salt and pepper to make Buffalo sauce.
In a medium bowl, mix shredded chicken, cheddar cheese and ranch dressing.
Pour about half to three-fourths of the Buffalo sauce (reserve remaining for serving) into chicken mixture. Mix until combined.  
In a medium bowl, mix together baking mix, milk, and eggs with whisk or fork until blended.
Spoon 1 tablespoon of batter into each muffin cup. Top with about 1/4 cup chicken mixture.
Spoon 1 tablespoon batter over chicken mixture in each muffin cup.
Bake at 375F for 30 minutes or until toothpick inserted in center comes out clean and tops are golden brown.
Cool 5-10 minutes. Remove from pan and transfer to a serving tray.
Top with blue cheese, chopped cilantro and a drizzle of reserved Buffalo sauce.
Serve warm.
Roasted Corn Dip
Makes 8-12 servings.
Ingredients
16 ozs. mayonnaise
8 ozs. sour cream
2 cups shredded sharp cheddar cheese
½ tsp Cajun seasoning
24 ozs. frozen corn and bell pepper blend
4 green onions, finely chopped
Directions
Mix mayo, sour cream, cheddar cheese, and Cajun seasoning in a medium bowl.
Add corn/pepper mix and sliced green onions.
Mix well.
Store covered in the refrigerator until ready to serve or up to 3 days.
Serve with assorted chips and crackers.
---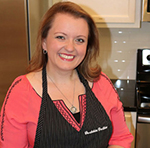 Kate knows food. She grew up with the Southern tradition of good food with the hospitality to match.  A graduate of Texas A & M University, a student of The Texas Culinary Academy, and a Nacogdoches, Texas native, Kate's greatest joy is bringing people together over a scrumptious meal.
Monday October 7, 2019
5 Meals for $50 - 10/09/2019
Do you dread the process of planning dinners for the week? Do you feel overwhelmed with all the shopping, prepping, and cooking when it comes to feeding your family? Sweat no more. We're here to make it easier for you with this easy guide that will save you time AND money. Keep reading for five complete dinners to feed your family of four—all under $50! You can find all the recipes below, as well as an easy to follow shopping list!
Meal 1 - Stouffers Family Size Lasagna Fast Feast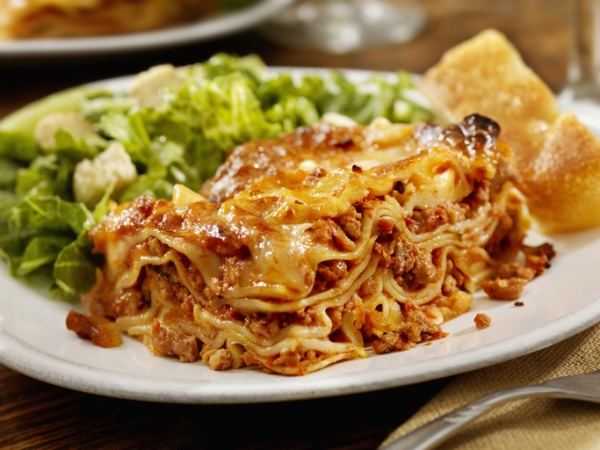 This meal features our Fast Feast with Stouffers Lasagna, Food Club Parmasan Cheese, Food Club Garlic Toast and Fresh Express Salad. Visit your
weekly ad
for details. 
---
Meal 2 - Original Ranch Pork Chops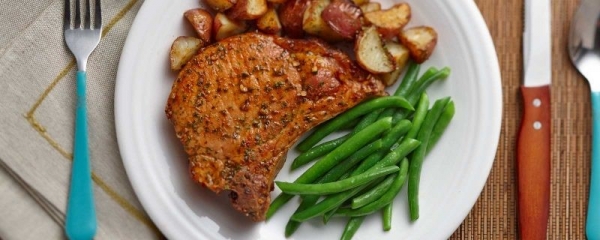 Ingredients
1 tbs Hidden Valley – Original Ranch Seasoning & Salad Dressing Mix
Dash of paprika
6 pork loin rib chops, about 1-inch thick
Kosher salt and ground black pepper to taste
 Directions
Preheat oven to 450°F.
In small bowl, stir the seasoning mix with a dash of paprika.
Season the chops on both sides with salt and pepper; then sprinkle both sides with the seasoning mixture.
Place a rack in the middle of the baking sheet.
Arrange the chops on top. Bake the pork chops for 20 minutes, turning once halfway, until browned or and internal temperature of 160°F is reached.
Serve immediately with roasted potatoes and Food Club Green Beans.
---
Meal 3 - Twisted Tornado Dogs
Ingredients
1 package of Bar-S Skinless Smoked Sausage
1 cup pancake mix
1/3 cup water
2/3 cup vegetable oil
8 wooden skewers
Directions
Pour vegetable oil into large skillet and bring to a medium heat.
Insert a skewer into each sausage.
Starting at the bottom, make an incision in each sausage and twist upwards to create a spiraled cut along the entire length of the sausage.
Create a gap between each layer by gently pulling the sausage down the skewer.
Mix water and pancake until you achieve a dough-like consistency. Add additional pancake mixture if needed to make the dough more workable.
Section dough into eight even balls and roll into long strips.
Wrap a dough strip around each sausage, tucking the dough into the open slits of the sausage.
Place sausage in the heated oil. Rotate every 30 seconds until evenly browned (approximately 2-3 minutes).
Remove and serve immediately.
*Recipe courtesy of our vendor partner Bar S.
---
Meal 4 - Easy Chicken with Tomatoes and Spinach
Ingredients
1 tablespoon olive or vegetable oil 
4 boneless skinless chicken breasts (about 1 1/4 lb)
1 clove garlic, finely chopped
1/2 teaspoon dried oregano leaves
1/2 teaspoon seasoned salt
1/4 teaspoon pepper
1/4 cup dry white wine or water
2 medium plum (Roma) tomatoes, sliced (about 1 cup)
1 bag (6 oz) fresh baby spinach leaves (about 3 1/2 cups)
Directions
In 12-inch nonstick skillet, heat oil over medium heat.

Sprinkle chicken with garlic, oregano, seasoned salt and pepper.

Add chicken to skillet; cook 15 to 20 minutes, turning once, until juice of chicken is clear when center of thickest part is cut (at least 165°F).
Stir wine into skillet.
Top chicken with tomato slices.
Cover; cook 2 to 3 minutes or until tomatoes are thoroughly heated.
Add spinach.
Cover; cook 2 to 3 minutes longer or until spinach is wilted.
---
 Meal 5 - Jambalaya with Kountry Boys Smoked Sausage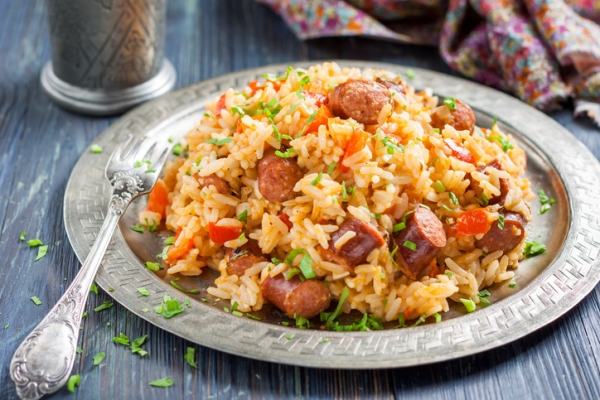 Ingredients
1 (5.0 ounce) package of RICE-A-RONI® Red Beans & Rice
1 (12 oz) package of sliced (1 inch slices) Kountry Boys Smoked Sausage
1 tablespoon margarine
2 cups water
1 (14-1/2 oz) can Food Club tomatoes, undrained, chopped
1/2 cup chopped onion
1/2 cup chopped celery
1/2 cup chopped green bell pepper
 Directions
In a medium saucepan, combine rice-bean mix, 2 cups water, 1 Tbsp. margarine, Special Cajun Seasonings, chopped veggies and sliced sausage; bring to a boil.

Cover, reduce heat to low and simmer 20-25 min. or until rice is tender. Rice will be saucy.

Let stand 5 min. before serving.
Be sure to tell us #HowIFeedMyFamily at your local #BrookshireBrothers store and don't forget to download all of the recipes and your shopping list today!
Friday June 7, 2019
Father's Day Breakfast: Cinnamon Roll Waffles with Cream Cheese Glaze
Show dad you love him a WAFFLE lot with this fun spin on a favorite breakfast!
Cinnamon Roll Waffles with Cream Cheese Glaze
Ingredients
1 can (17.5 oz) refrigerated cinnamon rolls with cream cheese icing (5 rolls)
1 cup powdered sugar
3 tablespoons milk
1 teaspoon vanilla
Directions
Spray waffle maker with cooking spray; heat waffle maker.
Separate dough into 5 rolls; set icing aside.
For each waffle, place 1 roll in center of waffle maker; close lid of waffle maker.
Bake 3 to 4 minutes or until waffle is thoroughly cooked and golden brown.
Meanwhile, in small bowl, stir together reserved icing, powdered sugar, milk and vanilla until glaze is smooth.
Serve glaze over hot waffles.
*Recipe courtesy of our vendor partner Pilsbury
Tuesday September 4, 2018
Creating a Family Food Culture
As seen in Charm East Texas.
Nothing brings people together quite like a great meal.  Whether there's an occasion to celebrate or the meal itself is the occasion, eating is a universally human activity that builds bonds in the company of others. A special occasion without the food wouldn't feel as special. Within a family, the dinner table can be a powerful tool to help children learn about life, community, and eating well.
Shared family meals can help children of all ages learn what and how they should eat.  The right family food culture can create a safe and familiar place where kids may (eventually) be willing to try unfamiliar foods.  It takes time and persistence to craft a family food culture, but it is well worth the effort.  Every household can create their own unique food culture, complete with their own expectations, traditions, and special memories.  There isn't a right or wrong way to do it—only a way that works for each family.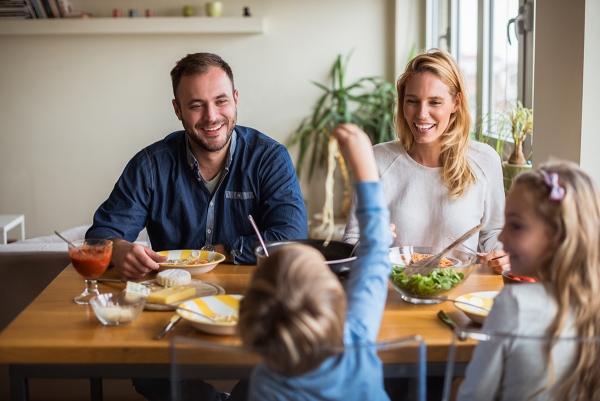 SHARE A MEAL TOGETHER
A great place to start is simply to make an effort to eat together (without electronic distractions). Joining together for a meal builds respect and shows each person how they are a valued member of the family.  Not every meal needs to be shared, of course, since this is neither practical nor necessary, but intentionally sharing at least some meals together lays the groundwork for breaking through barriers of picky eating, communication issues, and behavioral expectations.  
In my family, we choose to eat dinner together almost every night of the week.  Even when we occasionally bring home takeout, we still maintain the ritual of sitting down together and having a meal.  The television is off, phones aren't allowed, and there's often pleasant music playing in the background to help everyone feel calm and content.
Our children have joined us consistently at the dinner table before they were old enough to understand why, and this in turn has created an environment of expectation.  Every night it's the same: sit down together and share a meal where we all eat the same food. There is no short order cooking for dinner; the question "What do you want to eat?" is nonexistent. We all eat together, which means we all eat some form of the same foods. 
This has worked well for coaxing our sometimes-ornery three-year-old to eat most everything we eat. If we eat something she doesn't particularly care for, she can choose to eat it anyway or go to bed a little hungry and eat more for breakfast the next day. Ninety-seven percent of the time she decides just to eat whatever it is that we are having.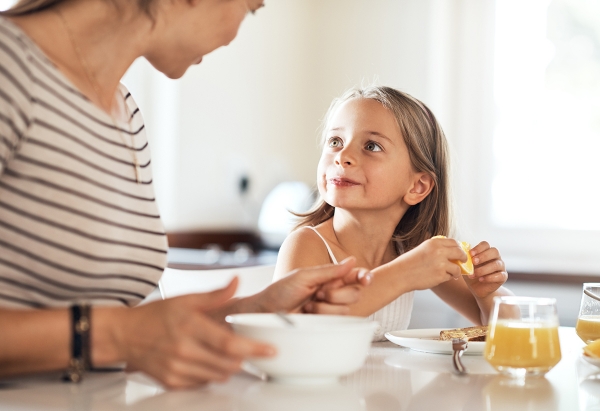 MODIFY THE FOOD TALK
Our family food culture also pays close attention to the way we talk about food. It's easy to entertain criticisms that can be very damaging to the way children think about food.  In my family, we focus on never talking negatively about real food, even in a joking manner. We avoid using words like yucky or gross, and instead we choose to focus on framing foods as delicious and yummy before drilling down about the specific attributes that we like.
We stay away from categorizing food as healthy or unhealthy; rather, we focus on how some things are special treats should only be eaten occasionally (or we might get a tummy ache).  We use the same descriptive words for broccoli as we do for cupcakes—yummy and delicious!  Kids don't usually get excited to eat broccoli when you tell them it's healthy, but they might eat it when you tell them it's delicious, buttery, and cheesy.
LET EVERYONE HELP
Another important piece of my family's food culture is the cooking process.  My three-year-old often "helps" me cook, a source of wonderful encouragement for her to be a more adventurous and eager eater (even when it exercises all my patience). Allowing your kids to participate in the cooking process, even if they make a mess, will help develop competence and confidence in cooking and eating. My daughter started out just watching me cook, and I'd explain things to her before she'd run off after a minute or two.  Now, I always ask her if she'd like to help me, and we try to make her feel like an important part of cooking, setting the table, or cleaning up after dinner.
Essentially, we are trying to create an environment where eating all different kinds of foods, mostly homemade and from scratch, is normal everyday behavior.  Conversely, eating processed foods and "junk" food is not normal and it is only an occasional occurrence; however, we don't forbid all treats because that seems to make them more desirable.  Even if we don't categorize foods as being "junk" versus "wholesome" that often, it is more about creating an environment of balanced normality.
BE PATIENT
While my family most certainly doesn't do everything "right"—and we definitely have our fair share of mealtime battles—our three year old is a great eater who only knows that all food is yummy and tastes delicious.  She's never heard anything else from us.  Even if we don't love a food, we try not to let on.  We may even cook things we don't love periodically because we want all foods to be tried and accepted.
At first, it can be difficult to create a better family food culture, especially if older kids are complaining about certain things, so start small.  Maybe start by banning the words yucky or gross.  Remind them often that we don't use those words when we talk about food; remind them instead that all food is yummy.  Even if it doesn't sink in right at first, don't worry, the seeds sown often take time to root and fully develop.
So, eat something yummy with someone you love and make it a habit you won't regret.
---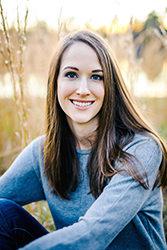 Angela Larson
 is a registered dietitian (RD) who works with Brookshire Brothers promoting 
real fresh, real delicious
 foods and nutrition education to the community. She is also a clinical dietitian representing Woodland Heights Medical Center in Lufkin where she does outreach education on food and nutrition. Food is her passion, so Angela loves trying new recipes and exploring the more holistic side of nutrition. Angela loves to cook, garden, and spend time outdoors. In addition to the 
Brookshire Brothers blog
, look for Angela's monthly articles in Charm East Texas. 
Sunday October 15, 2017
Celebrating Hispanic Heritage 2017
Six Dishes, Four Countries, One Kitchen. 
While today marks the last day of National Hispanic Heritage Month, we think this bold and exciting culture is always worth celebrating. At Brookshire Brothers, we continually strive to understand and celebrate other cultures so that we can better serve our communities.  Hispanic heritage is particularly important to us as a company with a richly diverse workforce, as well as a footprint that reaches as far south as Ganado.
As such, we'd like to share six traditional dishes—courtesy of our vendor partner Goya Foods—to take a journey of flavors across the world without ever leaving your home kitchen. With a menu that's perhaps both familiar and foreign, treat your friends and family to an adventure at your next dinner or gathering.
Visit your local Brookshire Brothers to get started today!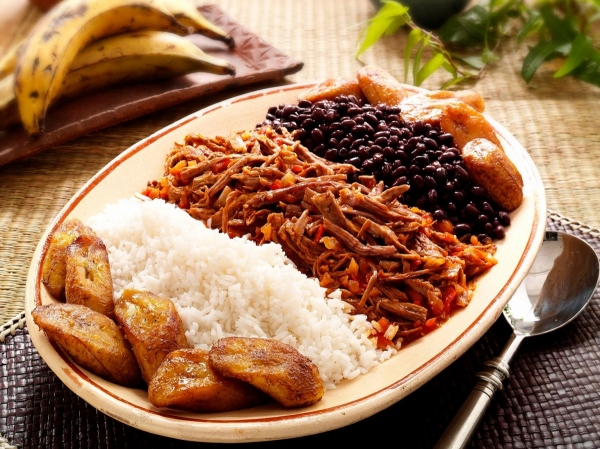 Venezuelan Shredded Beef (Pabellón Criollo)
 Yields 4-6 Servings
Ingredients
1 flank steak about 2 lbs., cut in 4 pieces
1 onion roughly chopped
2 packets GOYA® Beef Bouillon*
1 quart water
2 cups chopped onion
2 tsp. GOYA® Minced Garlic, or 4 cloves fresh garlic, minced* 
2 tbsp. GOYA®Corn Oil*
1 can (8 oz.) GOYA® Tomato Sauce*
1 packet GOYA® Sazón without Annatto*
½ tsp. GOYA® Leaf Oregano*
½ tsp. GOYA® Adobo with Cumin*
1 can (15 oz.) GOYA® Black Bean Soup, heated*
1 packet (11 oz.) GOYA® Frozen Ripe Plantain, cooked according to package directions*
3 cups cooked CANILLA® Extra Long Grain Rice*
* Brands are substitutable
Directions
In saucepan, combine meat, onion, bouillon and water. Bring to boil, lower heat and simmer until very tender (about 1½ hours). Add more water as necessary to keep meat covered. Allow meat to cool in broth. When cool enough to handle, shred meat. Reserve 1 cup of broth.
In meantime, puree onion, red pepper and garlic in food processor.
In skillet heat oil on medium high. Add shredded meat and lightly brown. Add pureed vegetables, tomato sauce, Sazon, oregano, Adobo and reserved broth. Bring to boil, lower heat and simmer until mixture dries about 20 minutes. 
Arrange meat, black beans, rice and plantain on platter and serve.
CONTINUE THE JOURNEY
Mexico
Chicken Flautas — "Tacos are an everyday event in Mexico with many different fillings. When tacos are rolled tightly and pan-fried until crisp so they resemble tubes or "flutes," they become flautas. This delicious, crunchy variation of tacos comes from Jalisco, Mexico, where it is a popular snack food. Here, chicken stewed with tomato sauce and onions is the filling of choice, but can be substituted for steak or pork. Whichever protein you choose, the flautas should be prepared and eaten right away for the best taste." (GOYA)
Grilled Chicken Fajitas — "For an outdoor meal that's fun for everyone, serve up a sizzling batch of Grilled Chicken Fajitas! Here, boneless, skinless chicken breasts come alive with flavor and pizzazz when marinated in GOYA® Mojo Criollo. Grill the marinated chicken breasts, peppers and onions and serve with the toppings of your choice for a festive dinner, tonight!" (GOYA)
Chicken and Avocado Quesadillas — "These chicken and avocado quesadillas are guaranteed to be the life of your summertime fiestas! Here, a tasty combination of GOYA® Fancy Pimientos, GOYA® Diced Green Chiles, scallions, fresh cilantro and GOYA® Salsita are topped with shredded cooked chicken and creamy avocado, coming cozily together in GOYA® Soft Taco Flour Tortillas with melted shredded cheese. This flavor-loaded quesadilla is bound to keep your party guests coming back for more!" (GOYA)
El Salvador
Salvadoran Pupusas with Cabbage Salad

 — "A staple of Salvadoran cuisine, 

pupusas

 are handmade, stuffed corn tortillas. Savory, flavor-packed 

pupusas 

Salvadoreñas are traditionally filled with beans, cheese, and pork. This 

pupusas

 recipe is especially easy, made with GOYA® Masarica Instant Corn Masa Flour, and stuffed with a choice of GOYA® Refried Red Beans (Volteados Style) and white cheese. 

Pupusas

 are served with a tangy pickled cabbage salad." (GOYA)
Colombia
Colombian Beef and Pork Empanadas

 — "These typical Colombian-style 

empanadas

 are tasty turnovers made with savory yellow corn dough stuffed with seasoned pork and beef mixed with cooked potatoes. The meat filling is typically made with cooked and shredded beef and pork, but here, we use ground meat to cut down in cooking time with similar tasty results. Served at social gatherings, family parties and celebrations throughout the year, these Colombian Beef and Pork Empanadas are the perfect tasty, hand-held party food. Serve with lime wedges and a 

ají picante

." (GOYA)
Friday July 21, 2017
Cooking with Kate: Destination Argentina
One of my favorite things about my job is researching different cuisines from around the world for themed events. Lately, I've been learning about Argentinian dishes, and one food keeps coming up over and over—quince. Argentina is one of the world's top producers of quince, and many describe the fruit as similar in texture and appearance to an apple or pear, but usually bright yellow when fully ripe. Unlike, pears and apples, quinces are rarely eaten raw because they are too hard and sour. Because
this produce
is high in pectin, it is often used to make jams and jellies. Commercially, quince is produced into a sweet/tart, sticky, hard paste known as
dulce de membrillo
. This paste is then used in sandwiches and tarts, like the pastafrola recipe below.
Pastafrola
Traditional Argentine Tarts with Quince Jam
Yield: 1 (9-10") tart or 8-10 individual tarts
Ingredients
For the crust:
1 cup sugar
1 stick + 6 tablespoons salted butter, room temperature
1 teaspoon good quality vanilla
1 egg + 1 egg yolk, room temperature
3 cups all purpose flour
1 egg + 1 tablespoon water, for egg wash
For the filling:
2 cups (15-16 ounces) quince jam / paste (dulce de membrillo or membrillo casero)*
2-3 tablespoons water
Directions
For the crust:
Mix the sugar and butter together with a hand mixer until creamy. Add the vanilla, egg, and egg yolk. Continue to mix with a hand mixer until smooth. Using a spoon, incorporate the flour and salt, a little at a time, being careful not to handle or overwork the dough too much. Wrap the dough in plastic wrap and refrigerate for 30 minutes.
For the filling:
Place the quince paste into a medium bowl. Add the water and mash with a fork until you have a smooth paste.
To assemble: 
Separate the dough into 2 pieces: ¾ for the crust and ¼ to make the strips for the lattice topping. Roll out the larger portion of dough to about ¼" thickness. Lightly coat a pie dish or tart pan with cooking spray or butter, and press the dough into the dish. Spoon the quince paste into the crust. Roll out the second piece of dough and cut into long strips with a knife or pizza cutter. Add the dough strips to the top of the tart in the classic lattice pattern or have fun making your own design.
In a small bowl, mix the egg with the water. Brush the crust with a little of the egg wash, and bake at 350°F for 20-30 minutes, until crust is golden brown. Let cool for 10-15 minutes before serving.
Tuesday July 18, 2017
Cooking with Kate: Fresh From the Garden
One of the best things about growing up in the country was our family's summer garden—sun-ripe tomatoes, fresh sweet corn, carrots of all sizes, and so many different kinds of peas. As such, I'm forever disappointed that I did not inherit the family green thumb. Plants tend to die under my care with alarming frequency! Thus, I'm always grateful for the fresh produce available at my local Brookshire Brothers as one of my favorite recipes lets you use a whole garden of veggies!
My sweet friend, Valena Spradley, gave me this summer sauté recipe, and I've always loved how quickly this dish comes together, using whatever vegetables you have on hand. I've also included a recipe for cream peas, which can make a delicious addition to this recipe—or any summer meal! Lady Cream, Zipper Cream, Texas Cream, Crowders, Field Peas—take your pick and turn on the stove!
Fresh Summer Vegetable Sauté
Ingredients
6 slices uncooked bacon, diced
2 tablespoons butter
1 small white onion, diced
1 clove garlic, minced
2-3 ears fresh sweet corn, cut off the cob
2 yellow squash, diced
2 zucchini, diced
½ - 1 cup heavy cream
1 pinch cayenne pepper or red pepper flakes
Optional Additions
1 jalapeño pepper, diced
1 bell pepper (any color), diced
1 bunch fresh asparagus, cut into 1-inch pieces
1 carton grape tomatoes, cut in half
Directions
In a large, deep-sided skillet with a lid, sauté the bacon pieces over medium heat until crisp. Remove bacon from skillet and place in a paper-towel lined bowl or plate, leaving the bacon grease in the skillet. Add the butter, onions, and garlic to the skillet. Sauté for 1-2 minutes until the onions begin to soften. Add the corn, squash, zucchini, and any other vegetables you are using. Sauté over medium-high heat for 2 minutes, stirring occasionally. Add enough heavy cream to lightly coat the vegetables – you do not want them swimming in cream, but need enough liquid to keep the vegetables from drying out. Reduce the heat to medium-low, cover the skillet, and gently simmer for 5-10 minutes or until vegetables are soft. Add the crisp bacon to the skillet with a generous pinch of freshly ground pepper and a small pinch of cayenne or red pepper flakes. Taste the vegetables before adding any salt – the bacon, butter, and cream will add some salt to the dish so you might not need to add any! Serve warm with your favorite grilled or roasted meats.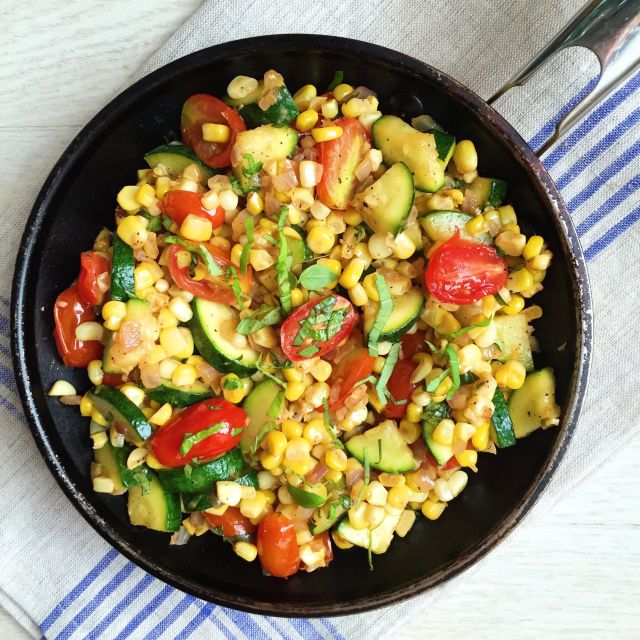 The Rudasills' Fresh Cream Peas
Ingredients
½ pound uncooked bacon, diced
½ stick salted butter
1 medium-large white onion, diced small
2 cloves garlic, minced
1 ½ - 2 pounds shelled cream peas, preferably fresh but frozen can be used
2 cups chicken broth
Salt and pepper to taste
Directions
In a large pot with a lid, sauté the bacon pieces over medium heat until the bacon grease begins to render and the bacon is barely cooked. Remove the bacon from the pot with a slotted spoon and reserve for later. Increase the heat to medium-high, and add the butter to the pot. Add the diced onion and garlic to the pot and sauté for 3-5 minutes until the onions are translucent. Add the peas, cooked bacon, and chicken broth to the pot. Add enough water so that the peas are covered by about one inch of liquid. Bring the peas to a low simmer over medium-high heat, reduce the heat to low, cover the pot halfway with the lid, and continuing cooking for 1 to 1 ½ hours until the peas are soft, stirring every 10-15 minutes. Taste the peas and season with freshly ground black pepper and salt, if needed. Serve warm with fresh cornbread!
Hope y'all are having a great summer!
Monday June 26, 2017
Fourth, Food, Fun, Fireworks
Independence Day is right around the corner and we couldn't be more excited! The 4th of July is a time to gather your friends and family, spend time outdoors, and enjoy the sunshine. For a great way to celebrate America's Independence, follow these fun steps –
1. Plan Ahead
The questions usually start arising about a week before... "What are your plans for July 4th?" Beat everyone to the question by inviting friends and family to a backyard barbecue! You may not have time for paper invitations, but send a group text, create a Facebook group or send e-vites so everyone can mark it on their calendar.
2. Create the Menu
Don't stress about preparing each dish. Guests want to help out by bringing dishes. So, when you get RSVPs from friends and family, ask them if they could bring a side dish or dessert. We've got a great selection of recipes here. Once everyone contributes a dish or two, you'll have a 4th of July spread that's worthy of celebrating!
3. Take Grilling Tips
Our Market Experts are Expert Grillers! Ask them for their best grilling tips when you're picking out your favorite cuts of meat. Search our wide variety of Market items in our Meat Department.
4. Think Outside the Box
Meat and veggies are NOT the only items that are grill-worthy. Try your hand at grilling some of your favorite fruits, too. Our Catering Coordinator, Kate Rudasill, suggests splurging for a grill basket or grill wok to place your favorite fruit and vegetable slices in. Find other tips from her on our Cooking with Kate blog!
5. Enjoy the Fireworks
Now that all the cooking, socializing, and eating has commenced, you can sit back and relax while watching the firework show!
Have a safe, fun, and tasty 4th of July!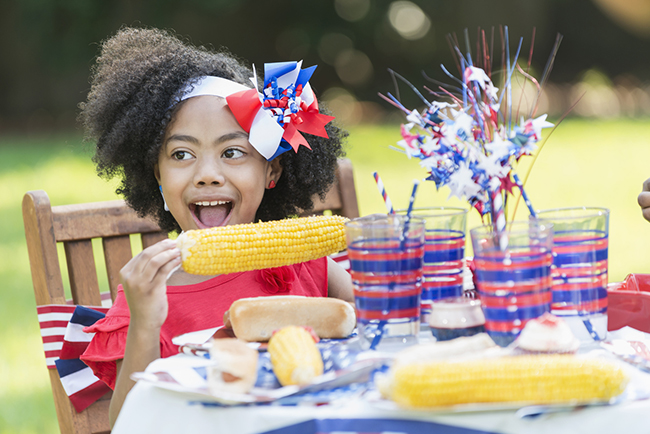 Tuesday November 10, 2015
Cooking with Kate: Full of Thanks
Thanksgiving has always been my favorite holiday. Many in my family love to cook and we always have delicious food, but more importantly, my family has a tradition we call, "Share Time." One by one, from the youngest to the oldest, we share what we are thankful for and then encourage another member of our family to do the same. It's a sweet time for our family to be together and remember what has happened over the year. I hope you have time, as you make your Thanksgiving plans, to gather around a table with your family and friends and share why you are thankful this year. If you're looking for tried and true traditional Thanksgiving dish, I'd love to share my family's favorites. Many blessings for a Happy Thanksgiving!
Aunt Sandra's Homemade Yeast Rolls
3 ½ teaspoons rapid rise yeast (1 ½ pkgs)
1 ½ teaspoons salt
½ cup sugar
2 cups hot tap water – not boiling, but hot to the touch
½ cup butter-flavored Crisco, melted
5 cups all-purpose flour
1 stick butter, melted
In a large bowl (or using an electric mixer with a dough hook) mix hot water, sugar, and salt. Add yeast and melted shortening. Slowly add the flour and mix until dough begins to form. Work the remaining flour into the dough with your hands (or with the mixer on low speed). Knead dough until smooth and elastic. Place dough in a large bowl and cover with a clean dish cloth. Let the dough rise until doubled in size (about an hour) in a warm area of your kitchen. Punch down the dough and knead for five minutes. Prepare 2 rimmed cookie sheets by adding 4 tablespoons of melted butter to each. Tilt the sheets in all directions to coat the bottoms with the butter. Pinch off pieces of dough and shape into rolls. Lay the rolls on the buttered sheets, turning them over so that they're coated with butter on both sides. Let rolls rise another 30-45 minutes. Bake at 350°F for 20 minutes or until brown. Enjoy immediately.
Cheesy Broccoli Casserole
(A slightly different take on the traditional green bean casserole)
2 (16 oz) bags frozen broccoli florets, thawed
1 (10.75 oz) can cream of mushroom soup
1 (8 oz) carton sour cream
2 cups shredded sharp cheddar cheese, divided
1 (6 oz) can French fried onions, divided
Preheat oven to350°F. Mix thawed broccoli, mushroom soup, sour cream, 1 ½ cups cheese, and 1 cup fried onions in a large bowl. Spread in a baking dish that has been sprayed with non-stick spray. Cover with foil and bake at 350°F for 30 minutes. Stir well and continuing baking for another 30 minutes. Remove from oven and uncover. Sprinkle with additional cheese and fried onions. Bake uncovered for another 10 minutes until onions are crisp and cheese is melted. Serve immediately.
Monday June 15, 2015
Stretch Your Summer Budget
Stock your pantry with these must-have ingredients and enjoy stress-free meals all summer long.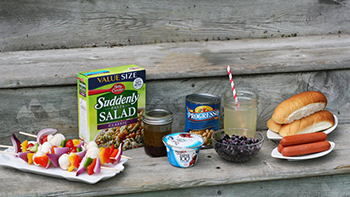 1. Fresh Produce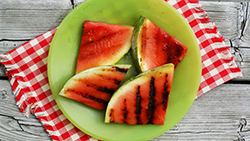 Fruits and vegetables are at their peak in the summer, which also means they are at their cheapest. Make this the summer of experimentation with fresh produce. Try making salsa out of watermelon, or better yet, grill it! Mix veggies and fruits next time you're making kabobs. Give pickling fresh vegetables a go (peppers, perhaps?). And when fresh produce isn't an option, make sure your freezer is stocked with frozen vegetables and frozen fruit. Frozen produce and fruit is preserved at the peak of freshness so it has all the nutritional value and flavor of the fresh stuff.
2. Suddenly Salad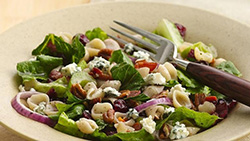 Summer wouldn't be summer without the increase of impromptu picnics and get-togethers. Stock your kitchen with a few boxes of Suddenly Salad, and you'll be prepared for spontaneous summer gatherings. It's an awesome item to have on hand because it's so easy to customize! Simply toss in whatever fresh veggies you have on hand—cherry tomatoes, diced cucumbers, chopped spinach, etc.—and some olives, cheese, chopped bacon or nuts. In mere minutes, you'll have a party-ready side dish. (The Cranberry, Bacon and Blue Cheese Pasta Salad recipe, pictured above, gets it right.)
3. Salad Dressing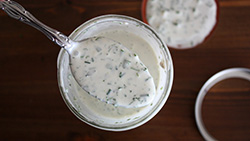 Salad dressing is one thing I almost always make homemade. Why? One, it's easy. Two, it tastes better. Three, because it saves me money. The most basic of vinaigrettes uses three parts olive oil to one part vinegar (like balsamic or red wine vinegar, but feel free to experiment with what you've got on hand). Add a pinch of salt and pepper and some fresh or dried herbs. Place ingredients in a lidded jar, shake vigorously and voila, it's ready to go. 
Beyond this basic vinaigrette, I'd recommend learning a few additional homemade dressing recipes like Raspberry Vinaigrette and this iteration of Buttermilk Green Goddess (pictured above). Once you've mastered the basics, you may never go back to bottled dressing again!
4. Yogurt
Yogurt is a must-have ingredient any time of the year, but it's especially delicious and refreshing in the summer. For a quick, filling breakfast, I top yogurt (Greek, preferably) with fresh or frozen berries, chopped almonds and a drizzle of honey.
5. Taco Fixings
If you stock your kitchen with Old El Paso taco shells, beans and seasonings, you'll always be prepared for a last-minute Tex-Mex meal. All you need to add are grilled meat (look for what's on sale), fresh, in-season veggies, cheese and sour cream.
6. Canned Beans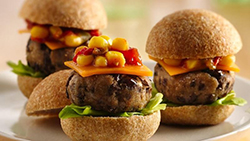 Beans are both versatile and low-cost, making them a year-round staple in my kitchen. Progresso black beans, cannellini beans, and garbanzo beans are some of my favorites for use in summer salads and soups. When I'm feeling creative and have a little more time, I like to make Black Bean Sliders (pictured above) or homemade hummus.
7. Lemonade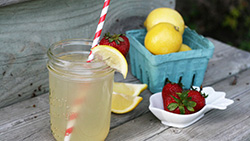 A cold glass of lemonade can make any day feel like summer. No matter what kind you make—homemade, frozen or powdered—you can't go wrong. Serve it up in a jar and garnish with fresh strawberries for an inexpensive, fancy-feeling upgrade. 
8. Hot Dogs
Hot dogs are a quintessential, all-American summer food. This summer, take it up a notch and set up a build-your-own hot dog bar. For toppings, try chopped jalapeño peppers, shoestring potatoes, refrigerator pickles, shredded cheese, chopped bacon or chili. In addition to the requisite ketchup and mustard, try hot sauce, ranch dressing and cheese sauce. 
With these tips in mind, you can enjoy all of summer's bounty without breaking the bank. Have fun, and let me know if there are other money-saving summer staples I should add to my shopping list!