Thursday April 5, 2018
2018 Wisconsin Grilled Cheese Showdown

MAY THE MOUTH-WATERING CREATIONS COMMENCE. 
It's time for the annual Wisconsin Grilled Cheese Recipe Showdown – a nationwide grilled cheese recipe competition. New for 2018, the contest features four categories and even more prize money. And as always, enter as many recipes as you'd like.
Each week through May 15, a winning recipe from a previous year will be featured
in our weekly ad
. View the full recipe below, pick up the featured cheese in store (and
on sale
), and try it out yourself!
You may find yourself inspired to come up with your own creation to enter for a chance to win up to $40,000 in prizes.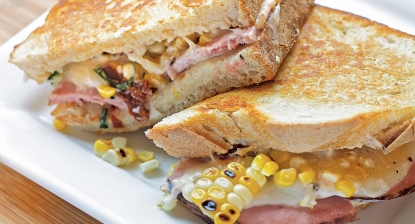 Rich Wisconsin cream cheese and fresh mozzarella come together to complement the light and delicate flavors of farm-fresh ingredients and tangy sourdough bread. With sliced ham, corn on the cob, and sundried tomatoes, it's tasty at its tastiest. Get the recipe.
This spicy number is loaded with Wisconsin pepper jack cheese, quick pickled jalapenos, Sriracha, ranch dressing and a fried egg.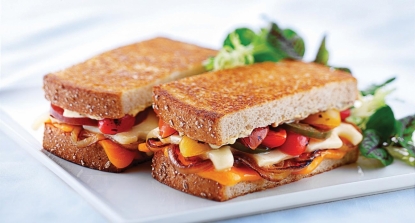 A delightful ensemble of Wisconsin Aged Cheddar, Baby Swiss, and caramelized onions on whole-grain bread—get the recipe here.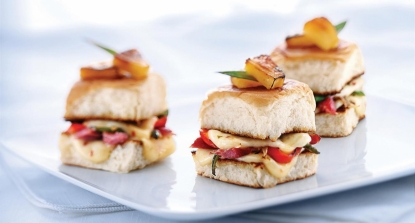 Delicious morsels of Wisconsin Pepper Jack, pineapple, and sautéed bell peppers on King's Hawaiian Sweet Bread—get the recipe here.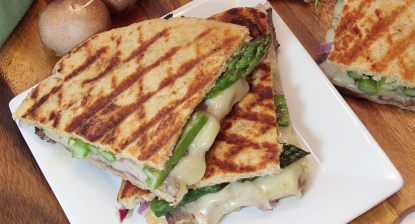 Asparagus provides a unique and delicious flavor combination when it's oven roasted and grilled with horseradish sauce, roast beef, mushrooms, onion, and Wisconsin provolone cheese. This recipe is served on crusty whole-grain flatbreads. How will your taste buds ever pay you back?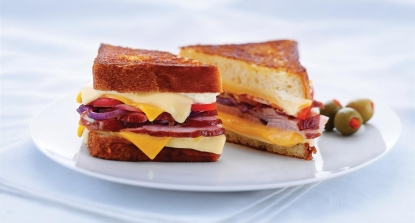 A culinary classic recipe featuring American cheese, Wisconsin Sliced Swiss, and ham on fresh white bread.