Thursday April 5, 2018
2018 Wisconsin Grilled Cheese Showdown

MAY THE MOUTH-WATERING CREATIONS COMMENCE. 
It's time for the annual Wisconsin Grilled Cheese Recipe Showdown – a nationwide grilled cheese recipe competition. New for 2018, the contest features four categories and even more prize money. And as always, enter as many recipes as you'd like.
Each week through May 15, a winning recipe from a previous year will be featured
in our weekly ad
. View the full recipe below, pick up the featured cheese in store (and
on sale
), and try it out yourself!
You may find yourself inspired to come up with your own creation to enter for a chance to win up to $40,000 in prizes.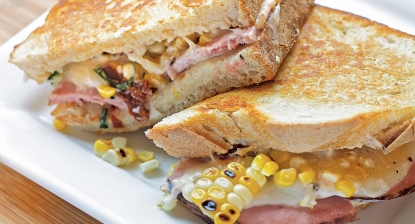 Rich Wisconsin cream cheese and fresh mozzarella come together to complement the light and delicate flavors of farm-fresh ingredients and tangy sourdough bread. With sliced ham, corn on the cob, and sundried tomatoes, it's tasty at its tastiest. Get the recipe.
This spicy number is loaded with Wisconsin pepper jack cheese, quick pickled jalapenos, Sriracha, ranch dressing and a fried egg.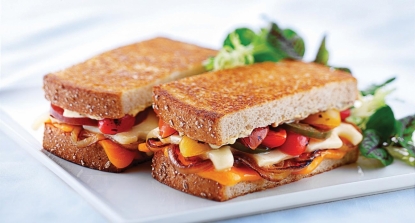 A delightful ensemble of Wisconsin Aged Cheddar, Baby Swiss, and caramelized onions on whole-grain bread—get the recipe here.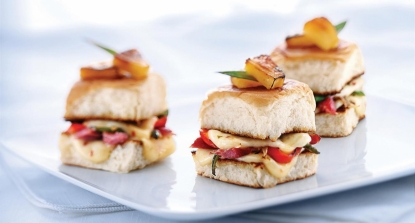 Delicious morsels of Wisconsin Pepper Jack, pineapple, and sautéed bell peppers on King's Hawaiian Sweet Bread—get the recipe here.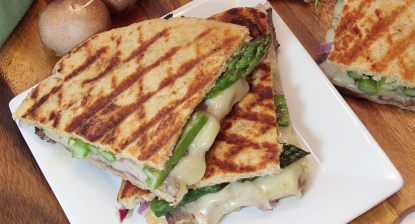 Asparagus provides a unique and delicious flavor combination when it's oven roasted and grilled with horseradish sauce, roast beef, mushrooms, onion, and Wisconsin provolone cheese. This recipe is served on crusty whole-grain flatbreads. How will your taste buds ever pay you back?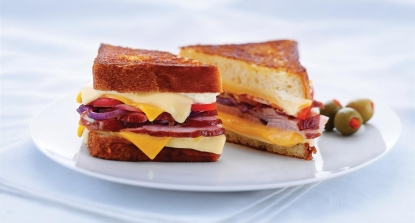 A culinary classic recipe featuring American cheese, Wisconsin Sliced Swiss, and ham on fresh white bread.

Wednesday May 6, 2015
Summer Snackin'
School is almost out and I can see a pantry full of cookies, chips, and popcorn. This is the go-to for most school-aged kids, but what if we made healthy snacks just as available? This year, take the time to prepare some cute and healthy snacks and your kids will thank you.
String Cheese & Pretzel Sticks
Give your kids a protein boost and a low-fat snack. This combo will keep your kids satisfied while you can catch up on a good book!
Want to make this snack extra fun? Split the cheese stick half way up and push the pretzel stick in the other end of your cheese stick to make a witch broomstick. We all know the way to a kid's tummy is through fun food!
Apples & Peanut Butter
You can't get away from this classic duo when thinking of healthy snacks. However, you can put a spin on it for your kids. Make little sandwiches out of apple slices and peanut butter. Create an even more filling combo by adding oats and raisins on the peanut butter. This treat will help you remember…an apple a day really will keep the doctor away.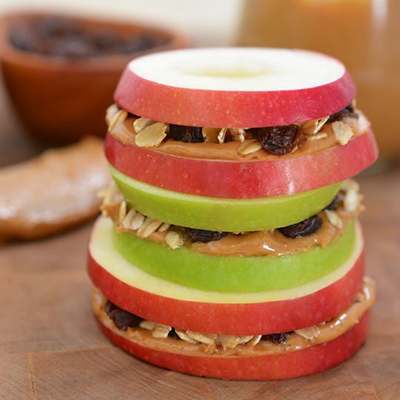 Grapes and Cheese Cubes
This fresh snack will be a family favorite. Stack the grape on top of the cheese cube and use toothpicks to make this a grab-and-go snack. If your kids are craving a sweet and salty bite, they'll polish off a plate of these.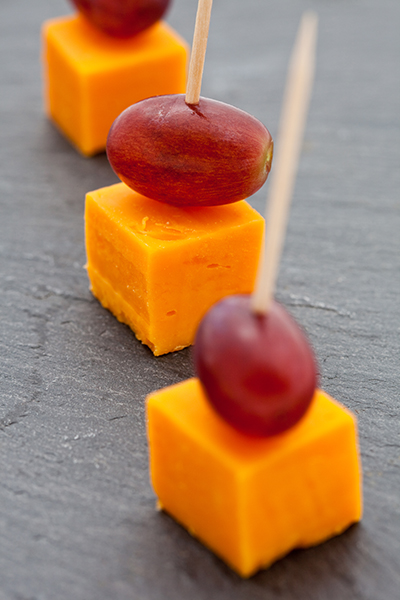 Don't just stop there. Continue making food fun for your kids with bento box ideas. Grab cookie cutters to create shapes or create a face in your yogurt. You could even use cheerios for eyes! Be playful and your kids will love the time and creativity spent in each delightful dish.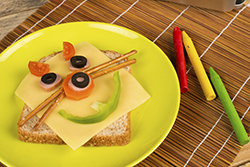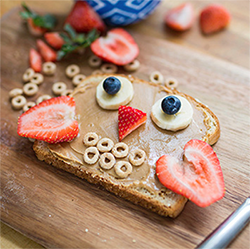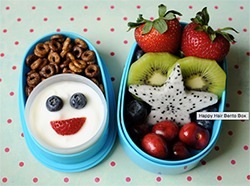 Borden Cheese is helping to keep your summer healthy!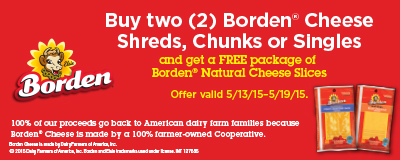 Wednesday November 26, 2014
Wine and Cheese Pairings
When it comes to entertaining, nothing pleases a diverse crowd more than wine and cheese, but pairing cheese and wine flawlessly can sometimes be an overwhelming element of party planning. So if you've ever found yourself fretting over how to create a perfect cheese and wine combination, we can help.
Cabernet Sauvignon -
Cheeses to Consider: Camembert, Cheddar, Colby, Danish Blue, Gorgonzola, Gouda, Parmesan, Blue cheese, Roquefort
Chardonnay -
Cheese to Consider: Brie, Camembert, goat cheese, Gouda, Gruyere, Parmesan, Provolone
Champagne -
Cheese to Consider: Beaufort, Brie, Camembert, Cheddar, Chevre, Colby, Edam, Gouda, Gruyere, Parmesan
Chianti -
Cheese to Consider: Look for regional cheeses to complement an Italian Chianti, perhaps Fontina, Mozarella, Parmesan or Provolone
Dessert Wine -
Cheese to Consider: Crème Fraiche, Marscopone, or shake it up with a salty/sweet combo. and consider a crumble or two of blue cheese.
Merlot -
Cheese to Consider: Brie, Camembert, Cheddar, Gorgonzola, Gouda, Gruyere, Jarlsberg, Parmesan
Pinot Gris -
Cheese to Consider: aged Cheddar, Asiago, Edam, goat cheese, Gouda, Mozzarella, Muenster, and even Ricotta for a unique combo.
Pinot Noir -
Cheese to Consider: Brie, Camembert, Feta, Gruyere, Monterey Jack, Muenster, Port Salut, Swiss
Port -
Cheese to Consider: Blue, Gorgonzola
Riesling -
Cheese to Consider: Brie, Blue, Colby, Edam, Gouda, Monterey Jack
Sauvignon Blanc -
Cheese to Consider: Asiago, Brie, Cheddar, Feta, goat cheese, Gruyere, Neufchatel, Parmesan
Shiraz/Syrah -
Cheese to Consider: Cheddar, Edam, Gouda, Parmesan
Zinfandel -
Cheese to Consider: Asiago, Blue, Feta, goat cheese, Gouda, Gruyere, Muenster