Saturday March 9, 2019
Create Your Own Milk Flavor & Win!
Hiland Dairy's spring milk selection is now available for a limited time! While their flavor lineup is quite delicious already, they're always looking for the next best flavor and they need YOUR help! What flavor would you make if you could? 
Create your own flavor for a chance to win a Hiland prize pack! The winning flavor will also be featured on The Hiland Home Blog and considered for future flavor lineups.
Thursday April 5, 2018
2018 Wisconsin Grilled Cheese Showdown

MAY THE MOUTH-WATERING CREATIONS COMMENCE. 
It's time for the annual Wisconsin Grilled Cheese Recipe Showdown – a nationwide grilled cheese recipe competition. New for 2018, the contest features four categories and even more prize money. And as always, enter as many recipes as you'd like.
Each week through May 15, a winning recipe from a previous year will be featured
in our weekly ad
. View the full recipe below, pick up the featured cheese in store (and
on sale
), and try it out yourself!
You may find yourself inspired to come up with your own creation to enter for a chance to win up to $40,000 in prizes.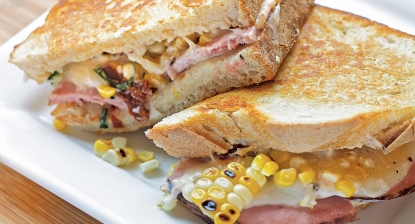 Rich Wisconsin cream cheese and fresh mozzarella come together to complement the light and delicate flavors of farm-fresh ingredients and tangy sourdough bread. With sliced ham, corn on the cob, and sundried tomatoes, it's tasty at its tastiest. Get the recipe.
This spicy number is loaded with Wisconsin pepper jack cheese, quick pickled jalapenos, Sriracha, ranch dressing and a fried egg.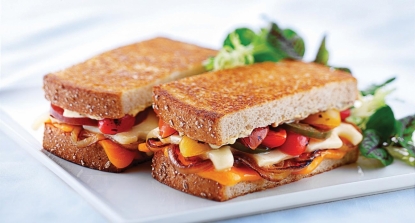 A delightful ensemble of Wisconsin Aged Cheddar, Baby Swiss, and caramelized onions on whole-grain bread—get the recipe here.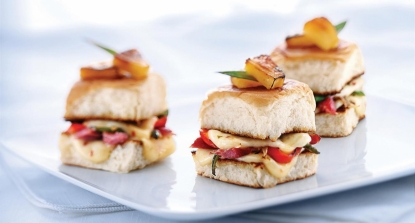 Delicious morsels of Wisconsin Pepper Jack, pineapple, and sautéed bell peppers on King's Hawaiian Sweet Bread—get the recipe here.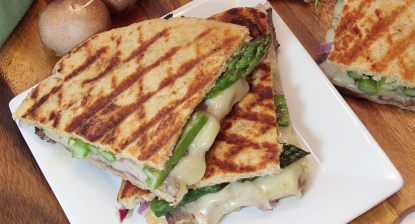 Asparagus provides a unique and delicious flavor combination when it's oven roasted and grilled with horseradish sauce, roast beef, mushrooms, onion, and Wisconsin provolone cheese. This recipe is served on crusty whole-grain flatbreads. How will your taste buds ever pay you back?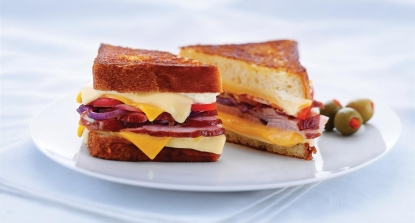 A culinary classic recipe featuring American cheese, Wisconsin Sliced Swiss, and ham on fresh white bread.

Wednesday October 30, 2013
Brookshire Brothers Delivers A DREAM!
A Groveton woman says she felt like she was playing The Wheel of Fortune when she found out she'd won the top prize in aBrookshire Brothers'contest.
Brookshire Brothers ran its Summer of Fun Giveaway from May until Labor Day this year.  Customers in the company's 78 stores picked up game cards and tickets whenever they shopped and had the option to also play an on-line version of the game. 
Groveton's Deborah Wilson did both and it paid off…in spades!  On Tuesday, October 22nd, Brookshire Brothers representatives met Wilson at the B & B Foods in Groveton where she shops and handed over a $100,000.00 check.  Store Director Kyle Joseph said, "I am so glad it was someone in our community who won.  It means so much to the people of Groveton. Mrs. Wilson is living proof that you've got to play to win!"  
Wilson, a Groveton native, has worked for the school district for 27 years where she is the Child Nutrition Director.  She says her family keeps asking, "Are you really sure?"
Brookshire Brothers invited its customers to play theSummer of Fungame to add some excitement to their shopping experience during the hot summer months. Not only did the customers play, but the employee-owners played their own version of the game.  Onalaska Store Director Patti Spurlock won a $25,000.00 boat!
There are other big winners company wide!  Mildred Simmons, who shops at the DeRidder, Louisiana store, won $10,000.00 and there were also multiple $5,000.00 winners.
The company's Chief Operating Officer John Alston says, "It is an excellent way for our customers company-wide to have a chance to win cash, prizes and product. It also affirms that our small town operations are just as important to and as viable as our stores in our larger cities.  We are thrilled for all of our winners, but especially Mrs. Wilson and all of our loyal shoppers in Groveton, TX.