Posted on Tuesday, January 12, 2021
While we're all about
surf and turf
for Valentine's Day, a classic pot roast is romantic in its own way as well—tender, comforting, and full of flavor. Treat your special someone to a night of sweet nostalgia with this simple and easy recipe.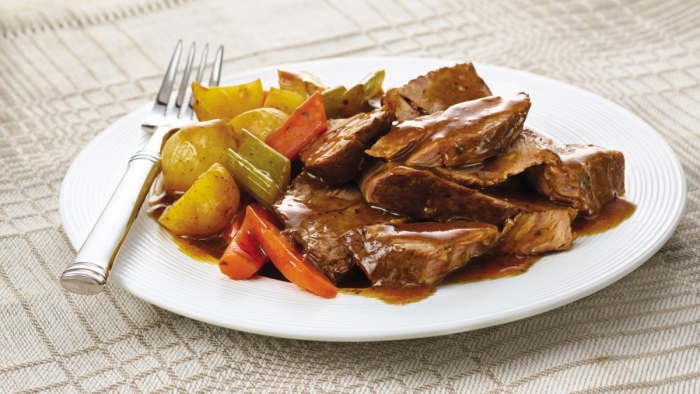 Savory Slow-Cooked Pot Roast
Prep: 10 min | Cook: 4 hrs | Yield: 10 servings | 297 calories
*Recipe courtesy of our vendor partner McCormick
Ingredients
2 1/2 to 3 pounds boneless chuck roast (for the richest taste) or boneless rump roast well-trimmed (for lower fat)
1 1/2 cups cut-up or baby carrots
1 1/2 cups cut-up potatoes
1 cup cut-up celery
1 cup cut-up onions
1 package McCormick Slow Cookers Savory Pot Roast Seasoning*
1 to 1 1/2 cup water or beef broth
*Possible substitution:
2 (10.75-ounce) cans condensed cream of mushroom soup
1 (1-ounce) packet dry onion soup mix
Serve with canned veggies, brown-n-serve rolls, and/or any other sides you enjoy!
Directions
Place beef and vegetables in slow cooker.
Mix pot roast seasoning mix and water (or broth) until blended. Pour over beef and vegetables. Cover. You can substitute the seasoning mix with the condensed soups and onion soup mix listed above. For this version, combine the condensed soups, onion soup mix, and water or broth. Follow all other directions as stated.
Cook 8 hours on LOW or 4 hours on HIGH. Remove roast and vegetables to serving platter. Stir sauce before serving.
---