Monday March 20, 2017
Cooking with Kate: March into Spring
Texas might have skipped winter this year, but I could not be more excited for the sunshine and flowers! This is the season for fantastic fresh produce, so take a look at all of the new fruits and vegetables at your local Brookshire Brothers and enjoy these two produce-packed recipes!
Strawberry Pineapple Green Goddess Smoothie
Makes 2 servings
1 cup whole or 2% milk
2 cups fresh spinach
1 banana, peeled and frozen
1 cup fresh pineapple chunks, frozen
1 cup fresh strawberries, stemmed and frozen
½ avocado, peeled and seed removed
In an electric blender, add milk and spinach and pulse until smooth. Add remaining ingredients and blend until smooth and creamy. Serve immediately!
Broccoli Bacon Ranch Pasta Salad
Makes 8-10 servings
2 cups broccoli florets, blanched and chopped into small pieces
1 lb. sliced bacon, cooked, drained, and crumbled
1 cup cherry or grape tomatoes, cut in half
1 (8 ounce) package shredded sharp cheddar cheese
1 cup frozen sweet peas, thawed
8 ounces mini pasta shells, cooked according to package directions, drained and cooled
1 cup of your favorite ranch dressing*
*OR
¾ cup mayonnaise
½ cup milk
2 tablespoons dry ranch dressing mix, or more to taste
In a large bowl, combined chopped blanched broccoli, chopped cooked bacon, whole cherry tomatoes, shredded sharp cheddar cheese, cooked sweet peas, and cooked pasta shells. If making the dressing from the mix – In a small bowl, combine mayo and milk and add dry ranch dressing mix. Blend well and taste to see if more mix is needed. Add half the salad dressing to the pasta salad and toss. Add additional dressing if pasta salad is too dry. Chill until ready to serve.
---
Click here to see other recipes from Brookshire Brothers Catering Coordinator, Kate Rudasill.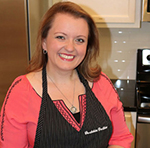 Kate Rudasill, Catering Coordinator for Brookshire Brothers, has been in the food-service industry for the past 14 years. As a graduate of Texas A&M University, a student of The Texas Culinary Academy, and a Nacogdoches, Texas native, Kate grew up with Southern tradition in her blood which caused her to have a deep love for bringing people together with food.