Posted on Tuesday, April 9, 2019
It's finally springtime and Easter is right around the corner! Both are wonderful reasons to round up friends and family for a potluck lunch. One of my favorite potluck dishes? Deviled eggs! What I don't love? Peeling the boiled eggs to make deviled eggs! Here are some tips for foolproof peeling:
Use "aged" eggs! In older eggs, the outside membrane has started loosening from the shell which makes them easier to peel once cooked.
Boil the water first, and then add your eggs (gently!). The shock of the hot water causes the egg proteins to seize up and set more quickly away from the shell (and thus makes for easier peeling!)
Simmer the eggs for just 11-12 minutes. Overcooked eggs = dried out yolks and whites.
Give them a soak in an ice bath. PRO TIP: Gently crack the shells before adding the boiled eggs to the cold water. This will allow a little water to seep between the egg and shell before you peel them.
For stuffed eggs, chill completely (at least 2-3 hours) before slicing. Egg whites that are slightly warm will tear easily.
Cajun Deviled Eggs with Bacon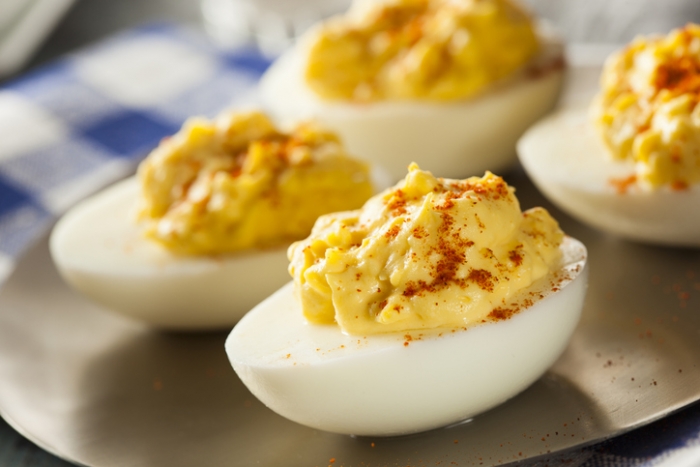 Ingredients
1 dozen eggs, preferably not fresh
½ teaspoon Dijon mustard
2-3 tablespoons mayonnaise
2-3 tablespoons sour cream
1-2 teaspoons red wine vinegar
2 tablespoons chives or green onion, minced
3 ozs. cooked bacon pieces, finely chopped
1 teaspoon Cajun or Creole seasoning
Salt and pepper, to taste
Smoked paprika, for garnish
Directions
Boil eggs, using the tricks above, to hard cook.
Remove shells by peeling.
Chill at least 2 hours before cutting in half and removing the yolks.
Place the yolks in a medium bowl; add mustard, mayonnaise, sour cream, and red wine vinegar.
Use a fork or whisk to mash the yolks with the other ingredients. (Note: Depending on the size of your eggs, you might need to add more/less mayo and sour cream to get to a creamy consistency.)
Add chives or green onions, chopped bacon, Cajun or Creole seasoning, and salt and pepper, to taste. Mix well.
Spoon or pipe into egg white halves.
Sprinkle with smoked paprika.
Refrigerate at least 1 hour before serving.
*Makes 24 deviled eggs
BLT Dip
Ingredients
8 ozs. mayonnaise
8 ozs. sour cream
1 (8 ounce) package shredded sharp cheddar cheese
12 ozs. sliced bacon, cooked, drained, and crumbled, divided
4-5 green onions, finely sliced
¼ teaspoon garlic powder
½ teaspoon (or more) ground black pepper
2 cups finely shredded lettuce
1 cup cherry or grape tomatoes, cut in half
Directions
Set aside ½ cup crumbled bacon for top of dip.
In a medium bowl, combine mayonnaise, sour cream, shredded cheese, remaining crumbled bacon, green onions, garlic powder, and black pepper.
Mix until well combined, add more seasoning if desired.
Spread sour cream mixture onto a large serving platter or into a glass serving dish.
Sprinkle with shredded lettuce, tomatoes, and reserved crumbled bacon.
Refrigerate until ready to serve.
Serve with assorted crackers, pita chips, or bagel crisps.
*Makes 8-10 servings
---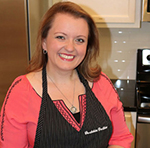 Kate knows food. She grew up with the Southern tradition of good food with the hospitality to match. A graduate of Texas A & M University, a student of The Texas Culinary Academy, and a Nacogdoches, Texas native, Kate's greatest joy is bringing people together over a scrumptious meal.