Tuesday April 9, 2019
Cooking with Kate: Easter Potluck Recipes
It's finally springtime and Easter is right around the corner! Both are wonderful reasons to round up friends and family for a potluck lunch. One of my favorite potluck dishes? Deviled eggs! What I don't love? Peeling the boiled eggs to make deviled eggs! Here are some tips for foolproof peeling:
Use "aged" eggs! In older eggs, the outside membrane has started loosening from the shell which makes them easier to peel once cooked.
Boil the water first, and then add your eggs (gently!). The shock of the hot water causes the egg proteins to seize up and set more quickly away from the shell (and thus makes for easier peeling!)
Simmer the eggs for just 11-12 minutes. Overcooked eggs = dried out yolks and whites.
Give them a soak in an ice bath. PRO TIP: Gently crack the shells before adding the boiled eggs to the cold water. This will allow a little water to seep between the egg and shell before you peel them.
For stuffed eggs, chill completely (at least 2-3 hours) before slicing. Egg whites that are slightly warm will tear easily.
Cajun Deviled Eggs with Bacon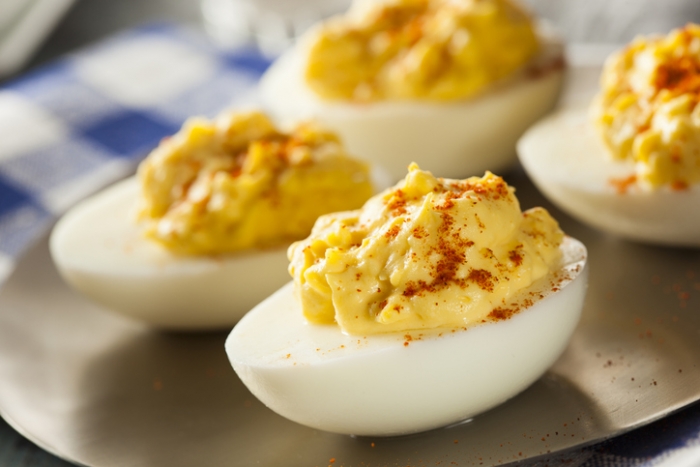 Ingredients
1 dozen eggs, preferably not fresh
½ teaspoon Dijon mustard
2-3 tablespoons mayonnaise
2-3 tablespoons sour cream
1-2 teaspoons red wine vinegar
2 tablespoons chives or green onion, minced
3 ozs. cooked bacon pieces, finely chopped
1 teaspoon Cajun or Creole seasoning
Salt and pepper, to taste
Smoked paprika, for garnish
 Directions
Boil eggs, using the tricks above, to hard cook.
Remove shells by peeling.
Chill at least 2 hours before cutting in half and removing the yolks.
Place the yolks in a medium bowl; add mustard, mayonnaise, sour cream, and red wine vinegar.
Use a fork or whisk to mash the yolks with the other ingredients. (Note: Depending on the size of your eggs, you might need to add more/less mayo and sour cream to get to a creamy consistency.)
Add chives or green onions, chopped bacon, Cajun or Creole seasoning, and salt and pepper, to taste. Mix well.
Spoon or pipe into egg white halves.
Sprinkle with smoked paprika.
Refrigerate at least 1 hour before serving.
 *Makes 24 deviled eggs
BLT Dip
Ingredients
8 ozs. mayonnaise
8 ozs. sour cream
1 (8 ounce) package shredded sharp cheddar cheese
12 ozs. sliced bacon, cooked, drained, and crumbled, divided
4-5 green onions, finely sliced
¼ teaspoon garlic powder
½ teaspoon (or more) ground black pepper
2 cups finely shredded lettuce
1 cup cherry or grape tomatoes, cut in half
 Directions
Set aside ½ cup crumbled bacon for top of dip.
In a medium bowl, combine mayonnaise, sour cream, shredded cheese, remaining crumbled bacon, green onions, garlic powder, and black pepper.
Mix until well combined, add more seasoning if desired.
Spread sour cream mixture onto a large serving platter or into a glass serving dish.
Sprinkle with shredded lettuce, tomatoes, and reserved crumbled bacon.
Refrigerate until ready to serve.
Serve with assorted crackers, pita chips, or bagel crisps.
*Makes 8-10 servings
---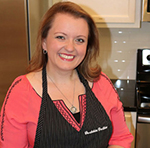 Kate knows food. She grew up with the Southern tradition of good food with the hospitality to match.  A graduate of Texas A & M University, a student of The Texas Culinary Academy, and a Nacogdoches, Texas native, Kate's greatest joy is bringing people together over a scrumptious meal.
Tuesday February 6, 2018
Lent: A Time for Mindfulness
The forty days of Lent are a time of reflection, fasting, and prayer in preparation for the celebration of Easter. Many who participate in Lent choose to fast from certain things, typically personal vices. Here are a few ideas on what you can give up (or take on) so that your time is purposeful, meditative, and constructive.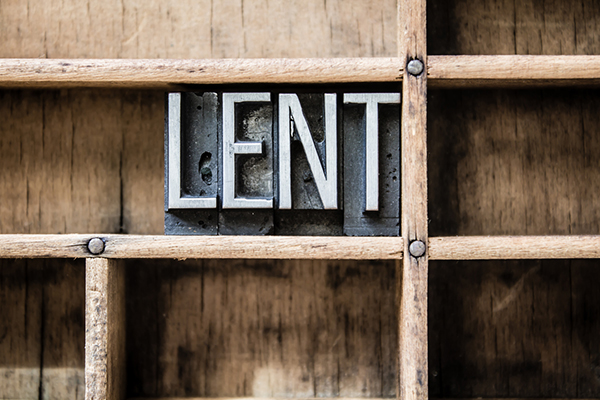 TECHNOLOGY
Taking a rest from social media is a great way to improve mindfulness and well-being—particularly while eating.  When you avoid screen time and other distractions, you can fully engage and enjoy the company of who you're with, whether it's friends, family, or others. If eating alone, you might find yourself appreciating the subtlest of sensory inputs from what you're eating—taste, smell, texture, appearance, even the sounds made while chewing—without the distraction of technology.
SWEETS
Sweets are another popular choice to give up during Lent. Whether you sacrifice soda, added sugars, or sweets in general, just the exercise of giving up sweets can show you how often you are tempted to indulge. For the best chance at success, have a plan in place when cravings strike. One classic strategy is to drink a glass of water, which comes from the fact that dehydration triggers snack cravings. Keeping 
fresh fruit
handy is another great alternative.
SNACKING
Snacking mindlessly can be a problem if it leads to excess calorie intake, plus many snack foods can be full of empty calories without any intrinsic nutritional benefit. Consider limiting your snacks to one purposefully planned snack each day. Pick a time for your snack—such as mid-morning or mid-afternoon—as well as a choice with nutritional quality, such as nuts, seeds, fruit, cheese, popcorn, or dried veggie products.
Read more: Here's 20+ ideas for mixing up a healthy snack with cottage cheese
SLEEP
Making wise choices to improve sleep habits is another excellent way to spend the Lenten season.  An earlier bedtime can lead to better sleep, in addition to more time for meditation and morning walks.
Did you know poor sleep can lead to obesity, diabetes, heart disease, and more? Find out more about healthy habits and why they're so important
NATURE
Make a commitment to spend some time outdoors every day. Whether it's a walk, a picnic, a trip to the park, or work in the garden, being outdoors is a great time for reflection while simultaneously enjoying the benefits of fresh air, increased movement, and even vitamin D production from the sunshine on your skin.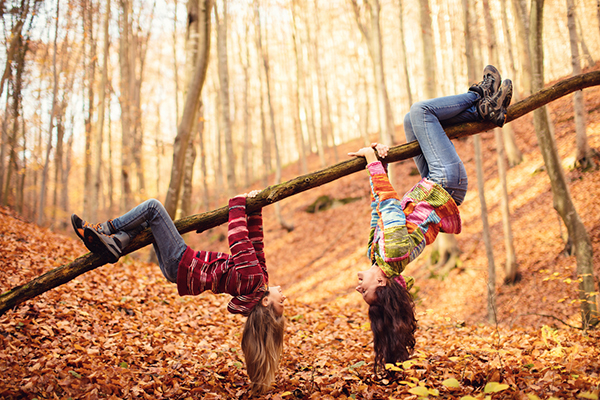 FISH ON FRIDAY
If you're taking the more traditional "fish on Friday" path for Lent—in other words, a meatless forty days except for seafood on Fridays—plan wisely to make sure your diet is rich in the nutrients you might be missing out on.  Choose nutritious starches with plenty of protein such as beans, peas, Lentils, and quinoa. Eggs and dairy are also nutrient dense foods helpful with balancing the diet and providing protein. With your Friday seafood, be sure to choose a variety of selections to meet all your nutritional needs and alleviate boredom. 
Your neighborhood Brookshire Brothers
has a great selection of fresh, frozen, and packaged seafood options.
---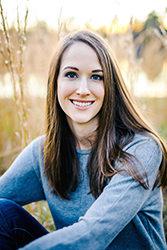 Angela Larson is a registered dietitian (RD) who works with Brookshire Brothers promoting 
real fresh, real delicious
 foods and nutrition education to the community. She is also a clinical dietitian representing Woodland Heights Medical Center in Lufkin where she does outreach education on food and nutrition. Food is her passion, so Angela loves trying new recipes and exploring the more holistic side of nutrition. Angela loves to cook, garden, and spend time outdoors. In addition to the 
Brookshire Brothers blog
, look for Angela's monthly articles in Charm East Texas. 
Monday April 10, 2017
Leftover Eggs No More
Grab our Top 5 recipes (courtesy of Betty Crocker) for leftover hard-boiled Easter eggs and enjoy new favorites from sandwiches to pasta salads!
Ham and Egg Salad Sandwiches
Uses 3 eggs
Get rid of more than just your leftover eggs with this recipe! Use up the uneaten ham, too.  Sprinkle in a little broccoli and chives for a new twist on a classic salad. Get the recipe here.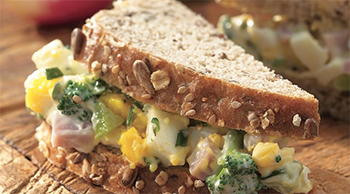 Eggs à la Goldenrod
Uses 4 eggs
This is a classic you won't want to miss! Find the tried and trued 1950's recipe here.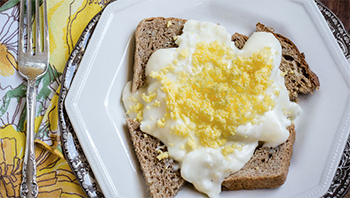 Grilled Honey Mustard Chicken Salad
Uses 3 eggs
Eggs go great in any salad, but what we love more is that this quick and easy salad can be finished in a matter of minutes...all with ingredients you already have in your kitchen! Try the recipe out here.
Blue Cheese Deviled Dogs
Uses 4 eggs
This unexpected, but totally delicious treat will have you wishing for more leftover eggs! Check out the gourmet recipe here.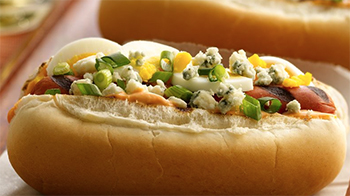 Cobb Salad Wraps
Uses 1 egg
Go for this cobb salad with a twist. Make this fun and easy recipe for your next lunch! Read more on this recipe here.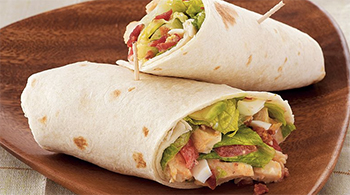 Have fun with these recipes and don't stress about a full refrigerator of leftovers! You'll work through these dishes sooner than you think.
Monday April 3, 2017
Easter Egg-cellent Chocolate Covered Strawberries
Take an untraditional spin on Easter this year! When you hide those decorative and colorfully-dyed Easter eggs, save the cartons and hurry down to your local Brookshire Brothers for fresh strawberries. These chocolate covered strawberries can be the perfect sweet treat to complement your Easter celebration!
Easter Chocolate Covered Strawberries
Ingredients
16 large strawberries
1 1/2 cups milk, dark or white chocolate chips
Candied sprinkles, colored sugars, etc.
Parchment paper
Directions
1. Wash strawberries thoroughly. Dry carefully by patting gently with paper towels.
2. Place chocolate chips into small, microwaveable towl with tall sides.
3. Heat bowl in the microwave on high for 30 seconds. Remove bowl; stir chips with spoon. Return bowl to microwave and continue to microwave on high for an additional 30 seconds. Stir and repeat until chocolate is melted.
4. Dipping on strawberry at a time, submerge into melted chocolate by holding the steam between your fingers.
5. Slowly remove the strawberry from the chocolate (allowing excess chocolate to run off) and place on a piece of parchment paper to dry.
6. Immediately decorate the chocolate-covered strawberry with your favorite sprinkles.
7. Allow the chocolate to cool and harden at room temperature. Serve immediately or store in a tightly covered container in the refrigerator for up to 24 hours.
Monday April 3, 2017
How to Brunch 101
Dinner parties may be in your wheelhouse, but can you transition into a 10am brunch? With the Easter season around the corner, we're here to teach you how to make your next brunch extra delightful!
Brunch Buffet
We love a good brunch because it's easy on the host, and who doesn't love good coffee cake? Most of the menu items can be prepared ahead, giving you ample opportunity to mingle and enjoy the party along with your guests.
A staple brunch recipe is some kind of egg bake, along with a breakfast meat and lots of cheese. Many casserole recipes can be interchanged for your preference of bacon or sausage. 
*Expert tip: A vegetarian dish is always a good backup idea!
Fresh Flowers
Nothing says "brunch" like a bouquet of Spring's best flowers. Pick up whatever blossoms look the prettiest at your local Brookshire Brothers and scatter informal bouquets throughout your home. 
*Expert tip: White ceramic pitches make charming vases!
Ribbons & Bows
Traditionally, brunches are a "women only" kind of gathering. The men usually stick to the football game on prime time TV, sitting on the sofa with a rack of ribs. With this in mind, don't skimp on the feminine touches. Wrapping your forks and spoons with a simple ribbon can give a bit of cheer and elegance to your brunch. 
*Expert tip: Your floral department can assist in making large bows!
Final Touches
We love seeing a host go the extra mile in creating the perfect scene for any occasion. To really set the stage for a perfect spring-theme brunch, try your hand at creating the perfect adornment for your guests' glasses below.
Easy Candied Mandarins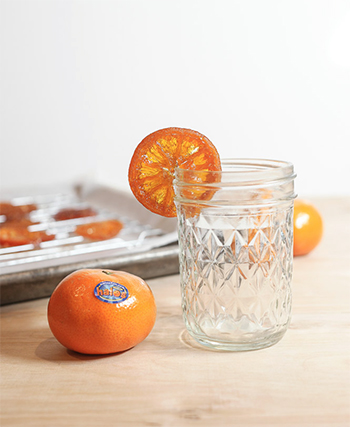 Recipe courtesy of Halos Mandarins
Ingredients
1/3 cup honey
1 cup water
5 Halos mandarins
Directions
1. In a wide-base pan, mix honey with water and heat over low until combined completely.
2. Slice mandarins as thin and uniform as possible, discarding the end pieces. Gently add them to the honey-water, and add a small amount of additional water if necessary to keep the mandarins completely submerged.
3. Cover and heat on low for 45 minutes to an hour, checking it occasionally to ensure that the mandarin slices don't burn.
4. Turn the heat up to a low-medium and keep covered for another half hour, checking frequently. Remove from the stovetop as soon as they start to bubble. The honey will have formed a caramel-colored syrup that hardens as it dries.
5. Remove the mandarin slices onto a slotted stainless steel baking rack or broiler rack placed on top of parchment paper on a baking sheet. Cook in a 250-degree preheated oven for thirty minutes. Turn them over and cook for another thirty minutes. Let cool completely.
Expert tip: If they're still slightly tacky, you can dust with coconut sugar to help make them easier to handle!
Monday March 21, 2016
Cooking with Kate: Stroll Into Spring
Springtime is finally here! Even with the mild winter, it's great to see the sunshine and the azaleas, daffodils, and dogwoods in full bloom. This time of year brings Easter celebrations, ball games, and family picnics. Here are two quick and easy dishes that are sure to please at any potluck.
Glazed Ham with Pineapple and Thyme
1 (8-10 lb.) boneless, smoked ham
2 cups pineapple juice
½ cup brown sugar
1 tablespoon fresh thyme leaves 
Preheat oven to 325°F. Spray a deep, 9" X 13" aluminum pan with non-stick spray. Cut ham in half lengthwise and then slice into ¼" – ½" slices. Lay slices in sprayed pan. Pour juice over ham slices. Sprinkle with brown sugar and thyme. Tightly wrap the pan with aluminum foil and bake in preheated oven for 2 ½ - 3 hours or until ham slices are heated through. Keep warm to serve.
Cheesy Corn Casserole
1 can whole kernel corn, drained
1 can creamed-style corn
1 cup sour cream
½ cup butter, melted
2 cups shredded cheddar cheese            
1 box Jiffy corn muffin mix
salt and pepper
Preheat the oven to 350°F. Spray a 9" X 13" baking dish with non-stick spray. In a large bowl, mix all ingredients until just combined. Pour mixture into sprayed pan. Do not cover. Bake in preheated oven for 30-45 minutes or until golden brown. Let casserole sit for 10 minutes before serving.
Monday March 14, 2016
DIY Easter Egg Pancakes
Hatch a new pancake tradition this Easter with this easy and colorful egg-shaped pancake art breakfast activity.
It's the traditions that make family holidays like Easter so special. This year start a new one with this easy DIY Easter Egg Pancake Decorating Station. Kids big and small can make and decorate their own Easter egg pancakes using colorful batter-filled squirt bottles and sliced fruit.
To get started, gather these essential items: Bisquick® mix, four clear plastic condiment bottles (available at most grocery stores; these pancake batter pens from the Betty Crocker store are another great option), neon gel food coloring, grapes, strawberries, blueberries, cereal or any other topping of your choice.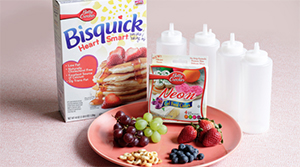 Prepare the pancake decorating station by slicing fruit. Sort the sliced fruit into individual bowls for easy access.
Next, make some pancake batter following this classic Bisquick® pancake recipe. (Double the recipe if feeding a crowd.) Divide batter equally between four separate bowls. Add a few drops of the neon gel food coloring to each bowl, creating the desired color intensity. Whisk batter until evenly blended.
Then pour colored batters into individual squirt bottles. Place the bottles on a tray near the griddle to create a pancake-making station. Remember to keep those little fingers away from the hot griddle.
Adults and older children can use the squirt bottles to draw their egg-shaped pancakes on the griddle. This is the time to be creative! Eggs can be small or large, striped, polka dotted or zigzagged -- the more colors and shapes the better.
After the Easter egg-shaped pancakes have been drawn and bubbles start to form, flip the pancake over and cook until done.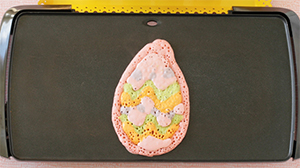 But wait, the pancake isn't complete until the fruit has been added. Set out the fruit and other decorative toppings on the table and let family members young and old get to work decorating their pancake. Not only are the fruit trimmings nutritious, but they're also a great way to teach little ones about creating patterns.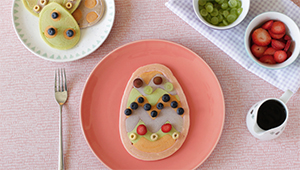 Happy Easter creations!
Monday February 29, 2016
How to Dye Eggs
Take the easy route with egg dye kits, or the natural way with what's in your kitchen.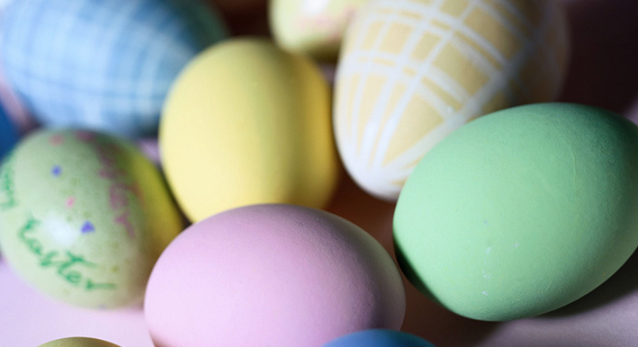 Decorating eggs can be lots of fun. Invite friends over for an artful adventure. Take the easy route with egg dye kits or the natural way with what's in your kitchen. Kids will not only have fun, they'll learn lots with these great Easter egg coloring ideas.
Dye Eggs With What's in Your Kitchen: Food Coloring
For beautiful, natural, homemade colors you can dye eggs with food coloring, add foods you may already have to the cold water before cooking eggs. Experiment with onion skins, cut-up beets, spinach, tomato paste, coffee, tea, spices like turmeric or sugar-free gelatin. Wrap string around eggs to create fun patterns. To keep mess to a minimum, spread a plastic tablecloth and let the creativity begin.
Egg Storage
Store hard-cooked eggs in egg cartons in the refrigerator if you don't color them immediately.
Hard-cooked eggs in the shell will keep safely up to 1 week.
Important Safety Tips
Eggs should not be left out of the refrigerator for more than two hours without risking food poisoning. If you plan to display decorated eggs longer than two hours outside the refrigerator, do not eat them. Cook and refrigerate extra eggs for eating, and throw out hard-cooked eggs used for decoration. Store hard-cooked eggs in egg cartons in the refrigerator if you don't color them immediately.
Cracked eggs should be thrown away.
Use only food coloring or food-grade dyes made especially for egg dyeing, not craft dyes and paints.
For more information on handling eggs safely, check out the USDA Food Safety and Inspection Service's Web site at www.fsis.usda.gov.