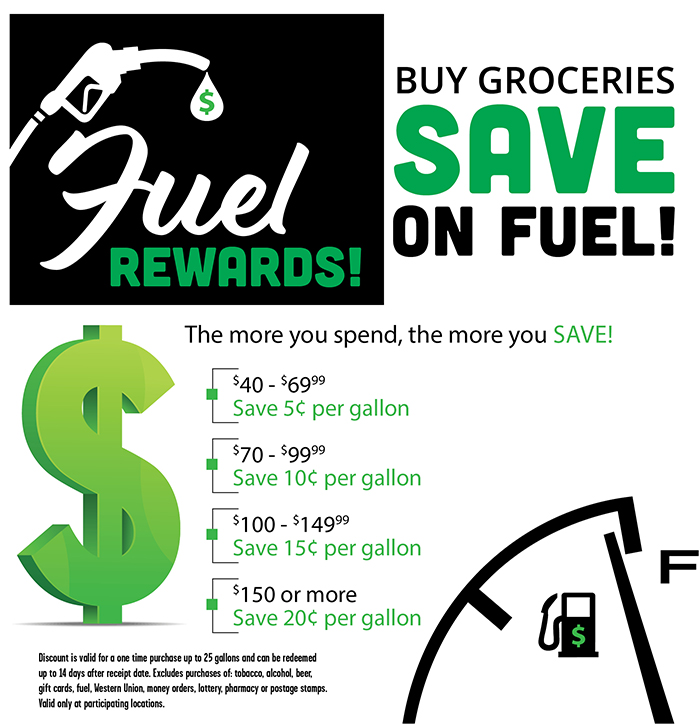 It's easy as 1 ... 2 ... 3 ...
1. Sign up to Celebrate!
If you're already signed up, you can login to your account and the link below. If you need to sign up, click here.
2. Earn Fuel Rewards!
By shopping at participating Brookshire Brothers and David's locations, you will earn rewards torwards fuel purchases.* Simply enter your 10-digit phone number at checkout to start saving. At the end of your transaction, check your receipt for your savings. Fuel rewards expire 14 days after they were earned.
3. Redeem Fuel Rewards!
Follow the prompts on the gas pumps to redeem your fuel rewards. You can redeem up to $0.25/gallon per fuel transaction! You will be asked to enter in your your Celebrate ID (your 10-digit phone number) and then the pumps will display the discounted gas price. You can pump up to 25 gallons at this discounted price.
*PLEASE NOTE: There is no limit to the fuel rewards you can earn (for example, you could accumulate $1.25 in fuel rewards on your Celebrate account), but you can only redeem $0.25/gallon (for up to 25 gallons) per fuel transaction. The amount of redeemed fuel rewards will then be subtracted from your account. The remaining balance may be redeemed (within the $0.25/gallon guidelines) at your discretion before they expire.
To log in and view your Fuel Rewards, click here!
At this time, earning fuel rewards is available only at the following stores: